Siduri White Pepper Saison
| Beau's All Natural Brewing Company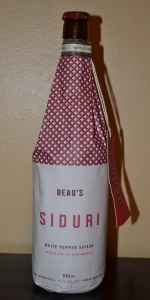 BEER INFO
Brewed by:
Beau's All Natural Brewing Company
Ontario
,
Canada
beaus.ca
Style:
Saison / Farmhouse Ale
Alcohol by volume (ABV):
10.20%
Availability:
Limited (brewed once)
Notes / Commercial Description:
No notes at this time.
Added by spinrsx on 03-07-2014
This beer is retired; no longer brewed.
Reviews: 8 | Ratings: 20
3.93
/5
rDev
+2.6%
look: 3.75 | smell: 3.75 | taste: 4 | feel: 4 | overall: 4
Appearance - Pours a warm gold with three fingers of foamy white head. Very effervescent.
Smell - banana, clove, spices (yeast), pepper, citrus, slight vinous aroma.
Taste - Pleasant hit of the banana, clove, and spices followed by the pepper, citrus, and hint of sweetness from the red ice wine barrels.
Mouthfeel - Medium bodied with high carbonation. Finishes dry and sweetness slightly lingers in the aftertaste.
Overall - A saison with spot on traditional ingredients. A first for me having a beer aged in red ice wine barrels. This added a pleasant sweetness in the taste. I would have liked to pick up more of the barrel in the aroma but still a well-crafted saison.
679 characters

3.83
/5
rDev 0%
look: 4 | smell: 4 | taste: 3.75 | feel: 3.75 | overall: 3.75
Bottle into a tulip glass, colour is a light apple-juice gold with a white creamy head, pretty solid retention and lacing. Clear with some soft carbonation.
S - definite white pepper, soft lemongrass spice, quite a yeasty component. I also am able to pick up some of the ice wine character after it warms, slight sweet tartness. Spicy notes dominate but there is a pithy lemony citrus as well, pale malts with a hint of crystal sweetness. A bit hot, some of the alcohol, but also blends with the pepper well.
T - more of the lemony character mixed with a peppery earthy spice. Getting some earthy hay component, red current tartness, some orange, combining with the pepper to give a predominantly spicy character, that is a bit stripping at times. Finish is mildly fruity and drying. Getting more of a residual sweetness to it also as it warms, as well as some of the sweetness off the ice wine and malt. Tart and spicy, a bit on the sweet side as it warms. Big and brash.
M - good bodied, with a light final gravity and lots of carbonation. As mentioned a bit of stripping spiciness on this, quite a peppery spicy body, balance is pretty good and some of the other light floral and fruity character peek through before being buried again.
Overall, this was a good beer, but I was left feeling a bit underwhelmed by it. Felt it relied to heavily of the peppery spiciness without showing some of the more subtle complexity and balance I associate with really fine saisons. For what it is, it is good, and a well conceived concept, but I think the execution could be better.
1,577 characters

4.25
/5
rDev
+11%
look: 4.25 | smell: 4.25 | taste: 4.25 | feel: 4.25 | overall: 4.25
Purchased at the LCBO for $10.00 600ml. Pretty steep. Severed at 8deg C in a draught glass
A- Very good. Pours with a ton of head that lasts forever. Golden and unfiltered.
S- Pepper 100%. You cannot miss it. Once past that rush the florals come out like coriander and caramel. No alcohol at all.
T-Pepper 100%. You cannot miss it. Once past that rush the florals come out like coriander and caramel. No alcohol at all. LOL plus... Yeast and malt. Way good to last in a cellar.
M- Super good and light like it should be. No alcohol again. Tonged light
O- Super good. Will buy again at $6.00 but not 10.00
Food Pairing
This good beer went well with... Crawfish boil!! Had a nice bite against the spicy crawfish from New Orleans!!
Enjoy!
747 characters
4.11
/5
rDev
+7.3%
look: 3.75 | smell: 4 | taste: 4.25 | feel: 4.25 | overall: 4
Thanks to mtomlins for the trade
A: Looks like unfiltered apple juice in the glass topped with a soapy and rocky white head, some clinging to the glass.
S: Forward with Belgian yeasts and spices - white pepper and cardamon with fresh lemons and a finish of wine. Notable that there is almost no alcohol presence at all.
T: Sweet pale malts followed with belgian yeasts and spices and preserved lemons. Finish is a notable wine presence thats sweet and smooth and mildly earthy of white pepper. Enjoyable in the level of sweetness from the ice wine and dryness of the saison.
M: A softness in the mouth with a numbing sensation of carbonation.
O: Delicate balance of the saison flavour and wine presence that does an exceptional job of hiding all that alcohol. The complexity of the sweetness and the wine dryness offers a unique profile for a saison that's sophisticated and progressive.
895 characters
4.34
/5
rDev
+13.3%
look: 4.5 | smell: 4.25 | taste: 4.25 | feel: 4.5 | overall: 4.5
I'm a huge fan of Saisons and Farmhouse ales. Beau's has done an excellent job with this. First, contrary to the 8.0% listed, my bottled was labeled 10.2%. It did not taste like 10%+ beer. Hazy orange-amber in appearance. Thick, white, lacy head. Aroma hints at the alcohol content, a bit hot. Slight bit of pepper and spice on the nose. Slick on the tongue, though not as thick or syrupy as a Belgian tripel. One of the finest beers I've had in a while.
454 characters
3.75
/5
rDev
-2.1%
look: 4.5 | smell: 3.75 | taste: 3.75 | feel: 3.25 | overall: 3.75
Bottle: Poured a light golden color ale with a very generous white foamy head with good retention and some lacing. Aroma of white pepper with rustic malt notes is very enticing if maybe for the white pepper that is tad too strong. Taste is also dominated by rustic malt with some residual sugars and white peppers notes that are quite dominant. The iced red wine barrel treatment was very hard if impossible to distinguish. Body is about average for style with great carbonation and no apparent alcohol. Drop the barrel-aging and the accompanying price and you would have a winner.
581 characters

3.62
/5
rDev
-5.5%
look: 4 | smell: 3.75 | taste: 3.5 | feel: 3.75 | overall: 3.5
Hazy orange colour, 2 fingers of white head, fluffy with some lace. Smell is initially fruity, yeast followed by oak and some vinious notes as well, citrusy with lemon and orange standing out the most, there is a persistant spice but I wouldn't pick out white pepper specificaly. Taste is fruity and oaky, a bit of alcohol heat up front but not the 10% as indicated, pepper comes across stronger on the palate than on the nose and even more so as this warmed up, mid bottle this starts to get quite sweet and the ice wine influence is more and more present in the finish. Lightly carbonated, smooth medium body, some thicker points as well. Decent but I thought of this feature this would be the most impressive of the bunch based on description alone, a bit of a strugle to finish on its own, sharing a bottle would be recomended but I don't think I will be doing that anytime soon.
883 characters
3.29
/5
rDev
-14.1%
look: 3.5 | smell: 3.25 | taste: 3.25 | feel: 3.5 | overall: 3.25
A - opaque cloudy bright orange colour. One finger of cream colored head that reduced to a thin layer.
S - Typical saison nose of Belgian yeast, clove and pepper with some bready sweetness. Not getting any barrel presence on the nose.
T - Belgian yeast and clove flavours with a big bready sweetness. There is a secondary sweetness mid palate that is likely the red ice wine influence. Not getting and oak whatsoever. Ab big peppery finish. Becomes very sweet as it warms, too sweet for my palate.
M - Medium body. Dry. Light to moderate carbonation.
556 characters
Siduri White Pepper Saison from Beau's All Natural Brewing Company
3.83
out of
5
based on
20
ratings.