Lamb's Wool

Beau's All Natural Brewing Company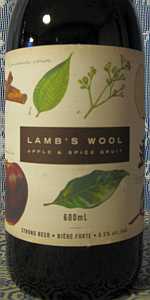 Write a Review
Beer Geek Stats:
| Print Shelf Talker
Style:

ABV:

6.5%

Score:

84

Avg:

3.66

| pDev:

16.94%

Reviews:

4

Ratings:

From:

Avail:

Retired (no longer brewed)

Wants

Gots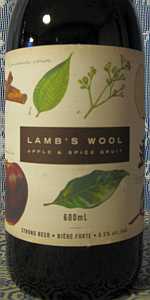 Notes: Apple & Spice Gruit. Warming, fruit, spice. Lamb's Wool is a spiced gruit ale, made with barley malts and blended before fermentation with unfiltered organic juice pressed from Québec orchard apples. Real cinnamon and whole cloves add a warming spice character to this traditional winter wassail.
Reviews by BigGruntyThirst:

3.93
/5
rDev
+7.4%
look: 3.75 | smell: 3.75 | taste: 4 | feel: 4 | overall: 4
More User Reviews:
3.5
/5
rDev
-4.4%
look: 3.75 | smell: 3.75 | taste: 3.5 | feel: 3.25 | overall: 3.25

3.77
/5
rDev
+3%
look: 4 | smell: 3.75 | taste: 3.75 | feel: 3.75 | overall: 3.75

3.77
/5
rDev
+3%
look: 3.25 | smell: 3.75 | taste: 3.75 | feel: 3.75 | overall: 4
600 mL bottle from the LCBO; dated Nov 17 2017 and served slightly chilled. Slowly working my way through a backlog of Beau's brews.
Pours an exquisitely clear orange-amber, with one finger of loose, frothy, buff-coloured head rising to the surface. It fizzles into oblivion before the sixty second mark, leaving behind only a thin, bubbly collar and some scant lace. There's lots going on with the nose, though the most succinct way to describe it would be "spicy and herbal". There's a few perfumed floral notes, as well as hints of cinnamon, clove and sweet-ish red apple flesh. Definitely getting a mulled cider-type vibe from this one.
Interesting stuff, though it does quaff more like a spiced cider than an actual beer. Some caramelized malt sweetness is present as a backdrop, underlying notes of apple juice and stone fruit. I'm also getting a leafy, herbal, almost minty note, which I assume can be attributed to the yarrow. The cinnamon and clove spice kick into high gear just in time for the finish, with some mild apple juice tanginess lingering into the slightly spicy aftertaste. Relatively light in body, with moderately low carbonation levels that gently prickle the surfaces of the tongue; its mouthfeel is smooth and fairly soft, which only amplifies the mulled cider/wassail theme. No real sign of the 6.5%, making this quite drinkable for a spiced ale, though it does warm your chest just barely as you delve deeper into the glass.
Final Grade: 3.77, a worthy B+. Beau's Lamb's Wool ain't too shabby. Its apple juice acidity is well-balanced by the gentle sweetness of the caramelized malts, while the cinnamon and clove spice give the back end a much-needed boost that adds another layer of depth to the profile. I enjoyed my bottle, but this is very much a seasonal brew - I don't think I'd have much interest in drinking this outside of the winter months. A fine pseudo-beer; the great thing about gruits is that they never fit neatly into the typical beer flavour paradigms, so sampling them is a fantastic way to hone your taste buds' range of sensitivity, and to expand your gustatory horizons.
2,127 characters
3.59
/5
rDev
-1.9%
look: 3.5 | smell: 3.75 | taste: 3.5 | feel: 3.75 | overall: 3.5
12oz glass at Beer Revolution YEG Oliver Square - wow, people seem to have strong opinions about this one, eh?
This beer appears a clear, bright medium bronzed amber colour, with one skinny finger of wispy and bubbly off-white head, which leaves a few instances of middle digit extended lace around the glass as things slowly sink away.
It smells of spiced apple cider, gritty and grainy pale malt, a bit of earthy yeastiness, and some herbal and floral notes that may or may not be hoppy in their origin story. The taste is grainy and bready caramel malt, musty apple juice, a muddled cinnamon and clove spiciness, kind of estery yeast, and more of the same floral and herbal essences from the nose.
The carbonation is fairly benign in its bored-seeming frothiness, the body a so-so middleweight, and generally smooth, as the spices seem to be of the benevolent sort at this particular juncture. It finishes off-dry, the musty apple and indistinct floral thing the lingering flavour of the day.
Overall - yeah, I'm not really getting the feeling that I'm drinking an actual beer here, more like one of those 'artisanal' organic ciders (don't ask me how I know that). But I believe that's par for the course for me and this style, especially one made by Beau's.
1,270 characters

3.81
/5
rDev
+4.1%
look: 3.5 | smell: 4.25 | taste: 3.75 | feel: 3.75 | overall: 3.5
Hopefully I can get this review in before midnight, as it's International Gruit Day today! This is also my 500th review, so I thought I'd go with one of my favourite styles.
Appearance: A fairly cloudy ruby red with amber notes that produced a finger and a half of head that quickly disappeared, but not before leaving behind some spots of lace. The body have very, very low carbonation.
Smell: An ample dose of Cinnamon, Apple, Spice and caramel. It's like smelling apple pie in liquid form with a bit of a herbal sage and some other sweet flower note. It didn't need warming to showcase itself, but it really came out as it warmed up.
Taste: Sour apple permeates the beer, it starts as the background note to light caramel malt with a hint of floral, but then builds to a cidery crescendo and spices cinnamon and cloves rise up beside it and then, suddenly a dry fruit snap of apricot, floral notes and mild oak.
Mouthfeel: The low carbonation doesn't do it many favours, and because of it, it seems like the apple takes control of the beer. The transitioning is quite good, and while apple is the dominant note in the aftertaste, it is still a healthy mixed bag of the other flavours.
Drinkability: On the lighter end of medium bodied, the low carbonation meant that it settled down quickly but the dry note at the end while flavourful ruins any attempt at calling this beer crisp by any stretch. Still, it got taken down in very short order and still manages to quench my thirst well, so it's doing something right.
Final Thoughts: I wasn't quite sure what I was getting with Lamb's wool. For some reason I simply didn't associate the apple on the bottle with cider. I guess I thought they were throwing dried apples in the mash for some reason. Anyways, this beer struggles with the question that I feel any beer that uses fruit juice has to answer, and that question is "Why didn't you just make cider?". In this case, the only answer I can guess at is "I wanted that malt touch at the start" and "I don't know how to herb/spice cider, but I know how to do it with beer and use apple juice in beer" which I suppose are sufficient answers.
I also didn't quite get the name, so I did some digging. It comes from a variety of Wassail (a drink that dates back to the 1500s) . Wassail being pretty much what this stuff is, a mulled cider brewed with spices and often using ale, wine or juice as a base (Lamb's Wool typically using Ale). Wassail was usually brewed around Christmas and part of Wassailing, where people would sing songs to apple trees to ensure a good harvest next year. Learn something new every day, and really makes me appreciate this offering more.
It is also typically served hot from my understanding, so while my review didn't include this part, I decided to stick the last bit of the beer in the nuke to see how it would fare warm. It maybe wasn't half bad, but honestly, it certainly wasn't half good, tasting like liquored up apple cider. Still, I think you'd be hard pressed to find a beer that is passable after heating, so I guess that's worth something?
Anyways, this beer is an interesting diversion and while not in my list of favourite Gruit's, is certainly worthy of praise. I recommend giving it a try. It was really the perfect beer for review 500 and a reminder why I like reviewing as a hobby. It's not just about being blown away by great beer, but trying new and interesting form of beer and taking the good and the bad. Proost, Slainte and Cheers to another 500 reviews.
3,521 characters

3.75
/5
rDev
+2.5%
look: 4 | smell: 4 | taste: 3.75 | feel: 3.5 | overall: 3.5
Clear, amber body, egg white head has average retention.
Plenty of cinnamon on the nose, accompanied by pulp fruit, like warm apple pie.
On the palate, juicy, tart, and slightly oily on the finish; fruit forward, with apple, dried apricot, raisins; some woodiness and spice, but it's mild; medium body and light carbonation.
Too sweet for me, and cider-like, lacking balance.
376 characters

3.75
/5
rDev
+2.5%
look: 3.75 | smell: 3.75 | taste: 3.75 | feel: 3.75 | overall: 3.75
Spicy, cinnamon, apples, nutmeg, a bit of sour cherry, perhaps a bit of sour. Complex.
86 characters

3.5
/5
rDev
-4.4%
look: 3.5 | smell: 3.5 | taste: 3.5 | feel: 3.5 | overall: 3.5

4
/5
rDev
+9.3%
look: 4 | smell: 4 | taste: 4 | feel: 4 | overall: 4
3.13
/5
rDev
-14.5%
look: 3.25 | smell: 3.25 | taste: 3 | feel: 3.5 | overall: 3
1.49
/5
rDev
-59.3%
look: 2.5 | smell: 1.5 | taste: 1.25 | feel: 1.25 | overall: 1.75
Looks like swish from trailer park boys, Very strong tasting beer with an after taste of sour. Tastes like shit.
112 characters
3.81
/5
rDev
+4.1%
look: 4 | smell: 3.5 | taste: 4.25 | feel: 2.75 | overall: 3.75
Lamb's Wool from Beau's All Natural Brewing Company
Beer rating:
84
out of
100
with
13
ratings