Beaver River I.P.Eh?
| Beau's All Natural Brewing Company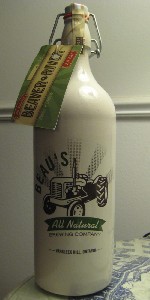 BEER INFO
Brewed by:
Beau's All Natural Brewing Company
Ontario
,
Canada
beaus.ca
Style:
American IPA
Alcohol by volume (ABV):
5.60%
Availability:
Spring
Notes / Commercial Description:
Citrusy & piney-earthy hoppiness complemented by bready maltiness, fruity esters and caramel flavours.
60 IBU
Added by CanuckRover on 04-25-2009
Reviews: 59 | Ratings: 124

3.97
/5
rDev
+4.7%
look: 3.5 | smell: 4 | taste: 4 | feel: 4 | overall: 4
Sampled at Mondial:
Tapped a copper gold with a decent cap, good lacing, small bubbled natural carbonation.
Aroma is boiler plate UK-styled IPA: Toffee, toast, piney-citus hops some fruit and floral tones.
Medium body, soft on the palate. Nice toast-caramel malts ride just below the resinous piney bittering, wet clean bitter finish.
A decent interpretation of the UK style.
379 characters
4.07
/5
rDev
+7.4%
look: 4 | smell: 4.5 | taste: 4 | feel: 3.5 | overall: 4
Cask at Volo.
Poured a lovely glowing orange around the edges blending into the copper like body, a huge creamy head that settles amongst the hazy contents. Obviously a little over carbonated while being forced through the hand pump. I Don't complain about this due to the aroma that follows.
The nose is really floral, citrus grapefruits, a hint of mangos, clementines, followed by a slight pine note. You can really get a sent of caramel from the malts and a touch of biscuit. Very cool. The floral bouquet was a little different and interesting. It had a lot of very nice tropical fruit aromas. I enjoy the hops in this one.
The taste was much to follow from the nose. Very bitter and citrusy up front. All the zest and pine just seem to swirl into the caramel malt sweetness. There isn't much hop burn from this. A little sweeter than the tap version, which at first seemed a little hop forward (I ain't complaining on either parts... just a new ball game). The mango returns in the sweetness along with some nice biscuity flavours and returns with that satisfying hop residue on the tongue.
With the over carbonation and the hand pump, this is super thick and creamy. Very frothy, smooth, and totally clean.
fantastic offering from this brewer.
1,255 characters
3.7
/5
rDev
-2.4%
look: 3.5 | smell: 3.5 | taste: 4 | feel: 3.5 | overall: 3.5
Enjoyed on cask at Bar Volo, with the owner. A very good cask, with some cloudy grapefruit and good head. Very lacey. Understated carbonation, good mouthfeel for a hoppy cask. Mild hop aromas, but the IBU is right there. Good drinkability. Had some later on tap, which came through with more mineral water. This review is the cask only.
Had it a year later on tap and big bitter, hits the style though would like better balance from complementary malts.
453 characters
4
/5
rDev
+5.5%
look: 4 | smell: 4 | taste: 4 | feel: 4 | overall: 4
Not sure why my review was removed, here it goes again. On tap at Volo.
Pours a clear coppery gold, thick white head forms, drops to a nice layer, some lace spots stick, looks good. Smell is nice, floral, light grapefruit and citrus hoppiness, touch of pine, malty middle, some caramel and biscuity sweetness, good hop presence. Taste is similar, grapefruit and a touch of pine up front, juicy, floral, lightly fruity, caramel, biscuit, nice bitter finish. Mouthfeel is medium bodied with medium carbonation. Easy drinking IPA, not bad at all.
544 characters
4.06
/5
rDev
+7.1%
look: 4.5 | smell: 3.5 | taste: 4 | feel: 4.5 | overall: 4.5
The IPEh? pours with a nice light bubbly head on top of a medium copper body. The head stuck around for a little bit and left some nice lacing down the glass. Smells mostly of piney hops with some nice malt in there too. The first sip is relatively bitter, again the piney hops and a bit of citrus mixed in with sweet malt and a bit of a bready character too. The bitterness becomes less noticeable fairly quickly but the great flavour stays around. It's remarkably balanced. This is an excellent, easy drinking IPA.
I'm on the last of the growlers I brought down to Waterloo with me from Ottawa. Thankfully I'm heading home in about two weeks and I'll definitely be back to the brewery to pick up some more.
710 characters
4.2
/5
rDev
+10.8%
look: 4 | smell: 4 | taste: 4.5 | feel: 4 | overall: 4
I'm fairly sure my review of this beer must have been removed. Perhaps because I labelled it as cask? Who knows. Regardless, I had this beer fresh day it was released at the brewery, on cask with a hand pump at the Cheshire Cat (it was heavenly) and a few times on tap as well.
Pours a dark copper with a big off-white creamy and foamy head. It smells of caramel and light pine and the taste has much more .. particularly the pine. There's plenty of malted sweetness up front but balanced by a very sharp and piney finish. Really well done.
Mouthfeel is soft and silky smooth. Drinkability is better than average. Here's hoping Beau's releases this one again in the spring.
P.S Zorprime, glad you liked it so much.
717 characters

4.28
/5
rDev
+12.9%
look: 4 | smell: 3.5 | taste: 4.5 | feel: 5 | overall: 4.5
Tasted June 26th, 2009. Obtained from a CanBIF5 trade with Ralphus. Drank from the pint glass of the same brewery. Thanks Ralphus!
A: A little hazy. Pours as a nice looking beer with copper color. Head is huge and nice. Very creamy head. Very important :) the head sticks to the glass.
S: Smell is of piny hops with some floral notes. Not very strong smell more of a medium intensity. The last pour is more citrus.
T: The taste is similar to the smell however, stronger. More piny. I don't taste the floral hops, it is more piny hops.
M: The beer feels so good in the mouth. During and after... awesome.
D: Well so easy to drink. A very drinkable beer.
Great beer. I want more! Thanks Ralphus for making me discover this brewery.
(note: this one taste a little bit similar to La Ciboire from Archibald).
806 characters
4.45
/5
rDev
+17.4%
look: 4 | smell: 4 | taste: 4.5 | feel: 4.5 | overall: 5
Pint at Volo. Poured a nice clean copper colour with a finger of white head, and had great retention and some lace. Nice C-hop aroma mingling with a bit of pine and a strong malty backbone. Exceptional balance in the flavour - great citrus, tangerine notes, mixing with some pine, and supported by a lightly sweet malty background. Bitterness is decent, and seems to have been gradually ramped up over time, though may still fall a little short of its counterparts to the south of the border. Medium-light refreshing body with medium carbonation seems to suit both the flavours and the sunny weather well.
I liked this one a lot. Its hardly going to rape your tongue with bitterness, but it shows an expert balance that a lot of more extreme brews sadly lack. I could drink this all day long, which is a testament to the brewer's skill. Nice job guys!
852 characters
4.11
/5
rDev
+8.4%
look: 4.5 | smell: 3.5 | taste: 4 | feel: 5 | overall: 4.5
Spring seasonal from Beau's brewery. Bomber dated April 24th (yesterday).
Pours a clear copper. Big, dense, creamy white head. Settles after a few sips to a nice film. Lacings are spotty but substantial.
American hops on the nose, focus on pine notes with an earthy malt aroma playing a part.
Up front it's all hops. Pine flavours hit the tongue hard and don't let up all that much. Orange zest plays a small role, but most of the sweetness comes from a sturdy english malt foundation. While it's cool, it's a hop show, but as it warms the malt really starts to come into its own and strong caramel flavours wrestle with the hops for dominance.
The body on this is fantastic. An incredibly smooth IPA with perfect carbonation.
Drinkable, but, for Ontario, this is some serious hopping.
A great beer, really hope this does well.
848 characters
Beaver River I.P.Eh? from Beau's All Natural Brewing Company
3.79
out of
5
based on
124
ratings.