Wild Oats Series No. 1 - Matt's Sleepy Time Belgian Imperial Stout
| Beau's All Natural Brewing Company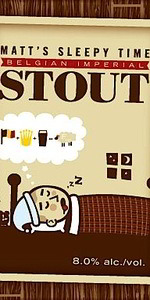 BEER INFO
Brewed by:
Beau's All Natural Brewing Company
Ontario
,
Canada
beaus.ca
Style:
American Double / Imperial Stout
Alcohol by volume (ABV):
8.00%
Availability:
Rotating
Notes / Commercial Description:
Sleepy Time is an imperial stout that has been fermented with Belgian yeast and aged on oak staves. Tastes of chocolate, coffee & vanilla are complemented with American hops and a true Belgian character in the finish.
41 IBU
Added by Viggo on 04-01-2010
Reviews: 34 | Ratings: 97

3.82
/5
rDev
+1.9%
look: 3.5 | smell: 4 | taste: 4 | feel: 3.5 | overall: 3.5
on tap: Puts a dark brown-black ale in the glass, puffy tan cap, good kacing, soft carbonation. Aroma is musty-Cocoa-toasty, belgian yeast evident here. Flavor is lightly sweet but toasty-nutty with smoke undertones, not mucj hop balance, what there is is woody oak tones, long roasty chocolate finish. Interesting and tastey, no hint of the strength of this beer.
364 characters

3.01
/5
rDev
-19.7%
look: 3.5 | smell: 2.5 | taste: 3 | feel: 3 | overall: 3.5
Bottled April 1 2010 and purchased from the brewery.
Pours a dark black with an off-white head. Surprisingly clear for a stout when held up to the light. Not a bad looking beer, but you'd never guess it was a stout. That's all I'm saying.
The aroma is too subtle for words.
Tastes like liquid marigold's. Somewhat cheesy. Inelegantly bitter. Roasty. Cold coffee. Black Dutch licorice. Oh man, this needs work. I'm not sure it's a stout, it's certainly not what I have come to expect from an Imperial stout, and the Belgian aspect clashes big time. I'm assuming they're using the same yeast they dropped in the bogwater. It tastes similar but it worked way better in the latter. Alcohol is incredibly well hidden. I agree with Rob's assessment than plum flavors come out as it warms and, indeed, there is a subtle shift from herbal roastiness to fruitiness as you go along.
It's not a drain pour but totally not something I would recommend trying or which should take up valuable brewing resources that could be better used brewing the Beaver River IPEh.
1,057 characters

3.88
/5
rDev
+3.5%
look: 4 | smell: 3.5 | taste: 4 | feel: 4 | overall: 4
Bottle 542, March 19, 2010.
A: Brownish-black with ruby highlights, light-tan head, thin ring of retention, good lace.
S: Java, bakers chocolate, light spicing (cloves?), molasses
T: Molasses, java, bakers chocolate, cloves, brown sugar, balanced bitterness, warming alcohol.
M: Moderately full body has a light acidity.
D: A good drinker... actually quite dangerous at this strength!
389 characters
3.78
/5
rDev
+0.8%
look: 4 | smell: 3.5 | taste: 4 | feel: 3 | overall: 4
The first in a new series of small batch beers from Beau's - a brewery who have impressed me by putting together a very nice regular lineup.
Pours a rich dark brown with a creamy tan head that dropped to a film and left some nice streaks behind. Misses the boat on the blackness a bit, but carrying on... Smooth, roasty aroma puts me in mind of a café mocha, though as it warms up the fruit gradually take over and I start to get more and more plum. Its much the same with the flavour, which initially seems characterised by a smooth roast (coffee, cream chocolate), but then has increasingly noticeable fruit tones. That's not to say that the fruit ever dominates the flavour, and I would have preferred perhaps a bit of cherry in this to amp up the Belgian aspect. It certainly doesn't drink like an imperial stout, and I have a hard time believing the listed ABV of 8%, either something's askew or these guys have a darn good talent for hiding the alcohol! Slightly thin body would match the flavour better if it was bulked up and smoothed out.
Overall, a very quaffable offering that didn't take too long to polish off. It seems that one of the hallmarks of this brewery is that they can put together some insanely drinkable offerings. Stylistically this doesn't really tick the boxes for an imperial stout as it doesn't really seem big enough, and as a Belgian offering it doesn't seem Belgian enough. A beer like this could fall between a number of stools, but somehow I still liked it. It will certainly be interesting to see what the upcoming offerings will be.
Big thanks to TJ for picking me a bottle of this up from the brewery!
1,643 characters
3.78
/5
rDev
+0.8%
look: 4 | smell: 3.5 | taste: 4 | feel: 3 | overall: 4
Bottle from the brewery brought around by bobsy, thanks man!
Pours a dark brown, certainly no black, with a finger of head that has some decent retention.
Nose is light, giving off some nice fruitiness from the yeast, just a hint of coffee and roasting malts.
This is a real odd duck. It's certainly no imperial stout, no way in hell. It could be a Belgian stout but it's not overly roasty to point you clearly in the stout direction. The yeast and esters are fairly restrained, not playing up the Belgian. Seems to back away from all categories and yet somehow seems to work. Balanced is the key word here, some light fruitiness is layered under a pleasant roast, a hint of coffee, a little cream and vanilla, some cocoa powder, a hint of baker's chocolate.
Light body, hides the ABV - would certainly guess it's lighter than 8% and, in all honesty, it might be. Drinkable, though certainly not made to any style guidelines, certainly not an Impy!
953 characters
3.06
/5
rDev
-18.4%
look: 4 | smell: 3 | taste: 3 | feel: 3 | overall: 3
I picked up a bottle at the brewery when it was released but haven't had the time to review until now.
Poured a deep black with a big light brown head that settled to a small ring of foam. It left some lacing behind.
The smell is light with scents of an earthy coffee. Not much else really. The taste has a bit more.. coffee predominantly but there are some bittering hops towards the end. I get virtually no fruit flavours except for a touch towards the end. It's not terribly complex and the flavours that are there don't really jell together all that well.
Mouthfeel is hindered somewhat by overly aggressive carbonation, but otherwise ok. Drinkability is average.
670 characters
3.92
/5
rDev
+4.5%
look: 3.5 | smell: 4 | taste: 4 | feel: 3.5 | overall: 4
Tap at Volo.
Poured a dark black and surprisingly clear, there was a little mahogany hue around the edges of the glass, and an ever so slightly tanned head that sunk to a slight film. Not much retention for the head or lacing.
The nose is pretty interesting. The belgian yeast character gives it a nice kick . Front off there is a hefty amount of smoke, charcoal, a little chocolate and vanilla along with a herbal character that is similar of cola nut. The yeast brings out some ripe raspberry and strawberry qualities as if they are stewing in their own juices and just mingle with the roast and chocolate tones.
The taste leans away from the smoke and puts front a very rich roasted cocoa beans, coffee, chocolate and vanilla. There is a little herbal quality that floats over the tongue and is blended with bready notes from the yeast. The finish is very nice and dry and snaps quickly with cloves and pepper and leaves the berry-like sugars resting on the palate. It is fairly complex.
The mouthfeel does end up seeming a little thin with it's high carbonation and why I would lean away from wanting to place it with other imperial stouts, but what's in a name? It doesn't take away from the drinkability of this one.
Belgian Strong Dark Ale seems more appropriate for its characteristics. As a stout it seems to fall short of what I want, mostly in the mouthfeel.
1,375 characters
3.57
/5
rDev
-4.8%
look: 3.5 | smell: 4 | taste: 3.5 | feel: 3 | overall: 3.5
On tap at Volo, served in a snifter.
Pours a clear dark ruby red, black away from the light, thin light tan head forms and quickly settles to a thin ring around the glass, no real lacing and the dies quickly.
Smell is neat, quite oaky, alcohol, dark fruit, a bit of brown sugar sweetness, light chocolate wafer and a touch of roastiness, vanilla, not bad.
Taste is similar, sweet up front, chocolate, some roast, caramel, a bit of dark fruit, oak, vanilla, alcohol, I like the fruit character but the oak was a touch astringent.
Mouthfeel is light bodied, almost thin, with rough carbonation, maybe not so much highly carbonated but not so well integrated. Some significant warmth going down. Won't roll with the big boys, but a good experiment.
749 characters
3.6
/5
rDev
-4%
look: 4 | smell: 4 | taste: 3.5 | feel: 3 | overall: 3.5
Enjoyed on-tap at Bar Volo, with the owner of Beaus. A complex aroma of coffee and yeast. Black with a notion of head. Medium mouthfeel, or even a tad below for its style. A story in chocolate, and yeast. Very drinkable, more of a single stout really. A touch of sourness mid-sip.
280 characters
Wild Oats Series No. 1 - Matt's Sleepy Time Belgian Imperial Stout from Beau's All Natural Brewing Company
3.75
out of
5
based on
97
ratings.