Wild Oats Series No. 9 - Winterbrewed
| Beau's All Natural Brewing Company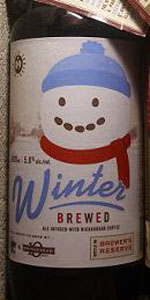 BEER INFO
Brewed by:
Beau's All Natural Brewing Company
Ontario
,
Canada
beaus.ca
Style:
American Amber / Red Lager
Alcohol by volume (ABV):
6.00%
Availability:
Winter
Notes / Commercial Description:
The 2012 edition of Winterbrewed is an amber lager, brewed with Guatemalan organic fair trade coffee from Bridgehead. Colour is light amber with orangey hues. The coffee flavours and aromas are accented and enhanced by a distinct New Zealand hop presence.
25 IBU
Added by Viggo on 02-14-2011
Reviews: 15 | Ratings: 39

3.58
/5
rDev
-5.8%
look: 3.75 | smell: 3.75 | taste: 3.5 | feel: 3.5 | overall: 3.5
Purchased as part of a Best of Beau's 4pk for $24.00. 600ml bottle served at 4deg C in a tulip
A- Opens well and pours a small white head that is gone in seconds. Rather dark almost red color. Filtered clear
S- Good hops. Caramel. cinnamon and spice and everything nice.
T- Nicely balanced beer. Tobacco and nutmeg. Nice brew
M- Dry and balanced
O- Pretty good brew. Enjoyable and will buy if I see it on tap
Food Pairing
This nice little brew went well with....... Smoked salmon believe it or not!
Enjoy
514 characters
3.91
/5
rDev
+2.9%
look: 3.75 | smell: 4 | taste: 4 | feel: 3.75 | overall: 3.75
A: The beer is hazy dark amber in color. It poured with a half finger high off white head that died down, but consistently left a short head covering the surface.
S: Very strong aromas of coffee beans are present in the nose.
T: Just like the smell, the taste has strong flavors of cold brewed coffee.
M: It feels just about medium-bodied on the palate and has a moderate amount of carbonation.
O: This beer isn't very malty, but has lots of coffee flavors. As it is exploding with coffee, it would make for a good beer to drink when tailgating in the morning for a football game in the late fall or winter.
Serving type: bottle
634 characters

4.16
/5
rDev
+9.5%
look: 5 | smell: 4 | taste: 4 | feel: 4 | overall: 4.5
600 mL bottle included in the Best of Beau's 2014 sampler pack; bottled Oct 22 2014 and served slightly chilled.
Pours a hazy amber-orange colour with a bit of a brownish tinge, topped off with just under two fingers' worth of fluffy, off-white head that gradually condenses into a creamy, resilient cap. Great retention, with a full ring of sticky lace deposited while it slowly recedes. Little black flecks of (what I am assuming is) coffee slowly build up at the bottom of the glass as time goes on. The aroma includes strong notes of dark roasted coffee grounds, in addition to hints of toffee, toasted nuts and earthy, floral hop notes. Thumbs up so far.
This stuff was definitely brewed with coffee-loving beer drinkers in mind. Malty caramel sweetness, toasted tree nuts and roasted malts offer some wonderful interplay with the huge notes of coffee grounds and cappuccino. A hint of citrus peel also comes through, with baker's chocolate and bitter coffee rounding out the finish and providing an enjoyably persistent aftertaste. Light-medium in body, with moderate carbonation levels that provide a good, crisp feel in the mouth that softens as the beer warms. A pleasure to sip; just a solid beer all around.
Final Grade: 4.15, an impressive A-. Winterbrewed is an excellent coffee-infused beer, and quite possibly my favourite of the four offerings contained in this sampler. The roasty coffee bean flavour is fairly intense, providing a lovely, lingering bitterness that is certain to please the java nuts. Reminds me of an English brown crossed with an amber and then mixed with coffee grounds - great stuff that I would almost certainly pick up again, assuming it were to become available in a more accessible format.
1,735 characters
3.94
/5
rDev
+3.7%
look: 4 | smell: 3.75 | taste: 4 | feel: 4 | overall: 4
big up to my BA in crime andrenaline for including this in our last trade
A - dark clear amber brown, solid head retained at half a finder with plenty of consistent lacing
S - strong raw coffee bean aroma, mild molasses but the coffee dominates everything
T - BIG ground espresso flavour, some toffee and bloodlike flavours, finishes with a bit of a resiny touch
M - medium with a definite coffee smoky/roasty/chaulky feel with an equivalent coffee bitterness
T - this brew is really only for those who love beer and coffee, which I am so it's a tasty treat that i'm enjoying to the max
586 characters
3.7
/5
rDev
-2.6%
look: 3.75 | smell: 3.75 | taste: 3.75 | feel: 3.25 | overall: 3.75
Bottle: Poured a clear light amber color ale with a huge light brown foamy head with good retention and minimal lacing. Aroma of floral dry coffee notes is quite strong and dominated any other characteristics. Taste is also dominated by floral coffee notes with just the right amount of astringency. Body is light with good carbonation. Very well brewed though I am not enough of a coffee junky to appreciate this to the full extent.
433 characters

3.94
/5
rDev
+3.7%
look: 4 | smell: 4.25 | taste: 3.75 | feel: 3.75 | overall: 4
Appearance: It has a nice clear deep amber color to it. It has a nice light beige head that dies down moderately and leaves some nice lacing.
Smell: The aromas definitely give out hints of coffee with some chocolate, caramel, roasted malts and some nuttiness.
Taste: Like the aromas, it has some rich coffee along with roasty notes, chocolate, cappuccino, some caramel sweetness and some nutty notes.
Mouthfeel: It has a medium carbonation with a nice overall balance and feel.
Drinkability: It's a very smooth drinkable beer accompanied with good flavors and aromas.
574 characters
4.39
/5
rDev
+15.5%
look: 4.25 | smell: 4.5 | taste: 4.5 | feel: 4 | overall: 4.25
Bottle into tumbler.
2013 release. I'm slowly working my way through as many Beau's beers as I can.
Completely translucent brown pour. The appearance of coffee with a latte head of light tan foam. Lacing is decent.
Black coffee, black coffee, black coffee and oh... did I mention black coffee? This smells like I should be scrambling some eggs to go with this. Slight nutty aroma with a touch of sweetness.
Iced coffee and a brown ale. There isn't anything else going on in here. I think if Starbucks of Timmies started selling this I'd never buy regular coffee again, or be able to work lol.
Light body, good carbonation.
This is the most coffee forward beer I've ever had. I had Surly Coffee Bender before and I found the coffee quite muddled compared to this. This is just awesome.
789 characters
3.97
/5
rDev
+4.5%
look: 3.5 | smell: 4 | taste: 4 | feel: 4 | overall: 4
A - Pours a nice ruby red colour, thumb of head with solid retention and no real lacing.
S - Coffee, fresh brewed with a touch of sugar and cream. This is straight up coffee with a hint of caramel on the finish. Impressive.
T - The flavour is again dominated by freshly brewed coffee with a sweet cocoa undertone that lingers alongside toasted oats and a milk chocolate finish. Espresso bitterness comes through with a hint of caramel.
M - Medium bodied, smooth and a touch of dryness.
O - A tasty coffee infused ale that is sure to please. I could pound this stuff all day, and am glad I have a few extra bottles to get through.
633 characters

3.74
/5
rDev
-1.6%
look: 4 | smell: 3.75 | taste: 3.75 | feel: 3.5 | overall: 3.75
(4.0) A: Clear and rich mahogany amber colour with a thick and creamy foam head. Lasting retention and noticeable lacing down the glass.
(3.75) S: Bitter dark chocolate covered espresso beans, tart raspberries, vanilla, toffee or butterscotch, and herbal aromas. The espresso bean aroma is bold and enticing and could be smelled during the pour.
(3.75) T: Espresso bean, dark chocolate, nuts, caramel, tart raspberry, and grains on the finish. A general creamy cappuccino-like taste. Appropriately dry with some slight bitterness. Quite easy drinking with a solid flavour profile that comes across relatively smooth and mellow.
(3.5) M: Lighter bodied with medium carbonation. Faint oily sheen but predominately clean and crisp.
(3.75) D: Although I've only had a chance to try Beau's more mainstream offerings, this is my favourite of theirs to date, albeit a collaboration. Very good strong coffee flavours come through but this still retains a high drinkability. Worth a try.
989 characters

3.55
/5
rDev
-6.6%
look: 4.25 | smell: 3 | taste: 3.75 | feel: 3.75 | overall: 3.5
Rich ruby amber colour, 1.5 fingers of off white head, rocky with lots of lace as well. Smell is dominated by coffee grinds, faint malt is in the backround and as it warms reveals a decent amount of hops but the coffee is near imposible to get past. Taste is less coffee heavy than expected, malty with quite a bit of coffee, a bit of caramel and toffee, lightly sweet, chocolate and lightly bitter in the finish, mild hop aftertaste with more coffee. Medium-light carbonation, medium body, light at points, pretty good feel. Not bad and fairly interesting, but a bit one dimensional, dont see myself coming back to this.
621 characters
3.67
/5
rDev
-3.4%
look: 4 | smell: 3.75 | taste: 3.5 | feel: 3.75 | overall: 3.75
Beer #1,200 apparently.
Bottles on 01/29/13. Poured in to tulip.
ABV listed at 6.0%, so they have seemingly increased the ABV in this batch.
A - Poured a deep amber colour, only very slightly translucent. One finger of cream coloured head formed and slowly reduced to a few scattered bubbles.
S - Rich espresso aroma up front is dominant. Some sweet caramel, nuttiness and a noticeable hop presence in the background.
T - The coffee flavour dominates, but with much less intensity than the nose suggested. Instead of dark roasted espresso, the flavour translates moreso as a a light roasted coffee, at times even seemingly more like spent coffee grinds (although not in a negative way). The base beer is somewhat overwhelmed by the coffee and doesn't shine like I hoped it would. There is a very light caramel sweetness and a touch of fruitiness, but not much else reminiscent of an amber ale comes through. The hopping seems to have been masked by the bitterness of the coffee.
M - Medium body with moderate carbonation.
O - This was an interesting beer to say the least. One of the better Beau's offerings I have had recently, but still far from a world class beer.
1,174 characters

4.19
/5
rDev
+10.3%
look: 3.5 | smell: 4.5 | taste: 4 | feel: 4 | overall: 4.5
2012 recipe. 4.8%. Apparently they brewed the coffee in the kettle at the same time as brewing the beer, rather than infusing it and used Guatemalan coffee instead of Nicaraguan. Bottle #0144, packaged on Feb. 1? (the stamp is smudged).
Pours a nice, clear amber colour with a large, frothy head that sticks around as a collared film and leaves a small amount of lace.
Aroma is of freshly ground and brewed coffee, syrupy fruit and sweet malts, with a very pleasant toastiness about it.
The taste very toasty as well, with the bitter coffee taking the lead, but refreshingly accompanied by a light lemongrass flavour. There's also a solid tree nut flavour in there and the finish is quite dry.
The mouth is creamy at first, followed by an earthy, bready feeling with a very slight oiliness. Medium-bodied with a low carbonation, it drinks much like an English ale. The aftertaste leaves a lingering roasted coffee note.
This is a really tasty beer that was surprisingly refreshing. I'd drink regularly if it were around, though I'd probably classify it as an herbed/spiced beer more than an amber ale.
1,106 characters
3.53
/5
rDev
-7.1%
look: 4 | smell: 3.5 | taste: 3.5 | feel: 3.5 | overall: 3.5
650ml brown bottle with a freshness date.
LOOK: Dark brown with amber highlights, excellent lacing
SMELL: Used coffee grounds, carob, chicory, nutty, toasted bread, vague fruitiness
TASTE: Fresh coffee, slightly burnt, bready, burnt biscuits, dried plums, faintly herbal, yeast, nutty grain, dry-ish finish
Not too shabby, a big rough around the edges from the coffee flavor but nothing I could not handle. Pretty dark for an amber ale but I guess we can chalk this up as the darkest end of the spectrum for the style right? Glad to have run into this beer.
561 characters
3.4
/5
rDev
-10.5%
look: 4 | smell: 4 | taste: 3.5 | feel: 3 | overall: 2.5
A coffee stout with some spices. Coffee aromas. Looks good dark and a lace sheet. Not so drinkable. Astringency builds up, acid from the roasting.Must really like coffee.
stephen rich's bottle.Would like more expresso taste to be interesting.Some chocolate would be interesting.
278 characters
3.57
/5
rDev
-6.1%
look: 3.5 | smell: 4 | taste: 3.5 | feel: 3 | overall: 3.5
On tap at Gambrinus. Turbid dark amber/brown with a creamy one inch beige cap. Some lace left on the glass.The nose is dominated by coffee. Like an espresso shot with a densely earthy quality with some vanilla, dark rum too. Slightly sweet to start with a marked coffee bitterness that lingers for some time. As if someone added a shot of espresso to my beer. Very cool. Creamy, medium bodied with a long bitterness. Great stuff!
429 characters
Wild Oats Series No. 9 - Winterbrewed from Beau's All Natural Brewing Company
3.8
out of
5
based on
39
ratings.