Moutai Beer
| Guizhou Maotai Distillery Group Brewing Co., Ltd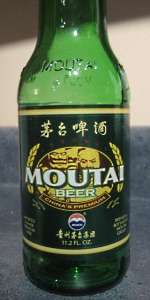 BEER INFO
Brewed by:
Guizhou Maotai Distillery Group Brewing Co., Ltd
China
moutaibeer.com
Style:
Euro Pale Lager
Alcohol by volume (ABV):
3.90%
Availability:
Year-round
Notes / Commercial Description:
No notes at this time.
Added by ithacabaron on 02-10-2012
Ratings: 10 | Reviews: 4
Reviews by ithacabaron:
3.2
/5
rDev
+12.3%
look: 3.5 | smell: 3.5 | taste: 3 | feel: 3.5 | overall: 3
17.5 oz. bottle, purchased in Southern California, for $1.29.
Pours a very, very pale straw; perhaps the lightest colored beer I've ever seen. I've brewed all-pilsner malt beers before, and they were darker than this. Makes me think there's some serious adjunct work going on here. Bubbles are fairly big "toad's-eyes," noodling up lazily here and there, but there's a very big, loosely-structured head on top. This soon settles down to a half-inch cap, and leaves clunky lacing on the way down. Pretty good.
Aroma as I pour is a big-ol' burst of saaz hops, all grass and flint, but it soon escapes to the wind. As I come closer, a strong malt backing -- it smells almost perfectly of English digestive biscuits -- emerges to underwrite the hoppy overtones. Very clean; there's some hint of skunk, etc., but otherwise, right down the middle. Promising.
Taste, unfortunately, just can't live up to the test. It's pretty much seltzer. That's not to say that it's unpleasant -- certainly, this has lawnmower beer written all over it -- but there's not much "there" there. No hops, and no malt either; a slightly sour, yet still mild whiff of cilantro comes by at the end, but doesn't make much difference either way. For what it's worth, after the swallow, the finish is very clean. Considering this company's other product (a liquor that is the national beverage of China) is an in-your-face experience, I'm somewhat surprised.
Mouthfeel is firm, but as it sits in the glass, the bubbles start to dissipate. Would stand up to oily dishes, however.
Overall, this beer seems to lack substance; it's more Banquo's Ghost than Lady Macbeth. Would be worth trying to pair with Sichuan food (although that may be too stiff a task), and certainly, a bottle while working out in the yard wouldn't offend. In fact, I'd be hard pressed to think of a better beer to make Radlers with. So there's that.
For $1.29, was I ripped off? No way. Will I buy again? Maybe if the temps outside break 100.
1,986 characters
More User Reviews:
2.91
/5
rDev
+2.1%
look: 3.5 | smell: 2.5 | taste: 3 | feel: 3 | overall: 3
330ml bottle, a single from still the only store in Edmonton offering mixed six-packs. Sheesh, but good for them.
This beer pours a clear, very pale golden yellow colour, with two fingers of foamy, puffy, somewhat dirty white head, which leaves a few broad swaths of tightly packed island group lace around the glass as it tidily recedes.
It smells of earthy, dead-leaf hops, a prominent flintiness, weak-ass pale malt, and a sugar-free generic fruitiness. The taste is wet cardboard box, a slight peppery spiciness, diluted stale pitted fruit, more stoney minerality, and a nigh-skunky, soaked reefer vegetal character.
The bubbles are pretty much inert, the body a generally sturdy medium weight for the style, and actually fairly smooth, in a pithy, soft water sort of manner. It finishes off-dry, the way understated pale malt and murky fruitiness still holding sway in a world of mineral spa natural chemical overload.
I am indeed giving a fully average rating, as this is the first Chinese beer that I could stomach, and even appreciate a little. It is tainted, and strangely carbon-heavy, but hey, it's a step in the right direction, for a country that inconceivably, but ultimately, and practically, drinks the most beer in the world.
1,246 characters


2.45
/5
rDev
-14%
look: 2.5 | smell: 2.5 | taste: 2.5 | feel: 2 | overall: 2.5
1 pint 1.5 fl oz green glass bottle with foiled-over pressure cap served into N'Ice Chouffe stemware in me gaff in low altitude Los Angeles. Reviewed live. Expectations are extremely low. Acquired at Ranch 99 in San Gabriel, California (Chinatown).
A: Pours a four finger head of slight cream, okay thickness, and pretty decent retention. Colour is a clear straw yellow - among the palest I've ever seen. No yeast particles are visible. Not real appealing.
Sm: Straw, cream, and fresh barley. Vaguely evocative of hints of cannabis. A simple boring aroma. Light in strength.
T: Straw and clean barley. Slightly stale cream. Simple, bland, and boring. Neither subtle nor complex. No layering. No yeast comes through. Luckily, it's not watery.
Mf: Smooth and wet, with some coarseness on the finish. A bit too thick. Overcarbonated but not quite sharp.
Dr: Drinkable but very unremarkable. Very much a table beer at best. I don't really care for it. I'd never get it again, nor would I recommend it to friends. A poor beer, but not an awful one.
D+
1,057 characters
3.03
/5
rDev
+6.3%
look: 3.5 | smell: 3 | taste: 3 | feel: 3 | overall: 3
Dated 7/22/12.
Pours a clear light yellow with a foamy off-white head that settles to a film on top of the beer. Broken rings of lace form around the glass on the drink down. Smell is of malt, grain, grass, and a hint of skunk that fades out over time. Taste is much the same with a sweet finish. This beer has a lower level of carbonation with a slightly crisp mouthfeel. Overall, this is an average beer that is pretty decent and drinkable.
443 characters


2.11
/5
rDev
-26%
look: 3 | smell: 2 | taste: 2 | feel: 2 | overall: 2.25
Moutai Beer from Guizhou Maotai Distillery Group Brewing Co., Ltd
2.85
out of
5
based on
10
ratings.