The Monarch Tavern - Fountain City Brewing Co.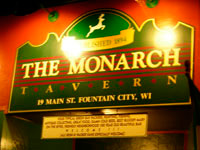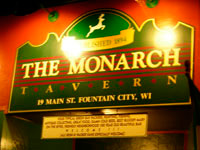 PLACE INFO
Type:
Brewery, Bar, Eatery
19 N Main St.
Fountain City
,
Wisconsin
, 54629
United States
(608) 687-4231 |
map
monarchtavern.com
Notes:
No notes at this time.
Added by DaPeculierDane on 01-20-2007
HISTOGRAM
View: Beers | Place Reviews
Ratings: 6 | Reviews: 4
Reviews by MikeFromMarsPA:
4.08
/5
rDev
-1.4%
vibe: 4.5 | quality: 4.5 | service: 4.5 | selection: 3 | food: 4
Thanks to the miracle of WiFi, I can write this review as I sit at the bar of the Monarch Tavern. We're here for Tuesday lunch, so the place is pretty empty, meaning that the service is great... Jane is both our bartender and our cook.
The Monarch Tavern is a beautiful old space (since 1894) on Main Street in a small town (pop. 900) on the Mississippi River (you can see it out the back) in Wisconsin. To me Wisconsin stirs up images of gallons of tasteless macrobrews, so this place is a pleasant surprise.
There are three house beers (plus some macros, Harp, Guinness, etc.) on tap as we speak. Neither of us are big lager fans, but we both thought that the Fountain Brew Summer Lager was towards the top of the lager field. Neither of us are big Red fans either, but again, the Prairie Moon Red was at least competent. I just took a big swig of the Irish Valley Spring Bock, and lemme tell ya, it's pretty tasty. Thank goodness we have an empty growler in the car, since they'll fill them, but don't have any of their own.
This place is comfortable, unpretentious and friendly, with a great menu and three good beers. We each had a burger, which was delicious, and the menu offered a lot more. It's a shame they only had three beers on tap, since I wish I could sample more... for such a beer-intensive state, this place rises to the top and captures what I really like about Wisconsin.
1,401 characters
More User Reviews:

4.36
/5
rDev
+5.3%
vibe: 4.5 | quality: 4.25 | service: 4.5 | selection: 4.25 | food: 4.5

4.22
/5
rDev
+1.9%
vibe: 4.5 | quality: 4.5 | service: 5 | selection: 3
Stopped in here during my recent tour of Wisconsin. Nestled in a store front on a quaint little street in a quiet town on the Mississippi. From the outside it was a bit unassuming. Once through the door it's a total stunner. Full on authentic Irish themed pub. 20 foot ceiling covered in pressed tin. To the right is a full living room set up with a couch and chairs. In the back is a loft with another living room set up. We sat at the bar and were greeted by the bartender. Who later turned out to be the co owner.
We were given a run down of the beers they had on tap and ordered a couple pints. Sadly they were out of their original Fountain city beer but we soldiered on. After a few sips a gentleman came in from the back and started to chat with us. He turned out to be the owner Jack. Wow was he a wealth of information. He gave us the entire history of the bar and the beer along with a handful of great stories. He actually used to do business in the Milwaukee area so we had plenty to talk about. Jack was nice enough to take us on a full tour of the place. Which included the renovated dining area on the other side of the bar as well as the new downstairs "man cave" area. We joked if he had this place in Milwaukee he would be a millionaire. He laughed and said he's heard that a "few" times.
The menu looked very interesting with tons of options. The pizza list was very impressive. We were meeting friends for dinner so we passed on food.
After a solid hour of great conversation we had to be on our way. Jack wished us well and told us we were welcome back anytime as his "friends".
Overall this place is a must stop if in the area. Maybe the beer selection isn't super long but the warmth of the people working there will amaze you. I will be heading back anytime I'm even remotely in the area.
1,819 characters
4.18
/5
rDev
+1%
vibe: 4.5 | quality: 4 | service: 5 | selection: 3.5 | food: 4
Stumbled across the Monarch out of pure luck, which rarely happens these days with modern technology. We were on a leisurely drive up the Mississippi, and stopped in Alma prior to stopping here. Looking for a place to eat, this looked to be the nicest place on our drive. The glowing "Fountain Brew" sign near the entrance had me curious, and I was stunned to learn they brewed their own beer (hadn't checked BA).
Inside the place was spacious and airy, with a balcony in the back, bar in the front, and cozy tables scattered all around. The second storefront housed the kitchen and a second seating area (2nd balcony) and a basement bar for private parties (it must be seen to be believed, there's an albino deer down there, among many other things). We sat at an antique table with high-backed booth seats, decorated with hand-embroidered throw pillows. Tons of antiques and breweriana in the place. A collection of 150+ vintage beer labels (all regional WI and MN) was on the wall near the stairs, which was most impressive.
Our server was a sweetheart, and chatted with us, as it was slow on a Wednesday night. She gave us a brief history and tour of the place, which was fun. Also she didn't miss a beat describing the house beers. The homemade pizza came out quickly and was very good.
The selection is limited to the house beers (3 available on our visit) and the usual Irish macros. Could use a few more, but maybe they don't sell as well in a town with a population under 1000. Even Alma up the road had a decent selection of craft brews. Monarch is worth a return trip for the food, service, and atmosphere alone, the beer is just a bonus.
1,655 characters

3.98
/5
rDev
-3.9%
vibe: 5 | quality: 4 | service: 4 | selection: 3.5 | food: 4
As I last visited The Monarch Tavern ten years ago I was expecting some changes, but boy how it's changed! The first thing I noticed was the name change: it is now called The Monarch Public House. The second thing I noticed is that it's now an Irish pub in both menu and theme; even before entering I noticed the theme carried into the color scheme in the beer garden and outdoor signage. But upon entering you'll notice that the most impressive aspect of the place is its size, which is perhaps double the size of an average riverside tavern. And while the building is quite old it's been completely restored, from the refinished hardwood floors to the pressed-tin ceilings and mpore - there are plenty of other building and site-specific items you should learn about when you visit. The total effect of the restoration might strike some as upscale, but this "restored authentic" version of upscale is something you'll never find in a newly-built Irish pub in any American suburb. And yes, there's still plenty of that old-time river town tavern charm - more on that later.
When I visited in 1997 the place seemed like a diamond in the rough, with plaster applied to the now-restored brick interior, scuffed wooden floors, neon signs galore and an almost cavernous feel. In 2007 I noticed the size but also that there are now two large rooms upstairs, consisting of the original bar and the Preservation Hall next door. The rooms are rather identical in size and feature large windows allowing plenty of natural light to bring light to the vibrant hues applied to the restored interiror. Half a dozen high-backed booths ring each room and surround another half a dozen two to eight-top table and chair arrangements. Particularly unique were the plushly-appointed lofts, which were accessible via antique spiral staircases. But the centerpiece of the place is undoubtedly the masterfully carved backbar -- you won't find anything this ornate for hundreds of miles, and it's a true testament to the restoration process. Downstairs in what used to be the cellar is where old time river pub charm truly shines. The Absolute Rock Bottom Pub has a floor inlaid with large, rough-hewn limestone, large rustic tables, a backbar decorated with the grille of an old tractor, and an albino deer showcased at the far end of the room (for that matter, it's worth noting the mounted trophy deer and antlers throughout the building.) And last but not least, the whole building is decked with vintage photographs of Fountain City's brewing past, along with enough collectible, vintage breweriana to keep a collector busily scanning the walls and cupboards for hours!
Speaking of brewing, the Fountain City Brewing Company is the brand name on the house taps, and the Monarch is the only place you can get them. With four year round offerings and several rotating seasonals there's something for everyone. Those who prefer bigger brand names can choose from Guinness Draught, Harp, and Smithwick's, along with Coors Light for those who prefer the official beer of (American) Football. Not a small mention should be made of the menu, which is large yet personal, incorporating several family recipes for the Irish fare mentioned earlier. Fact is, this is one of the best pub menus I've ever seen, with literally something for everyone. On this occasion we opted for the 'Barbarians at the Gate' pizza, which was served up hot and delicious, with a crispy thin crust and plenty of meat! With a pizza like this we needed no appetizers, but there are many tempting options to choose from. Instead I enjoyed a couple of the house beers, one with my meal and one over a game of pool afterwards.
We arrived in the early afternoon on a Monday, and shared the company of perhaps eight other travelers and locals, all of whom were enjoying the beautiful fall weather along the upper Mississippi. The service was truly warm and courteous, easily a match for the wonderful interior, and we shared light conversation with the Harrington's. If I lived closer to town I'd definitely be a regular, and as it is I'm looking forward to a return trip next spring; more pool -and a longer visit- are in the offing! The Monarch Public House is definitely worth a visit while you travel along the river, and for breweriana collectors it is truly a destination unto itself.
4,339 characters
The Monarch Tavern - Fountain City Brewing Co. in Fountain City, WI
Brewery rating:
3.52
out of
5
with
11
ratings