Rockman High Gravity Lager
| Upper Canada Brewing Company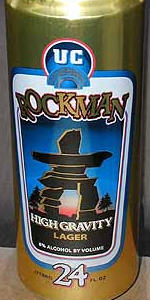 BEER INFO
Brewed by:
Upper Canada Brewing Company
Ontario
,
Canada
uppercanada.com
Style:
American Malt Liquor
Alcohol by volume (ABV):
8.00%
Availability:
Year-round
Notes / Commercial Description:
No notes at this time.
Added by WesWes on 06-27-2005
This beer is retired; no longer brewed.
Ratings: 6 | Reviews: 6
Reviews by WesWes:

3.12
/5
rDev
+47.2%
look: 3 | smell: 3.5 | taste: 3 | feel: 3 | overall: 3
The beer pours a pale gold color with a thick frothy white head that quickly fades to spotty lacing. The aroma is decent. It has a rich pale malt and adjunct scent that is a bit sweet and musty. The taste is average. It has a sweet pale malt flavor that warms on the way down and finishes dry and syrupy. The mouthfeel is average. It is a full bodied beer with adequate carbonation. This is an interesting brew. I'm not sure I like it, but it's different. It has no real aroma or taste. It's one and done for me.
512 characters
More User Reviews:
2.18
/5
rDev
+2.8%
look: 2.5 | smell: 2 | taste: 2.5 | feel: 1.5 | overall: 2
Wow, Upper Canada brews a malt liquor I guess I try it along with my Four O Malt liquor what a day buying tasty brews then the malt liquor bug bites you in the ass. Appears a golden clear tone with white foamy head leaves fine lacing around my glass. Aroma contains tart apples sweet graininess herbal hops alcohol of course seems rough and not hidden at all. Taste...interesting mix of flavors actual fruity edge full of tart apples sugary yet flavorful and a bit focused on the fruity tones that came out during fermentation light herbal hop character low low bitterness. Mouthfeel is light to medium body syrupy texture especially as it warms fizzy carbonation could possibly induce a gag reflex if all 24oz were consumed. Drinkability...alright for a malt liquor however to be honest it was pretty harsh midway through even though the fruitiness didn't hurt it actually had some appeal.
890 characters

1.33
/5
rDev
-37.3%
look: 1.5 | smell: 1 | taste: 1 | feel: 3 | overall: 1.5
WOAH, does this shit suck. I found this soon after moving to Bed-Stuy, and as the malt liquor aficianado I am, I picked up a couple cans. 50 cents a piece. This stuff tastes like utter trash in a can; if you only have half a dollar and you find yourself in Brooklyn, buy a half quart can of Crazy Stallion or Country Club instead. They might not have the same alcoholic kick as Rockhead, but neither will they taste like dehydrated pissdust or render you 'dumb as a box of rocks.' I can't understand why this is under Euro Strong Lager: there's no hops to speak of, no qualities that our European friends or enemies would ever claim for themselves. Fuck this shit; Avoid.
671 characters
1.61
/5
rDev
-24.1%
look: 2.5 | smell: 1.5 | taste: 1.5 | feel: 2 | overall: 1.5
Appearance: Clear gold color. Small head, fast fading.
Smell: Smells like rotten vegetables and light malt.
Taste: Sweet and corny, you can really taste the adjunct. A slight yeasty flavor, pretty bad.
Mouthfeel: OK, except for the lingering ill aftertaste.
Drinkability: Even as malt liquors go, this is a pretty bad one. Definitely avoid.
353 characters

2.03
/5
rDev
-4.2%
look: 3 | smell: 2.5 | taste: 1.5 | feel: 2.5 | overall: 2
24 oz. can bought for 99 cents.
pours out a deep golden straw colour, ample head and active carbonation. slight lacing. adjunct aroma...a bit corny...but not unpleasant. flavour heavy on the corn syrup side...noticeable alcohol; absent of any real hop flavour, although a sense of bittering to balance the heavy handedness of the adjunctness. quite a syrupy and full mouthfeel. big bodied just as one might assume in a high gravity, high alcohol lager.
oh boy does this one get nasty after about half the can. cheap malt liquor designed to get the consumer drunk ASAP. yuck.
this would be the perfect concoction to soak your brats. and for the price it wood be great to soak the wood used to smoke your meats on the weber. FYI...my scores are kind.
759 characters
2.45
/5
rDev
+15.6%
look: 2.5 | smell: 2.5 | taste: 2.5 | feel: 3 | overall: 2
What is it about Wisconsin (and Wisconsinites) that makes that state the malt liquor center of the universe? Of the 15 beers of this style that I've had prior to today, fully 8 of them have been from Badger country. Half from La Crosse and the other half from Milwaukee. Despite what it says above, my can of Rockman High Gravity Lager indicates that it's brewed in La Crosse. Oh well, on to Malt Likkapalooza VI.
Bold gold with several steady streams of fine bubbles leading up to an off-white cap that, nevertheless, is brighter than its competitor. It's of poor quality however. Deflation occurs fairly rapidly and the foam doesn't look all that great in the process. A complete lack of lace puts it yet another notch behind the Canuck.
Rockman's nose isn't quite as good, but its inoffensiveness is to be commended (the rules are different here). There isn't as much power, so it makes specifics hard to come by. For one thing, there doesn't seem to be as much of a hop influence in this beer. I have a feeling that I already know who the winner is going to be. Incidently, this is an American malt liquor (change request submitted), not a Euro strong lager.
This beer isn't the absolute crap that I was led to believe it is. Having said that, I've had much, much better. First of all, alcohol is up close and personal. If you know what to expect though (and who doesn't?), it's easily tolerated. Strength of flavor is present and accounted for, but quality of flavor isn't. Rockman, like its name, is a simple brute of a beer.
Read my description of Molson XXX's mouthfeel if you want to know my impression of this mouthfeel. This is the only category in the whole damn shootin' match in which this beer manages to stay equal with its competitor.
Rockman High Gravity Lager couldn't get the job done when faced with a superior product from north of the border. Don't worry Wisconsin, I still consider you the malt liquor capital of the universe. While I can't imagine ever drinking this stuff again, the Rockman and I are still on good terms.
2,062 characters
Rockman High Gravity Lager from Upper Canada Brewing Company
2.12
out of
5
based on
6
ratings.