Peach Hefeweizen
| Laht Neppur Brewing Company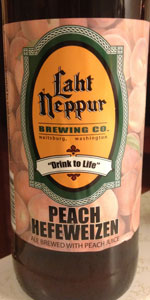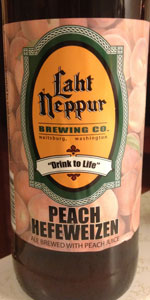 BEER INFO
Brewed by:
Laht Neppur Brewing Company
Washington
,
United States
lahtneppur.com
Style:
Hefeweizen
Alcohol by volume (ABV):
6.00%
Availability:
Year-round
Notes / Commercial Description:
No notes at this time.
Added by harrymel on 02-28-2013
HISTOGRAM
Ratings: 15 | Reviews: 6

3.5
/5
rDev
+6.4%
look: 3.5 | smell: 3.5 | taste: 3.5 | feel: 3.5 | overall: 3.5
3.25
/5
rDev
-1.2%
look: 3 | smell: 3 | taste: 3.5 | feel: 3 | overall: 3.25
If I went strictly by the style this beer (?) would do poorly. However as a fruit beverage it is very tasty. This would be a great one for those who don't care for beer but like the sweet and tasty alco pop products. As for me I am not a fan of fruit beers but this one was super peachy.
287 characters


3.35
/5
rDev
+1.8%
look: 3.25 | smell: 3.25 | taste: 3.25 | feel: 3.75 | overall: 3.5
Poured from 22oz bomber into a weizen glass.
Appearance: medium orange hue with a moderate haze and effervescence. Head poured a finger of creamy white foam, but this dissipated somewhat quickly without any lace. It's OK.
Smell: light aroma with a little bit of wheat and a little bit of peach. Not much in the way of yummy hefeweizen esters. Still, it's a refreshing aroma.
Taste: the peach is a little more pronounced in the flavor than in the aroma, which in this case is good thing. Otherwise, it's much more like an American pale wheat ale than a German hefeweizen. It's not a bad beer; just not particularly inspiring.
Mouthfeel: medium body with a nice carbonation and creaminess. Not bad.
Overall: while not stylistically accurate, this is a nicely refreshing brew on a hot day like today. Connoisseurs of fruit beers may indeed want to try this.
859 characters
3.44
/5
rDev
+4.6%
look: 4 | smell: 3.75 | taste: 3 | feel: 4 | overall: 3.5
Laht Neppurs Peach Hefeweizen is by far the most inconsistent brew Laht Neppur has to offer. It is often times far to sweet with a peach flavor that is way over the top, though this has been the trend for the last few months. On average I would rate this as a fantastic hefeweizen .
A: From the tap you'll receive a slightly orange tinted brew, with a nice creamy white head. Cloudy.
S: On good batches (in my opinion) you'll find a slight hint of peaches with a very "wheaty" smell. Fairly pleasant. Recently however it has been a very over-powering peach smell.
T: Sweet and crisp. Notes of apple and peaches, however recently very potent on the peaches. Has a somewhat salty finish
M: Fantastically light on average finishes very crisp and smooth.
O: A very nice hefeweizen with beautiful textures, a lovely smell and finishes off smooth and crisp. Though with the inconsistencies I imagine with the peaches themselves it can often be difficult to finish due to the overwhelming sweetness.
On a note; if they are capable of making it consistent with a crisp taste and not it being overwhelming sweet I would happily give it an outstanding.
1,149 characters

3.26
/5
rDev
-0.9%
look: 3 | smell: 3.25 | taste: 3.5 | feel: 3 | overall: 3
A: Pale yellow, low head. Lots of sediment in the bottle that stirred up to make it cloudy. Not a fan of the separation.
S: Peachy and sweet with pear like notes. Slightly crisp. Straw.
T: Sweet crisp notes of apple, peach, pear and apricot. Crisp and sharp again, but more like a cider. Slight sour lemon lime notes at the end that are actually kind of interesting. A bit salty at the end.
M: Extremely light. Finishes clean and crisp which is good. Finishes with a bit of a syrupy feeling that leaves a mouth coating feeling.
O: It's not too bad for a cider, but as a beer it's not quite there. If they called it a cider, I wouldn't have known any better. So, it loses points solely on the overbearing fruit qualities. It's still drinkable and refreshing.
761 characters

3.51
/5
rDev
+6.7%
look: 3 | smell: 3.75 | taste: 3.5 | feel: 3.25 | overall: 3.5
Poured from a bottle into a pint glass.
Look - light golden color, fairly clear, with good carbonation and about two fingers of frothy off-white colored foam that dissipates somewhat slowly.
Smell - I was actually surprised to find that it mostly smells like a normal hefeweizen. I was expecting it to have way more than the subtle hint of peach that it has.
Taste - the taste was a little more in line with what I was expecting initially. It's very bubbly and with a peach-flavored epicenter. The peach flavor is not terribly strong though. The aftertaste is maybe slightly musky, but not in a bad way, it just seems to have a mature finish.
Mouthfeel - slightly on the creamy side and, again, a bit bubbly-feeling.
Overall - not a bad brew. On the whole, I was pleasantly surprised with how this one ended up.
817 characters
1.87
/5
rDev
-43.2%
look: 1.5 | smell: 2 | taste: 2 | feel: 1.5 | overall: 1.75
Grain yellow with a thin sheet of loose white foam and brilliant clarity - looks more like a pils than any kind of wheat beer.... Smells of tart peach, some grain but overall very, very faint nose. Flavor is peach, then corn, astringent grain husk, some bits of clay and a touch of countertop dust. Thin with low carb and a dry finish. I'm really confused on the beer here: clear, thin, no classic hefe flavors....Maybe this was a typo: I inquire: 10% tops on the wheat in the grist, bavarian yeast of some sort.
512 characters
Peach Hefeweizen from Laht Neppur Brewing Company
Beer rating:
3.29
out of
5
with
15
ratings