Laht Neppur Brewing Company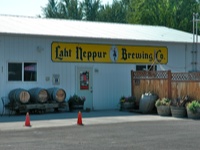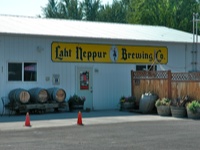 PLACE INFO
Type:
Brewery, Eatery, Beer-to-go
444 Preston Ave.
Waitsburg
,
Washington
, 99361
United States
(509) 337-6261 |
map
lahtneppur.com
Notes:
No notes at this time.
Added by donmorgan on 01-23-2007
HISTOGRAM
Ratings: 7 | Reviews: 6
Reviews by TiMX:
4.3
/5
rDev
+7.8%
vibe: 3.5 | quality: 4 | service: 5 | selection: 5 | food: 2.5
I had heard about Laht Neppur Brewing Company from a friend that drives through Waitsberg from time to time. Around New Years he brought me a growler of their IPA. A great Beer.
We went up to Wiatsberg to check out Laht Neppur on a Friday afternoon. It is a great place for us beer geeks. You can look back into the brewery and watch the goings on. I like that about a brew pub.
We sat down and ordered the sampler. I believe it had eight beers. It cost a buck a pour. Good size samples too.
The Brewer/ Owner was racking a Wheat beer He offered us a taste and poured us two pints. It was a very good beer as well.
This place brews some very different beers. I think that two of them had Cabernet grape in them.
Over all I would say that the beers here are very good. Most were a bit malty/sweet for me, but still some very good beers.
What I liked most about Laht Neppur Brewing was the very friendly staff and the very different styles of beers. I had a great time there and will go back again. If you get a chance do not pass this place up. And don't forget to bring a growler or two.
1,115 characters
More User Reviews:
4.15
/5
rDev
+4%
vibe: 4 | quality: 4.25 | service: 4.25 | selection: 4
3.88
/5
rDev
-2.8%
vibe: 4 | quality: 4 | service: 4 | selection: 3.5 | food: 4
Visited 2.20.11 on way home from Lewiston ID to The Big.
Located alongside WA Highway 12 is bucolic Waitsburg, this review is for the brewery/tasting room, not the Walla Walla based pub which I didn't have time to visit this trip. A small 6 seat bar with beer labels underneath the glasstop, about 5 tables and a wood burning stove have to do for atmosphere. The clientele was almost entirely locals. 9 Beers on tap, including the usual Brown, Golden, Pale, IPA, etc. along with a Scotch Ale, Bourbon barrel aged Stout, a two-year old Barleywine and a fortified (9%) root beer. Beers are above average quality, $4 for pint, $4.50 for imperial pints, with taster trays available. Samples were served in small dixie cups, argh. Growlers and Mason jars are available to go, but the prices are on the expensive side re $15 and $18 for the seasonals. Typical pub grub, mozzarella sticks, chicken wings. However, there was a secret menu, many locals coming in to pick up pizzas to go $18 a bit stiff and I didn't see anybody in the bar having a pizza. Obviously this place has made an impact on the community, I saw a couple of gentlemen that obviously weren't craft beer head enjoying themselves immensely, isn't that what a pub is supposed to be about? While it's out of the way, if you are coming in this direction, I'd advise stopping by.
1,338 characters
3.95
/5
rDev
-1%
vibe: 4 | quality: 4 | service: 4.5 | selection: 3.5 | food: 3.5
So many pros and cons to this place... it's really hard to review it.
This is a tiny brewpub, located right off of hiway 12 as you head north out of town. The inside of this place looks like a small town gift shop, except there is a smallish bar in front of you to the right as you walk in, along with a few tables and chairs scattered thoughout. There is also a single TV, and the place just had something of a cluttered feel to it. On the other hand, this place just exudes a relaxed, laid back vibe, something that is enhanced all the more by the friendly, homey wait staff. As for the beer, on this particular day they had something like 8 or 9 different beers on tap, and I have to say I was impressed by the quality. While the brown ale, stout and blond did nothing for me, the kolsch, cream ales, oatmeal porter and IPA were impressive. There was also a very tolerable hefeweizen, and apparently the brewery was experimenting with a combination oatmeal porter and IPA (surprisingly good, much to my surprise). Service here was outstanding. This place is so personable, and the staff so friendly and welcoming, it's hard not to give them a top score, even though it's apparent their beer knowledge is pretty meager. As for food, we got the pizza. My GF really liked it, but I confess it did little for me. The dough was soft and chewy, and the toppings bland and lacking spice. On the other hand, prices here were very reasonable. The pizza, a couple of baskets of peanuts, a glass of Laht Neppur viognier (which was surprisingly decent), a glass of IPA and a plate of samplers came to just over $30.
At the end of the day, I had a very good time here, and really enjoyed our meal and conversation with the staff. Quality was better than I was expecting, and the atmosphere is hard to beat. Although hardly anything mindblowing, this was a great respite after a full day of wine tasting in Walla Walla. Recommended.
I believe they will be opening a taproom/alehouse up in the "city" shortly (Walla Walla that is).
2,023 characters

4.28
/5
rDev
+7.3%
vibe: 4 | quality: 4 | service: 4.5 | selection: 4.5
My girlfriend and I were coming home from vacation one day and passed by this big "brewery open" sign and promptly turned around.
We came across Laht Neppur.
What a great place! I had the cream stout and my girlfriend had the Kolsch. Good brews!
We sat outside because the weather was nice. We talked to one of the owners and found out that they have been there for about 3 years. They had a strawberry cream ale in the fermentor almost ready to go. I wish we could've tried that!
She also said that they will start to bottle their beers very soon and have them at the specialty beer markets by the end of the summer. I will be on the look out for them next time I am at Belmont Station.
This is a great neighborhood place to stop and have a pint and talk to great people! If you are in the neighborhood be sure to stop and have a couple beers. They also do their own wine.
877 characters
4.14
/5
rDev
+3.8%
vibe: 4 | quality: 4 | service: 4.5 | selection: 4
I have been here many times passing through, as I feel there beer is reasonable priced and good quality. It is well worth stopping in as you are passing through, very suprising. There are always a number of people in the place, I have never seen it empty. I have never stayed long, but it seems friendly to beer drinking. There is a big screen TV with the sports on for entertainment which is nice. The beer is always good and the service is friendly. I have talked with the owner who seems very knowledgable and I will continue to be a patron. Wide selection of beers that are locally brewed and even includes the local agriculturally products.
645 characters
3.23
/5
rDev
-19%
vibe: 3 | quality: 2.5 | service: 4 | selection: 3.5 | food: 3
It means, "Drink to Life." At least, that's what they'll tell you. Others might suggest it's "Ruppenthal" spelled backwards, which coincidentally, is the brewer's name.
The bar and dining area are the size of a suburban living room though I've seen the place full of both locals and travelers on a Saturday afternoon. The vibe is small town friendly. People toss peanut shells on the floor and talk about farming and politics. A flat screen TV is tuned to football. Fly swatting is a popular pastime.
Outside, behind an array of whiskey barrel planters is a small beer garden with a few neglected hop bines, a deep fryer, and a BBQ grill. Visitors are welcome to bring their own food to deep fry or grill, "as long as you drink our beer." Though I didn't see anyone take up this offer, the idea has appeal. Laht Neppur serves a few snacks and sandwiches, and even the occasional plate of spaghetti. But I wouldn't call it a brewpub, and the most popular item amongst the regulars would appear to be the free peanuts.
The brewer studied wine making at WSU and often uses dehydrated wine yeast to ferment beer. Laht Neppur also produces small quantities of wine though these are not yet available to the public. Eight beers are served, mostly in the session ale range of potency, though a barleywine is said to be in the works. Quality is mid-range. Grains are steeped in a 3.5 bbl mash, then pitched to one of several 7 bbl fermenters. Cane sugar or malt extract are sometimes used to achieve high gravities that are then diluted to fill the fermenters.
After just one year in business Laht Neppur is ready to expand. New brewing apparatus in the form of reconstituted dairy tanks are already lined up in the parking lot waiting to be installed in the expanded wing of the brewery. And the place moves a steady flow of growlers and party pigs. It's quite remarkable given that the population of Waitsburg is just 1200 people.
1,932 characters
Laht Neppur Brewing Company in Waitsburg, WA
Brewery rating:
3.27
out of
5
with
78
ratings