Atlantis: The Lost Bar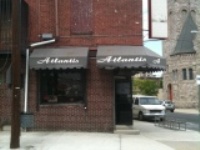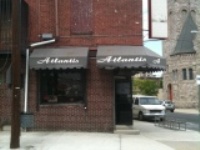 Bar, Beer-to-go
2442 Frankford Avenue
Philadelphia
,
Pennsylvania
, 19125-1638
United States
(215) 739-4929 |
map
Notes:
Recent ratings and reviews.
Ratings by InspectorBob:
More User Ratings:

Reviewed by DoubleSimcoe from Pennsylvania
3.78
/5
rDev
+6.8%
vibe: 4 | quality: 3.75 | service: 3.75 | selection: 3.75
I've been eyeing The Lost Bar (what a cool name) for a while now... this jawn is right across from Philadelphia Brewing Company, on a stretch of Frankford Avenue where the ghetto starts to give way to gentrified hipsterism.

I like that Atlantis is defiantly old school, like a corner bar in a rusty industrial town that time forgot. Another reviewer said the crowd is a mixture of old-timers and hipsters and that is very right. Drunk regulars and uniformed Philadelphia hipsters, together but not mingling.

The six taps at the bar are all PBC. I went for the Shackamaximum Imperial Stout (delicious) just because I don't care for any other PBC beer. They had Harvest from the 'Hood, Kenzinger and all that. Six bucks for my Shacka and $3.50 most others. They also offer a three-dollar Citywide and free pretzels. With these low prices, cash is a must.

It was cozy here and we had a good time until the joint started getting crowded and it was time to leave. Only one bartender on duty.

Will return and also try the three dollar Bloody Marys!
Feb 25, 2015
Reviewed by BARFLYB from Pennsylvania
3.66
/5
rDev
+3.4%
vibe: 3.5 | quality: 4 | service: 4 | selection: 3
I went here about ten years ago after I toured the Yards brewery. Coming back I see that Yards is now Philadelphia Brewing Company and The Lost Bar is still the same, except all the taps are PBC beers, except lager. This place is kinda nice. It's not dirty and not over trendy, pretty clean bathroom. A bar that seats about ten or so, some tables adjacent to the bar, a pool table in the back. The DJ was rocking some nice funk tips, but he had nothing on my request list unfortunatly. All vinyl, nice touch! Glad to see the fishtank still above the bar with some colorful fish swimming, it's nice to look at while im drinking. A few TV's playing some local sporting events. About 6 taps with all PBC beers. The Newbold was fresh and the joe was refreshing. The winter wunder was booty though. Some bottles of locals troegs, victory etc. Some macro beer as well, not many imports, if any. I dont think there is a food list, but you can order in from a local establishment, pizza joint etc. If this place was closer to me it would be a great place to go frequently after a long day of work. I like the local beer selection this place provides.
Nov 26, 2010
Reviewed by BeerZombie from Pennsylvania
3
/5
rDev
-15.3%
vibe: 3 | quality: 3 | service: 3 | selection: 3
I've been living in this neighborhood for a little over a month, right down the street from this bar, yet tonight was the first time I acutally stopped in.

found it ironic, that through reading past reviews, it used to be a "Yards" bar. maybe not so ironic, more coincidental, it now seems to be a Philadelphia Brewing Company bar. all beers on tap were Philadelphia Brewing Company, plus Yeungling Lager. all drafts were $3 a pint, the PBC Philabuster was $3 a half pint. all domestic bottles were $2.50 and all imported were $3. prices can't be beat. the selection wasn't the greatest, but at $2.50 a bottle for such beers as Sierra Nevada Pale Ale and all the Troegs variety pack (pale ale, hop back, dreamweaver and rugged trail, I believe) you really can't complain.

not a destination by any stretch of the imagination, but if you're already in the neighborhood and looking for a deal, this place can't be beat.

the crowd is a good mix of old timers and hipsters. there is a pool table, and they usually have a DJ (tonight he was spinning mostly oldies which seemed to contrast with the crowd but it was fun).
Nov 27, 2008
Reviewed by jajablon from Pennsylvania
2.93
/5
rDev
-17.2%
vibe: 3.5 | quality: 3 | service: 2 | selection: 3.5
stopped by atlantis this past thursday night because my friend who lives in old kensington said it was a "great dive bar." most of the taps are occupied by Philadelphia Brewing Co. beers like the Kenzinger pale ale, rowhouse red, walt wit, and newbold ipa. to be clear, there were no Yards beers on tap. there's a story behind the Yard's and PBC split, but this isn't the place for that. the place is small, but wasn't crowded at all. very decent prices - $2 domestic and $3 import pricing (of course the micros usually fall under "import"). not many micros beyond pbc, though they had sierra nevada pale ale and a few others. service wasn't awful, but the bartender was definitely a bit tipsy. nice red-head was throwing back a shot of whiskey and chasing with beer. she wasn't out of control or anything, but it was unprofessional. as we left, she excused herself for a cigarette break and left the bar untended... worth stopping in if you're in the neighborhood because it does have decent prices and some craft beers, but in phila, you could do better.
Aug 03, 2008
Reviewed by MmmIPA from Pennsylvania
3.45
/5
rDev
-2.5%
vibe: 4 | quality: 4 | service: 4 | selection: 2
Stopped in here after the Yards brewery tour and had a Brooklyn lager.I was tired of having yards and wanted somthing different.5 taps are Yards and the 6th is Yuengleng.The bartender was real cool and had great taste in music and they have a cool looking fish tank about the beer coolers.They have a pool table and like 7 or 8 stools and a few tv's.This does seem like a Yards bar and while it is good to support your local beers.I dont see me going here again,dont get me wrong but Ive had enough yards to last me a while now.
Apr 29, 2007
Reviewed by NeroFiddled from Pennsylvania
3.43
/5
rDev
-3.1%
vibe: 4 | quality: 3.5 | service: 3.5 | selection: 3
While I enjoy the Lost Bar, that's mainly because it's 4 blocks from my house! But cool people hang out there, and they've got every regular Yards beer on tap (love the ESA and Philly Pale)! They've got a great DJ named Charles; some very nice bartenders; and pool tables. I like to support it because it seems to be an up-and-coming, hip bar that's attracting the right kind of crowd to the area (artists, young professionals, etc.) If you're looking for beer I certainly wouldn't scout it out, as beyond Yards and Yuengling it's pretty much PBR, Bud and Heineken; but if you happen to be in the area you might want to stop in for one.
Jan 24, 2007

Reviewed by woodychandler from Pennsylvania
4.3
/5
rDev
+21.5%
vibe: 4 | quality: 4.5 | service: 4.5 | selection: 4
This is the Yards Brewing Company's tied house. No, not really, since such entities were outlawed following the repeal of Prohibition, but it is being used as a house organ by the production brewery located catty-corner to it. The bar sits right on the corner of Hagert Street and Frankford Avenue. The entrance was oriented to the corner and the laminated light wood bar was along the right side of the space. The left wall was mostly blank with a couple of windows overlooking Hagert as well as a CD jukebox and a Ms. Pac-Man game. The washrooms were all of the way aft with Men's to the left and Women's to the right. The back bar was bisected by a cooler with an aquarium full of fish above it and a chalkboard above that.

If you are coming here, you had better like the Yards B.C. products. Of the six taps, five are dedicated to Yards and the sixth was Yuengling Lager. Gotta love PA! The cooler was well stocked with almost all of the Yards products and they were more than happy to sell me a mixed six-pack to go. Look for more Yards reviews from me in the near future. The only thing that was missing was a beer engine for some cask- conditioned product.
Jan 23, 2007
Atlantis: The Lost Bar in Philadelphia, PA
Place rating:
3.54
out of
5
with
8
ratings