Gordon Biersch Dunkelweizen
| Gordon Biersch Brewery Restaurant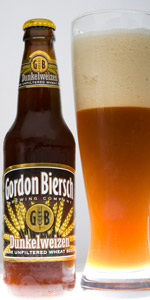 BEER INFO
Brewed by:
Gordon Biersch Brewery Restaurant
United States
gordonbiersch.com
Style:
Dunkelweizen
Alcohol by volume (ABV):
5.20%
Availability:
Spring
Notes / Commercial Description:
Dunkelweizen translates from German to mean dark wheat. Gordon Biersch Dunkelweizen highlights the undertones of dark-roasted malted wheat and the unique flavors produced by our special Hefeweizen yeast strain. Our Dunkelweizen adheres to all of the traditions of the Reinheitsgebot (German Purity Law of 1516) and is naturally carbonated.
Added by UncleJimbo on 03-01-2005
Reviews: 37 | Ratings: 75
3.95
/5
rDev
-1.3%
look: 4 | smell: 4 | taste: 4 | feel: 3.5 | overall: 4
I've never been a huge fan of the Gordon Biesch brews, but here is one notable exception. Lovely, deep tan colored brew, with plenty of light tan foam. Clove and slightly fruity notes greeted my nose as I opened the bottle. The taste was a fresh mix of a slightly roasted, bready malt, like a light pumpernickle bread, a yeasty clove zip, and a little fruity, slightly banana note. Mouthfeel a little tingly, but otherwise good, and a nice, smooth, enjoyable brew.
464 characters
4.38
/5
rDev
+9.5%
look: 4.5 | smell: 4 | taste: 4.5 | feel: 4.5 | overall: 4.5
Cloudy/hazy light brown color with a tan or apricot hue and some biege head and too dificult to see the action.
Banana, hint of caramel, and some grain malt aroma.
Even background notes of banana, bubblegum, and vanilla with lots of toasted grain, wheat, and barley malt flavors.
Light bodied, rich slightly buttery feel, with lively soft carbonation.
This is a toasty grain session beer brewed in craft form, excellent.
424 characters
3.38
/5
rDev
-15.5%
look: 4 | smell: 3.5 | taste: 3 | feel: 4 | overall: 3.5
Enjoyed on-tap at the Miami brewpub. A hefeweizen with lots more chocolate malt, nothing wrong with that. An above average mouthfeel with bananna consistency and taste. A good dunkel, good looking with lots of lace. Milkshake, though taste is on the sweet side and no complexity.
279 characters
4.15
/5
rDev
+3.8%
look: 4.5 | smell: 4.5 | taste: 4 | feel: 4 | overall: 4
Consumed 02/11/09. Served at approx. 38 degrees F in a weizen glass. Bottled on 01/07/09.
Beer pours a cloudy, almost murky orange-medium brown. A two finger light tan head dwindled fast to a fairly sticky layer of lace. Very well carbonated in the glass, with lots of very small bubbled slowly streaming up the sides.
Aroma is fairly thick and heavy, with bananas and subtle clove being the main ingredients. A carmelized sugar note as well as some vanilla. Honeysuckle. Reminds me of banana pudding with vanilla wafers. Yum!
Beer is thick and just short of chewy. Carbonation evident in glass doesn't seem to play a role in the mouth.
Flavor is less appetizing than aroma but still just fine. Banana and vanilla are more subtle on the palate than in the nostrils. Clove is more pronounced. Slight metallic wheat tang and a touch of citric tartness. Very clean finish with nearly no aftertaste. A real refresher.
This is a perfect hot afternoon beer, or as a warmup for a drinking session. Don't think I could do more than one of these, though.
1,050 characters

4.25
/5
rDev
+6.3%
look: 4.5 | smell: 4.5 | taste: 4 | feel: 4 | overall: 4.5
Appearance: Opaque orange-brown with thick creamy head. Looks gorgeous!
Smell: Very floral with banana, clove, figs and malted wheat. Looking forward to this one.
Taste: Creamy banana with some dark fruits, clove and spices. A touch of citrus as well on top of a wheat base. Maybe it's because I'm having this right after a St. Pauli Girl, but this is delicious.
Mouthfeel: Creamy and full bodied with lower carbonation.
Drinkability: Wish there were some more of these in the fridge. Gotta get back to the Fresno State-Rutgers game. Go Dogs!
546 characters
4.5
/5
rDev
+12.5%
look: 4.5 | smell: 4.5 | taste: 4.5 | feel: 4.5 | overall: 4.5
Appearance: The pour is dark amber with a tint of orange the head is off-white.
Smell: I get clove the most with a wheat smell.
Taste: Very nice carmel, bubble gum, wheat.
Mouthfeel: Soft nice on the palete.
Drinkability: Very good. Goes down smooth.
Serving type: bottle
276 characters
4.12
/5
rDev
+3%
look: 4 | smell: 4.5 | taste: 4 | feel: 4 | overall: 4
Appearance: The pour is cloudy brunt orange in color with a frothy off-white head.
Smell: The nose is dominated by unripened banana. Aromas of wheat and clove are also noticeable.
Taste: The flavor profile starts out with soft wheat and an mild herbal and clove component. Lemon zest, caramel and notes of banana join the mix in the mid-palate. The finish is where this beer really brings it. Banana, fresh-squeezed lemon and clove, explode and linger well in the aftertaste.
Mouthfeel: It's on the lighter end of medium-bodied with soft carbonation.
Drinkability: This is a really good effort. Great traditional approach to the style.
640 characters
4.85
/5
rDev
+21.3%
look: 4.5 | smell: 4.5 | taste: 5 | feel: 5 | overall: 5
My wife and I purchased a 6-pack from BevMo and was absolutely satisfied with the taste of this beer. From the minute you pour it into the glass you can see it is a nice wheat brown look with a great Hefeweizen smell to it.
When taking the 1st drink I knew that this was now my favorite beer. I was eating mexican food and the taste combined with the enchiladas was magnificent. The beer was a perfect match for the spicy taste. I finished the beer in about 4 gulps and wanted another 1 right away. All I can say is this a must beer for anyone. The smoothness that Gordon Biersch has perfected will be a delight for any beer drinker. Go ahead and give it a try.
663 characters
4
/5
rDev 0%
look: 4 | smell: 4 | taste: 4 | feel: 4 | overall: 4
Poured a deep brown with a fair amount of foam and loads of lace. The smell of wheat, roasted malts and yeast filled the nose. The taste was of a thick sweetness with a hint of bitterness to balance this smooth tasting dunkelweizen. One of the best U.S. Dunkelweizen that I've tasted in a long time!
299 characters

4
/5
rDev 0%
look: 4 | smell: 4 | taste: 4 | feel: 4 | overall: 4
This is a damn good beer. Gordon Biersch makes some ok beers, but this one is very good.
Dark toffee warm color.
Banana noise, yeasty goodness
Great carbonation, fruity taste, leaves with a roasty burnt malt taste.
Get this beer if you can and you like the style.
267 characters
4.15
/5
rDev
+3.8%
look: 4 | smell: 4 | taste: 4.5 | feel: 3.5 | overall: 4
Pours a deep cloudy hazy amber with quite a rapidly developing head that sits up very nicely.
Very pleasant clove and fruit aroma, minimal citrus. A slight sourness attacks the pallet and gives way to a mellow fruity caramel profile. Very bubbly mouthfeel, a little bit thin but not bad. Slightly spicy aftertaste.
Overall a pretty good beer, especially considering it cost less than a dollar a bottle as part of a Costco mixed 24 pack.
438 characters
4.8
/5
rDev
+20%
look: 4.5 | smell: 4.5 | taste: 5 | feel: 4.5 | overall: 5
12oz. bottle bottled 37 days ago according to the date on the bottle. Perfect banana and clove flavors - intense without seeming fake or overpowering. Appealing coffee color. Lots of fine sediment. Not much hop flavor, but that seems consistent with the style. Exceptionally good, get it while it is fresh. Maybe the best beer GB makes?
336 characters
Gordon Biersch Dunkelweizen from Gordon Biersch Brewery Restaurant
4
out of
5
based on
75
ratings.