Gordon Biersch Winter Bock
| Gordon Biersch Brewery Restaurant
BA SCORE
84
good
114
Reviews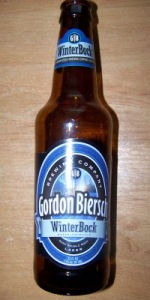 BEER INFO
Brewed by:
Gordon Biersch Brewery Restaurant
United States
gordonbiersch.com
Style:
Doppelbock
Alcohol by volume (ABV):
7.50%
Availability:
Winter
Notes / Commercial Description:
In the 11th century, Belgian monks sustained themselves during winter fasts with beers made from strong, dark flavored malts. These creamy books ensured that the monks would fast frequently.
Added by Murph on 02-07-2003
Reviews: 114 | Ratings: 248
3.23
/5
rDev
-12.9%
look: 4 | smell: 3.5 | taste: 3 | feel: 3.5 | overall: 3
A- About a 2-3" dark tan head on a dark brown ruby body.
S- Big sweet caramel malt, dark fruits, nice strong wheat aroma, grassy hops, some toffee, and touch of alcohol.
T- Sweet caramel and toffee malt body. Chocolate flavor comes through nicely. A lot of dark esters and wheat flavor. Banana comes through a bit also. Grass hops leave a light bitterness on tip of tongue. Pretty much all of the flavors stick around for the aftertaste with just a hint of warming (barley none) from the alcohol.
M- Medium to full body with low to medium carbonation.
D- It is a decent Weizenbock but nothing to go crazy about. There are a lot better out there but it still is a decent beer.
679 characters
3.19
/5
rDev
-14%
look: 2.5 | smell: 3.5 | taste: 3.5 | feel: 3 | overall: 2.5
Chilled bottle into a glass.
A: Dark, translucent chocolate color with 1" of white, fluffy head. The foam receded quickly into a ring, but left no lacing down the glass.
S: Toasted malt is strongest in the nose, with hints of caramel malt and coffee. Weaker smells are chocolate and nuts.
T: Following the nose, toasted malts are strong up front. When the drink is cold, the caramel malts and coffee are the only secondary flavors; as it warms, the chocolate and nuts become much more noticeable. The finish is slightly grassy and coffee bitter.
M: Light-bodied with light carbonation. Easy on the mouth.
D: Decently drinkable; if I had a sixer I wouldn't have any problems putting it away. I just don't care for it enough to seek out another.
752 characters

3.18
/5
rDev
-14.3%
look: 3.5 | smell: 3 | taste: 3 | feel: 3.5 | overall: 3.5
taste- roasted malt
color- deep copper
clarity- dark and clear
smell- roasted malt
body- soft, medium-light body
appearance- nice looking dark beer
overall impression- better than expected
notes- nice maltiness with a soft mouthfeel. finish is a little amateurish in that it tastes like a cheap lager. this review is for a 2008 vintage tasted in 2008
glassware: pint
374 characters

3.16
/5
rDev
-14.8%
look: 4 | smell: 3 | taste: 3 | feel: 4 | overall: 3
Sampled at Gordon Biersch restaurant in Dallas, TX. Pours hazy-amber hue with a slight tan head. Aroma is of sweet malt and some cherry. Body is medium, smooth. Taste is sweet caramel malt and cherry fruit. Short, malty finish. This brew is too sweet for me.
258 characters
3.16
/5
rDev
-14.8%
look: 4 | smell: 3 | taste: 3 | feel: 3 | overall: 3.5
A - Reddish brown in color with a short lived head. The lace is much stickier and thicker than most of the Gordon beers. The head is a light brown color, a little sandy.
S - Malty and sweet in smell almost like molasses.
T - An earthy to slightly sweet malty taste. Almost like a brown sugar or molasses flavor.
M - Even carbonation with a smoothness to it and a slightly dry drop off. Slightly crisp.
O - Pretty good Winter bock style, I guess my first style like this, but German style beer is not really my thing.
520 characters

3.15
/5
rDev
-15.1%
look: 3.5 | smell: 3.5 | taste: 3 | feel: 3 | overall: 3
This came in the winter pack from Costco.
Appearance- dark reddish brown color, thin head
Smell- sweet malt
Taste- sweet malt and caramel
Mouthfeel- medium bodied
Drinkability- This was ok. I have had better bocks but it is still ok. An average bock but that's it
268 characters
3.15
/5
rDev
-15.1%
look: 3.5 | smell: 3.5 | taste: 3 | feel: 3 | overall: 3
Went to Tanglewood at Santana Row for the first time, wasn't too impressed with this particular place. All hype. Also, this beer was not all that impressive, either.
Pours mahogany translucent with a short creamy head. Good carbonation. Nose is dominated by semisweet malts and a tinge of alcohol. Taste follows with overpoweringly coffee-ish malts, moderately bitter, and rather astringent from the alcohol. It gave me a gag reflex slightly when I first drank it, was expecting a bit more balance and complexity. Overall, not too impressed. Maybe would be better on tap.
572 characters

3.12
/5
rDev
-15.9%
look: 3.5 | smell: 3.25 | taste: 3 | feel: 3.25 | overall: 3
On tap at the DC location near the Verizon Center. Pours a dark brown with plenty of light showing through and a small brownish white head. Aroma of some light roast and molasses sweetness but not much else. Flavor follows with watery sweet malts, a hint of roast, some dirty lager finish, then leaving some surprising sweet citrus on the palate. Light to medium bodied, not super crisp but goes down easy enough with adequate carbonation. Overall not exciting but not terrible.
478 characters
3.1
/5
rDev
-16.4%
look: 4.5 | smell: 2 | taste: 2.5 | feel: 4.5 | overall: 4.5
This beer pours with a thin head that remains. Lacing occurs, but without lines. The color is dark brownish-red.
The smell and taste are average as far as a bock, with a slight sweet malty finish. It is similar to Michelob Amberbock, but slightly more complex. Alcohol taste is not noticable.
Mouthfeel is full and thick.
This beer is very drinkable. It goes down easily, with the 7.5 ABV is not worth having too many.
421 characters

3.06
/5
rDev
-17.5%
look: 4 | smell: 3 | taste: 3 | feel: 3 | overall: 3
Appearance: Dark chestnut brown with a finger of off-white foam. Brilliant clarity, but the head recedes too quickly.
Smell: Fruitcake and toasted nuts, on the estery side and not especially clean. Butterscotch sweetness, toasted cereal grain. Decent.
Taste & mouthfeel: Fruity sweetness with a touch of burnt caramel. Not nearly as clean as some of the better German examples of the style I've tried recently, though not terrible either. Dried fruit and nuts, a bit of spice. Too sweet overall, especially in the finish, which becomes somewhat cloying after half a bottle. A decent beer, but I'm glad that I only grabbed 1 bottle.
633 characters

3.06
/5
rDev
-17.5%
look: 3.75 | smell: 3.25 | taste: 2.75 | feel: 3.5 | overall: 3
Lovely appearance in the glass with an attractive head and chestnut brown color. Well carbonated. Caramel smell.
Winey flavor with roasted grains and some malty sweetness. Date flavors. Kind of a burnt molasses taste in the back of the mouth. Not bad for a couple of sips but the dirty, scorched raising taste takes over and is pretty tough to swallow.
From the 12 oz bottle bought at Total Wine in Tucson.
408 characters

3.06
/5
rDev
-17.5%
look: 4 | smell: 3 | taste: 3 | feel: 3 | overall: 3
I am not sure where to put this review; this Gordon Biersch entry says it's the production entity for the bottled beers not tap, but none of the other Gordon Biersch choices make sense.
Anyway, this is the Gordon Biersch Winterbock Doppelbock, 7.5%, which I had on tap.
It is very dark drown with a little red, a smallish but rich, creamy tan head that slowly shrinks to a foamy ring and wisps and leaves a little lace.
The aroma is mild and malty, roasty-raisiny-caramelly.
The taste is similar, mostly burnt caramel, and raisin, some alcohol, toastiness, sweet with a burnt-caramel bitterness in the finish. It is somewhat full bodied and rather pleasant but the flavours a bit a mild and simple, almost one-dimensional.
727 characters
3
/5
rDev
-19.1%
look: 3.5 | smell: 3.5 | taste: 3 | feel: 2.5 | overall: 2.5
Served on tap at the GB in Pasadena. Its a cloudy amber brown with a thin head on top. The aroma is spicy and flowery with a bit of fruity sweetness. The flavor is malty sweet with a bit of cinnamon and perhaps pumpkin but it is all a bit watery. There is no hop flavor to be found in the beer and overall it lacks quality, flavor, and complexity. There is certainly nothing exceptional about this beer.
403 characters

2.43
/5
rDev
-34.5%
look: 3.5 | smell: 3 | taste: 2 | feel: 3 | overall: 2
Appears dark red with a large tan head that disappears quickly.
It smells of raisons and other dark dry fruit, molasses, banana and brown sugar.
It tastes much like the smell. There is a strong molasses and sweet sugary flavor that dominates the beer. There is a bit of a sweet raison flavor as well. A bit of a banana like yeast flavor is also present. The taste finishes with lot of sweetness mix with a very slight amount of bitterness.
The carbonation is moderate high.
The drinkability is limited as the beer is overly sweet.
Overall an ok beer, but it needs more balance. They should use more dry malts and less sweet malt. I guess the beer would be good if you have a sweet tooth but I do not. Though at the same time I know that the style this beer is tends to be sweet. The beer does have some nice qualities to it. Overall this is a slightly less than average take on the double bock style, though.
914 characters
Gordon Biersch Winter Bock from Gordon Biersch Brewery Restaurant
3.71
out of
5
based on
248
ratings.