Gordon Biersch Braumeister Selekt IPB
| Gordon Biersch Brewery Restaurant
BA SCORE
84
good
15
Reviews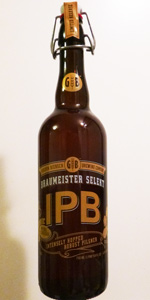 BEER INFO
Brewed by:
Gordon Biersch Brewery Restaurant
United States
gordonbiersch.com
Style:
American Double / Imperial Pilsner
Alcohol by volume (ABV):
6.50%
Availability:
Limited (brewed once)
Notes / Commercial Description:
No notes at this time.
Added by Zorro on 07-06-2012
This beer is retired; no longer brewed.
Reviews: 15 | Ratings: 42
3.9
/5
rDev
+4.8%
look: 4.25 | smell: 3.5 | taste: 4 | feel: 4 | overall: 4
A - Poured out a hazy, golden yellow color with a three-finger, khaki colored head of bubbly foam. It left thin rings of lace on the glass.
S - It smelled very floral with some bready notes.
T - Floral hop presence with caramel, toffee and bready notes.
M - It was crisp, sharp and smooth. A medium bodied lager.
O - This is a nice lager. It was a steal for $3.99.
368 characters

3.63
/5
rDev
-2.4%
look: 4 | smell: 3.5 | taste: 3.5 | feel: 3.5 | overall: 4
Big head of coarse foam in the Stella glass. Lots of champagne bubbles. Attractive amber color. Unusual resiny aroma that is hard to place. Something herbal like wild sage, but not much of the floral sort of hop.
Tastes stronger than advertised. Hops are full throttle but bitterness is manageable. Malty with the browned biscuit taste. An odd mineral taste and a hint of the skunk which is pleasant enough. Some fruity flavor like canteloupe. Fairly bitter aftertaste. Crisp and a little acidic but fairly malty.
If this is a double, it's two times 3.2% = 6.5%, but pleasant enough for an ABV in the usual IPA range. From the tall swing-top bottle, at least you get some class for your cash. Rather tasty and reminds me of the Gordon Biersch golden bock with a lot more hops.
779 characters

3.28
/5
rDev
-11.8%
look: 4 | smell: 3.5 | taste: 3 | feel: 4 | overall: 3
Pours a golden orange color with a white head. Starts off with a strong floral hop aroma which fades into a grassy note. Bready malt gives a slight sweetness and there is a hint of yeast and mid esters. The flavor is exceedingly bitter, or at least harshly bitter, and unpleasant. It's also very grassy. Some mild floral hop notes, bread, and a slight sweetness of malt. Overall, though, this was not something I enjoyed.
421 characters

3.8
/5
rDev
+2.2%
look: 3.5 | smell: 3.5 | taste: 4 | feel: 3.5 | overall: 4
A - Foamy off-white head sits about 2 fingers high. Excellent retention and ok lace. Nice orange gold body. Slightly cloudy.
S - Bready pilsner malt nose, plantains, lightly spicy hops.
T - Sweet bready malt; white bread and biscuits. Round, herbal hop bitterness with a bight black pepper and lemon finish.
M - Medium-light frame. Maybe medium to style.
O - A solid American take on a pilsner with bigger malt and hop notes than you'd traditionally expect in the style.
475 characters

3.83
/5
rDev
+3%
look: 4 | smell: 3.5 | taste: 4 | feel: 3.5 | overall: 4
750 ML flip-top brown glass bottle.
Deep golden colored beer with a puffy white colored head.
Smell is spicy Saaz hop, the bottle claims it is 50 IBUs. Strong noble hop aroma, saffron, hay, grass, soapy and herbal scents. Smells a little soapy with a noticeable trace of sulfur from the yeast.
Starts out mildly sweet with a biscuit malt flavor and a slight sensation of salt in the mouth. Good strong hop flavors, mostly herbal and mineral on the tongue. Lots of grass and herbs in the flavor, it is bitter but not to an annoying level. Mild sensation of alcohol warmth in the chest.
Mouthfeel is good.
Overall a decent beer. Not sure it really qualifies as an Imperial Pilsner, it is just stoutly hopped.
721 characters

4.25
/5
rDev
+14.2%
look: 4 | smell: 4 | taste: 4.5 | feel: 3.5 | overall: 4.5
Appearance is dark gold with a white head leaving decent lace.
Smell is really skunky, this has a monster dose of nobles, herbal, a little sweet cereals.
Taste is similar. The big skunky hop flavor is coupled with a firm bitterness, which tempers the sweetness of the pils. Clean.
Mouthfeel is dry, lighter, almost watery.
Drinkability is pretty high, this is a quenching, tasty imperial pils for the hop heads out there. Nice to have a big hoppy beer using nobles to switch up the taste profile.
504 characters
3.61
/5
rDev
-3%
look: 4.25 | smell: 3.75 | taste: 3.5 | feel: 3.5 | overall: 3.5
From BeerAdvocate magazine Issue #68 (Spetember 2012):
LOOK: Massive head, bright and bold golden hue
SMELL: Grainy, grassy hop, nutty, clean, floral, hint of alcohol
TASTE: Light to medium body, solid crispness, quite hoppy, bitter, husky grain, grassy, slightly chalky, very herbal, leafy, quince, green peppercorn, mild warmth, vegtal, undoubtedly dry, long hoppy finish
Yet another brewer jumping into the big beer, big bottle format. With the "Imperial" tag we expected a bit more alcohol, at 6.5% it does not really come close to that realm but a nudge of 1% would have helped here. Aside from that this lager does not lack character at all, pretty much a mouthful of hops the whole time.
STYLE: American Imperial Pilsner
ABV: 6.5%
AVAILABILITY: Year-round
772 characters

3.56
/5
rDev
-4.3%
look: 4 | smell: 3 | taste: 4 | feel: 4 | overall: 3
Pours a beautiful golden honey color with a slight haze, and plenty of frothy white head. Nose is herbal with some steely-metallic sort of aromas that come to mind, with some dry grain and dried out grass/hay. Palate is a dry with a malt presence that is immediately bitchslapped by the herbal hops. Incredibly dry to me. Very easy to drink, though I was surprised the abv is only 6.5%. Nice bottle, but not a great beer for the asking price.
442 characters

4
/5
rDev
+7.5%
look: 4 | smell: 4 | taste: 4 | feel: 4 | overall: 4
A - Pours a fairly clear golden-orange with a finger of frothy white head. The head fades down at a normal pace leaving behind some nice lacing.
S - Aroma is a mix of pilsner and grainy malts with lemon, citrus, floral, and noble hops.
T - Starts off with pilsner and some sweet grainy malts with some lemon and citrus hops and some bitterness. Through the middle, some more lightly bready malts come through with some floral and a bit of grassy hops and more bitterness. The finish is a mix of pilsner malts, citrus and floral hops, some bitterness, and some lager esters.
M - Medium bodied with moderate carbonation. Feels smooth with a sweet and lightly dry finish.
D - Very drinkable. Very crisp and refreshing and overall well balanced.
745 characters

4.25
/5
rDev
+14.2%
look: 4 | smell: 4 | taste: 4.5 | feel: 4.5 | overall: 4
Poured from a 22oz flip-top into a Sam Adams perfect pint.
This guy pours out a deep golden with a large head that drops down quickly. The aroma is fairly robust, with a big dose of sweet malts along with some grassy and zesty noble hops. The taste is very good, this one has a huge noble hop kick. Seriously, it's got that back-of-the-throat drying mouthfeel that lets you know that there's A LOT of hops in here, but it's not the same kind of hops that usually get this sort of treatment. Instead, it's full of zesty, grassy, and herbal noble hops. There's a decent amount of sweet malts that quickly get drowned out by the hop attack. Bitter and dry finish. The mouthfeel is more medium-bodied and moderately carbonated, and the drinkability is good. This is an interesting beer for the hop-head, it's an intensely hoppy beer, but with noble hops. Very interesting and tasty.
879 characters

3.8
/5
rDev
+2.2%
look: 3.5 | smell: 3.5 | taste: 4 | feel: 3.5 | overall: 4
"Intensely Hopped Robust Pilser"? Let's see.
Pop the top and am met with a "Poof"...always nice to hear. Pours a pretty clear golden ale with a massive egg white colored head with sporadic lacing.
A lot of lemon in the aroma. Also an abundance of floral. Grassy. Orange. Malty. Above average but nothing special.
Being a not so Pilsner dude, the taste was better than expected. Yeasty. Earthy. The hop element is nice with a big pilsner/malty backbone on the swallow...followed by more bittering hops on the finish. Aftertaste lingers of lemon. A lot more flavor than your dad's pilsner.
Carbonated nicely.
Overall I was impressed with the offering. Not a huge Pilsner fan but the added hops spiced it up for me and gave it an unexpected push. 6.5% with a bunch of flavor. The 750 was a little much...but I finished it cuz it was the right thing to do.
857 characters
4
/5
rDev
+7.5%
look: 4 | smell: 4 | taste: 4 | feel: 4 | overall: 4
Slight chill haze, honey yellow, tall and frothy white head.
Strong aroma of Noble hops. Nice!
Flavor surprised me by how strong yet balanced it was and ultimately enjoyable. I really didn't expect to like this very much, but I really did enjoy it. Big Noble hop character, which is certainly a break from the norm of American hops. Good clean malt for balance, with just a touch of honey sweetness to play off the hops. Finishes dry but with a lingering hop bite.
Overall I'd say this one is a success. Not something I'm keen to drink often, but certainly something interesting to try.
595 characters
3.28
/5
rDev
-11.8%
look: 3.5 | smell: 3.5 | taste: 3 | feel: 3.25 | overall: 3.5
A- Clear light golden body with an impressive dense white head. Lots of bubbles.
A- Light malt, somewhat bready aroma with an ever present herbal bitterness.
T- Pleasant sweet malt flavor with a light bitterness throughout. The aftertaste has a somewhat unpleasant astringent bitterness to it.
M- Medium body and high carbonation.
D- It's alright. Not too heavy, but the bottle it comes in is quite large and after one I can't imagine having another. The astringent aftertaste was somewhat unpleasant, but other than that it is an enjoyable brew.
550 characters
3.71
/5
rDev
-0.3%
look: 4 | smell: 3 | taste: 4 | feel: 3.5 | overall: 4
Pours a cloudy orange with lots of head that dissipates and leaves some pleasant lacing.
Smells like how I would expect a pilsner to smell, only this one has a few more notes. I do get more of the bready caramel notes coming through than the usual pilsner. It's quite pleasant.
Taste reminds me of a pilsner with twice as many grains and hops. I know this is at 6.5 percent so perhaps that was the case. This is very pleasant, highly drinkable and leaves me wanting more. It's very unusual that I'll want to finish this size of a beer (750ml) but the taste leads me on. I would definitely get this on tap.
Mouthfeel is perfect for this type of a pilsner. It's a bit too sticky for a regular german pilsner but for an imperial it is just right. Any less stickyness and I feel like they should let out the abv since it would go down way to easy.
Overall, Highly enjoyable, I do wish they offered this in 12oz bottles. Would be the perfect beer with a light meal.
966 characters

3.03
/5
rDev
-18.5%
look: 3.5 | smell: 3 | taste: 3 | feel: 3 | overall: 3
Poured from 750ml flip-top bottle into my cherished Lone Star Light pilsner glass.
A - deep somewhat cloudy yellow. Nice frothy head of large off-white bubbles. Nice lacing left over as it slowly dissipates.
S - nice mild hoppy nose. Pretty solid pils smell and the hops make it more so. I'm cautiously optimistic.
T - hops mixed with the pils greet on the front. Slight bitterness on the sides of the tongue but far less than hoped for. Fades quickly and ends with a disappointingly watery bodied finish. Carbonation is on the low side for me but not completely absent.
M - not as crisp as I was hoping for and a tad watery. Fair at best.
O - not a huge fan of the base style, and the hops, while adding a new layer, doesn't really take it in a better direction. This beer, especially at the price point, just doesn't wow me. Maybe it's a function of the style or just a poor effort at it. Taste with friends, but don't waste the money on your own.
958 characters
Gordon Biersch Braumeister Selekt IPB from Gordon Biersch Brewery Restaurant
3.72
out of
5
based on
42
ratings.