Gordon Biersch Zwickel Bock
| Gordon Biersch Brewery Restaurant
BA SCORE
84
good
27
Ratings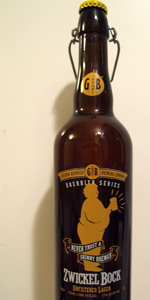 BEER INFO
Brewed by:
Gordon Biersch Brewery Restaurant
United States
gordonbiersch.com
Style:
Maibock / Helles Bock
Alcohol by volume (ABV):
7.30%
Availability:
Limited (brewed once)
Notes / Commercial Description:
No notes at this time.
Added by mactrail on 11-28-2012
This beer is retired; no longer brewed.
Reviews: 5 | Ratings: 27

3.58
/5
rDev
-2.5%
look: 3.75 | smell: 2.5 | taste: 4 | feel: 4 | overall: 3.75
Poured from bottle into a pint glass
Appearance – The beer pours a lightly hazed orange amber color with a huge head of a foamy and thick off white color. The head has a great level of retention, slowly fading over time to leave lots of foamy lace on the sides of the glass.
Smell – The aroma is strongest of a wheat and bready smell mixed with a bit of honey sweetness. Along with these aromas are some grainy smells as well as an aroma of hay and some grass. A very light lemon and yeasty smell are there as well, mixing with the rest to produce a somewhat odd and unbalanced aroma.
Taste – The taste begins with a smooth bready and somewhat sweeter taste with some flavors of lighter fruits and a bit of honey. The lighter fruits are heaviest of orange, but contain other tastes of pear and apricot as well. As the taste advances, some of the wheaty and grainy flavors begin coming to the tongue along with a little bit of a yeasty taste. As the taste advances even further toward the end, some of the grass, hay and lemon that were in the nose come to the tongue as well, with the flavors in the end, unlike the nose, leaving a smooth, somewhat sweet, wheaty and fruity flavor to linger on the tongue.
Mouthfeel – The body of the beer is average in terms of thickness and creaminess with a carbonation level that is a bit on the lower side. The body of the beer and lower carbonation are fantastic for the mix of wheat and fruit and make for a wonderfully drinkable and smooth beer.
Overall – Other than a somewhat odd and unbalanced nose, this was one fantastic and easy drinking brew. Very tasty.
1,617 characters
4.16
/5
rDev
+13.4%
look: 5 | smell: 4 | taste: 4 | feel: 5 | overall: 4
A- Nice golden color. Good head retention.
S- Almost like seaweed. It's got a little saltiness or something as well as a nice estery characteristic. Breadiness comes through as well.
T- Tastes like a clean bock with a little fruity spice finish.
M- Light bodied.
O-I'd say a nice helles with a touch of belgian character in the yeast. Coming from Gordon Biersch, I'd say one of their best beers.
396 characters

3.34
/5
rDev
-9%
look: 4.5 | smell: 3 | taste: 3.5 | feel: 3 | overall: 3.25
Poured two fingers of head on a hazy, medium straw colored body.
The aroma is grain and lemon. Faint but good.
The taste is clean, mild bitterness, lemon water with a medium finish.
A crisp and smooth texture with moderate carbonation and medium body.
A nice drinkable lager with a good flavor.
294 characters
3.96
/5
rDev
+7.9%
look: 4.5 | smell: 3.5 | taste: 4 | feel: 4.5 | overall: 4
Appearance - Pours a hazy, golden orange with an off-white, puffy 3 finger head. Good retention. The lacing is fair to spotty, with decent stick.
Smell - Aroma hits on notes of clean grain, fruity esters, mild lemon and hints of honey.
Taste - Starts with mild caramel, honey sweetness, and a nice, floral hop. Finishes with moderate grass bitterness and a touch of heat. Not much in the way of complexity, but it's a darn good flavor profile.
Mouthfeel - Light to medium bodied. Active carbonation tingles the lips and tongue. Goes down with a slightly buttery smoothness, then finishes with a nice crispness. Fantastic!
Overall - This is good. Really good! Right up there with some of the better Euro bocks, IMO. Nice flavor, but the body's what makes this beer truly enjoyable. Very lively. Paid 3 bucks for the 750ml bottle at Total Wine as part of their close-out deals, and it was definitely worth every penny.
920 characters

3.31
/5
rDev
-9.8%
look: 4.5 | smell: 3.5 | taste: 3 | feel: 4 | overall: 3
Lovely packaging in the tall swing-top bottle. Very attractive pour in the tall Stella glass. Lots of foam and long-lasting lacing. Apleasant whiff of malt and honey.
The flavor is plain sweet malt with a sharp and dirty turn. Rather bitter finish with the sugar still on your lips. A nice spritzy mouthfeel. Tastes strong and winey like a cheap Chablis. Earthy hops give it the sweet and bitter flavor I'm not crazy about. I used to enjoy the GB blonde bock in years gone by, but I think it's surpassed even by Trader Joe's version.
An attractive 750 ml bottle and lovely to look at, but it seems like a pricey item at $9.49 for what would have been bottled in six packs as the usual bock. Brilliant marketing but of no interest otherwise. But hey, check out those suds! From Bine & Vine Bottle Shop in San Diego.
820 characters
Gordon Biersch Zwickel Bock from Gordon Biersch Brewery Restaurant
3.67
out of
5
based on
27
ratings.