Das Bierhaus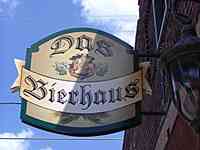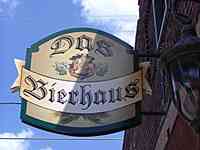 PLACE INFO
Type:
Brewery, Eatery
120 6th Ave West
Menomonie
,
Wisconsin
, 54751
United States
(715) 441-9394
// CLOSED //
Notes:
No notes at this time.
Added by DaPeculierDane on 01-25-2007
HISTOGRAM
View: Beers | Place Reviews
Ratings: 9 | Reviews: 6
Reviews by DaPeculierDane:
2.95
/5
rDev
-14.5%
vibe: 3 | quality: 2.5 | service: 3.5 | selection: 2.5 | food: 4
Das Bier Haus is a bit of a dingy little dive, though nice by Menomonee standards. It's decked out with old German bier paraphanalia, has enough space to hold several dozen, and smells like a blend of brew pub and up north bar.
Selection consisted of four biers: the leicht and pilsner were both good but not stand outs. The Hefe was odd, with no banana or clove aroma or flavor at all but lots of astringent lemon notes. At first I was bothered by this, though it ultimately went well with my chicken schnitzel sandwich. The Dunkelweis, though a touch sweet and lacking in banana and spice, was a pleasure to drink. Das Bierhaus also offered plenty of guest bottles such as Bud light, Budweiser, Millerlite, Miller Highlife, Miller Genuine Draft, Miller 64, Coors, Coors Light, Becks, etc...
The food was the highlight. The schnitzel and schpetzal were both spot on.
Service was friendly.
892 characters
More User Reviews:
4.05
/5
rDev
+17.4%
vibe: 4 | quality: 4 | service: 4 | selection: 4 | food: 4.5
Real chill place that always seems more empty than it should be. Amazing burgers and house german mustard.
106 characters
4.91
/5
rDev
+42.3%
vibe: 5 | quality: 5 | service: 4.75 | selection: 5 | food: 4.75

2.98
/5
rDev
-13.6%
vibe: 4 | quality: 3.5 | service: 1.5 | selection: 3 | food: 4
Visited Das Bierhaus on May 26th while passing through Menomonie.
Atmosphere was good with a long bar and about half a dozen tables - definitely going for a Bavarian vibe with the decor.
The beer was good quality, but it was tough to know what to order. Each beer had a name and the waitresses (more on that later) could tell you the names, but not the styles of each. The beers were described as light or dark.
Service was SLOW. There were two people at the bar and two of the six tables occupied when we arrived, still it took five minutes to be greeted and offered a beverage. The two waitresses working kept passing my party of two off to the other - we had each waitness twice during our visit. When we were ready to settle up, we dealt with the man tending bar - he had come over to the table noticing our long-empty glasses.
The selection of beers was good 6-7 different beers made in-house.
Food had a distinctive German flair and was quite tasty.
The prices were reasonable, but the SLOW service and lack of a list of beer descriptions or decent descriptions from the waitstaff really soured the experience.
1,124 characters

3.73
/5
rDev
+8.1%
vibe: 4 | quality: 4.5 | service: 2.5 | selection: 4 | food: 3.5
First off, this is small town Menomonie. With that said, the beers are both authentic and adhere to the German Purity laws. Working within this constraint, Robert (Brewmaster) has established himself as the 5th ranked non-macro/micro Pils in the world.
Yes, you heard that correct, the 5th ranked Pils. If you have a chance to stop by, do so, and have the Pils. For such a simple beer, it's by far the most delightful Pils you will find on tap in such a small town. The *only* place to get it is at the Bierhaus. No bottles, but they do sell growlers.
The service is generally slow, so quaff a beer while the growler is filled or better yet, have some authentic German food while there. Robert does brew a number of rotating beers (e.g. Dopplebock, Hefe, Alt, Lager, Dunkel, etc.), so sample of stray from the Pils, but try the Pils.
I frequent this establishment ~8 times a year and never leave without a growler. It's only gotten better over the years.
957 characters

3.83
/5
rDev
+11%
vibe: 3.5 | quality: 4.5 | service: 3 | selection: 4
Update (reflective of scores) 2/1/10
Das Bierhaus has really improved over the past year. They are now open Mondays and even have $1 taps (12 oz glasses) Monday from 8-close. The beers have really improved as well. The hefeweizen must have received a transformation because it is perhaps one of the best hefeweizens I have ever drank. The service seems to be stepping up a bit too. I think they're trying to appeal to the youth of the community (college kids) more and they're doing a great job of it.
---
Das Bierhaus is one of the better beer options in Menomonie. It's nestled away just of Main street in Menomonie. The building is neat looking with some german beer signs adorning the outside. Inside, their is a bar stretching two sides of the restaurant as plenty of booths and tables. The brewing equipment is partly visible through a window. I've been into the pub a few times and each time, it's very slow. I've chatted a bit with the bartending staff and they really didn't seem overly knowledgeable many beers other than their own, which they seem to have a good feel for. I've had, so far, a few beers at the bierhaus. The weizenbock and the hefeweizen were both good and the dunkel was good but a bit to nutty, in my opinion. When there is an empty tap, they throw on a guest beer. It was sierra nevada celebration last time. Overall, the prices are a bit steep so we usually don't stay very long. If you're in menomonie, definitely check this place out.
1,471 characters
3.44
/5
rDev
-0.3%
vibe: 3 | quality: 3.5 | service: 3.5 | selection: 3.5
Enjoyed three visits to this place while I was in town for my daughters BB tournament. The folks here are very friendly. They are definitely trying to create an authentic german style restaurant. I didn't get a chance to eat anything but I talked with one of the main food people and she stressed how they are trying to do everything with authentic ingredients etc...
The brewer is from Bavaria and has a masters from Weihenstephener (sp). I also gathered he has brewed a couple other places before this. He seems very knowledgeable.
Waited a little for some beers...seem to be some issues with their tap system...a lot of head for most of the beers....also most of the beers were served too warm. Hefe styles need a lot of work but their regular dunkel is fantastic.
See individual beer reviews.
805 characters

3.56
/5
rDev
+3.2%
vibe: 4 | quality: 3.5 | service: 4 | selection: 3
Jaimie, the very nice bartender, who's effusive personality just oozed the excitement of a new endeaver told me the pub opened in January to the public, but just released their first home grown German ales last week. The official grand opening is June 30th.
Walking up to the pub, it seems like it had had an earlier life--which it did. In the bar, there's a collage of transition pictures that shows the transformation of the once meat locker turned machine shop reborn German beer garden. Outside, the outline of the former name can be seen out front, if you look. Inside, German beer garden decoration with table clothes and various German lagers, of which three are on tap: Spaten Munich, Bitburger, and Munich Lager from Hofbrauhous. Lunch just started to be served, and dinner is specific hours after 4:00, but they seem to be getting up to full speed.
The beers were hit and miss, but show real promise, so I decided to not review them separately and let someone else do it later as they become more stable. The Pilsner was quite good, and this from someone who doesn't like the style that much. Clean, crisp beer that is a smooth lager with appley notes, and significant but appropriate hop spice and nose. Well balanced and smooth--not a throw away light beer that the pilsner or golden ale often is to give the Bud and Miller Light crowd something to drink. This is a well done, drinkable beer. The Marzen on the other hand was murky and not ready for prime time, and the Hefeweizen Dunkel was better but not up to speed yet either.
And, while there are some problems, the owners are clearly giving a tremendous effort, literally building the bar from scratch from the concrete up. Based on the strength of the Pilsner, I would say the pub has tremendous potential and should be given a chance to get through their growing pains. At least, I will return at some point to give them another opportunity to impress me more.
1,942 characters
Das Bierhaus in Menomonie, WI
Brewery rating:
3.76
out of
5
with
28
ratings