Ostalgia Blonde
| Hopfenstark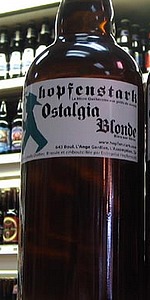 BEER INFO
Brewed by:
Hopfenstark
Quebec
,
Canada
hopfenstark.com
Style:
Kölsch
Alcohol by volume (ABV):
5.00%
Availability:
Year-round
Notes / Commercial Description:
No notes at this time.
Added by Goldorak on 01-27-2007
Reviews: 29 | Ratings: 46
4.07
/5
rDev
+4.6%
look: 3.5 | smell: 4 | taste: 4 | feel: 4 | overall: 4.5
On tap at the Mondial de la Biere.
Hazy gold pour with a small white cap of a head. Nice lace left behind. Spicy nose has a whack of pepper in it, but a good citrus kick. Kind of like lemon pepper. Crisp flavour, lots of good biscuit backing up the hops, which overlay a great citrus hit. Nice peppery finish. Really interesting for the style, and definitely superior to most. Zingy carbonation and crisp mouthfeel suited it well.
A pleasing and crisp blonde ale, which made a nice change of pace from some of the more hardcore brews. This is the sort of beer that may be a little underappreciated, but it worked really well for me, and I'm sure it could pair very well with most foods too.
692 characters

4.03
/5
rDev
+3.6%
look: 4.5 | smell: 4 | taste: 4 | feel: 4 | overall: 4
Viggo shared this one. thanks eric!
750ml bottle. sampled dec 14/08.
pours hazy yellow with a huge, chunky white head. the head drops slowly and leaves tons of thick clumpy lace behind.
aroma is wild. my first thought was pickle juice. bit of vinegar and spice. bready. bit of barnyard funk.
taste is a little less wild. medium-high bitterness level. hint of cider vinegar. orange peel and other light citrus. clingy barnyard funk. light spice. leather. horse blanket.
mouthfeel is good. medium-high carbonation level. light body with a nice dry finish.
drinkability is good. nice balance. interesting funk. i wouldn't call it an american blonde, but it's good stuff.
673 characters
4.08
/5
rDev
+4.9%
look: 4.5 | smell: 4 | taste: 4 | feel: 4.5 | overall: 4
11.5 oz bottle poured into a pilsner glass. The label describes it as a "German-style blond," though it's listed here as a Belgian blonde. My choice of glassware is based on the assumption that it's more like a helles or pilsner, as the label would suggest.
A: Very pale straw yellow. Mildly cloudy with a few tiny particles in suspension. Highly effervescent, a pour of normal strength produced a huge, foamy, rocky white head. Excellent retention, lacing is very clumpy and sticky.
S: There is a definite Belgian yeast presence on the nose, though it's lighter and cleaner than the norm. Cold fermentation? Light fruity scents and a touch of peppery spice. Hops are floral and mellow. Subtle scent of potpourri. Malts are biscuity and bready.
T: Floral hops up front with a slight oily character. Yeast kicks in mid-palate with some chalky and peppery tastes. Spike of clovey phenol. Pear and other vague fruity tastes play lightly in the background. Malt tastes shift from honey to biscuit and cracker as the beer dries toward the end. Yeasty finish of pepper and chalk with a kick of spicy herbal hop bitterness.
M: Light in body, but very full and creamy in the mouth. There's some substance to the body; it's slightly chewy and silky. Very smooth. Carbonation is a touch scrubbing and lifting, but not aggressive at all. Great.
O: Definitely not the Helles or Pilsner I was expecting. Kind of a mash-up of German and Belgian brewing, but it works. The end product is a very tasty and drinkable little beer. Sessionable to boot. It has enough character to keep it interesting. Wouldn't say no to a few more.
1,619 characters

3.32
/5
rDev
-14.7%
look: 2.5 | smell: 3 | taste: 3.5 | feel: 3.5 | overall: 3.5
My experience was pretty similar to the previous taster's....
Poured in a riedel magnum red wine glass
A: Really pale straw color, with rapidly fading white head
S: reminiscent of a wheat beer, with yeasts aromas
T: Pretty interesting. Light, but still pretty nice, with loads of peaches aromas as the beer gets at higher temperature, and a decent, bitter finish. Suprising.
O: It was suprisingly interesting.
414 characters
3.8
/5
rDev
-2.3%
look: 3.5 | smell: 3.5 | taste: 4 | feel: 3.5 | overall: 4
I'm pretty confused reading through the previous page of reviews; there seem to be three or four completely different beers reviewed here. My experience might count as a fourth or fifth I guess.
12 ouncer, bottled this month (January, 2012). The colour is a very light shade of yellow, surprisingly pale. Hazy body with a thin cover of bright white head and bits of lacing.
Lots of yeast and wheat on the nose. Lemon candy, earthy noble hops (almost like a pilsner), minerals and a little diacetyl.
Wheat dominates the palate, followed by quite a bit of earthy German hops. The moderate bitterness is balanced by a light touch of malt sweetness. No real complexity, just clean and simple with big wheat and nice noble hops.
Body is a little thin, carbonation low. Dry finish.
I much prefer this Ostalgia to the Rousse but don't think I'll be coming back to it, though it would be a decent session option if it was priced well as a six-pack. This one seems fairly similar in flavour to Hopfenstark's Helles, though I remember the Helles as a better beer all-around.
1,074 characters
3.9
/5
rDev
+0.3%
look: 3.5 | smell: 3.5 | taste: 4 | feel: 3.5 | overall: 4.5
On-tap at Vices & Versa, one of the first batches of this brand new brewery.
Appearance: Peachy golden ale that was slightly opaque with a decent head.
Smell: Excellent crisp noble hop aroma, freshly crushed grain, some hay, kind of reminded me of the bottled Kellerbiers a buddy of mine brought back from Germany. Nothing super fancy here, just well made.
Taste: Perfectly balanced bubbly carbonation, chewy, honest base malt and green, grassy hops. For a first try, they really nailed it! This Beer is going to be amazing during the summer months. Apparently the brewery will sell growlers to go, and I'll be first in line to get some!
646 characters

3.97
/5
rDev
+2.1%
look: 3.5 | smell: 4 | taste: 4 | feel: 4 | overall: 4
A: First thing I notice is the head doesn't "explode" so much as other Belgian Pale Ale's and BSPA's. It's creamy and frothy and about 1.5 fingers. Not all around bad, but not as grand as I usually like my Belgian heads to be. Fairly decent retention on the little head though. Not seeing too much lacing. The appearance is a golden straw color and foggy which is to be expected because I put the whole bottle in. Nice action from the carbonation. 3.5
S: Interesting, while there is definitely hops and your standard belgian fruitiness there's also a lot of that malted grain aroma. Almost raw. After swirling the glass just a little bit, that fruitiness really steps up in a big way. Love that belgian peachy... apple aroma. The hops are here too, but they show up in the more earthy, leafy spiciness. Smells great! 4.0
T: It mirrors the nose in the most refreshing way possible. It starts out with some of that Belgian fruitiness and then actually moves to the grainy malts. I also get the hops in an earthy and delicious way. The finish has just enough bitterness to somewhat clear your palate. A great mix of sweet flavors and lightly bitter finish. 4.0
M: Medium, frothy body with big carbonation. It's this carbonation that makes this beer so easy to drink. The big flavors could very well overwhelm somebody (especially when you're having it as warm as I am!) but the carbonation scrubs your tongue clean and begs you to take another sip. 4.0
O: This beer was better than I thought! I was scouring my local beer shoppe for Belgian Pale Ale's and Belgian Strong Pale Ale's that I've never had before and I found this one. I'm a big fan and I'm going to keep my eye out for more of their stuff. 4.0
1,707 characters
3.88
/5
rDev
-0.3%
look: 4 | smell: 3.5 | taste: 4 | feel: 4 | overall: 4
Thanks to Papat444 for this one!
Poured from a 341 ml bottle into a snifter glass to a slightly hazed golden colour with a medium white head.
A grassy nose with yeast notes, citrus, malt an spice coming across.
Taste wise bready malts, a lemony hop bitterness, honey and a yeast flavour similar to that found in a saison.
Medium body and carbonation with a clean finish.
Overall and enjoyable beer crisp and refreshing, almost 'helles meets saison' !
455 characters
4.17
/5
rDev
+7.2%
look: 4 | smell: 4.5 | taste: 4 | feel: 4.5 | overall: 4
Bottle from Fred82. Pours a cloudy, straw yellow. Aroma is tart with lemon and malt. Taste is tart with citrus fruit. Dry mouthfeel with popping flavours of yeast, grain and little subtle flavours that really come out as you savor this beer. My first Hopfenstark and definitely not my last.
290 characters
Ostalgia Blonde from Hopfenstark
3.89
out of
5
based on
46
ratings.