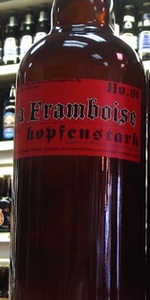 BEER INFO
Brewed by:
Hopfenstark
Quebec
,
Canada
hopfenstark.com
Style:
Fruit / Vegetable Beer
Alcohol by volume (ABV):
5.00%
Availability:
Rotating
Notes / Commercial Description:
No notes at this time.
Added by Sammy on 06-01-2008
Reviews: 11 | Ratings: 29
4.08
/5
rDev
+6.5%
look: 4.5 | smell: 4 | taste: 4 | feel: 4.5 | overall: 4
750ml into Cuvee de Koninck glass.
A- Almost opaque with haze, a peach coloured beer with a creamy, condensed white head.
S- A very nice raspberry with none all the lipgloss/vaseline I get inmany raspberry beers. A refreshing sourness seems to fill the air over the beer.A bit of orange or maybe I'm just confused.
T- A bit sour as well as tart. Creamy yet a little watery. Nice subtle but strong bitterness.
M- High but soft carbonation which foams up for a great mouthfeel. Moderate dryness.
O- A good beer. Tastes like raspberries, the base beer is good and there isn't much to offend. It's got some very nice carbonation as well.
Worth trying but would be nice to find it cheaper than the $7+ I got it for.
717 characters

4.08
/5
rDev
+6.5%
look: 4.5 | smell: 4 | taste: 4 | feel: 4.5 | overall: 4
Bottle received via phyl21ca in CanBIF 2012. Thanks!  Poured fridge cold into a tulip. 
Pops open quietly but soon a white foam snake is pouring out of the bottle. Hazy light amber body with nice head, a fine cap and good lacing.   Nose is quite surprising  with some nice light raspberry notes, pepper, funk and light barnyard notes and a hint of butter. 
Uh-oh. Barnyard and a snake of foam?  Infection perchance?
Body though is quite nice. Tartness that plays well with the raspberry with a light malt body that is assertive enough to remind you this is a beer, yet light enough to let the other flavours play through. Some very light funk comes across the palate too. No perceptible hop presence nor bitterness, but finishes clean and dry. 
If this beer had been infected, it worked out perfectly at the moment. If not, it was a solid fruit beer yet nothing sensational. 
887 characters

4.07
/5
rDev
+6.3%
look: 4 | smell: 4.5 | taste: 4 | feel: 3.5 | overall: 4
On draft at Churchkey in D.C.
The beer is a light hazy yellow hue. The head is rather small, but hangs around for a considerable time. The aroma is of berries and fruit with a little farm funkiness. I think I like it. The aroma is better than the taste, but the beer is good nonetheless. The feel is somewhat thin and the flavor fades too quickly. This is an interesting beer and worth a try, should you come across it.
420 characters
4
/5
rDev
+4.4%
look: 4 | smell: 4 | taste: 4 | feel: 4 | overall: 4
Thanks Deadbolt82!!
Appearance. Pours a very hazy straw-gold with two fingers of fluffy white head that fades quickly.
Smell. Sugary red berries, funky yeast and some slightly sour, grainy wheat.
Taste. Funky brett!, some lightly sour wheat, lemon, a bit of sweet floral raspberry and even some strawberry with a bit of grassy hops. Nice!
Mouthfeel. Lighter body, medium-strong carbonation.
Overall. A very nice beer with a good amount of funky brett. I'd love to have this one at my local beer store!
507 characters

3.88
/5
rDev
+1.3%
look: 4.5 | smell: 4 | taste: 4 | feel: 3.5 | overall: 3.5
Hazy blonde colour, about a finger of super dense white head, nice lace as well. Smell is of raspberry, some wheaty and malty scents, a bit of acidic lemon as well, lightly funky at points also. Taste follows the nose, raspberry and other fruits, lemon zest and perhaps orange, citrus, light acidity, malt and wheat with more berry in the finish and aftertaste. Medium carbonation, medium body. A nice raspberry beer where the raspberry doesn't beat you over the head, the lemony citrus was nice too, good on a nice hot day.
524 characters
3.72
/5
rDev
-2.9%
look: 3.5 | smell: 4 | taste: 3.5 | feel: 3.5 | overall: 4
The aroma is raspberry, is it real? They say its the juice squeezed right in. Sampled at Mondiale 2008. Red pink colour. Good tartness, medium mouthfeel. Drying finish. A summer beer,grows on you and was served at the correct just slightly cold temperature.
257 characters
3.71
/5
rDev
-3.1%
look: 3.5 | smell: 3.75 | taste: 3.75 | feel: 3.5 | overall: 3.75
Tap at Pro Pig in Waterbury.
Hazy cloudy straw wheat like color, very little head.
Nose wild sour, lambicus wild, sour tart fruity, light raspberry, hint bready yeast funk,
Taste starts with light yeasty funk, watery overall malt, lacto or lambicus sour funk, not super funk, nice tartness, some raspberry, sour raspberry mostly, light tannic seed and stem like vinous quality, some wheat flavors too which is different for a sour, also why it seems thin. Finish is funky yeast, more tannic stem and sour raspberry, little sticky, syrupy, hint bready.
Mouth is lighter bodied, little watery, decent carb, not really flemmy or super tart.
Overall ok but nothing great, nice raspberry and decent sour lambicus fruit, but quite thin and wheat adds a weird overall quality, and missing the really sour funk, flemmy bready taste, etc. It's decent but just seems like it's missing a few things.
893 characters

3.71
/5
rDev
-3.1%
look: 4.5 | smell: 3.5 | taste: 3.5 | feel: 3 | overall: 4.5
A: very funky looking beer. Nice light gold/pink ale with very strong pure white head.
S: Raspberry, more raspberry and even more of it. But isn't that the point right? Some tart too, but nothing more really...
T: Very refreshing. The raspberry is definitively there, but ain't too much there: it's a beer, not a juice. Tart is present too. Not much hops. Most of the "bitterness" coming from the raspberry acid feel. Nothing bold though, I would have loved if it would have been a little more intense tasting.
M: That's where it goes down. That's the second hopfenstark I drink and both of them had a very light body to them with very little presence. But, the carbonation is just right (high) for this type of beer.
D: It's normal I think for a light refreshing beer to be easy to drink.
793 characters
3.64
/5
rDev
-5%
look: 3.75 | smell: 3.5 | taste: 3.75 | feel: 3.75 | overall: 3.5
Enjoyed at the Pro Pig in Waterbury, VT. Reviewed from notes.
A- Pours a pale, pale slightly cloudy wheat like hue with a thin blanket of a head that leaves a thin halo. Cant stress how pale this is, palest beer ever?
S - Light almost what notes with super faint raspberries. REALLY have to go looking for raspberries here and what I find is more of the raspberry candy than berries. Faint sourness. Just all very faint and watery smelling.
T - Taste isn't much better. Some light wheaty yeasty fun. Super faint berries once more and very light sour notes. All super subtle with light floral raspberries. Again, comes across a bit on the thin side.
M - Mouthfeel is lighter bodied with nice carbonation. Again, a bit thin.
O - Overall his was just a weird beer for me. That wheat throws me off and I kinda miss the sour/funk that makes a beer of this style. Meh.
867 characters
3.62
/5
rDev
-5.5%
look: 3.5 | smell: 4 | taste: 3.5 | feel: 3.5 | overall: 3.5
Draft: Poured a light beige color ale with red haze and a nice foamy head with good retention. Aroma of fresh raspberries with light tart notes. Taste is also a nice enough mix between some fresh raspberries with light tart notes and a medium bland malt backbone, which is not a bad thing considering the focus is on the fruit. Body is about average with good carbonation. Not bad but not great either or maybe I had higher expectation.
436 characters
3.61
/5
rDev
-5.7%
look: 3.25 | smell: 3.5 | taste: 3.5 | feel: 3.75 | overall: 4
Thanks to Ffej for the share on this one. 750ml into a snifter. The brew appears a pale yellow slightly hazed with a white fizzy cap that is quick to dissolve. A swirl revives a couple bubbles that again collapse quickly.
This smells like a sort of fruity yogurt. Some wheat-like grain inclusion is present across the nose along with a seedy inclusion of raspberry. It is quite tame but natural smelling.
The tastes is mutually wheat-like with a brisk tartness. A flavoring of greek yogurt mixes with hints of cheese. That seedy natural raspberry flavor is present across the back that lasts into the aftertaste.
This is a light bodied brew with a modest amount of effervescent carbonation. It is light and effortlessly drinkable almost watery and too light at times to be a framboise. Had I not had a level of expectation and if i was given this blindly, I would have assumed this to be a berliner weisse. I liked it.
921 characters
Framboise from Hopfenstark
3.83
out of
5
based on
29
ratings.