Pacific Park Market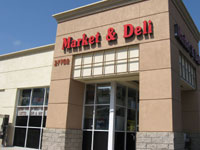 PLACE INFO
Type:
Store
27792 Aliso Creek Road #B100
Aliso Viejo
,
California
, 92656
United States
(949) 831-0330 |
map
googlepages.com
Notes:
No notes at this time.
Added by IceAce on 01-29-2007
Reviews: 12 | Ratings: 17

4.8
/5
rDev
+12.9%
vibe: 4.5 | quality: 5 | service: 5 | selection: 4.5
My wife actually goes in here for me during the day. The guys that work here always tell her whats new in stock as well as suggest what I may like. Great shop hands down.
172 characters
4.78
/5
rDev
+12.5%
vibe: 5 | quality: 5 | service: 5 | selection: 4.5 | food: 4
Great hidden gem. Both of my kids and I train at the karate studio next door, so I am in the shop a couple of times a week. Ken runs a nice operation and is very knowledgeable. I'm typically greeted with a hello and word of what's new in the coolers or what is expected in soon. If something limited is expected and I know I won't be in for a few days, I'll ask and they'll typically set one aside for me.
Ken runs tastings for a modest fee (usually $5, but varies depending on what's being poured). These are typically themed events (by style, country of origin, brewer, etc.). A community atmosphere has emerged and participants often bring a bottle of their own stuff to contribute to the tastings. Very cool. Highest marks for atmosphere, quality and service.
There's plenty of good stuff in stock that you can't find at other nearby options, so selection is rated as excellent. You'll typically find a couple of Belgians and sours from RR, Pliny when they can get it, a good selection of Stone, and a smattering of offerings from local brewers like Bootleggers, Port, the Bruery, Ballast Point, et al. and occasional appearances from brewers like Avery, Deschutes, Great Divide, DFH and other quality names. There is also a decent but not extensive cross section of German, Belgian and other imported beers.
I did give the slightest of dings on the selection rating only because it is a mom-and-pop operation. Their buying power and ability to stock the coolers to the gills and still effectively manage inventory is a bit limited. However, I will gladly forego a warehouse-like inventory for fresh product and prices that are kept in check by responsible buying practices.
Food is limited to packaged goods, the deli counter and homemade baked goods from Ken's wife. They stock Boar's Head Provisions, so the quality is good. The sandwiches are nicely crafted, but could stand to be a bit meatier. I'd be willing to plunk down an extra buck or two for an "extra meat" option.
Decent prices and I gave the "reasonable" value rating. Sure, that bomber of Arrogant Bastard may run 25 cents cheaper at Trader Joe's or BevMo, but it has been sitting unrefrigerated on a shelf for how long exactly? Again, this place can't leverge enormous buying power, but they more than make up for it with service.
A fine establishment by any stretch.
2,345 characters
4.6
/5
rDev
+8.2%
vibe: 4 | quality: 5 | service: 5 | selection: 4
From the outside it looks like a typical convenience store in an auto repair strip mall. But inside there's sweet selection of craft beer, a tasting corral, (for beer and wine tasting events), and a very knowledgeable guy named Ken who will take the time to find out what beers you like and offer advice on what else you might like to try. If it's any indication of how serious Ken is about this stuff, the store tagline is "Craft beer delivered to your door!"
I only recently found this place, and now I stop in weekly and check in with Ken to see what craft beer he's going to recommend to me this time around. He may not have the largest selection, but the stuff he has is quality. I highly recommend this place if you are in the South Orange County area.
767 characters

4.05
/5
rDev
-4.7%
Living in the general area, I have visited this little spot a few times in the last year. A bit tucked away, but the place has a pretty decent beer selection. I would say one of the big pluses for Pac. Mkt is whenever I have a PtE craving, I will always check them out first because they pretty much always have some on hand. Generally, they don't carry most of the more hard to find bottles but what they do carry is pretty decent. I wouldn't label the prices steep, but recognize you aren't visiting a BevMo! or a Total Wine. Definitely worth checking out.
558 characters
4.85
/5
rDev
+14.1%
Pacific Park Market has a great beer selection and Ken (the owner) is a great guy that provides excellent service. I live on the East coast so my only experience with PPM is online/phone orders but every order I've placed was shipped quickly and everything arrived promptly (and safely). For those of us with no access to certain CA/West Coast brews, this is where you can get them at a good price, guaranteed. I can't recommend them more. I can't wait to visit family in CA and stop by this store in person.
508 characters

4.5
/5
rDev
+5.9%
Awesome little store. like the others said, it doesn't look like much, but once you make it to the back, you'll see they have some pretty good stuff.
They had abyss and Butte XX and that made my day. they had plenty of both while any other store i knew of sold out a while ago. they also carried blind pig, pliny the elder, stuff from port brewing, lost abbey, oscar blue, and and they also have macro stuff.
as for the tastings, i'm not sure how they work, but i hear they're every friday.
i also hear they ship beer.
worth checking out, definitely would go back.
568 characters
4.15
/5
rDev
-2.4%
Not bad. You can tell they owner is making an effort to get quality beers. Selection included Blind Pig and Pliney by Russian River, Port special releases like 2nd anniversary and Hop Tide, Some common lost abbey (10 commandments, Avant Gaurde), Stone Cali-Bel and other typical releases, Deschutes Butte XX, Firestone and Victory 6 packs, and some belgian stuff.
The service is really friendly and the prices are reasonable. They also have a good deli, some wines and various food items. They tend to be a bit undiscovered, so good beers tend to last and remain refrigerated (almost all their beer is in the fridge!). They also do tastings every month or so for a good price.
677 characters
4.05
/5
rDev
-4.7%
Update 2/12/10: Came back for a sour tasting with Halcyondays. It was well hosted by Ken, the owner of this store. I've upped the service score because of it. It still has a small selection of craft beers, but there's a good portion of them that are "rare" (Black Hole, Supplication, AleSmith Decadance, Bourbon County Stout).
It was tough for me to find the place; I passed by twice because "Market & Deli" was not the monikor I was expecting to run across. I finally decided to look at it's address number, and indeed, that was Pacific Park Market. So what's to like and what's to anticipate at this store?
Pros: Good selection of top-of-the shelf California craft beer, every beer is refrigerated, and the displays are clean. Lots of Lost Abbey on the shelf, they had The Abyss, Victory, Oskar Blues, and they even hold beer tastings (upcoming ones can be found on the BA Calendar).
Cons: Limited number of good imports, beers will set you back a little more money. It's the former that really stuck out to me.
Somewhat bittersweet, if only I was expecting more bottles. But I still walked out with Big Bear Black Stout and The Abyss.
1,145 characters
4.3
/5
rDev
+1.2%
Ken is a booze expert. While he may not be the biggest shop in town, he tends to carry more of the best products, be they Beer, Wine, or the hard stuff.
This is directly reflected in his beer offerings which include the greats from Stone, Alesmith, Port/Lost Abbey, Dogfish Head, Deschutes, Firestone Walker, etc. As of last week you could still find The Abyss in the fridge.
If you ask nicely he may have something more expensive "in the back." Which is how I received the gift of Firestone 11 from my loving uncle.
Ken is a member of BA and keeps up on the going's on, and he offers tastings on a regular basis, so be sure to get on his mailing list. Heading there in a couple hours for a tasting, and see what's new in the fridge.
739 characters
4.15
/5
rDev
-2.4%
Had a chance to visit here last Friday night for Belgians Vs Belgians tasting. When you first walk in, you think it's a basic convenience store. Then as you go in further you begin to realize that this place has many hard to find wines. I have to commend Ken for carrying a varied selection of top shelf liquors, wines, and beers from all the place.
My wife and I really enjoyed the beer tasting and definitely recommend everyone heading out there to pick up some of your favs.
That night I bought... Racer 5 IPA, Ale Smith IPA, and Lost Abbey Devotion. The place basically carried all the Stone line. There were also a lot of Belgians available.
If you're in need of a good brew and you dont wanna get ripped off at Bevmo, head here.
Thanks again ken.
756 characters
4.2
/5
rDev
-1.2%
Made my way here for the Deschutes tasting on 1/25/08 after a thrilling ride through Hill Country on the Toll Road 73. The place is hidden somewhat in a little strip mall which you can't turn to off the street, so make a left on Liberty, otherwise you'll have to go down about a 1/4 of a mile to a ridicously long light to make a U-turn. Walking in it's quite a small place about the size of an average liquor store even though the name says Market. Inside they have a solid selection of craft brews and imports, though nothing I haven't seen before, the highlights were a large selection of Port 750s and a Bam Biere 6-pack, only have seen that beer in 750s up until now, and of course the Abyss, which is the reason I was there. The owner Ken is a friendly guy who made sure the tasting was well executed and enjoyable. All and all, an excellent liquor store in Aliso, though at about 23 miles away, I'll probably only be back if I'm in the area.
948 characters
4.1
/5
rDev
-3.5%
Finally made my way down here even though it is only 9 miles from my house.
Typical small family owned liquor store/market with the usual staples and many isles of wine.
I went straight for the coolers in the back and noticed a very respectible offering of craft brews. If I remember right, 3 of the coolers are nothing but craft brews with craft brews mixed in some of the remaining coolers. I would like to see a bigger selection of bombers, but they do have several to offer. Most impressive was that the dates on brews that show dates were very, VERY fresh. The HopDevil from Victory had an 'enjoy by' date of Sept, 2007...still 4 months away.
Ken, the owner/operater is very knowledeble about craft brews and willing to share his knowledge with you if you ask. He is also willing to order in specials for you so his craft brew section is slowly growing and will continue to with your/our input.
Note: Ask what he has in the back room. He likes to cellar beers in the back to release some of the better ones when he feels they have aged to a peak.
Of note also is that the store holds beer tastings every other week on Thursdays and Fridays. Call to see what they are offering...the tastings appear to be very extensive.
1,229 characters
Pacific Park Market in Aliso Viejo, CA
4.25
out of
5
based on
17
ratings.