Inner Spirits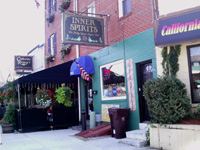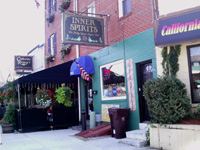 Store
1622 Delaware Ave
Wilmington
,
Delaware
, 19806-3304
United States
(302) 654-1670 |
map
Notes:
Reviews by TheBrewo:
TheBrewo from New York
3.54
/5
rDev
-11.1%
vibe: 3.25 | quality: 3.5 | service: 4 | selection: 3.25
We had the pleasure of visiting the city of Wilmington while traveling to the area for some residency interviews. Having time to only stop at a single bottle shop, we turned to you fine BeerAdvocates for recommendations, and this was where we landed. Apparently the beer scene in the area is a bit slower than some other areas of the country, or in more robust and bigger cities, but we were happy to check this place out.
The shop sits on a row, flanked by restaurants and boutiques, with parking on the street, or in lots on the street behind. You walk around to the front, meeting a store front painted in dark green, with a tiny window above the register glowing with neon beer signs (obviously including a Dogfish Head icon). Through the doors you enter a relatively small, rectangular area that can support about fifteen paces to the back wall of the store, if that. To the immediate left are wooden shelves and crates displaying a variety of wine and liquor. Beer begins at the far back wall, wrapping to the left side of the store around a dividing central display. There are all formats of beer, from singles, to bombers and 750s, to sixers. Beyond the bay wall there is a miniature aisle for larger format BMC, growler fills, and two coolers of more of the same. The selection is heavily local, with a fine mix of American and easy European varietals.
We were the only ones in the store at first, and were asked almost immediately if we needed help. After politely declining, we eventually struck up conversation with the sole employee behind the counter, who proceeded to direct us towards some popular local brands, and some of their newest arrivals. The conversation was light, decently beer-centric, and friendly. Prices were reasonable, and the four beers we selected were packed conveniently in a plastic bag with makeshift cardboard dividers.
Overall, this was a nice, simple place to visit. Although we didn't get a chance to explore much else in Wilmington, it seems like they've got a good thing going here. The city doesn't seem to be offering up a in the way of competition, but they still look to stock their modest store with something new for everyone, be it local or import. I am confident that if we were to move here that we would become regulars at this store, and that we would be able to finding something at least relatively intriguing each time.
Feb 11, 2015
More User Reviews:

HookemHoos from Virginia
3.6
/5
rDev
-9.5%
vibe: 3.75 | quality: 3.5 | service: 3.75 | selection: 3.5
Jul 06, 2015

reyna311 from Delaware
4.39
/5
rDev
+10.3%
vibe: 4.25 | quality: 4.25 | service: 4.75 | selection: 4.25
My go-to place in Trolley Square. Good selection, and the owner is always willing to help you find the right brew
Apr 12, 2015

CSpoons from Maryland
4.5
/5
rDev
+13.1%
One of my favorite liquor stores. The 2 guys who run it are quick to let you know what new beers they've gotten in.
Nov 20, 2014

DanSmith17 from Delaware
4
/5
rDev
+0.5%
vibe: 4 | quality: 4 | service: 4 | selection: 4
I read a few reviews on BA and decided to check this place out while I was in the area. This place is pretty small, but had a nice selection of craft brews; DFH, Stone, Troegs, Sixpoint, Brooklyn to name a few.. I built a sixpack with some DFH and picked up a RuinTen bomber. Decent place overall, I'd go back if I was in the area again...
Aug 02, 2013
madevo from Delaware
4.3
/5
rDev
+8%
Previously this establishment was your average convenient liquor and alcohol store, nothing special but had what you needed. It came under new ownership in 2010 and it turned from a passive essentials store to a truly unique and interesting place. The owner is young and always willing to try out new things. There is a good selection of PA,DE and other regional craft brews as well as more rare beers in stock. He also regularly tries out smaller breweries he finds on beeradvocate. The place is small so the selection isn't the broadest, but with the reliable stock of regional beer and the other interesting beers variety is always ensured.
Jan 22, 2011
Lexani from Delaware
4.3
/5
rDev
+8%
Recently visited this location after I noticed it was back open. Looks like they changed ownership sometime in the last year. I'm glad they did! The new owner "josh" has a-lot more micro's in stock compared to previous owner, the store is small but he does a great job stocking with hard to find/limited brew's and price is reasonable. He also special orders, case's and singles for customers at no charge, which can not be found at other stores (example: Wells & Young, Smuttynose) He also indicated he's bringing in additional 2 door cooler dedicated to micro's very soon.
Nov 02, 2010
tgbljb from Pennsylvania
3.7
/5
rDev
-7%
Visited the establishment while my wife was shopping at the outlets. Really only a very small store with a very limited selection. The only thing I picked up was a six-pack of Sam Adams Irish red. This would not be a bad place to stop if you lived in the area and were looking for some beer for the night. Is this place a destination to travel too? Definitely not. Would it be OK if you lived in the area? Yes. Prices seemed about average. They will not let you split six-packs. I enjoyed Krestons much more.
Feb 20, 2008
mobud from Delaware
3.65
/5
rDev
-8.3%
After a family trip to the zoo down the street, I passed this little shop that I had passed a hundred times but never had checked out. Got a spot right out front (nice for a sunny June Sat.) and saw a perfect little shop for the neighborhood it is in. It is not large; some wine and booze on either walls. A chest along the right wall for all your BMC needs and several door freezers along the back has the standards in craft (DFH, SN, Brooklyn, ...). I found the bombers and 750s in a case around the corner and grabbed a Bear Republic Trib. Brown Ale and a six of 60 Minute for a nice price. The guy at the counter was cool and the prices were in line with what I usually pay for these item. Not the greatest selection, but if this was my local, I would not be upset either. They also carry Twin Lakes kegs (unfortunately the do not bottle), the first place I have seen them.
Jun 30, 2007

Imstillthegman from Delaware
3.85
/5
rDev
-3.3%
I have stopped in here while in the area (Trolley Square) to grab a sixer. The place is tiny. They have some liquor and wine on the walls to the left and the right. There are some macros in a chest cooler on the right. Micros and Imports are straight back in the double door cooler and there are some more just around the corner (kinda looks like you're not supposed to go back there, but it's ok). They have DFH, Victory, Tröegs, SA,SN, Chimay, Ommegang, and others. Interesting little spot to stop into if you're in the area. Selection isn't huge and neither is the store, but the staff is friendly and helpful.Here's a hint...sometimes it is easier to park across the street in the shopping center parking lot or at the Acme and walk over. Trying to find on street parking can be tough.
Jan 31, 2007
Inner Spirits in Wilmington, DE
Place rating:
3.98
out of
5
with
11
ratings