Beverage World II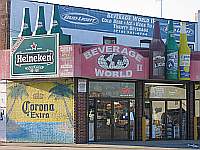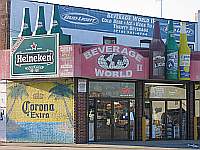 Store
60-03 Eliot Avenue
Maspeth (Queens)
,
New York
, 11378
United States
// CLOSED //
Notes:
Recent ratings and reviews.
Ratings by PEBKAC:
Reviewed by PEBKAC from North Carolina
2.95
/5
rDev
-9.2%
Wow, now this is quite the bike ride on a cold Wednesday afternoon. Cemetaries, public parks, & soccer moms triple parked everywhere. Just so you know, this is Queens.

The front of the establishment is colorful to say the least. Beer murals & giant plastic bottles adorn the face & overhanging store sign. Like a beacon in a snowstorm, or maybe like a shiny silver dollar stuck in a sewage drain. How much is it worth to you to reach your hand down there & pluck something out?

The store starts off well whichever entrance you decide to go in from. The fridges are in the back, so I started there. The first thing that stood out was the pre-filled blue point growlers. I haven't seen those around here before. Too bad they were all past their freshness dates. Assorted SN, SA, Brooklyn, Blue Point, Anchor & Big Macs line the fridge, but nothing amazing. To the right was their recycing center, & where Jimmy Hoffa is buried, but I'm sure everyone's seen that before, so lets go left.

Lots of cases & shelf space devoted to BK & BP, with just about all their regular & seasonal lines. Most of the store stocks the regular essentials, but has a nice little spot for German singles which caught my eye. The Belgians encompass everything in the normal range, but at least they're all in one place. I am on a bike after all.

All the cases laying around practically strangle any potential this place has at stocking more unique craft brews, but alot of the smaller stock doesn't seem to move very well anyways. Always check the dates on these guys, or you might be the lucky guy to bring home a new pet. I would of bought that lone bottle of SA Imperial Pilsner, but I didn't have the heart to put the thing out of its misery.

The place is basically self serve, & no one knows the prices except the guy behind the counter. Cost was fair all around, & cases seemed flexible. Mixed sixers were a nice touch with my small backpack.

Overall, it's out of the way, but if you're out of the way, it's nice to have. Like I said, this place has alot of potential, but it wont happen. Everything else just sells too good. :(
Feb 02, 2007
More User Ratings:
Reviewed by zerofear13 from New York
3.55
/5
rDev
+9.2%
Pretty accessible if you're in Queens. Eliot St. is a pretty busy place and Metropolitan Ave. is a nice drive, so the intersection shouldn't be too hard to find. The store itself is decorated so that you can notice it from several blocks away. I went earlier in the day, so the place wasn't bustling and there appeared to be only two employees. The guy behind the counter was very friendly, greeted me and asked if I needed help with anything.

Took a quick note of the store and thought the setup was a bit odd. If you walk in through the front door, one side of the aisle has a good selection of micros on shelves and the opposite side has the macros in cases. There were only two fridges, stocked with the usual Blue Points and Brooklyns. The shelves are where most of the crafts are, but still not a very impressive collection. You have your select Blue Points, some Brooklyns, some Magic Hats, a few Sierra Nevadas, etc. The typical stuff you'd expect from something listed on beerfly. Pretty small selection for such a large store. The cases were stacked with Budweisers, Heinekens, Coronas, Millers, etc.

Checked a few freshness dates and thought it was respectable. Nothing too dusty or old, but still odd that they left the majority of their stuff on shelves and not in fridges. My guess was that they regularly went through their inventory because I was hard-pressed to find a six pack that was half empty, meaning they probably consolidate and sort pretty often. You can buy singles and mix, and the prices were just as you'd expect for buying singles. Almost nothing is labeled (price-wise), but you get the idea that it isn't ridiculously over-priced, but not a bargain either.

Overall, I wouldn't recommend this store to too many Queens friends. For me, Community Beverage beats this place in every category. But if you live close to here and don't have access to any other stores, this place would be heaven for you. After all, you're in Queens; don't get too picky.
Aug 19, 2007
Beverage World II in Maspeth (Queens), NY
Place rating:
3.25
out of
5
with
2
ratings