Raging Burrito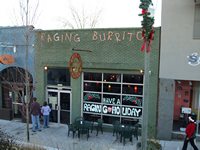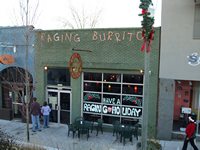 Bar, Eatery
141 Sycamore Street
Decatur
,
Georgia
, 30030
United States
(404) 377-3311 |
map
ragingburrito.com
Notes:
ChainGangGuy from Georgia
4
/5
rDev
+1%
vibe: 4 | quality: 4 | service: 4.5 | selection: 3.5 | food: 4
Who doesn't like burritos? Or mild fire-roasted salsa and tequila for that matter.
I gotta give it to them, the 16 tap selections available are definitely a few steps above most any burrito or Mexican-food joint. Heck, at best you'll have maybe a Bud Light and Dos Equis to choose from. Here (at least as of writing this), they have everything from Allagash White to Sweetwater IPA to Leffe Blond to New Belgium Ranger IPA to even that new Sierra Nevada 30th Anniversary Fritz & Ken Ale.
For my experiences over the years, the service has been prompt and fairly friendly. The food is very reasonably priced and tasty. There's a variety of seating options. You've got the tables out front, the tables inside the main dining area, the modest-sized bar, and the secluded patio in back.
There is more than enough parking behind in the goodly-sized lot along Church Street -- they even validate parking up to 90 minutes. Or, if you're using Marta (I'm told it's "smarta"), there's a terminal a mere bottle's throw from their front door.
All in all, it's a right pleasant stop mingled into a day of Brick Store Pub and Twain's.
Apr 07, 2010
jophish17 from Georgia
3.68
/5
rDev
-7.1%
vibe: 4 | quality: 4 | service: 3 | selection: 3.5 | food: 4.5
Went here the other day for the first time, and am glad I did so!
Pretty cool idea to have the front wall include a garage door, because opening it during the day and having a cool breeze come in kinda gives it part of its Caribbean like atmosphere. Fairly small bar, which a popular patio out back.
Beer selection was nice - not a beer bar, yet a bar with good beer. Couple of Terrapin's, Sweetwater's, Allagash White, Sierra Summerfest and Bigfoot (which the guy told me was the only one available in the state.. hmm). They even have the brewer's glassware for most beers, if not they still serve it correctly. I went with the Dank Tank DIPA - very good!
Food was the reason I came, and my burrito did not disappoint. Lunch time deals were great, as good as one of the "chain" places with much better quality. Beer prices were below market too. Service was probably where they could improve most, but thats not saying it was bad. It was just kinda there.
Raging Burrito gets a thumbs up from me. Nice little restaurant where a BA won't have to compromise on the beer.
May 19, 2009

shivtim from Georgia
3.95
/5
rDev
-0.3%
vibe: 4 | quality: 4 | service: 4.5 | selection: 3.5 | food: 3.5
A nice little joint on Decatur Square. I like the lively atmosphere. It's kind of Brick Store cum Taco Mac, if that makes sense. Food is relatively good and cheap-ish. Lots of unique burritos to choose from. Nothing spectacular though. Guacamole is worth ordering.
I've always had good and quick service there, even if it's busy. They have multiple people working each table.
Beer selection is a step above average, but there are a half dozen places within walking distance with a better selection. They do have a nice emphasis on local microbrews, with usually 4 or 5 Sweetwater on tap and a couple Terrapin.
Good stop if you're making the rounds in Decatur.
Apr 18, 2009

GJ40 from North Carolina
3.86
/5
rDev
-2.5%
vibe: 4 | quality: 4 | service: 3.5 | selection: 4
I stopped in while in Decatur for a night with my family. I was planning to go to the Brick Store but it was closed (New Year's Day).
The Raging Burrito has a comfortable, slightly eclectic atmosphere with a large bar, exposed brick walls and good lighting from the large front windows.
They had 16 on tap with four from Sweetwater and a couple from Terrapin and Sierra Nevada. The others included Leffe, Newcastle, Guinness, Arrogant Bastard and Hoegarden. They seemed to have bottles as well but I didn't look to see what they were. I thought the quality was very good overall and liked the good showing of local beers.
The bartender was very nice but lost track of us a few times.
The Raging Burrito is a good beer bar but with the Brick Store so close by, I could see it easily being overlooked.
Jan 02, 2009
glid02 from Georgia
3.85
/5
rDev
-2.8%
vibe: 4 | quality: 3.5 | service: 4 | selection: 4 | food: 4
I moseyed over here after seeing that the Brick Store was opening late for a pre-Thanksgiving shindig. I've been wanting to come check this place out for a while but I could never peel myself away from the Brick Store.
Atmosphere is good. There's a good amount of seating out back, but I went inside because it was not warm outside. A decent sized bar and a bunch of tables are inside, with a few TV's. They also had Wi-fi in case you need to get some work done.
Quality is good. Everything I ordered was served in unmarked, room temperature glasses with proper pours.
Service was good. I didn't have to wait long for anything while I was there, and the bartender was friendly. I didn't inquire about any particular beers so I'm not sure of the knowledge of the staff.
Selection was good. There were quite a few Sweetwater and Terrapin selections, along with Highland and DFH. The only Belgian-style I remember was Leffe. Nothing spectacular, but pretty solid for a burrito place.
Food was good. I went with the cajun burrito and was not dissappointed. The salsa and chips were also good.
Prices were reasonable. My bill came to about $16.00 with a burrito and two beers.
Overall this is a good place to go to switch it up a bit or to watch a game.
Dec 02, 2008
MSchae1017 from Georgia
4
/5
rDev
+1%
vibe: 4 | quality: 4 | service: 4 | selection: 4 | food: 4
The establishment is located in Decatur's town square near the Brick Store Pub, adjacent to Azul Bar which is owned by the same group. The interior is decorated with exposed brick and air ducts with hanging light fixtures. The food is the same Mexican-Southwest fusion style of Moe's, but the comparisons must end there. Raging Burrito's ingredients are a bit more eclectic, and the food is incredibly fresh. I opted for a Raging Monster Burrito with Salsa Verde Pork, Sauteed Green Peppers and Onions, Green Chili Peppers, mixed cheeses, sour cream, lettuce, onions, cucumbers, salsa fresca, rice, black beans, and a spinach tortilla. The cucumbers, pork, and spinach tortilla really made this burrito enjoyable and unique. The guacamole appetizer was also fantastic.
One of the best aspects of Raging Burrito is that it offers great food alongside great beer. The tap list supports Georgia's local breweries with Hummer, IPA, 420, Blue, and a seasonal tap (currently Happy Ending) from Sweetwater and Terrapin's India Brown Ale. Other Selections included Dogfish Head 60 minute IPA, Brooklyn East India Pale Ale, and Lagunitas Hairy Eyeball. The bottle selection also included St. Bernardus Abt. 12, Spaten Optimator, and Duvel. I personally enjoyed both a Terrapin India Brown Ale and a Sweetwater IPA.
Feb 26, 2008
mikesgroove from South Carolina
4.06
/5
rDev
+2.5%
vibe: 4.5 | quality: 4 | service: 4 | selection: 4
Ran across the square to check this place out after I left the Brick Sore. Very conveniently located not but 50 yards away I ran down the stairs and walked inside to check it out. Nice bar inside with a cool atmosphere. Looked like 15 or so taps and I saw Celebration, every Sweetwater imaginable, plus a few Belgians. The bottle list looked to me to be about 25 or so with mostly more common micros, well after coming from the brick store, c'mon. Walked outside and this is where this place gets set apart. Really cool patio area I would love to hang out on, made me feel like I was back at the Lani Kai in Fort Myers again, not that it was that much like a beach, just that the mood, lighting and atmosphere was very similar. Overall I thought this looked like a really cool place to hang out and I would love to spend some more time there, being across from the Brick Store I don't know how much of an option for me that is, LOL.
Dec 20, 2007

RustyDiamond from Georgia
4.1
/5
rDev
+3.5%
vibe: 4.5 | quality: 4 | service: 4 | selection: 4 | food: 4.5
Another local favorite of mine for years, located on the new and improved Square of Decatur. Raging Burrito has been in its current space for about 7 years now, long before stale burrito chains popped up on every corner in town. Although not a mega-beer bar like neighbors Brick Store Pub & Twain's, The RB is a great, no-hassle place for a good inexpensive meal with a better-than-average selection of beer. Excellent burritos with the best guacomole this side of Smyrna. Give the BBQ chicken/pork burrito and the new tacos a try.
The main area features an exposed brick hall, with funky neon lights. Old garage door on the front with outside table seating on the Square. The chill back patio is Decatur's best, seating close to 100 in a cool tropical-like setting. A 20 foot painting of Mona Lisa eating a nacho chip covers an adjacent building. At night the patio is lit up with a criss-cross of cool light bulbs. Also dog friendly, for friendly dogs.
The custom-made bar consists of poured concrete with copper plating on the outside. 16 taps + 30 or so in the bottle. Often called the #1 Sweetwater IPA account in the city, the Burrito always carries a Sierra Nevada seasonal, Dogfish Head 60, Dead Guy, Leffe, Chimay, Highland Oatmeal porter, Unibroue Ephemere and 4 other Sweetwaters. Mon-Wed calls for $9 Sweetwater pitchers, with other beer specials throughout the week. Always $3 Jagers plus an excellent selection of tequila.
Service is quick and friendly. They are knowledgeable of the beer menu offerings, but don't expect much more. Park in the back lot off of Church St, and your ticket with be validated.
May 20, 2007
TheEclecticGent from Georgia
3.58
/5
rDev
-9.6%
vibe: 3.5 | quality: 4 | service: 3 | selection: 3.5 | food: 4
The location is very close to the Decatur, GA square and a great place to stop for burritos and a great selection of Sweetwater brews. If fact you just may run into Freddy "Big Kahuna" Bensch from Sweetwater there enjoying some of Raging Burrito's great food. They have a big selection of stylized burritos or you can customize one to suit your needs. They also have other Mexican fare such as quesadillas and chimis. The décor has southwestern colors mixed with a modern feel and a very interesting bar (steel if I remember correctly). They have 16 beers on tap, many of those taps are Sweetwater and German oriented beers. They usually have over 10 high gravity beers available in bottle and another 23 or so beers in bottle as well. The bottle selection has notables such as beers ranging from Unibroue, Duvel, Leffe, Chimay, Spaten, Piraat, and St. Bernardus. Also the parking lot behind the Raging Burrito will give you free 1 ½ hour parking with the Raging Burrito validation. If you are bar hopping this makes a good location to stop to and from The Brick Store.
Feb 05, 2007
Raging Burrito in Decatur, GA
Place rating:
3.96
out of
5
with
10
ratings