Preminger
| Bihaćka Pivovara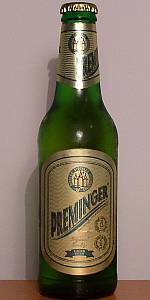 BEER INFO
Brewed by:
Bihaćka Pivovara
Bosnia & Herzegovina
preminger.ba
Style:
Euro Pale Lager
Alcohol by volume (ABV):
5.00%
Availability:
Year-round
Notes / Commercial Description:
No notes at this time.
Added by daliandragon on 02-15-2007
Ratings: 14 | Reviews: 7
Reviews by emerge077:
3.36
/5
rDev
+32.8%
look: 4 | smell: 3 | taste: 3 | feel: 4 | overall: 4
Six pack for eight dollars at George's Liquor & Deli in Chicago.
Poured into a small 6 oz. fluted pilsner glass. It's a very pale gold, unfiltered with sediment particles floating like plankton. A vigorous pour yields 3 fingers of foam, but the retention is not the best. There is an intricate web of delicate lacing on the side. The fact that it's unfiltered sets it apart from about 90% of euro pale lagers, which is nice.
Aroma is pretty basic, some apple and pale malt, noble hop essence, very simple and clean.
Flavor is similarly basic, dry and bitter (suggesting hops), some mild malts, and very crisp. Clean and inoffensive, but somewhat bland. The aftertaste is dry with a mildly herbal hop bitterness lingering behind. The hop presence sets it apart from most euro lagers also.
Fairly gassy carbonation, but the crispness is nice, it's a good palate cleanser with fatty foods like sausage and pork ribs. The fact I drank 3 in a row says something, if it was the least bit skunky it would have gone down the drain.
I'm sure freshness is key, as is the rule with all euro lagers. The bottle says "imported by Preminger Import & Distribution, Bensenville, IL".
1,177 characters
More User Reviews:
2.39
/5
rDev
-5.5%
look: 3 | smell: 2.75 | taste: 2 | feel: 2 | overall: 2.75
2.08
/5
rDev
-17.8%
look: 2.5 | smell: 2 | taste: 2 | feel: 2.5 | overall: 2
Picked up near Bihac in Bosnia-Herzegovina. Green 33cl bottle with a gold and green label featuring the sketch of a castle above the name. All of the label information is in Bosnian, but no apparent ingredients list is present. Best before 12/27/07, I opened it on 9/30/07.
Standard macro lager. Clear vaguely orangish gold under a one finger white head that fades quite quickly to thin film and collar, leaving no lace. Strong adjunct malt nose with a touch of raspberry. The mouth is light and very well carbonated. Not much to like here, with little malt and a quite strong metallic bitter that lingers a bit too long. There's also a definite sweet fruity tone here, which tries but fails to cut the bitter, and provides an unnecessary distraction. Indeed, that is probably the best overall description of this beer – unnecessary distraction.
848 characters
3.48
/5
rDev
+37.5%
look: 3.5 | smell: 3.5 | taste: 3.5 | feel: 3.25 | overall: 3.5
One of the most enjoyable pale lagers from BiH. Crisp, clean, and refreshing. Had on tap and bottled.
101 characters

2.83
/5
rDev
+11.9%
look: 3.5 | smell: 3 | taste: 2.5 | feel: 3 | overall: 3
Found this oddity at the Peace Street Market in downtown Raleigh, which never ceases to turn up something of interest or curiosity. The pour releases a pleasant golden color with a thin, wet head and a small army of carbonation bubbles rushing to reinforce it. The nose is somewhat hoppy but more in the mass produced way than in a clean, rich, craft beer way, but this is an eastern European lager, after all.
Taste is initially bold and flavorful but quickly takes a turn for the astringent. Texture is tight with carbonation but fairly thin and lifeless. Definitely made for the mass consumption so common at the eastern European bars and get togethers I'm familiar with. This is drinkable macro lager but nothing out of the ordinary at at all.
751 characters

3.53
/5
rDev
+39.5%
look: 3.25 | smell: 3.25 | taste: 3.75 | feel: 3.5 | overall: 3.5
3.04
/5
rDev
+20.2%
look: 4 | smell: 2.5 | taste: 3 | feel: 3 | overall: 3.5
11.2 oz green bottle.
Pours a nice gold with a tight white head that leaves some spotty lacing.
It is skunked, though it leaves soon enough leaving a Heineken-like Euro Pale scent.
It tastes a ton like Heineken. However, the hops are spicier and more bitter . It is slightly dry on the finish. It has a mild sweet/fruitiness as well.
This is standard Euro fare,almost as average as they come.
396 characters

2
/5
rDev
-20.9%
look: 2 | smell: 2 | taste: 2 | feel: 2 | overall: 2
Pours a four finger bubbly white head that fades slowly to a thin layer leaving some lace. Light clear amber color. Light carbonation and light-medium bodied. Hoppy nose. Starts hoppy, not over bearing, fairly strong hoppy aftertaste. Bought this for the country. $1.69 for a 330ml bottle from John's Market Tigard, Or. Bottle #2000 for me.
341 characters

2.39
/5
rDev
-5.5%
look: 3.5 | smell: 2 | taste: 2 | feel: 3 | overall: 3
Served in a tumbler.
Randomly found this bottle at the Binny's in Algonquin and was excited to continue my always-ongoing quest to try beers from around the world. Finally, B-H is taken down. (Funny that Croatia beat them to me...) It pours a clear pale straw topped by about a half-finger of white foam. The nose is very similar to BMC standards: corn, corn syrup, tin, and that not-quite-skunk-but-not-quite-not-skunk-either smell. Boo. The taste is not much better, with that corn syrup bringing some added sweetness to to the otherwise bland and grainy surroundings. The body is very light, with a moderate carbonation and a rather wet feel. Overall, this was a slight disappointment (thanks to relatively low expectations based on prior experience with similar brews); it seems like they just re-bottled very fresh MGD or something.
838 characters
1.75
/5
rDev
-30.8%
look: 1.5 | smell: 1.5 | taste: 2 | feel: 2 | overall: 1.5
Sort of a typical pale lager that tried to be better - without success. Pours a light yellow, with a small, close to a 1/2 finger head. Their is a ring of lace at the top, where when you first pour the beer the head settles. Nothing underneath that. Not much of a smell. Bit of hops, some malt, and a little more bittering. Light taste. Sort of a mellow sweetness, mingled with a dry bitterness. Mouthfeel is light, like water. But, it is drinkable and it is thirst quenching. Extra half point for that.
503 characters
Preminger from Bihaćka Pivovara
2.53
out of
5
based on
14
ratings.