Beachwood BBQ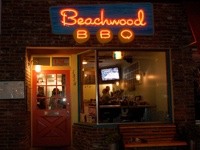 PLACE INFO
Type:
Bar, Eatery
131½ Main St
Seal Beach
,
California
, 90740-6316
United States
(562) 493-4500 |
map
beachwoodbbq.com
Notes:
No notes at this time.
Added by instrumentality on 02-06-2007
Reviews: 104 | Ratings: 133
4.2
/5
rDev
-9.1%
vibe: 3.5 | quality: 4 | service: 4.5 | selection: 4.5 | food: 4
Ah, two of my favorite things, BBQ & craft brews.
Made a special trip here while out in Irvine for business.
Place is very small, probably seats about 60. Looks like it used to be a breakfast diner.
Bar right inside which has about 20 or so well thought out taps. Southern Ca well represented with Stone, Alesmith, Lost Abbey, Green Flash, Craftsmen as well as other west coast brews from Bear Republic, Lagunitas, etc. Several belgians as well.
The service was friendly as can be. From the bartender, hostess, and server, all were very friendly & accomidating.
The bbq was good. Dry rubbed & suace on the side. I had deep fried pickles, brisket, & pork baby back ribs. Very tasty.
If this place was near me I'd be there at least once a week. I'll be back for sure next time in the area.
Thank you Beachwood BBQ crew!
824 characters
4.55
/5
rDev
-1.5%
vibe: 3.5 | quality: 5 | service: 4.5 | selection: 4.5 | food: 4.5
My new favorite place.
Beachwood BBQ is a restaurant/beer bar recently expanded form being a tiny place to a cozy place. It can get pretty noisey, but I think they're working on the acoustics. It now has 23 taps. Also a limited but quality bottle list. No crap on tap here, all are top shelf imports and micros that rotate frequently.
Never had a service problem here, most of the help seems to be familiar with the beer and menu items. The owners Gabriel and Lena are ever present and glad to help making a selection.
For such a small place the 23 taps is a pretty amazing selection. They have always have something I want to drink.
Food is BBQ and homestyle cooking. Smoked Pork, chicken, beef and fish are the headliners. A variety of appetizers, sides and salads (fried green tomatoes and blue cheese grits - yum!) all prepared to order round out the menu.
A full meal followed by beers can get pricey here, but the quality is excellent. If you want to save money you can get a burger here, but I go for the stuff I can't get most places.
1,048 characters
4.9
/5
rDev
+6.1%
vibe: 4.5 | quality: 5 | service: 5 | selection: 5 | food: 4.5
Went to Beachwood BBQ tonight for the first time. This is my new favorite beer bar/BBQ Joint.
Wow! The selection was fantastic. The service was top notch. Very friendly, very knowledgeable. The decor and atmosphere were small, fun and homey. Not a loud bar or a fancy restaurant, just a nice place to enjoy a brew with good friends or new friends.
I met some very cool people there who had some excellent recommendations and new the beers well. Got into some great homebrew discussions and brewery tour discussions...
Only downside is the price, but I have a feeling I will be returning here regularly. A must visit for anyone in the OC.
Edit: The webcam is genius as well!
677 characters
5
/5
rDev
+8.2%
vibe: 5 | quality: 5 | service: 5 | selection: 5 | food: 5
Finally got to check this place out yesterday as a belated birthday present from my family
Located on Main Street in a really cool part of Seal Beach next to several other bars and restaurants, near the ocean, does not look like a beer hot spot from the outside
This place was tiny with like ten tables total, but by the looks of the wall, they will be expanding some time very soon, cool athmosphere and everybody seems real excited and relaxed, the owner and beer guy, Gabe is a real cool as well
Unfortunately, the two beers I planned on trying today ran out right before we got there, St. Bernardus Wit and Moonlight Twist of Fate, but I was not worried about it after I tasted the different Rubicon beers I ordered
I had a Rubicon Black Capricorn black IPA and a Monkey Knife Fight pale ale, and an Ommegang Hennepin saison farmhouse ale, prices were around six dollars a pint which is a bit pricy
Only had ten taps or so and other consisted of Victory Prima pilsner, Stone Double Bastard, Unibroe Trois Pistoles, Alesmith Nautical Nut Brown and Speedway Stout
Place was super clean and our waitress was on top of things the entire time, knowledgable about beer too, she even gave us four different tasters before we ordered
Nice selection of beer for such few taps, have had some beauties here in the past like Moonlight Reality Czeck, some hard to find Lost Abbey stuff, and rare tap only beers from Bear Republic
Food was awesome as well, had 1/2 chicken and beef brisket with sweet potato fries, hushpuppies, corn on the cob, and cranberry cornbread, all for only fifteen dollars
I cannot wait to go back to this place, especially now that I know it is less than a half hour from my parent's house, so when I come visit them, it will become a frequent trip like Naja's is
Very highly recommended and one of the best food and beer combinations I found here on Beer Advocate
Update: Gabe is the one of the coolest guys in the craft beer world and this is the best damn food you will have!
2,006 characters
4.25
/5
rDev
-8%
vibe: 4 | quality: 4 | service: 5 | selection: 4 | food: 4
Got a chance to visit this place finally on 10/19/07
Very small place on Main Street. At 131 1/2, you know the place is crammed in there
The quality of the taps wasn't as great as I had come to expect. I hear people saying Reality Czech and other hard to find goodies were on tap, and although the selection was not bad by any means, I wasn't blown away with the selection either. It seems they stick to a rigid "No crap on Tap" policy, which is refreshing. I ordered a Lost Abbey Lost and Found to go with my pulled chicken sando
Service was top notch. The Hostess/Server/Busser was right on top of things. As soon as I was down to my last sip, she came over and offered another. The food came out 5 minutes after I ordered
Food was very good. My pulled chicken sandwich and corn bread hit the spot, and their sauces weren't bad either
Pricing is a bit high maybe, but considering the quality of beer and food, it is quite reasonable. I can't wait to go back
959 characters
4.83
/5
rDev
+4.5%
vibe: 4.5 | quality: 5 | service: 5 | selection: 4.5 | food: 5
Beachwood is one of my favorite OC beer spots.The taps are continually changing with great micro brews always on. They seem to get some really good beers that other places don't. There is no bud miller or coors so if thats what you are looking for, I'd try somewhere else. The food is exceptional, i personally find the albacore to be amazing. The service is great and there is never a shortage of beer geek talk to be had.The prices are very reasonable for the quality of food and beer. I highly recommend a stop at beachwood asap.
532 characters
4.68
/5
rDev
+1.3%
vibe: 3.5 | quality: 5 | service: 5 | selection: 4.5 | food: 4.5
Original review (7-6-07) - The Beachwood BBQ sits at the back end of Main St., just west of PCH. Walking in, it is quite cramped, with just 3-5 seats at the bar and a collection of tables. Luckily, I went here around 4 o'clock Thursday, so it wasn't crowded at all. Their tap list is quite good for 10 taps or so, they concentrate on California microbrews. The only non-California brews they had were Avery's Maharaja and Paulaner's Hefeweizen, no macros on tap. I had a Triple Rock Dragon's Milk, which is disappearing quite quickly, one keg I think, and since I was low on Cash, I had the sweet potato fries, which were quite good (and high in beta-carotene to boot). I did not have a chance to try some of their BBQed meats, I will have to return. The food I had was good, the beer and beer list were exceptional for such a small place, a great place to visit.
Edit (12-23-07): Since the expansion happened I've upped the atmosphere and selection scores.
Edit 5/5/08 - Definitely now my regular haunt, go there at least once, usually twice a week, highly recommended.
Food Edit - I usually have the brisket sandwich during happy hour - a great deal for $5. For dinner definitely try the mac'n'cheese, they use gruyere, yum. The deviled eggs are great. For entrees I'd recommend the wild boar meatloaf in blueberry sauce or venison, I'm a huge fan of game meat, so this is right up my alley. Check this place out on New Year's Eve, Gabe creates some interesting game meat dishes and will always have something special planned.
Update (July 2011) - Lowering the atmosphere score a bit, let me tell you why. It's just gotten so crowded lately, especially on the weekend, it seems the only time I can get a seat is mid-week happy hour. Hopefully Beachwood II can assuage the situation, and make me anticipate a seat instead of standing for the first time in a while, like it was back pre-2010.
1,897 characters
4.83
/5
rDev
+4.5%
vibe: 4.5 | quality: 5 | service: 5 | selection: 4.5 | food: 5
beachwood bbq is one of those places where i can say; "i wish this was in my city!"
i actually did not even know seal beach had an actual beach or little quaint shopping strip. about a 45-50 min drive from chino hills, arrived with the family on father's day as this was my father's day lunch. we got lucky with parking and caught a spot right in front of the restaurant on main street. i called a few days prior and was informed that you can call in before arriving and have your name on the seating list. so, about 20 minutes away, we called and got our names on. on arrival, the place was busy and was told the wait would still be about 20 minutes. not to bad given it was 12:30ish on a busy sunday afternoon.
beachwood is very small and cozy. i think in a few years gabriel will say; "time to move in a larger location!" seating is a bit tight and limited.
well for the food ... this is the first time i actually ate bbq without any sauce! the smoke flavor of the meat was outstanding! i just loved it. prices were reasonable for the portion you got. i have a 7 year old boy and if you ask, they will cut down a selection to "kids size" and cut the listed price in over half ... so here's a "hint" if you have kids and go. in all we had salmon, baby back ribs, brisket, sausage (really spicy and yummy) and short ribs. the meat just fell of the bone for both ribs. the sides were excellent too! some good collard greens and sweet potato fries along with fresh made corn bread with cranberries and corn on the cob. hands down, for bbq, this is a really top notch bbq joint.
ah, the beer. current selections are on the chalk boards. i enjoyed my hop rod rye and the lady had an avery white rascal. gabriel is very hands on and came out and spoke with diners. we had a good conversation about beer and he informed me he updates the website daily so; the beers listed on the website are what you'll get at the restaurant. bottles are offered but, they can be a steep in price. avery maharaja was $10 for a bomber. but, with the selection of draft, i recommend sticking with the draft as there is at least a selection or two for any beer geek available. he's hoping to get a stone product in and with the current bear republic selections, i am willing to bet this place will be one the first in the area to offer racer x when it comes out.
i already know that beachwood will be a first stop in a consistant two stop beer tour when in this part of so-cal ... come here first for some good bbq and a brew (or two), walk off the great meal around the pier/beach/main street, then head up a few miles north to naja's to "beer up" before heading back to chino hills. how much better can a dad spend father's day?
enjoy & cheers!
2,740 characters
4.83
/5
rDev
+4.5%
vibe: 4.5 | quality: 5 | service: 5 | selection: 4.5 | food: 5
I have been hearing really good things about this place, so for Father's Day my family headed south.
Only 30 minutes from the Torrance area, it was not as bad as I thought it would have been to get to Seal Beach.
Beachwood is a very small place right on Main Street about 1 block from the beach. At first glance I was a bit unimpressed by the size of the place from the outside. Once I got inside and saw the beer list on the wall, that changed to extreme giddiness.
The beer selection was great. Gabriel the owner told me that he rotates his beers very often. When I was there, we had Avery White Rascal, Bear Republic Brown and Hop Rod Rye, Lost Abbey Saison, Mad River Jamaica Red, Paulaner Pilsner and a few other good choices.
The beer was very good, the food was exceptional. Dry rubbed Baby Back Ribs that fell off of the bone. A Blue Cheese Southern Grits that was as rich as could be. Get the Fried Pickle appetizer, you will not be disappointed. The Pulled Pork, Smoked Chicken and Brisket were also all wonderful.
I would highly recommend this place. Go Hungry.
1,080 characters
4.53
/5
rDev
-1.9%
vibe: 4 | quality: 4.5 | service: 5 | selection: 4.5 | food: 4
Well bless my little cotton socks. Just when I had given up all hope of ever having a decent beer bar in Long Beach, along comes the Beachwood BBQ right out of the blue & firmly & squarely stuffs itself into that empty hole & proceeds to fill the vacancy to capacity*.
Set in the rather quaint Main Street in downtown Seal Beach, it is still nonetheless very easy to miss this place & walk right past it partly because of its small width frontage, especially on a first visit. At 131½ Main Street, you need to watch the numbers as you walk here on your premier stop, but note that the ½ hints at the small nature of the Beachwood so keep your eyes peeled.
As the name suggests, the Food is the main reason to come here for many. Appetizers, Sandwiches, Smoked Stuff, Salads & Sides are the main headings for the menu. I love the Pulled Pork which is dry rubbed & slowly smoked with applewood, pecan & oak. I always opt for a side of the house steak fries. A well constructed menu offers something for most & the portions are filling.
Aside from the BBQ, the real reason many like to head here, despite the great quality of food, is the superb range of beer. There are some very cool looking red stools at the bar but only 3 of them, so there is no room to hang around &just enjoy a beer on its own. So if you want to drink, you'll have to get a table for that, it could involve a wait at busy times, but it's worth it. Quieter periods, such as late on a night say an hour before closing, are the better times for the drinking only option as the foodies start to leave & tables free up or populated by the remnants of the earlier punters finishing off the food with a round or two of beers. The Tap selection is awesome; no crap on tap here, ALL Ten Taps serve the real deal, personally selected high quality offerings from the better CA/US Breweries plus some Overseas classics. The range is well thought out style wise, the appearance of rarities is common place. Moonlight Reality Czeck & Triple Dry-Hopped Stone Ruination are just two of the recent special libations to shine. A small range of Bottled beers backs this up, but really, there is almost no need to go here with such a terrific tap list.
Service is outstanding & exceptionally friendly. The people that work here are more than employees, they are just a much a part of Beachwood as the physical fittings & definitely help to make the experience of eating & drinking here a sincere & genuine pleasure. Helpful hints are available if you have any questions about the food, or beer come to that, if you're not sure they will be more than happy to offer a sample of the beer on sale.
Street Parking on Main Street can often involve driving around the block a few times, but there is parking at the back of Beachwood, & although it is limited, it is often available, but Shhh…..that's a secret only the locals know about.
Arguably the Beachwood is a victim of its own success, & some may find the cozy atmosphere, read limited space interior, as an issue. But time it right, early afternoons or around 8:30pm on a night, & you can often avoid the crowds, otherwise you could be in for a wait, there are seats outside but they are often occupied with people waiting to get one of the tables, or the dreaded Cancer stick addicts. A sign-up sheet hangs up just to the right of the door as you walk in, & keeps the comings & goings under control but I prefer the quieter times when I can chance to chat with the staff & they aren't too busy Gabe & his Wife.
I cannot speak highly enough of Beachwood, it has some draw-backs for sure, it is cramped when busy & it can be very noisy when full, the bare walls really seem to accentuate the talking voices to loud levels at times. But the rumors of expansion into adjoining premises abound with some truth, & the good thing is that this also applies to the tap range which could treble, just the thought of that is a treat & welcome news.
Despite the current nit-picks, this is a fantastically friendly place to enjoy some BBQ food & an unparalled range of high quality beers, some that you will likely not see anywhere else in SoCal.
The slogan goes, "Where the Pork meets the Fork", but it is also where I meet many great beers on a regular basis.
Opens Daily 11am to 9pm. *CLOSED MONDAYS*
#Highly Recommended#
Last Visit: Not a chance...
*OK, it's not really in Long Beach, but it is close enough to the LA/OC border where I live to have become a pseudo-local for me. Served well by Public Transport too. If you head down the Blue Line, from the Pine Avenue Transit Mall, outside Rock Bottom take the Passport "A" Alamitos Bay (Red) Bus Eastbound & get off at the last terminus stop by Busters Crab Shack, or better still the penultimate one before the Bus heads into the parking lot. From there, head over the bridge, walk straight down Central Street which brings you out onto Main Street. Turn right & Beachwood is just a block down on your right hand side.
5,022 characters
4.85
/5
rDev
+5%
vibe: 4 | quality: 5 | service: 5 | selection: 5 | food: 4.5
I think this place is a new "must stop" for Orange/South LA County. First, on the down side, it's a little cramped and if you get there after 7 pm then you're in for a wait. Also, if you're there to just sit at a bar and have a few good beers, then... well... there's only two seats at the bar. Both spots were taken when we got there so my wife and I just stood around with our beers and chatted up the staff and the owner. They could definitely use some more space, and rumor is they're going to try to expand into the next door unit.
The beer selection is great. They've got 8 taps and they're all craft beers. The owner is partial to California craft brew, but he had 2 European handles when we were there. 5 of the 8 beers were either one-off brews from California breweries, or they were really hard to find selections. Of the beers there, we had an Alesmith "My Bloody Valentine," Craftsman "IPA," Brouwerij Van Den Bossche "Buffalo Belgian Stout" and Moonlight Brewing Co "Reality Czech." Great stuff.
The food is really good too. It's your standard bbq fare with some unique side options. There's certainly no shortage of options with their mix n match combo platters. The brisket and pulled pork are great, but I haven't tried the ribs yet. The service is fantastic and they're happy to let you try out a side dish or a beer if you're undecided about anything.
We'll be back for sure.
1,404 characters
4.7
/5
rDev
+1.7%
vibe: 4 | quality: 4.5 | service: 5 | selection: 5 | food: 4.5
This is a great little place - finally had the chance to stop by today.
Since my girlfriend was working, I decided to sit at the bar and got to chat with the owner throughout my meal and beers. Cool guy. Anyway, on to the good stuff..
Tiny little bbq joint with maybe 7 or 8 tables. Nothing too distinctive about the look - but I don't mind, as it's a bbq place.
Service was great - of course I did sit at the bar and chat with the owner while there. But still, everyone was very nice and seemed to actually like being there - what a nice change!
Selection was very good. While there are only 8 or so taps, it is all quality. Never any macro, and so far he has never repeated anything - he just finds good new craft brews to put on next. That and a few nice bottles available too - even a small vertical of Thomas Hardy's 05 and 06 (and he'd like to get a longer vertical of that available too!). Only reason it's not a perfect 5.0 is because there are places like Liar's Club and O'Brien's with 30-40 taps of only great craft brews. But, for a small local bbq joint, you could not ask for anything more! And you get to eat bbq too!
And speaking of which, I only had the hush puppies, but they were tasty. I'll probably revise this score once I've been back to try more and have a more accurate sampling, but those hush puppies were delicious.
So, what's my opinion of this place? So far, I love it. Glad to have it only a couple miles from home. I'll be going back for sure! If you're in the Long Beach area and looking for a place with good beer and food, I'd have to recommend this over the standard recommendations of Yardhouse/Rock Bottom/EJ Malloys/etc. Give it a try, you'll probably like it.
Edit: Selection goes to a 5 - one of the best selections in the entire Los Angeles/Orange County area. Reality Czeck, Ruination Triple Dry Hopped, Craftsman brews, Racer X, etc. For what is ultimately a BBQ place, I definitely couldn't ask for more.
Second Edit: Having had most all of the food on the menu, I must say it is definitely worthy of the 4.5 rating. Only reason it's not a 5? I don't think I've ever handed out a 5 for food, but this place comes pretty close. For those uninitiated, there are a few must haves: fried pickles, fried green tomatoes, hush puppies and, most importantly, the baby back ribs. Man, that is one good dry rub. Also, Gabe recently got approval to expand the place, so this will about double the space inside. Furthermore, the bar area will expand along one of the current walls, so there will be a lot more bar space. And, another 10 taps! Excellent. I'm excited to see such success and excitement for this place - LA/OC is sorely lacking in good beer destinations, and this expansion should really help put Long Beach/Seal Beach more on the map.
Edit 3: The mac & cheese (add spicy sausage to it), is my current go-to dish. The lamb corn dogs on the new menu are very good as well.
2,927 characters
4.05
/5
rDev
-12.3%
vibe: 3 | quality: 4.5 | service: 4.5 | selection: 3.5 | food: 4
Stop one of a meet-up with several BAs for a "Long Beach" pub crawl (they did a lot more stops, my wife and I met them for the Seal Beach portion). Located on the main drag of downtown Seal Beach, a couple of blocks from the beach and pier. A long, narrow room with two rows of tables reaching back to the "bar" and kitchen. Decor was rather plain and inoffensive. This place is new and had a clean and fresh sensibility to it. Was rather busy on a mid-Saturday afternoon, but we had no problem joining up with our friends.
As the previous reviewer mentioned, there were 8 taps, all craft brews from the West Coast (and from California, if memory serves correctly). Not a large selection by any means, but all good to very good ones. The only problem was that they didn't carry anything my wife liked- she only likes a few beer styles, and she was left on the outside looking in.
The food- I had a pork sandwich and my wife had the brisket. Obviously fresh and homemade, good style. Interesting choices for sides, all creative recipes used (for beans, cole slaw, etc.). I have to admit that it didn't really grab me as BBQ goes, but I think that was just me, because everyone else in the party (10 of us?) just loved it. So I'm going to defer to their opinion and think that maybe I just had an off day.
Overall, a great little stop if you are down at the beach, a nice addition to the beer scene, and the BBQ scene. Give it a try!
1,441 characters
4.33
/5
rDev
-6.3%
vibe: 4 | quality: 4.5 | service: 4.5 | selection: 4 | food: 4.5
My first experience at this place was last Saturday during the inaptly named "Long Beach" crawl several BA's and others experienced. (I still like to think of Seal Beach as an extension of Long Beach though just so I don't have to acknowledge that it's actually behind the Orange Curtain - aka Orange County for those of you who don't know what the hell I'm jabbering about.)
Located in one of my favorite little local stretches, Main Street in Seal Beach, this is a spot I expect to get a lot of foot traffic in the near future.
Nothing particularly exciting to look at, the restaurant is relatively small with not nearly enough tables. Still, the simple, white decor and gentle lighting makes it a great afternoon hangout (and probably a bit of a pain in the ass in the evening).
The beer menu was, of course, my first order of business. There were about 8 taps, all craft beer, including Bear Republic Red Rocket and Mortality Stout from the recently demised ReaperAle. I had never had either on tap and they were both fresh and tasty. The other taps escape my memory, as I'm not sure I had heard of any of them, but that's a problem soon remedied.
The head chef/owner (?) stopped by our table multiple times to see how we were doing and also inform us that he is a BA himself and is always on the lookout for good brews.
Moving on to the food...I ordered the brisket and hush puppies. The brisket was so tender I accidentally cut it with my fork before realizing I didn't need a knife, and very tasty. The hush puppies, something I haven't had great experiences with so far, were also quite good - more corn bread than breading, and not at all greasy.
I'm not a barbecue connoisseur - my main hangout before this was Lucille's, a chain restaurant located in several parts of SoCal - but to me, this was some damn fine food.
Various types of BBQ sauce were available in large squeeze bottles placed in a tray on the edge of each table. I tried the spicy sauce, which was ok but nothing special. The meat was good enough on its own.
Some of the BA's passed around a basket of deep fried pickles, which were not too shabby either.
The other guys at my table enjoyed their food as well.
It's a little out of the way, especially when I'm trying to avoid driving, but when the opportunity strikes, I'll definitely pay this establishment another visit, sample some more brews, and then perhaps stroll the quarter mile to the beach and enjoy the scenery while my buzz wears off. And if I have room, there's always the Cold Stone down the street (corner by the beach) to cap it off.
2,607 characters
Beachwood BBQ in Seal Beach, CA
4.62
out of
5
based on
133
ratings.