Gordon Biersch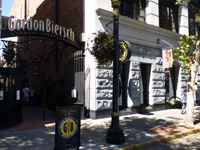 PLACE INFO
Type:
Brewery, Bar, Eatery
33 East San Fernando Street
San Jose
,
California
, 95113
United States
(408) 294-6785 |
map
gordonbiersch.com
Notes:
No notes at this time.
Added by BeerAdvocate
Reviews: 13 | Ratings: 23
3.95
/5
rDev
+6.8%
vibe: 4.25 | quality: 4.25 | service: 3.5 | selection: 4 | food: 3.75
In my mind, Gordon Biersch is one of the leaders in South Bay Craft Beer. I have been going to their San Jose and Palo Alto microbrewery restaurants since they opened...
Atmosphere: Always a fun, rocking place to have a meal and a few pints. Love the outside seating, but inside is stylish and clean. Mix of families and singles...
Quality: As far as German style beer, you aren't going to get much better than Gordan Biersch. From Marzan to Bocks, they cover it.
Service: Always good, but pretty standard.
Selection: Outside of German beers, you aren't going to find much.
Food: Garlic fries. Of course...However, there normal menu always had a good selection.
Value: Can be a little on the pricey side.
710 characters
3.68
/5
rDev
-0.5%
vibe: 3.5 | quality: 3.5 | service: 4 | selection: 3.5 | food: 4
Have visited this location several times over the past 15 years and find the beer is always serviceable and the food better than average for a beer place. It does seem to cater to the "it's cool to like unusal beers as long as there are relatively professional people and cute girls around" crowd. Never liked it much in that respect. It's pretty big with a very pleasant, clean and professional atmosphere with ample television availability. A friend and I ate at the bar earlier this month and our barkeep/waitress was quite knowledgeable and wonderfully friendly/fun. That was a big plus. We were both very pleased with our food but it's on the pricey side. There is a fairly large outdoor section with heaters available, I've seen live music there in the past. I also find the beer selection to be mostly German styles only and not all that many to choose from. Not that that's bad, but I enjoy more variety. It's really not a bad place to bring your boss or a date maybe, but if you're looking for some better personality I would recommend The Firehouse in Sunnyvale as probably the best brewpub destination for me. Of course, much of this Gordon Biersch beer can be had in any major airport these days, not necessarily a bad thing but I'm just saying...
1,259 characters

2.88
/5
rDev
-22.2%
vibe: 3.5 | quality: 3 | service: 3 | selection: 2.5 | food: 2.5
In a word, "meh"...
Average "corporate-people-just-getting-out-of-work" style crowd, average staff, average atmosphere of dark wood walls, quirkly beer signs on the walls and some metal silos where the brewing takes place, yada yada.
The menu looked exciting, but I wasn't impressed with my special "Korean BBQ taco" dinner. My wife had the vegetarian pizza though and she enjoyed it... She like the Hefeweizen beer, but my dinner was dry and bland, leaving me wanting more. A bit on the high side for pricing...
Personally, I'd pass on this place if you are in town and looking for an interesting brewpub, unless you are a fan of European beers (not me).
I kinda felt like a number or I just visited a TGIF's brewpub if they had one.
740 characters
4
/5
rDev
+8.1%
vibe: 4 | quality: 5 | service: 3 | selection: 4 | food: 3.5
ATMOSPHERE: Very clean and inviting. Large flat screens. Good for sporting events. Better than most brewery
estaurants due to cleanliness. The bar area could be slightly larger, because the weekends are packed.
QUALITY: Well designed restaurant that will offer beer, wine to hard liquor.
SERVICE: Very friendly service, but on most weekends, the staff is a bit overhelm so service does get bogged down.
SELECTION: The beer selection is diverse what they normally would offer in bottles. They have one of my favorites on tap only, Schwarzbier.
FOOD: This is where they fail. The food is not good, but it's a brewery. Their focus is on the the beer and that they do well. But they have been improving.
703 characters
3.28
/5
rDev
-11.4%
vibe: 3 | quality: 3 | service: 3.5 | selection: 3.5
The monikor of Gordon Biersch will stick out to you as one walks north on First Street and sees San Fernando St. There's an outdoor beer garden along with the moderate sized, but crampt feeling brewpub...too many tables inside. During my stay, it smelled like boiled corn throughout the building, which was very distracting. I would never got over it. I tried to distract myself with the several TV's showing sports at the bar and a beer.
There were two bartenders who were keeping up with drink orders, and I overheard one helping the patron next to me about what beer to recommend. Beer-wise there are six on-tap, all house beer: Export Lager, Czech Pils, Marzen, Hefeweizen, Schwarzbier, and a seasonal Maibock. I went for the export lager, and....don't make the mistake I made and order that. They do have several good beers in their bottled portfolio, so I'll give this brewpub's other beers the benefit of the doubt. I knew I should have asked for a sampler :/ They have a couple kinds of glassware for their beer. I would have loved to try more beers, but I had a huge dinner hours before at Morton's Steakhouse, (that's another story.) Probably recommended, given downtown San Jose has few good beer bars, surprising for a city quickly apporaching one million inhabitants.
Update 9/10/12: Another visit. That bad smell was gone, but having tried a few more beers at this locale, it seems that quality control may be a little erratic. Even the hefeweizen which I love seemed to have lost a little lust here.
1,517 characters
3.9
/5
rDev
+5.4%
vibe: 3.5 | quality: 4 | service: 4 | selection: 4 | food: 3.5
Luckily stumbled upon this place when looking for a place to eat. Sat outside in the open space between the buildings and we gorged.
The eggrolls in the appetizer sampler we ordered was probably the highlight of all the food. I'd go back just for a plate of them. The rest of the food wasn't bad, just not as memorable. I could've gone without the garlic fries though.
I sampled the Schwarz and the Maibock, and had a taste of the Marzen that my friend was drinking. I wasn't big on the Maibock, liked the Schwarz, and was a little jealous of my friend's Marzen, as I thought it was the best of the three.
Service was attentive and prompt, and I enjoyed the meal. I'd go back without hesitation.
698 characters

4
/5
rDev
+8.1%
vibe: 4 | quality: 4 | service: 4 | selection: 4
Only a couple blocks away from our hotel, so of course, had to check it out. Plus, had a 10% coupon from the hotel.
Large, open space, with different restaurant and bar sections, and a large outdoor patio.
It was early evening so it was busy, but not packed. Lots of TVs behind the bar, so could easily catch all the games.
I was there with 3 others, and the waitress was good at describing and making suggestions about their beers. There was 6 beer on tap, including the seasonal Maibock - good flavor.
Did not eat this time, but the food menu did look appealing.
A positive experience all around. Too bad my time issues did not allow me to stay. Would have stayed and tried more styles, maybe next time.
709 characters
3.89
/5
rDev
+5.1%
vibe: 4 | quality: 4.5 | service: 4 | selection: 3
Of course we had to hit downtown San Jose as everyone was showing up for the hockey playoff game on 4/25/08, and every place was packed including this one. They had the usual 6 beers on tap and we had the schwarzbier and the seasonal maibock. Bother were very good as I'd expect from Gordon Biersch. They had both the NHL and the NBA playoffs on big screens at the bar, so the place was not only packed, but as loud as I've ever heard in this type of bar.
Compared to a few other places we went during the same night, this was clearly the best in downtown San Jose.
566 characters

3.88
/5
rDev
+4.9%
vibe: 4 | quality: 4 | service: 4 | selection: 3.5 | food: 4
Went here with a group of new friends from SJSU. Located in an old building in downtown San Jose. You can enter through eihter the beer garden or the street. Once inside you will notice that there is plenty of seating in the dinning area or the bar area. We sat in the bar area which was located in front of the kitchen.
On tap were the Schwartzbier, Hefe, Pale Bock, Marzen, Summer beer, and Plis (?). I am sure others have commented on this but I wish the corporate office would allow the brewers to create their own seasonal. I had the hefe which I liked along with an order of garlic fries. Service was good even thought it was happy hour time.
As others have said this is a yuppie kid of place but the beer and food are solid and not to be missed. If you are thinking about going to Tied House instead of here please don't you will be making a mistake.
864 characters
3.63
/5
rDev
-1.9%
vibe: 4 | quality: 4 | service: 3.5 | selection: 3 | food: 4
I've been there several times and I must say that the atmosphere does compliment downtown San Jose. I love the little sign and the old torn-up posters cementing the outside patio right outside the establishment. The inside is a little dark in the evening and the bartenders are asked a lot of, making it more time consuming to actually get a beer on the weekends. The service is decent and much better than the operation in DC. I found the selection to be average for a chain like this. The food is good but I found it to be a bit overpriced. The beer pours seem to be right on, which is great. I know what to expect when I go in there. There never seems to be a deviation in the service and beer pours, which makes me very happy and speaks wonders for the bartenders there. I will keep on going back to this establishment, especially before I check out shows at the Improv.
874 characters
3.53
/5
rDev
-4.6%
vibe: 3.5 | quality: 4 | service: 4 | selection: 2.5 | food: 3.5
The atmosphere is clean kind of yuppie-ish with some TV screens all around. Lots of Gordon Biersch and sports paraphenalia around the bar. There is a beer garden with usually some Jazz or Blues band. There are off setting dining areas including an area upstairs.
Lots of wood tables, chairs, and booths including the bar. The Restroom was clean.
The service is somewhat yuppie-ish however prompt and friendly.
Their beers are American versions of German beers which means no cask or hand pump. Their Marzen is like a session beer therefore I do not care for the Blond Bock, Light?, Pilsner, or Gold Export. They had a seasonal Kolsh that unfortunately tasted like a Bud, I hope that was not the intention.
There are some healthy options on the menu.
Kind of pricey.
780 characters
4
/5
rDev
+8.1%
vibe: 4 | quality: 4 | service: 4 | selection: 4
Big happy hour place, this is where you want to be afterwork in the San Jose area. Like other G.B. establishments, very good beer selection in a nice, modern looking bar area. Interesting layout with a really nice back room with high ceilings and exposed brick. Not a whole lot to do in San Jose, this and maybe the Tied House which is a brewpub, a few blocks away. Many computer conferences in the area, so if you ever find yourself in S.J, this is it.
453 characters
4
/5
rDev
+8.1%
vibe: 4 | quality: 4 | service: 4 | selection: 4
Met a bunch of people here at a recent conference in the area. If you end up in San Jose for such an event, GB is the place to go for drinks. They have tons of seating especially during conventions. The bar area and restaurant proper is quite nice and they have an outside courtyard that they often tent over during the colder months. Beers were quite enjoyable and staff was friendly and attentive despite being swamped with customers and overworked.
451 characters
Gordon Biersch in San Jose, CA
3.7
out of
5
based on
3,449
ratings.