Golden Saison
| Tommyknocker Brewery
BA SCORE
82
good
15
Reviews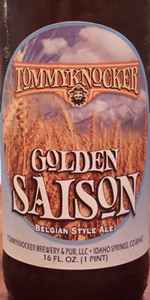 BEER INFO
Brewed by:
Tommyknocker Brewery
Colorado
,
United States
tommyknocker.com
Style:
Saison / Farmhouse Ale
Alcohol by volume (ABV):
5.00%
Availability:
Limited (brewed once)
Notes / Commercial Description:
No notes at this time.
Added by Haybeerman on 07-31-2010
This beer is retired; no longer brewed.
Reviews: 15 | Ratings: 23
3.62
/5
rDev
+2.8%
look: 3 | smell: 3.5 | taste: 4 | feel: 3 | overall: 3.5
on tap at the brewery in idaho springs. listed as 5.5%, not 5, but whatever. poured into a 10oz chalice. smells fruity and tart, yeasty and zesty. taste is good, complex and about what i was expecting, white wine like, and peachy in the finish. overall the mouthfeel was to heavy and undercarbonated, but the flavor palate makes it a good beer. would love to get it lighter, maybe the bottle does that? went well with my medium rare buffalo burger.
448 characters

3.5
/5
rDev
-0.6%
look: 3.5 | smell: 3.5 | taste: 3.5 | feel: 3.5 | overall: 3.5
A - Pours with one and a half fingers of white foam on top of a hazy, golden body. The head settles rapidly and leaves little lace.
S - A light aroma of musty hops with a hint of tropical fruit in the background. Little else.
T - Some tart wheat up front with a bit of lemon. Some herbal hops come out in the middle and there is another flash of the herbal hop character. The beer finishes with more of the tart wheat and lemon character as well as a hint of black pepper and mild bitterness.
M - Medium-thick body, high carbonation, and a somewhat sweet finish.
D - Kind of bland and one dimensional, but not undrinkable. The what character and light tartness are right on for the style but it is almost totally lacking in yeast character, there is only hint of fruit in the nose and nothing noticeable in the flavor. This weak flavor could have been mitigated by a more robust hop flavor, but what is present simply isn't enough to give the beer the kind of character that a true saison has. A decent golden ale with a little bit of Belgian character, but not much of a saison and not something that I would burn liver cells on again.
1,140 characters

3.58
/5
rDev
+1.7%
look: 4 | smell: 3.5 | taste: 3.5 | feel: 4 | overall: 3.5
I would swear this a lime-flavored Hefeweizen. The citrus aromas and flavors are quite interesting. Creamy carbonation and a pleasant mouthfeel makes it a nice summertime quaff. Label claims Perle hops, but they are very much in the background. First sip tasted like pear cider to me, but pineapple-orange might be a good description. Tart but not sour. Spicy esters more like a German wheat.
Lots of flavor for the modest alcohol. Really very drinkable but more of an amiable oddball than an actual variation on the Saison theme.
531 characters
3.53
/5
rDev
+0.3%
look: 4 | smell: 3.5 | taste: 3.5 | feel: 3.5 | overall: 3.5
Golden Saison is golden in color with lemony edges and a generous number of upwardly racing bubble streams. The manila colored crown is both airy and rocky, with a decent amount of stick-to-it-iveness.
Hefeweizen would have been my first guess if blinded, although ripe banana is pretty much absent. The nose is lemony tart, untoasted wheaty and clove spicy, the last of those due to four different Belgian yeast strains. Are that many really necessary?
Things are definitely more saison-like on the palate. Despite the fact that this bottle is now pushing 180 days of age (120 days and under was recommended), it has held up well. No signs of breakdown in terms of either flavor or feel.
Golden Saison is both more wheaty and more lemony tart than my favorites of the style. More hop flavor-bitterness and bolder yeast esters would have most likely resulted in higher taste and drinkability scores. Maybe the brewers should have used six yeast strains. This is pretty simple stuff, but it's easy to drink and is reasonably refreshing.
The mouthfeel is light-medium and could use harder working carbonation. The beer doesn't expand on contact and fill the mouth like it should. Still, not bad, all things considered.
Tommyknocker is contributing 25 cents from each bottle of Golden Saison (purchase price $4.99) to the restoration of the Gulf of Mexico. Good for them, but this is overpriced ale for what it delivers. If you're jonesing for an American-brewed saison, there are much better options out there.
1,513 characters

3.9
/5
rDev
+10.8%
look: 4 | smell: 4 | taste: 3.5 | feel: 4 | overall: 4.5
A: Clear, light gold color. Poured a fizzy white head that dissipated to an even, thin skim. Decanted continually. Laced the glass in a few random patches.
S: A little sweet, a little sour. Spices; pepper and grass. A light crackery malt character.
T: Malt comes more to the front with a light soury funk. Some sweet fruits. Light, even bitter for balance.
M: Light body. Ample carbonation. Light on the tongue and crips.
D: I wish I started on a Saison like this; its a nicely balanced, flavorful "starter". Light enough and low enough abv its like a summer saison.
578 characters
3.8
/5
rDev
+8%
look: 3.75 | smell: 3.75 | taste: 3.75 | feel: 4.25 | overall: 3.75
From notes. This lawnmower beer pours hazy golden straw under a 3" rocky white foam collar that dissipates quickly. Not a lot of aroma but light saison flavors of fruit, citrus and light grains finished with a light tartness come across on the palate. It is light, effervescent and refreshing but not special
310 characters
2.91
/5
rDev
-17.3%
look: 4 | smell: 3 | taste: 3 | feel: 1.5 | overall: 3
16oz bottle. Pours a hazy straw yellow with a medium white head that diminishes to a thin film and leaves a little lacing.
The aroma is sweet malts, spices (clove) and a little tart fruit and musty yeast.
The flavor is very watery and washed out. Some sweet sugary malts with a little pepper and yeast and tart fruit. The mouthfeel is medium bodied with low carbonation and is very watery.
Overall, an OK saison. It's just too washed out and watery.
452 characters
3.19
/5
rDev
-9.4%
look: 4.5 | smell: 3 | taste: 3 | feel: 4 | overall: 3
Saw this one on the shelf at Lukas Liquors, $4.99 for a 16 ounce bottle. Bought this one on a whim, and really wasn't all that impressed. Started off nicely, with a rich golden pour, capped off with a perfect white head. On the nose I get some citrus, pepper and wheat. On the palate, lightly tart, with lemon, grapefruit and a little backing malt. Nothing special.
365 characters

3.6
/5
rDev
+2.3%
look: 3.5 | smell: 3.5 | taste: 3.5 | feel: 3.5 | overall: 4
The beer pours a hazy golden-yellow color with a big cap of foam. The foam settled into a respectable retained layer. Spicy hops, lemon, yeast and pale malt conspire to form the aroma. Fairly light on the palate, although there is a little slickness from, what appears to be, a buttery component. Pale cracker-like malt leads the way to an acidic lemony center with a touch of sourness. The beer finishes a touch of clove, providing balance. The beer is well rounded, but could use more complexity.
498 characters

4
/5
rDev
+13.6%
look: 4 | smell: 4 | taste: 4 | feel: 4 | overall: 4
recovered review from my former account, jmkratt, which was hacked:
4/5 rDev +9%
look: 4 | smell: 4 | taste: 4 | feel: 4 | overall: 4
I am not a huge fan of Tommyknocker so I wasn't really excited about trying this beer. Golden Saison is golden in color with lemony edges and a good carbonation stream. Very similar to a hefeweizen though without as much yeast aroma. The nose is lemony tart but lacking of banana. The taste is less hefeweizen and more saison and less carbonated than anticipated but has a lot of wheat and lemon and hop flavor. Very easy to drink, especially in triple digit heat. Overall I was impressed with this offering from Tommyknocker. Not bad at all.
Serving type: bottle
Reviewed on: 07-22-2011 21:09:20
734 characters

2.74
/5
rDev
-22.2%
look: 4.5 | smell: 3 | taste: 2.5 | feel: 2.5 | overall: 2.5
Poured into a New Belgium glass.
Pours a cloudy golden hue with a big fluffy white head, that really stands up.
Aromas of lemon, musty yeast, some sourness, a little bit like a lemonhead hard candy.
Flavors of tart lemon, some chaulkiness, a little like alka-seltzer. Some light mustiness. And a little carbonic bite. No pepperiness that is common for this style.
Mouthfeel is thin, watery, and a sharp prickle from the carbonation. Although thin, it's not a dry beer.
Decently drinkable, but misses the mark on so many levels from what I normally expect from a saison. I am really left with the alka-seltzer impression from this beer. It's not unpleasant, but not all that enjoyable.
689 characters

4.57
/5
rDev
+29.8%
look: 4 | smell: 4.5 | taste: 4.5 | feel: 4.5 | overall: 5
16oz. bottle
P: a hazy golden color; a fluffy, bubbly head that seemed to stick around for quite a while
S: aroma had hints of lemon zest and a little bit of floral aroma with it as well, sort of like sniffing a flower; huge aroma for a beer with such a light abv
T: citrusy with a nice tartness to it, plus a little bit of sour tartness as well; floral, hoppy bittersweetness; can't get over how full of flavor it is
M: feels light/medium; a touch of creamy heaviness from the yeast, but not too heavy
D: good grief; this is perfect
537 characters
4.12
/5
rDev
+17%
look: 4 | smell: 4.5 | taste: 4 | feel: 4 | overall: 4
A: golden hazy color with a frothy white foamy head leaving little lacing but good staying power.
S: has sour fruity and wheat aromas, very nice for a saison
T: cane sugar like base with some caramel notes and Belgian yeast taste such as banana in the aftertaste. Overall very sweet.
M/D: light bodied mellow and easy feel. Decent session brew overall a good beer. There are other saisons from Colorado that adds a wow factor but this one is not bad at all.
457 characters
4.18
/5
rDev
+18.8%
look: 4.5 | smell: 4 | taste: 4 | feel: 4.5 | overall: 4.5
A- Pours a Gold, with a nice white head, high carbonation makes it look very nice in the glass. looks like it reads, a Golden Saison.
S- Smells of Bananas, Cloves, and a nice grainy sweetness.
T- Excellent. Nice tartness on the finish, with Bananas, and malt up front. The bitterness doesn't linger like some other Saisons I have had which is great.
M- Very nice, high carbonation and zero cloying make this beer go down easy.
D- Overall this is what I would love my 'gameday' or Lawn mowing beer to taste like. Enough interesting flavors to keep me drinking it, but light enough to keep me going. IF you are new to Belgians or have a friend who is just getting into craft beer this would be a excellent choice.
At the Brewery during GABF!
744 characters
3.15
/5
rDev
-10.5%
look: 3.5 | smell: 3.5 | taste: 3 | feel: 3 | overall: 3
Poured from bottle into Sam Adams tulip glass. No date on bottle so do not know how fresh it is.
Appearance: Nice golden & hazy look - Nice head about 1 finger tall that recedes slowly and leaves behind a litlle lacing
Smell: Lemon and bread or musty old lemon bread is what I'm getting
Taste: Tart, citrusy and light - More like a lemoned up heffewizen.
Mouthfeel: Crisp and Smooth
Overall: OK, decent and drinkable, Definitely not what I was expecting from a saison.
Nothing I would throw out but probably will not buy again.
534 characters
Golden Saison from Tommyknocker Brewery
3.52
out of
5
based on
23
ratings.