St. George Beer
| Kombolcha Brewery
BA SCORE
78
okay
10
Reviews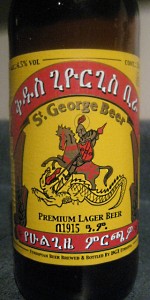 BEER INFO
Brewed by:
Kombolcha Brewery
Ethiopia
Style:
Euro Pale Lager
Alcohol by volume (ABV):
4.50%
Availability:
Year-round
Notes / Commercial Description:
No notes at this time.
Added by rhoadsrage on 06-25-2008
Reviews: 10 | Ratings: 27
3.35
/5
rDev
+8.1%
look: 3 | smell: 3 | taste: 3.5 | feel: 3.5 | overall: 3.5
330ml bottle. The second new Ethiopian beer to show up locally, after Bedele. Nice, elegant label, with two banners, the text rendered in what looks like Amharic.
This beer pours a slightly hazy medium golden straw colour, with two thick fingers of bubbly foamy off-white head, which leaves some inconsistent curtained lace around the glass as it lazily recedes.
It smells faintly of pale, mildly sweet malt, creamed corn, and musty noble hops. The taste is more softly bready barley malt, a mild corn and rice huskiness, generic and bland orchard fruit, though none in particular leap out at you, weedy honey, and an earthy complement of barely adequate bitter hops.
The carbonation is moderate, and generally not all that noticeable, the body medium-light in weight, more substantial that I was expecting, and smooth enough, with a small cloying pithiness. It finishes off-dry, the wan malt and stunted hops plodding along.
A decent enough pale lager, I suppose, the hops, while weak overall, were still a nice surprise, and not a trace of skunkiness - that brown bottle is key! That's not to say that I would choose to drink this regularly, but it's nice to see a quaffable offering from this part of the world.
1,220 characters

2.52
/5
rDev
-18.7%
look: 4 | smell: 2 | taste: 2.5 | feel: 3 | overall: 2.5
My first Ethiopian tick, wahoo.
Pale clear gold with surprisingly decent head retention for a macro lager. Nose is unsurprisingly awful, with a big sulfur aroma that overwhelms the pale malt and corn-like sweetness. It's slightly better on the palate, reasonably crisp and refreshing with a doughy malt flavor. Slightly mineral in the finish with little bitternes, though it's at least dry and relatively clean. Not exactly a good beer, but I've had worse.
457 characters
2.72
/5
rDev
-12.3%
look: 2 | smell: 2.5 | taste: 3 | feel: 3 | overall: 2.5
Poured from the bottle into a nonic pint glass. Another Ethiopian beer? why not.
Straw colored gold body, crystal clear with lots of rising carbonation and some cola sticking bubbles. Head is shocking white, barely manages a finger and slowly falls. Out of the bottle it pours incredibly pale.
Nose is macro smelling sweet, a hint of cellar dampness and musty aromas. Maybe even a little salty. Sort of the usual here, nothing to get excited about.
Simple lager tasting, sweet finish and light bread malts. A very grainy sweet finish that lingers on, quite sweet lingering and a little husk.
Overall, it is what it is, nothing that gets me real excited. I think I 've had worse, but this doesn't exactly fill me with enjoyment.
731 characters
2.12
/5
rDev
-31.6%
look: 4 | smell: 2 | taste: 2 | feel: 2 | overall: 2
1st Beer in my random tasting evening of 12 Aug 2011. The brown 33cl bottle (best before 11/2011) was poured into a 'Paderborner Pilsner' badged stemmed flute.
Regular lager look, clean, clear, light golden body, crowned with a snowy white head of bubbles, the head left some good lacing on the flute.
Sadly it went down hill somewhat after the initial pour and stare. The smell was of wet cardboard, some dried cut grass and rotting grains.
The taste wasn't there, it was bland and boring, even by 'mass produced' lager/pilsner standards. This is my second beer from this brewery and most likely my last.
Usual lager spritzy carbonisation, but being tasteless it was just like a fizzy thirst quenching watery pop rather than a refreshing beer.
748 characters
3.44
/5
rDev
+11%
look: 3 | smell: 4 | taste: 3.5 | feel: 3 | overall: 3
(Served in an American pint glass)
(This is now brewed at Kombolcha after BGI bought out other breweries)
A- This beer has a bubbly snow white head that fades to a thin wisp of a cloud pretty quickly. It sits on a golden yellow crystal clear body that has big bubbles gliding to the surface.
S- The sulfury sweet note of pale malt is clean but pleasant with a faint noble hop hint when it warms.
T- This beer has a soft dry green noble hop note that has a very faint spice quality as it warms. There is a dry honeycomb hint with some pale malt notes followed by a light watery taste. This is finished with a light dry hop bitterness that fades in an instant.
M- This beer has a light mouthfeel with a tight fizz note at the finish.
D- This beer has a clean dry light flavor but there wasn't any corn notes, field or cooked, which I was glad not to see. There was hints of character which were also nice to see.
927 characters

2.75
/5
rDev
-11.3%
look: 3 | smell: 3 | taste: 2.5 | feel: 2.5 | overall: 3
A: Yellow in color, crystal clear and a good head on top. Lots of large bubbles in the head.
S: Clean and light bready aroma. Almost a touch of corn like sweetness.
T: Light with bready undertones. Perhaps a touch of vegetable flavor in there, or perhaps a touch of a metallic flavor. Not amazing, but certainly not the worst beer of the style that I have tried.
M: Medium in body, carbonation actually seems a touch low.
D: Not one I will be buying again, but not bad. Interesting to see so many countries representation of this style of beer.
551 characters
4.2
/5
rDev
+35.5%
look: 3.5 | smell: 3.5 | taste: 4.5 | feel: 3.5 | overall: 5
I wanted a Bedele Special, but they were out. So I got this beer instead. Good move on my part...
A - It looks like a typical pale lager. Hue of pale golden straw, with a little white head.
S - The smell is pretty inviting: slight metal and the slightest belgian malty funk, not bad for the style.
T - It tastes very good, slightly more complex than the average euro lager. Very, very understated flavors of ripe fruit, slight nuttiness, and barnyard banana make for a very interesting and delicious brew.
M - It is slightly under-carbonated, but still sharp enough. Perhaps it lost some of it's vigor on the boat trip from Africa.
D - St. George's Lager is excellent; I am shocked at how delicious this was. And it makes a very nice compliment with Ethiopian food.
770 characters
2.5
/5
rDev
-19.4%
look: 2.5 | smell: 2.5 | taste: 2.5 | feel: 2.5 | overall: 2.5
To tell the truth, many of the distinctions that reviewers draw among various American adjunct ales are based more on the expectations the reviewers bring to the beer than on any actual differences in tastes. This beer tastes like Budweiser, basically, which isn't a bad thing.
277 characters
3.55
/5
rDev
+14.5%
look: 3.5 | smell: 3.5 | taste: 3.5 | feel: 3 | overall: 4
Let's be honest, I had never heard of this, and I bought it for the label. A knight, riding a horse, killing a dragon gator!!! Awesome.
Best by Oct 18th, 2011
Appearance- Pours a crystal clear golden color, with 2 fingers of fizzy white head. Head fades rather quickly, a little lace. Lots of active carbonation.
Smell- Sweet pale malts and a bit of grassy hops. (Not grainy or metallic, how 'bout it)
Taste- Sweet malts throughout, fairly bready. A hint of grape, slight honey. Some grassy hops towards the finish, even a bit zesty. Nice clean aftertaste.
Mouthfeel- Light body, medium carbonation. Rather refreshing.
Overall- One of the better of the style I have had. Flavorful, not watery, not metallic, not skunked; and still tastes rather fresh (a best by date even included on the bottle!). Paired nicely with my Chipotle burrito and chips n salsa.
866 characters
3.13
/5
rDev
+1%
look: 3.5 | smell: 3 | taste: 3 | feel: 3 | overall: 3.5
Part of a sampler pack from vendor in Djibouti, Africa. Was looking forward to this after reading some of the reviews. Pours a relatively light to medium golden into my Tusker pilsner glass. Plenty of carbonation which lasts throughout. Surprised by the lacing, not something you usually see in a lager. Smell is a bit malty and sweet. I really do like the label with the knight slaying either a small dragon or large crocodile. Taste is rather eurolagerish, nothing too spectacular but also better than some-no metallic aftertaste or skunkiness. Malt are predominant. Mouthfeel is nice, light bodied refreshing taste with plenty of carbonation throughout. Overall, an above average euro lager, not too pale, and so far, my favorite Ethiopian beer.
748 characters
St. George Beer from Kombolcha Brewery
3.1
out of
5
based on
27
ratings.