Castel Lager

Kombolcha Brewery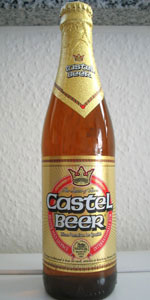 Write a Review
Beer Geek Stats:
| Print Shelf Talker
Style:

ABV:

5%

Score:

Avg:

2.68

| pDev:

17.16%

Reviews:

10

Ratings:

From:

Avail:

Year-round

Wants

Gots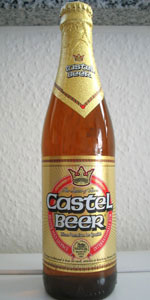 Notes:
Reviews: 10 | Ratings: 14
Reviews by abcdefghijkyle:

More User Reviews:

2.68
/5
rDev 0%
look: 2.5 | smell: 2.5 | taste: 2.75 | feel: 2.75 | overall: 2.75
Africa is often referred to as "the Dark Continent" but one of its most popular brands is light and bright; this golden, heavily filtered, and relatively flat beer looks just like any other ubiquitous, mass-produced beer. Those fascinated by the exotic imagery commonly attributed to Africa will be disappointed to learn that dull, listless lagers are commonplace there too.
The company responsible for this lager also happens to be the largest wine producer in France. Its Bordeaux roots, however, didn't exactly lead to the kind of elegant and structured beer you might logically expect from a product that bears its founder's name - I doubt we'll see prices skyrocket on this product any time soon. It drinks like a beer that was made on a budget.
The first indication of which is in the aroma where the use of corn is made more evident than even on its label, which lists it right after water and malt. And though touted as an "all-malt" beer, it should be noted that that term means very little: any grain - and that includes corn - can be germinated and dried and hence "malted", its starches then converted to sugars for fermenting.
So all we really know for certain is that no unmalted ("raw") grain was used in the brewing process, and the lack of body and appreciable flavour tells us they used very little malted barley anyhow, the sweet corn taste indicating they relied mostly on adjuncts. The generous "drink before" period we're graced also makes it safe to assume preservatives were used too.
If Castel - the flagship brand of Africa's second largest beer company - is any indication, then fans of Mexican swill brands and American "lite" lagers will have no trouble finding something they like in places such as Ethiopia, Cameroon, and Mali (to name just a few). Castel is a beer without much character or texture. Except for where it's brewed, this one is entirely, utterly forgettable.
1,912 characters
2.83
/5
rDev
+5.6%
look: 3.5 | smell: 3 | taste: 2.5 | feel: 3 | overall: 3
Brown 33cl bottle (5.5% ABV) poured into a Duvel glass. Obtained from 'Beers of Europe', bless them.
Good rich golden yellow colour, usual lager bright and clear appearance, next to no head though.
Slight aroma of grains, otherwise nothing on the smell front: gets my regular score of 3 for a non-smelling lager/pilsner.
The taste was harmless enough, bland and lager-like, but without any real hop or malt flavours to find. To be fair, it could have been a number of different/same lagers you find anywhere in the world and in a blind tasting would have come out in most peoples top half of the scores.
So a typical pils/lager with nothing wrong with it and nothing really going for it either.
698 characters

3.3
/5
rDev
+23.1%
look: 3.5 | smell: 3.5 | taste: 3 | feel: 3.5 | overall: 3.5
Had this at an Ethiopian restaurant imported straight from Ethiopia.
It had a nice deep golden colour with a decent head.
Smelled sort of fruity, grainy, not bad for a lager.
Nice and malty, lightly hopped, a decent smooth lager that would be a tastey binge beer.
274 characters


3.2
/5
rDev
+19.4%
look: 3 | smell: 3 | taste: 3 | feel: 3 | overall: 4
This, along with Bati (apparently by the ame brewer) is in my epxerience one of the weaker Ethiopian beers, being more bland and standard.
Unlike Meta and Harar, this is much more a basic, generic, though decent, pale lager.
Golden, it has a decent whiote head that steadily shrinks to a thin ring.
The aroma is light apple and grass.
It has light malty-apply sweetness with a very faint grassiness.It's pleasant and drinkable, othing bad or off, but not memorable, either.
479 characters


2.99
/5
rDev
+11.6%
look: 4 | smell: 2.5 | taste: 3 | feel: 3.5 | overall: 3
Served in a tumbler.
Who'da thunk I'd be rockin' my second beer from Ethiopia ever? Go figure. This one pours a clear pale straw topped by a finger of white foam. The nose is sad, comprising tin/aluminum, hard water, limestone, coriander, and bland citrus peel. The taste is a bland bit o' wheat, corn syrup, and coriander, just kinda sits on the tongue languidly. The body is light, with a very light carbonation and a crisp-ish finish. Overall, a boring brew, nothing overtly bad, but definitely not that good either.
520 characters
2.43
/5
rDev
-9.3%
look: 2 | smell: 1.5 | taste: 2.5 | feel: 3.5 | overall: 3
Castel is a lager that is light in color like a pot of gold. The flavor doesn't overwhelm you with its malty taste and well carbonated texture. It has a smooth and pleasing feeling in the mouth when served chilled. It is known as the Queen of beers and I think that the title might be a little bit of an exaggeration. Castel is most likely your best choice for taste and it also has a reasonably high ABV at 5%. This Euro pale Lager, is the best deal in town at $1 for a large can that will make the silver bullet run for it's money.
533 characters
2.24
/5
rDev
-16.4%
look: 2.25 | smell: 2 | taste: 2.25 | feel: 2.25 | overall: 2.5
2.46
/5
rDev
-8.2%
look: 3 | smell: 2 | taste: 2.5 | feel: 3 | overall: 2.5
Served in a tumbler
I would say thanks to TMoney2591 for letting me try this, but then I tried it. It looks a slight hazy pale straw color. The smells is of green apples and Vaseline, which to say is pretty unpleasant to the nose. The taste isn't much better. It tastes like someone mixed a weak malt liquor with old apple juice. The mouthfeel is syrupier than I would have expected and I really don't know if I could drink this ever again the warmer it got the worse it got. I don't recommend this, unless of course you're just getting it to say you've had an Ethiopian beer. If that's all who am I to judge?
610 characters
1.58
/5
rDev
-41%
look: 2 | smell: 1.5 | taste: 1.5 | feel: 2 | overall: 1.5
One of two beers (for the most part) I drank while living in West Africa.
Tastes distinctly like wet corn. Way-too-overly carbonated, and the kind of beer that makes you feel way too full after a couple of them. At times, grossly thick to the point of feeling like you were chewing a beer. Just not what I want in 110 degree weather.
Tastes better when almost-frozen and extremely cold.
Did I drink them? Yeah, every day.
425 characters

3.18
/5
rDev
+18.7%
look: 3.25 | smell: 3.25 | taste: 3.25 | feel: 3 | overall: 3
Purchased at the LCBO for $1.35 for a 330ml bottle served at 5deg C in a draught glass
A- Opens well. Pours like a North American beer
S- Not much here. Like a mass produced North American beer
T- Ok. Nothing special. A bit better than a North American beer
M- Ok
O- A bit better than a North American beer. Worth the $1.35/ea
Food Pairing
This nice beer went well with... Pizza. Whole wheat crust with hot peppers, cheese, pepperoni, pineapple, wild mushrooms, green onion, yellow pepper and extra cheese
Enjoy
519 characters
2.59
/5
rDev
-3.4%
look: 3.5 | smell: 2.5 | taste: 2.5 | feel: 2.75 | overall: 2.5
This stuff is not good by any means. Even as far as a cheap lager goes, it's just a touch above the worst of the American AALs like Natty Bo and Keystone. It is, however, one of the two ubiquitous beers that you can get at literally any establishment in Mali, West Africa - the other being Flag - and while neither is better or worse than the other, it's best practice to switch back and forth between the two so that each one tastes better by comparison.
The good news is that at least it's not actively bad. You can drink it all day, every day, and not get sick of it, and on many occasions, that's what I'd do for a stretch. It's light, it has mostly light corn and malted wheat flavor, though not much of it, and since it's best drank cold, it doesn't smell much at all. But you can drink a lot of it, and it's always there for about a buck a bottle. Slightly better on draft if you can find it but if it costs more, it's not worth it.
Side note, I'm proud to be the 10th person to review this beer and thus giving it a proper BA score!
1,048 characters
Castel Lager from Kombolcha Brewery
Beer rating:
67
out of
100
with
14
ratings