Paddle Me IPA
| Calapooia Brewing Company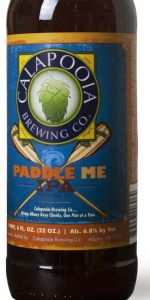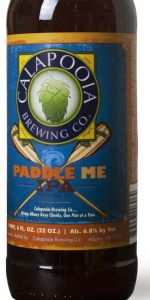 BEER INFO
Brewed by:
Calapooia Brewing Company
Oregon
,
United States
calapooiabrewing.com
Style:
American IPA
Alcohol by volume (ABV):
6.80%
Availability:
Rotating
Notes / Commercial Description:
No notes at this time.
Added by ccrida on 01-16-2014
HISTOGRAM
Ratings: 12 | Reviews: 6
Reviews by ccrida:

3.85
/5
rDev
+3.2%
look: 3.5 | smell: 4 | taste: 3.75 | feel: 3.75 | overall: 4
On draught at the brewpub, Paddle Me IPA is hazy burnt gold with a small white skim leaving scattered lace.
Smell is hoppy, resin, pine. Pretty strong hops.
Taste is also pretty intense. Fairly malty as well, tangerine vibe, with some bitter and resin bite as well.
Mouthfeel is a little slippery, medium bodied.
Drinkability is good, a solid IPA. A little maltier then I prefer, but the hop blast is solid.
415 characters
More User Reviews:
4
/5
rDev
+7.2%
look: 4 | smell: 4 | taste: 4 | feel: 4 | overall: 4
Hazy deep gold with two fingers of white head. Rings of lace.
Smell is floral hops and bread crust malt.
Taste is floral and herbal hops with a good level of bready malt.
Mouthfeel is medium and well carbonated. The finish is balanced and mildly dry.
Overall a tasty and mainstream IPA. No bad attributes. Best by 10/30/17. About two weeks past due.
Edit: 4/26/2018- Bumped the smell and overll rating each to 4.0. Very fresh and tasty.
436 characters

3.8
/5
rDev
+1.9%
look: 3.25 | smell: 3.75 | taste: 4 | feel: 3.5 | overall: 3.75
22 oz bottle from Roth's Sunnyslope Marketin Salem OR $4.99 l. A slightly darker orange than is usual for an IPA..slightly hazy..great pure white frothy head. A great spicy hop aroma..nice and fresh. Very hop dominated taste,,strong and bitter yet refreshing. Smooth and extremely bitter on the palate This is a hop heads dream type of beer..its a good beer but I couldn't drink more than a couple of pints
Blast from the past ( old Siletz beer).
448 characters

3.26
/5
rDev
-12.6%
look: 4 | smell: 3 | taste: 3.25 | feel: 3 | overall: 3.5
22 oz bottle
A slightly aggressive pour yields almost a one finger of head into my pint glass. The head is pretty much strait white, disappears relatively fast, but has left some foam around the edges, hopefully that will hang around. The body is dark orange, almost amber in color. It's very cloudy, visibility is basically zero. Carbonation looks about low-medium. I generally like a lighter, brighter looking IPA, but overall this beer looks fine so far.
In correlation with the color, the aroma is not surprising, but still disappointing. It's very malt forward, rich, sweet. It doesn't smell bad, it's just in no way, shape, or form, my kind of IPA; and by no means a northwest IPA. Borderline molasses on the nose, that's how sweet it smells. A hint of booze perhaps. Really nothing in the way of hops on the nose. This could be a 3.25, but really more like a solid 3. This is basically an amber on the nose, maaaybe an English IPA, but other than the listing of Maris Otter, it does not say that this was intended to be an English style.
The flavor is perhaps even less impressive. I was expecting a sugar bomb, so I guess it's a good thing I didn't get that. But what I got was neither an IPA, nor the sweet amber profile I was expecting. I suppose it's ok. First off, the flavor is very light, which would be ok if I was looking for a sessionable beer, but I'm not. It has a relatively well balanced beginning, somewhat sweet, with a bitterness hitting at the right time. But again, it's not a big enough flavor, nor the right flavor profile for the style. It finishes with a small metallic/sour flavor, with lingering bitterness. Some light fruit flavors may be present in the back end. Frankly this would actually be a decent red, so I'll give it points for that. Overall this is not bad, but I simply can't get over how off style this is. Honestly, this is unfortunate, because the more I drink this, the more I want this to be a red. It's a nice, drinkable beer with some sweetness, and enough bitterness to keep it in check. The metallic/sour flavor has drifted away as well. I'm really stuck between a 3.25 because of how off style it is, and a 3.5 for being a good enough beer. I think I gotta go 3.25 still.
The carbonation is very low on this guy, body and thickness are average. The low carbonation is a flaw though. It kinda works with how sweet it is, but again, this shouldn't be an overly sweet style.
Drinkability is pretty high, a hair of booze hit every now and then. As well as some unwanted malt sugar, but overall it's pretty sessionable.
The appearance actually turned out pretty good. Somewhat patchy, but solid lacing throughout the whole glass. The color and head weren't stellar, but I'd say this is a solid 4.
Overall, this would be a perfectly fine hoppy red, that I wouldn't mind drinking as a go to, or near close back up. As it is, this is so far off style in my opinion, and has to pay the price for that. Still not a bad beer, and obviously it gets points for simply not tasting bad, etc etc.
3,041 characters

3.5
/5
rDev
-6.2%
look: 3.5 | smell: 3.5 | taste: 3.5 | feel: 3.5 | overall: 3.5
3.27
/5
rDev
-12.3%
look: 3.5 | smell: 3.25 | taste: 3.25 | feel: 3.25 | overall: 3.25
4.18
/5
rDev
+12.1%
look: 4 | smell: 4 | taste: 4.25 | feel: 4.25 | overall: 4.25
This beer is an in your face brutal attack of hop bitterness. Not sure of the ibus but has to be up there. Very much dry grapefruit not in anyway juicy. Hops don't over power the malt, and there's a nice earthy grassiness coming through. Hop heads would love this beer. Could even be nice a little old.
302 characters
3.65
/5
rDev
-2.1%
look: 3.75 | smell: 3.75 | taste: 3.5 | feel: 3.75 | overall: 3.75
3.77
/5
rDev
+1.1%
look: 4 | smell: 3.75 | taste: 3.75 | feel: 3.75 | overall: 3.75
22oz bomber from Winco...Best By 09-20-18 (in 5 months time, so I presume it's pretty fresh).
Pours a dark gold & cloudy.....note: the unfiltered kind of cloudy, not the contrived 'hazy' BS..!
Swirling gets the sediments from the bottom...
Nice creamy head, dissipates fairly quickly. Some lacing.
Taste is "old school" IPA...a working man's brew. More syrupy-malty than hoppy...the hops show up more as bittering than as flavor.
A very decent beverage for the right price, and easy to drink.
505 characters

3.75
/5
rDev
+0.5%
look: 3.75 | smell: 3.75 | taste: 3.75 | feel: 3.75 | overall: 3.75
3.66
/5
rDev
-1.9%
look: 4 | smell: 3.5 | taste: 3.75 | feel: 3.25 | overall: 3.75
An okay IPA. It's very local to me, so I drink it.
50 characters
4.03
/5
rDev
+8%
look: 3.75 | smell: 3.75 | taste: 4.25 | feel: 4 | overall: 4
Paddle Me IPA from Calapooia Brewing Company
Beer rating:
3.73
out of
5
with
12
ratings