Smoke On The Water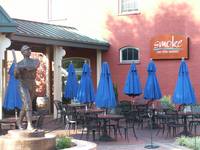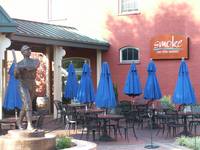 Bar, Eatery
1 Augusta St
Ste 202
Greenville
,
South Carolina
, 29601-3584
United States
(864) 232-9091 |
map
saucytavern.com
Notes:
Reviews by mikesgroove:
mikesgroove from South Carolina
3.83
/5
rDev
+8.5%
vibe: 4 | quality: 3.5 | service: 4 | selection: 3.5 | food: 5
This was my latest stop in Greenville. Me and the wife sat down, and I was not expecting much in the way of beer, but was pleasently suprised. Had a collection of 8-10 taps, including two of their own, Smoke Stout, and Swine Ale. Along with some hobgoblin, and a few other micros. Bottle selection was decent at about 25 or so. Food was great. Steaks, chicken, Prime rib, very nice food selection and worth it for that alone. Price was a little high but the service was excelent and I would definatly go there again for the food. The aforementioned brews that they have had Thomas Creek create for them, are worth a try once, but would not go back to them. Overall nice place.
Feb 14, 2007
More User Reviews:
fredmugs from Indiana
3.78
/5
rDev
+7.1%
vibe: 4 | quality: 3.75 | service: 3.75 | selection: 3.75 | food: 3.75
Apr 03, 2015



PhillyStyle from Georgia
3.65
/5
rDev
+3.4%
vibe: 4 | quality: 3.5 | service: 3.5 | selection: 3.5 | food: 4.5
Visited May 2011:
During my visit to Greenville, I think that I ate at here at least on 4 different occasions, twice for lunch and twice for dinner. I would consider this more of a place to go for a good meal than a good place to get a beer. The selection was light, but good and the beer was served at the right temperature and with the right carbonation. The service was maybe slightly above average, but nothing more. The food is really where this place stood out. Excellent BBQ, outstanding sides and a deep fried pork chop that is very good. The food is the main reason why we kept going back. The portions are larger than normal and I am not sure that you can beat the price for the quality that you are getting. I almost felt that the place was under-priced. Overall, go for the food not the beer.
Jun 08, 2011
Chincino from Massachusetts
3.56
/5
rDev
+0.8%
vibe: 4 | quality: 3.5 | service: 4 | selection: 3
I stopped briefly at Smoke on the Water in Greenville, SC prior to a wedding reception at Fluor Field. The bar area was quite busy, but we were still able to get beers and we were party of a large group going to the wedding. The beers were quite cheap-I think $2 or $ 2.50 for beer on draft. The selection was average. There were 6-8 beers on-tap including Yuengling. I tried the snout stout and an IPA they had on-tap and my bill was less than $5. The atmosphere was nice in the summer which outdoor seating available. This was definitely a nice spot for grabbing a couple cheap beers.
Dec 01, 2010
thagr81us from South Carolina
3.83
/5
rDev
+8.5%
vibe: 3.5 | quality: 4 | service: 4 | selection: 3.5 | food: 4
Stopped in for the first time in awhile to eat dinner the other night. Walking in you can tell this is more of an upscale restaurant in the area as far as appearance. Finding parking is usually a pain as the lot is fairly small, and there are many restaurants that share the same lot. We were seated promptly by the hostess staff. There were quite a lot of people in the restaurant (Saturday night) but it was not overly loud or crowded due to their layout of the restaurant. The beer selection, while quite long, was not of the highest quality. I was however able to find a few I had not tried before but only got to enjoy one while I was there. The wait staff was very attentive and prompt at bringing out the food and making sure everyone was happy with their meals. The food was quite good as well. The selection of sides are quite good for southern-style cooking. This location is a nice place to go for dinner with the family or on a date if you are in the area or want to try somewhere new out for yourself.
Jun 28, 2010

woodychandler from Pennsylvania
3.23
/5
rDev
-8.5%
vibe: 3.5 | quality: 3.5 | service: 4 | selection: 2
First off, I did not find this to be a BA-worthy selection. However, they did have a couple of taps courtesy of Thomas Creek BC. As a caution to others, they served their beer in a chilled glass. They had comfortable stools at the immaculate bar to the immediate left of the maitre d' station, but it just seemed like a clean, well-lighted expensive place for beer.
Beer: Of their thirty-eight (38) bottles, only ten were quality. However, their tap selection (Sam Adams Summer Ale, SNPA, two Thos. Creek BC beers, Yuengling Lager, Blue Moon, Hobgoblin, and Michelob Ultra Light) was decent.
Jan 19, 2008
SaCkErZ9 from South Carolina
3.18
/5
rDev
-9.9%
vibe: 4.5 | quality: 3.5 | service: 3 | selection: 2.5 | food: 3
I stopped by here on a Thursday during happy hour, which runs from 5 til 7. I luckily found a stool at the bar so I chose to sit there. The place was packed with twentysomethings and the after work crowd. A slightly upscale joint but by no means pretentious. Not smoky either. I am not sure if there is a no smoking edict here in Greenville, but it was pleasant not having cigarette smoke engulf me upon entering.
Lots of wood all around. Plenty of booths to the left and the bar was to the right. There were quite a few tables as well. I am not sure if all the tables were pushed together to accomodate the rather large gathering of young professionals, but there was seating for about 30 people.
I tried the Smoke Snout Stout. It was decent I guess. Not much of a selection. Basically macro stuff which included SNPA, Yuengling, and the BMC stuff. Bottled selection was a little better but nothing unusual or even very interesting.
Food was decent. My brocolli didnt look very fresh. I chose the crab stuffed grouper as the entree and it was pretty good. Could have used more crab stuffing but all in all, it wasnt bad.
Not a bad place to go. I dont think I will be back due to the limited beer selection. Atmoshphere was great. The food wasnt good enough to get me back in spite of the drinks, but I was happy this evening.
Jan 11, 2008
Smoke On The Water in Greenville, SC
Place rating:
3.53
out of
5
with
9
ratings