State Spirits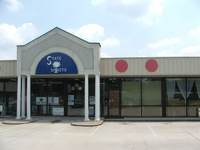 PLACE INFO
Type:
Store
3608 Wade Hampton Blvd
Taylors
,
South Carolina
, 29687-2250
United States
(864) 292-9619 |
map
statespirits.com
Notes:
No notes at this time.
Added by SaCkErZ9 on 02-13-2007
Ratings: 10 | Reviews: 9
Reviews by beer2day:
4.28
/5
rDev
+1.9%
vibe: 4 | quality: 4 | service: 5 | selection: 4
Pretty easy to spot in a small strip shopping center on the south side of Wade Hampton. Close to the intersection where all the late night clubs were back in the late 70's/early 80's.
Met the beer lady as well, and as the previous reviewer stated she truly is one of the nicest people you could imagine meeting. Can't help but smile after you talk to someone like her.
Selection was much larger than I anticipated on pulling into the parking lot. Segregated well by style, with many offerings available warm and cold. Terrapin and Founders well represented. Not the best selection in the area, but you'd have to drive a ways to match it. Prices were very reasonable.
Well worth a stop if you are out on that side of town.
724 characters
More User Reviews:

4.09
/5
rDev
-2.6%
vibe: 3.75 | quality: 3.75 | service: 5 | selection: 3.75
4
/5
rDev
-4.8%
Stopped in here last night on my way to a buddy's house. This place is really easy to spot from Highway 29 with a big blue sign pretty high up in the air in front of the location. There is a small paved parking area in this small shopping center and more parking in a gravel portion. Liquor is at the left entrance and wine/beer is at the right entrance. I opted for the right. Upon walking in it appeared to be quite small in size inside, bigger than some beer only stores, but smaller than some wine/beer stores I've been in. Right up front there was a sale table where they had quite a few brews for a greatly reduced price. On the right wall there were 4/6 packs galore with a pretty good variety. The middle was dominated by wine except for one row that was mainly bombers and 12 oz singles. There was quite a good selection here. I was really surprised to see some of the things I did there. In the back there was a refridgerated section that mainly held 4/6 packs and a few individual bottles as well. Overall this was a pretty nice location and I am glad I visited. I will definitely be stopping back in the next time I'm down that way.
1,144 characters

4
/5
rDev
-4.8%
Stopped in here when in Greenville this past weekend. Beer/wine is located on the right half of the store (got it's own separate door). They carried a good number of sixers. Pretty good selection. Southern Tier (which I can't get in NC), DFH, RJ Rockers, SN, Terrapin, etc. They carried a good number of bombers as well. Some were in the cooler, some room temp. I grabbed the new Southern Hemisphere from SN. Service was good. An older gentlemen and lady. The lady seemed to know a good amount about beer, and even asked if there was something that wasn't there that I was specifically looking for, and they would try to get it. I like the personal service. I would hit this place up all the time if I was a local, and I'll definitely stop by again next time I'm in town.
771 characters
4.85
/5
rDev
+15.5%
Went to state spirits today for the first time and its a great store. Its got stuff that you cant find anywhere else in the upstate and the service is awesome. First of the selection they got six packs, 22oz bottles, and some singles. They have the best selection of southern tier bombers in the upstate. They also have a great selection of terrapin side projects, avery, and imports. I was most excited about the maharaja DIPA and a four pack of ten fidy from 12/31/08. Both of which I can find no where else in the upstate. Its a great beer store and they appreciate beers and are always trying to get new selections in. The owner carol was very helpful and was even trying to get stuff in that customers were requesting. That is something that you will not find at Greens and Total Wine. This is a great beer store that I will continue to visit as they have a true appreciation for beer, exceptional service, and lots of stuff you cant get anywhere else in the upstate.
972 characters
4.7
/5
rDev
+11.9%
Thanks to BA I found out about this place so my buddy and I decided to give it a try. I'm soooo glad there's finally a good beer store in the Greer/Taylors area! No more trips all the way to Greenville...
The selection isn't quite what you'd find at the big stores like Greene's, but there's plenty of QUALITY beers. There's a wall of sixers, a rack of bombers/750mls and a wall of refrigerated craft beer and standard BMC offerings.
The "Beer Lady" and Millie(I believe) were very friendly and helpful, so service is 5 stars. They told me that DFH, New Belgium and Bell's are on the way, so definitely stop by if you're in the area.
635 characters
4
/5
rDev
-4.8%
A very nice find some time ago, I finally made my way down to State Spirits in Taylors - just a straight shot down Wade Hampton Boulevard, about 5 miles from downtown Greenville.
A clean and well-organized place, I wandered through here really having little intentions of picking up anything. The selection was solid: Bear Republic, Rogue, Victory, Great Divide, just to name a few. And a ton of imports. Prices were very much on par with everyone else in the Upstate. For that last minute venture to a non-BA's place, a $1/bottle mix and match sixer with Sam Adams and the like. Nice.
I stumbled across the recently released Weihenstephaner Festbier - a personal if not sentimental favorite of mine that I have yet to find here in South Carolina. So I just had to take a some of that home.
Good selection with plenty kept cold, friendly staff, and good location makes this place a must hit if you are in downtown Greenville and have NO desire of going to Haywood Road to visit Green's or Woodruff Road for Whole Foods or Total Wine.
Zum wohl!
1,050 characters
4.3
/5
rDev
+2.4%
Well, if you have ever been here, then you must know the Beer Lady. I had the opportunity to meet her for the first time yesterday, and I honestly have to say she is one of the nicest people I have ever met. Extremley friendly and just enthusiastic about the whole business. Was more then willing to point out ot me what they had, Great Divide, Victory, Flying Dog, Bellgians(Unibroue,Chimay, Westmalle), tons of locals (Cottonwood, Rockers, Palmetto, Terrapin, Duck Rabbit) Samiclaus!..The best thing here would have to be the singles collection. Pretty much everything they have here is available as a mixed six pack or a single bottle. Even the high Gravity stuff, that is just awesome. Too many times I go into stores and they wanna make you buy a six back. Not here, they were willing to split up anything, and had four shelves each about 15 feet long, lined with singles, everything from Gonzo to Elelphant and back. She said they are expading the beer section each and everyday and that they will have Celebrator in by the end of the week! Overall this is a fantastic store, that is just poised to get even better in the near future. They are going to be expanding the beer section, which currently boasts well over 100 beers, and I would look for this place to start competing with some of the more well know beer places in Greenville. Overall a definate stop if you are in the area, and say high to the beer lady, she knows of BA and loves to hear that you stopped in from seeing her on Beer Fly!
1,505 characters
4.85
/5
rDev
+15.5%
Since Pop The Cap passed in SC State Spirits has picked up the ball running!!!
'BeerLady' is very helpful beyond today standards of customer service. Her selection of (new to SC) high gravs are growing everyday. I just heard yesterday she's got new ones in since I was there.
I was most impressed to see the Samiclaus and the new Unibrou 16 right off the batt. She also carries a great line of Brooklyn Brewery, Unibrou's and misc Belgians. Go see her, the store is the best beer store in Greer/Taylors area hands down!
530 characters
4
/5
rDev
-4.8%
As far as total selection goes, this place isnt great. BUT, compared to the area, this place is wonderful. There isnt better selection within 10 miles or so of State Spirits.
Located on Hwy 29 Just outside of Greer, SC (in betwixt Spartanburg and Greenville) it is easy to find using the address. The liquor store is on the left as you enter and beer on the right.
The woman working the front desk, I assumed she was the owner, was very nice and helpful. I didnt have any questions but she seemed eager to help.
This was the first place I was able to find Thomas Creek AND Palmetto singles in the same place (besides Greens). They have plenty of six packs ranging from (remember the 6% abv cap) TC, Palmetto, Rogue, Terrapin, Highland, and most other beers available in SC. The one thing I like was the encouragement of mixed sixers. She sells singles and sixers. A sixer was about $6-$7 bucks and a mix sixer, with about 20 different varieties, was only $8 for any mix and match. That was a nice feature.
As far as overall selection, not too impressive. But for the area it is the only thing around. I stopped by to pick up two mixed sixers on my way from Spartanburg to Greenville. Was happy with the service.
1,227 characters
State Spirits in Taylors, SC
4.2
out of
5
based on
10
ratings.