Maibock
| Tin Mill Brewing Company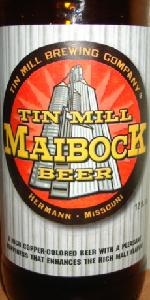 BEER INFO
Brewed by:
Tin Mill Brewing Company
Missouri
,
United States
tinmillbrewery.com
Style:
Maibock / Helles Bock
Alcohol by volume (ABV):
5.00%
Availability:
Spring
Notes / Commercial Description:
No notes at this time.
Added by karst on 09-08-2007
This beer is retired; no longer brewed.
Ratings: 13 | Reviews: 12
Reviews by kkipple:

3.39
/5
rDev
-7.6%
look: 2.5 | smell: 3.5 | taste: 3.5 | feel: 3 | overall: 3.5
Thanks to Freeverse for this little-reviewed brew!
Pours a ridiculous sea-foam head that falls over the sides of my New Belgium Goblet... this ain't right... fortunately, a quick nose shows no signs that the exuberant carbonation is infection-derived... the beer itself is pretty much spot on dull beaten copper.
Nose... lesse, a little yeasty soap-spice, pretty estery, really, but not unpleasant, just unexpected. Pear? Pear. Slightly sugary and malty otherwise. Flavor is not as complex as could be hoped, but hits the sweet / grainy / malt rich / slightly hoppy wet notes. Not bad, but I wouldn't seek it out exactly... nice semi-sweet, even finish, no off notes.
Mouthfeel is fizzy and full; the carbonation is all over the place here and hurts the beer more than helps...
Not a terrible attempt, I feel like the Maibock style is one that most American brewers have yet to do remotely well. This may be pretty average when it's not being inappropriate for the style, but you gotta give Tin Mill respect for trying.
1,024 characters
More User Reviews:
2.63
/5
rDev
-28.3%
look: 3 | smell: 2.5 | taste: 2.5 | feel: 2.5 | overall: 3
Appearance- This beer has bronze body with a little bit of an orange hue. Both the head and lace are excellent.
Smell- Sweet fruit juice like smell.
Taste- I thought the taste was barely noticeable of anything it was like it was very watered down. It was sweet and malty but even that was weak.
Mouthfeel- Very thin and watery.
Drinkability- Alright but this was not my favorite beer at Tin Mill. I am going to give it another try the next time I am up there.
466 characters
4
/5
rDev
+9%
look: 4 | smell: 4 | taste: 4 | feel: 4 | overall: 4
Four or five ounce samples of four beers on tap help you to decide which you want to take home in growlers. Growlers are pricy @ $12 with $8 for refills. The large Tin Room Mugs offer a nice alternative if you can hang around and drink.
Maiboch as a moderate high malt aroma with no DMS from pils malts. Nice Munich malt caracter. Hop character is moderate and a smooth, clean finish shows the usuall hop bitterness associated 25 - 35+ IBU range for this style. Light amber with large creamy white head. Great in May or anytime of the year. Sure hit for Herman October fest next month.
588 characters
3.5
/5
rDev
-4.6%
look: 3.5 | smell: 3.5 | taste: 3.5 | feel: 3.5 | overall: 3.5
A: Pours a copper color with a fair head and some lacing.
S: Aroma of fresh grain and citrus with a hint of caramel sweetness. A nice clean aroma.
T: taste of some caramel sweetness, some nut and a nice but unexpected bit spice. Has a mild bitterness and a clean finish.
F: Fairly light body, crisp smooth and refreshing. Has a bit of character.
O: Easy drinker, Another nice offering from Tin Mill Worth checking out.
423 characters
3.53
/5
rDev
-3.8%
look: 4 | smell: 3.5 | taste: 3.5 | feel: 3.5 | overall: 3.5
Pours a clear, golden color. 1/3 inch head of a white color. Great retention and good lacing. Smells of sweet malt, yeast, slight hop, and hint of alcohol. Fits the style of a Maibock. Mouth feel is smooth and crisp with an average carbonation level. Tastes of slight alcohol, sweet malt, nut, grain, and yeast. Overall, a nice body, drinkable, but not well blended.
366 characters
3.83
/5
rDev
+4.4%
look: 4 | smell: 3.5 | taste: 4 | feel: 3.5 | overall: 4
A - Poured a clear, orange/gold color into a pilsner glass. It had a bubbly, off-white, two-finger head that receded fairly quickly and left some sudsy residue.
S - It smelled of grains and caramel. There were some floral notes in the nose.
T - The taste surprised me. A good deal of spices and a nutty/bready quality. Good caramel flavor, as well.
M - It was pretty crisp and sharp. Not as much 'pop' as I expected. A light bodied lager that is very easy drinking.
D - This was quite good. I generally enjoy maibocks and this one delivers a big flavor.
557 characters
4.17
/5
rDev
+13.6%
look: 3.5 | smell: 4 | taste: 4.5 | feel: 4 | overall: 4
Had this at the St Louis Microfest and it was my favorite beer that I sampled.
Nice copper color with a slight head. This one smelled almost like bread with malt tones as well. The taste matched the flavor as well. Great character as well as a crisp medium body that was rounded out with a nice hop flavor. Can't wait to head to Hermann and sample more.
355 characters
3.36
/5
rDev
-8.4%
look: 4 | smell: 3 | taste: 3.5 | feel: 3 | overall: 3.5
A clear filtered golden yellow brew, topped with a white cap. Very subtle aroma of the noble hops and malted barley. Quaff was English style, a taste on the woody resinous side, which lingered through the finish. Surprised that the lagering didn't smooth this one out better, just a bit on the harsh side.
Still a decent drinker for the hot STL summer - pick up a sixer and give it a try.
389 characters

3.58
/5
rDev
-2.5%
look: 4 | smell: 3.5 | taste: 3.5 | feel: 4 | overall: 3.5
Pours a beautiful clear light copper color with a very small quickly dissipating head. Smells of sweet German malts and some adjuncts combine with a light hop aroma. First sip is light, clean and refreshing with some cereal grains in the mix. Great malty goodness here with a light hop bitter finish. Very drinkable.
316 characters

3.57
/5
rDev
-2.7%
look: 3 | smell: 3.5 | taste: 3.5 | feel: 3.5 | overall: 4
A = One finger head disappears quickly and totally. Nice amber color not very dense.
S = The smell is good but youve got to take a mighty pull to get anything out of it. Sweet with caramel notes, maybe the slightest hint of smoke. Baled on the aromatic hops?
T = The smell hits is like the taste. Not enough but there are some redeeming qualities. Very malt forward with a nutty character. Finishes sweet
M = I want to say its too thin but its not. Its fills out on the back end to make it ok.
D = You could really pound these and still get some taste. The sweetness might wear you out.
591 characters
3.45
/5
rDev
-6%
look: 3.5 | smell: 3.5 | taste: 3.5 | feel: 3 | overall: 3.5
Appearance: Pours a clear, golden-amber body with a small, fizzy, white head.
Smell: Sweetish, lightly fruity nose with notes of bready malts, golden raisins, and a bit of spicy hops.
Taste: Restrained pale maltiness with a medium sweetness and light hint of grainy bread. A tad fruity. Lightly spicy hop character with a light bitterness. Dry, relatively clean finish.
Mouthfeel: Medium-bodied. Medium carbonation.
Drinkability: A fine, quaffable maibock befitting the style.
480 characters

3.97
/5
rDev
+8.2%
look: 3.5 | smell: 4 | taste: 4 | feel: 4 | overall: 4
From bottle to tulip. Pours a medium amber, somewhat cloudy with thin white hed, mostly diminishing. Aroma of biscuit & caramel malt along with slight hop presence. Medium bodied and very balanced brew. Goes down easy with a slightly bitter finish. Good beer - I only have one but would welcome having more - CHEERS!
316 characters
Maibock from Tin Mill Brewing Company
3.67
out of
5
based on
13
ratings.