Costa Rica (Coffee Porter)
| HaandBryggeriet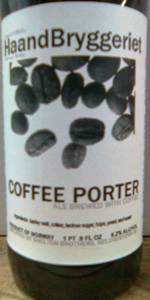 BEER INFO
Brewed by:
HaandBryggeriet
Norway
haandbryggeriet.net
Style:
American Porter
Alcohol by volume (ABV):
6.20%
Availability:
Rotating
Notes / Commercial Description:
No notes at this time.
Added by TMoney2591 on 12-02-2011
Reviews: 33 | Ratings: 96
4.08
/5
rDev
+4.6%
look: 4.5 | smell: 4 | taste: 4 | feel: 4.5 | overall: 4
A-Pours a dark as night kola hue which leaves a frothy,creamy two finger head that stays.
S-Strong dark expresso,Dark chocolate and dark malts.
T-Even though the hops are there i feel they take a step back with the predominant tastes being Rich dark coffee/expresso,burnt toffee,dark Belgian chocolate and a dark fruit hoppiness at the end without being bitter at all and the after taste is more like when you have just finished a very milky cappicino very nice especially if you are a coffee lover as well a beer lover.
M-Medium bodied and somewhat creamy,not as creamy as a milk stout but nearly there.
O-Well what can i say apart from that ive had many a coffee porter in my time but this brew definately nails the coffee factor and it really does taste like a ice coffee/beer and in my eyes a perfect compliment to a dark rich dessert and i would definately buy again cheers.
★
883 characters

3.94
/5
rDev
+1%
look: 4 | smell: 4.25 | taste: 3.75 | feel: 3.75 | overall: 4
500ml bottle poured into a tulip
A- Dark brown with one finger of mocha head that stays around for a while
S- Bitter coffee grounds, little chocolate, toasted malts, little rum and vanilla
T- A little bit of sweetness from the vanilla an chocolate, the coffee isn't overpowering, mild hops and toasted malts
M- Medium bodied, very smooth, coffee stays with you for a while
O- Very nicely balanced coffee porter not too much coffee or too malty, I like how this beer is not that heavy, very easy drinking porter
★
515 characters
3.69
/5
rDev
-5.4%
look: 3 | smell: 4 | taste: 4 | feel: 2.5 | overall: 3.5
500ml bottle. Pours a hazy dark brown with a small tan head that quickly goes to a collar that leaves a little lacing.
The aroma is lots of coffee, some roast and lactic chocolate with a little smoke and nuts.
The flavor is sweet nutty chocolate malts and roast coffee with a dry finish. The mouthfeel is medium bodied with very low carbonation.
Overall, it's one-dimensional but with great coffee notes. A little pricey at $10 a bottle - there are other more affordable coffee beers that are better.
★
503 characters

3.8
/5
rDev
-2.6%
look: 4 | smell: 4 | taste: 3.5 | feel: 4 | overall: 4
Pours out a dark brown to black liquid with 1/2 finger of off-white suds that quickily dissipate.
The brew looks thin somehow.
Aroma is charred malts with a chocolaty coffee. I get some raisin and very little alcohol. There is a sharp smell of bitterness here that might be coffee and alcohol but it's hard to tell.
Taste is malty coffee and alcohol. For a 6.2% beer this seems not quite mature like it needed more time in the vats.
Mouthfeel is very clean and the coffee lingers just a tad before the alcohol takes over and finishes this hot brew out.
Overall this is a good try but for ten bucks I won't be buying this again.
★
627 characters
4.13
/5
rDev
+5.9%
look: 4.5 | smell: 4 | taste: 4 | feel: 4 | overall: 4.5
was almost a gusher due to rough handling from the Christmas wrapping/unwrapping. pours black and almost completely opaque with a nice dark mocha head that laces well and lasts forever.
creamed coffee aroma, with definite lactose sugar being detected. smells like a dark roasted iced coffee, which I love. a touch of milk chocolate with a bit of roast/char and dark caramel.
chocolate milk with espresso, a slight nuttiness, and a good amount of cream and sugar (lactose sugar). some cacao nibs and caramel sweeten the beer up more, which is then balanced by a significant roast/charred flavor on the finish. a touch of sour fruits are present behind all of that and maybe some woody hops.
thinner than a milk stout, but just as silky with a subtle velvety carbonation that suits the flavor profile well.
overall, a very good beer. sits between a milk stout and coffee porter, so its hard to rate "to style" but I think it takes good aspects from both to create a unique beer. It has much more creamy sweetness than a coffee porter, but it is thinner with more roasted coffee flavor than a milk stout. Another impressive beer by the Haand brewery. They can be "hit or miss" but when they hit, they nail it. This one isn't quite Odin's Tipple, but it's definitely a beer to be respected.
★
1,290 characters

3.97
/5
rDev
+1.8%
look: 3.5 | smell: 4 | taste: 4 | feel: 4 | overall: 4
P: 16.9 fl oz bottle in to a globe glass
A: SRM is dark brown. Head is light tan, 1 in, dissipates to 1 cm. Medium carbonation. Medium lacing.
S: Robust coffee notes, malt. Sweet smelling. Light hop notes on the nose.
T: Does not follow the nose. Mild hops shoot straight down the palate, followed by medium roast malt and coffee notes. Not sweet at all. Aftertaste is coffee and malt, with a dry semi-bitter finish.
M: Medium/light body. Combination of hop forwardness and malt and coffee additions give a mf that is at first excited by hops and then coated by malt and coffee notes.
O: A good beer. Interesting combo of hop-forwardness and a medium malt/coffee base. The aftertaste is a nice light/medium coffee which I like. I would drink this beer again.
★
764 characters

4
/5
rDev
+2.6%
A-dark black color with a small brown head that leaves a lace
S-dark roast coffee aroma with a light chocolate smell with some hops in there
T-same roasted coffee taste with a light chocolate note that gives you a hop bitterness in the aftertaste
M-full body, sticky and light carbonation
O-Has most everything you want in a coffee porter and goes down great on a cold day
★
373 characters

3.16
/5
rDev
-19%
look: 2 | smell: 3.5 | taste: 3.25 | feel: 3 | overall: 3
Appearance - upon opening the bottle, the tan colored suds started gushing out uncontrollably. This could be a sign of a bad bottle. Eventually, I was able to pour and the murky, rocky road color of the brew is noted.
Smell - Contains coffee, molasses, and toffee candied aromas. Although nice, something about it seems potentially artificial.
Taste - One dimensional coffee flavor with a burnt sugar sweetness. The finish kills it a little, as it's borderline cloying.
Mouthfeel - Thin, a bit watery. I don't say this due to the low ABV - a 6% porter could still have a soft mouth feel that adequately coats the palate.
Overall - Unless what I had was a bad bottle or batch, skip this one. It was hard for me to finish. I had such high hopes for it...
★
760 characters

3.83
/5
rDev
-1.8%
look: 4 | smell: 4 | taste: 3.75 | feel: 3.75 | overall: 3.75
(4.0) A: Caramel brown with a very tall and bubbly head that's also semi-creamy. Long lasting retention with minimal lacing.
(4.0) S: Caramel, brown sugar, roasted coffee, cocoa, and vanilla. Bold aromas that are enticing. The coffee aroma is more medium roast than a heavy espresso aroma and more in sync with the cocoa.
(3.75) T: Rich caramel, chocolate, slight smoke, roasted coffee, black licorice, herbal qualities, and hints of dark fruits. The coffee is present but the cocoa and caramel sweetness are slightly overpowering. The herbal qualities (anise-like) are very nice as this warms.
(3.75) M: Full bodied with a moderate carbonation. Slick and oily.
(3.75) D: This is very good. Perhaps was expecting more coffee than cocoa, and slightly drier and less full bodied, but still quite nice and glad I tried this.
★
828 characters
3.49
/5
rDev
-10.5%
look: 4.5 | smell: 3 | taste: 3.5 | feel: 4 | overall: 3.5
Appearance is rich, dark brown with a big tan head and very nice lacing.
Nose is musty, with sweet malt, lactose, and some coffee.
Taste is sweet and roasted, with lactose, coffee grounds and espresso beans, and mild hops.
Mouthfeel is smooth; milk-like, with medium carbonation.
Overall, it is nothing special. The flavors are basic. But the roasted quality is quite good: not overdone and quite pleasant.
★
410 characters

4.47
/5
rDev
+14.6%
look: 3.75 | smell: 4.75 | taste: 4.5 | feel: 4 | overall: 4.5
Appearance - After letting this calm down in the glass and giving it time to warm, the head has settled and is a nice, soft, light brown/ beige color. Not a ton of head, but the retention is good. A deep, dark, menacing elixir. Looks great.
Smell - Rich and smoky aroma. Very strong and complex. A surprising amount of coffee grounds are noticeable, along with dark candi syrup/ brown sugar, toasted malts and even wood. The coffee aroma smells akin to that of a darker roast or espresso bean, despite the light roasted beans depicted on the label. Quite a bit going on here. This is worth spending some time with.
Taste - Excellent use of sugars. All the grain hits me after the sugars, followed by the coffee and a the bittering hops and smoke. Baker's chocolate is noticeable. A nice woody aftertaste, most likely imparted by the beans and the hops. Coffee is very obvious and situated nicely. Definitely bitter in a very good way. Hell, coffee being used as a bittering ingredient -- who knew!!? Almost comes across as a hop flavor in a strange way. This works really well with the sugars and the grains.
Mouthfeel - Spends most of its time lingering on the roof of the mouth. Very nicely balanced; tingling the tongue and front of the mouth. This really sticks to the palate. Not too chewy, but still medium to full-bodied. Very smooth and syrupy.
Overall - I really appreciate how this beer is not too heavy. The malt body is definitely prominent, yet not too overbearing. I find some Porters and Stouts can be hard to drink in one sitting or can be excessively rich (although, there are times when I crave that). Overall, the coffee sits perfectly in the mix. I must admit, I am a coffee geek and I am a *tiny* bit turned off by the slightly stale flavor of the beans that were used, but in some really strange way, the stale coffee bean flavor almost compliments the sugars, smoke and malts (it also might be the hops creating that "stale" taste, too). I would be interested in having this with even fresher beans and a slightly lighter roast. All in all, one of the best Porters I've had, and that's saying a lot -- I've had quite a few in my day! An excellent beer.
★
2,182 characters
3.66
/5
rDev
-6.2%
look: 4 | smell: 3.5 | taste: 3.75 | feel: 3.75 | overall: 3.5
Bottle. Pitch black with densed, caffee latte like, medium head. Good lacing. Dark, roasted malts aroma - intensive coffee aroma also hints of dark chocolate and dark, dried fruits. In taste you can feel mainly coffee flavours, low acidity (coffee) and medium bitterness. Also dried fruits flavours noticable. Medium body, oily texture, dry, medium carbonation, finish is bitter with hints of dark chocolate and coffee. In general good coffee porter, may be not the perfect combination of coffee with dark beer, but still good.
★
527 characters

3.69
/5
rDev
-5.4%
look: 3.25 | smell: 4.25 | taste: 3.75 | feel: 2.25 | overall: 3.75
Outstanding but with some flaws coming from high carb - most likely factors outside the brewer's control.
A: musty roasted malt with a lot of chocolate malt. Coffee aroma almost matching but a small step behind, comes across as mellow and nutty. It smells more like someone opened a tin of good coffee - as opposed to brewed coffee. Incorporates well into aroma of this beer.
A: Very dark brown almost black. Completely opaque, but ruby red highlights show up at the edges as you struggle to get a light to shine through the beer. Which isn't going to happen. Possible age/ temperature fluctuations or other rough handling caused my bottle to becoming overcarbed. Or it could be the result of coffee aging with the beer, or a slow breakdown of some of the lactose? ... either way I got quite a head stand on my first gentle pour - 25% beer 75% tan foam. Easily remedied, but worth mentioning.
F: Very dry roasty porter w associated choc/ black malts - in awesome harmony, and well attenuated to leave a dry, bittersweet chocolate impression at the back of palate. I don't get much sweetness from the lactose (stated on label as an ingredient). And then there's the coffee - also works in balance with the malt, but it comes across more clearly on the nose. Flavor-wise it's there, but it's somewhat hidden behind the big and similar roast malt character. I wouldn't want more coffee flavor in this beer, it's subtle and very well incorporated.
M: Slight acrid roastiness stings on the finish, I think primarily from the very high carb. I suspect this was once a full, creamy mouthfeel but unfortunately now seems a little harsh/ back of my tongue is burning kind of experience. I wish I could have drunk this closer to whenever they capped this bottle.
O: Coffee is a beautiful thing and hard to get right, particularly packaged in bottles because of the way it changes with the beer over time. In the same mind as Stone's ENJOY BY thing - they should do that w coffee beers as well. This beer was very nice, a fantastic coffee aroma, with a subtle but balanced coffee flavor that seemed to meld very well the robust porter underneath.
★
2,144 characters
Costa Rica (Coffee Porter) from HaandBryggeriet
3.9
out of
5
based on
96
ratings.