Centurion
| Le Saint-Bock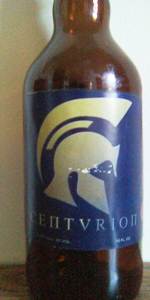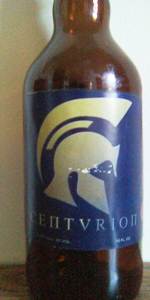 BEER INFO
Brewed by:
Le Saint-Bock
Quebec
,
Canada
lesaintbock.com
Style:
Doppelbock
Alcohol by volume (ABV):
11.50%
Availability:
Rotating
Notes / Commercial Description:
No notes at this time.
Added by WorldWideStout on 01-20-2010
HISTOGRAM
Ratings: 9 | Reviews: 7
Reviews by WorldWideStout:

4.48
/5
rDev
+21.7%
look: 4.5 | smell: 4 | taste: 5 | feel: 4.5 | overall: 4
First review! This may be a triple bock (not like Sam Adams' don't worry) - the beer was fermented three times, but as I don't think doppelbocks are necessarily fermented twice, I'm not sure. The two small sources of info I could find on this brew were at odds with each other on the style. Also no idea on availability, but seeing as I added this beer, it's not too easy to get.
A: Very dark, black. Darker than most stouts I've seen. There are a few dark brown highlights at the sides of the beer, but that's it. Good three-finger manilla-colored head which recedes to one finger, but then stays around for a few minutes.
S: Banana and bready malts are most apparent. Also some wine notes, candied nuts, and a bit of alcohol.
T: Pretty awesome. Starts off with banana sweetness, along with some dates and a smidge of orange, then the malts come into play, along with the candied nuts. The candied nuts flavor reminds me a bit of some english-style barleywines, and I notice this flavor more as I get farther into the beer. Usually I do taste in three parts, but before the finish this vinous, sort of wine-like taste comes in. The finish is then a balance of the flavors quickly receding, with a roasted malt, but not bitter, aftertaste that lingers on for several seconds.
M: Smooth and slick and juicy, not too heavy, not too light.
D: Great balance, and the alcohol is undetectable. With the somewhat high abv% and the bottle being 16 oz, however, I am feeling slightly lightheaded. The flavors are so rich, I think drinking more than one in a night would be a waste.
A phenomenal beer. I would say that the malts aren't quite as rich as some of the best doppelbocks, but the wine and nut flavors add another degree of complexity which puts it right up there at the top. $15 bucks and worth every penny. This is why I love beer!
1,853 characters
More User Reviews:
3.6
/5
rDev
-2.2%
look: 4 | smell: 4 | taste: 3.5 | feel: 3 | overall: 3.5
Sampled this at Le Mondial yesterday.
Poured from a bottle (330 or 341ml.).
Appearance: Pours a dense brown body with a light brown head.
Smell: Very malty in aroma with some caramel.
Taste: Lots of caramel in the flavor. Molasses as well. Sweet a bit. Not enough complex flavors for a high ABV beer.
Mouthfeel: ABV is well hidden as it doesn't have heat. Creamy with next to no carbonation. Feels a bit thin.
Overall: I liked it but at the same time it wasn't nearly as thick and complex as i would have expected a high-octane beer to be.
545 characters
4
/5
rDev
+8.7%
look: 4 | smell: 4 | taste: 4 | feel: 4 | overall: 4
The beer has a red brownish color and a small off-white head, good curtains.
The smells is dried fruits, plums, raisins, and nuts.
The taste is vinous, but also the fruits above plus some acidity from ripe apples, and dark roasted cocoa beans.
A small carbonation., a good body and rather smooth, a bit oily.
In all a good, and strong, bock. Tasted at site.
361 characters

3.7
/5
rDev
+0.5%
look: 4 | smell: 4 | taste: 3.5 | feel: 4 | overall: 3.5
Reviewed from notes. Thanks to bmanning for pulling out this bottle.
Served in a tulip. The color is moderate brown with a garnet hue. Short off white head and a touch of lacing. The nose brings some slightly-roasted malt, caramel, and a fairly good amount of dark fruits. The taste brings some dark fruits but doesn't really take it to the next level. A bit one dimensional and a slight amount of booze. The feel isn't bad as the booze does work fairly well with the fruit. A bit too much alcohol to be all that drinkable, but fairly nice.
541 characters
3.5
/5
rDev
-4.9%
look: 3.5 | smell: 3.5 | taste: 3.5 | feel: 3.5 | overall: 3.5

3.53
/5
rDev
-4.1%
look: 4 | smell: 3.5 | taste: 3.5 | feel: 3.5 | overall: 3.5
From notes. Had on 3/6/10 at a local DC tasting. Thanks to BigSexy410 for brining this one.
a - Pours a reddish brown color with little head and carbonation.
s - Smells of dark fruit, prunes, raisins, grapes, and chocolate.
t - Taste follows nose with raisins, plums, prunes, and grapes. Also has a bit of a chocolate taste.
m - Medium body with little carbonation. Pretty smooth.
t - Thought this was an ok bock but nothing great. The dark fruit smell and taste was decent, but I don't think I could drink a whole bottle of this one. Wouldn't really want to try it again.
577 characters

4.05
/5
rDev
+10.1%
look: 4 | smell: 4 | taste: 4 | feel: 4.5 | overall: 4
I guess technically this is a triple bock. Interesting. Beer is brown and clear and forms a thin brown head.
Aroma is like a strong doppelbock. Strong malt aroma with a slight heat to the whole thing.
Whoa, this beer is strong. Very sweet up front with some heat on the palate overall. It finishes cleanly and isn't dry at all. There really isn't any roasted character, I would expect a mild presence of this but there are nice fruity flavors that grow. Its not as forward as a raisin sort of thing but its still really great. Beer is pretty good but these are kind of my style.
581 characters
3.8
/5
rDev
+3.3%
look: 4 | smell: 4 | taste: 4 | feel: 4 | overall: 3
a thrice fermented bock beer? dark dark dark brown. no mahogany highlights, just super dark brown with a creamy tan head. nose produces something different every time i sniff. cocoa coated candied and liqueur encased cherries, plum, fig, burnt toffee, caramel, and the smell of a coffee shop/bakery that does really light roasts of those sun-dried beans that have that fermented thing going on. all seem to play off an extremely wet, slightly green, mossy rock minerality to envoke a burly, old-world style, unoaked white bourgogne (puilly-fuisse/chablis ish) characteristic that also entwines some notes of citrus, jam and nuts or maybe lychee nuts. all these tastes come together in fairly balanced harmony, carrying just enough acidity to open up the senses for a long, pleasantly alcoholic finish. hard to drink too much of these HUGE beers, but still a fun romp in Canadian beer.
884 characters
Centurion from Le Saint-Bock
Beer rating:
3.68
out of
5
with
9
ratings