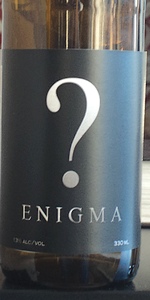 BEER INFO
Brewed by:
Le Saint-Bock
Quebec
,
Canada
lesaintbock.com
Style:
English Barleywine
Alcohol by volume (ABV):
13.00%
Availability:
Rotating
Notes / Commercial Description:
No notes at this time.
Added by timtim on 01-31-2010
Reviews: 5 | Ratings: 8
4.77
/5
rDev
+5.5%
look: 4 | smell: 4.5 | taste: 5 | feel: 4.5 | overall: 5
Wow! One of those exceptional beers that redefines what a beer can be.
Thanks to TheEpeeist for hooking this up.
bottled 10/05/2009
A- Dark brown, bordering on black with brilliant mahogany hues, a caramel colored head that dissipated into a thin lace around the base of a Duvel Tulip.
S- Phenomenal nose. Very sweet, with dominate notes of port wine, oak, roasted oak, rum, raisins, leather, maple syrup. Very complex.
T- Complex. Interesting and just outstanding. This starts off with maple syrup dominating and moves into a wonderful array of flavors, raisins, sweet port, a rum like spiciness, loads of vanilla, leather and tobacco with a sweet finish of maple infused port. Just enough hops to hold the sweetness at bay until the big finish of maple infused port.
M- This beer is huge, thick, extremely full bodied, almost syrup, but however it works very well with the sweetness of the beer and the carbonation is spaced very nicely through the density of this barley-wine.
D- I am so amazed with this beer. If I am ever able to come into possession of this Quebec based beer, I will be sure to acquire it. A definite sipper that should be sought out.
I question the 13% abv as I feel as if this beer has more oomph, based on how I feel after a half a glass.
1,276 characters
4.64
/5
rDev
+2.7%
look: 4 | smell: 5 | taste: 4.5 | feel: 5 | overall: 4.5
A riddle fermented with mystery and aged in an Enigma.
According to the guy below, this was made with maple syrup and aged in port barrels. According to the label this is a Canadian malt beverage. Could be both I guess. I wasn't able to navigate the brewer's website, so I have to take the guy below at his word. Anyway, I'm very excited to try something so different from anything else I've tried. I only bought this because someone hand wrote "barleywine" on the price tag. I had no idea what this was, I'd never even heard of the brewery when I bought this.
a: This was a deep, dark chestnut brown, almost opaque. It poured with a thin, tan colored frothy film that never fully faded.
s: Wow, there is so much coming out of this. As I expected, this was sweet, but not to the extent I feared it might be. The guy below can be trusted, I definitely smell maple syrup and port. I also found raisins, molasses, brown sugar, and vanilla. There was milder notes of oaky tobacco and leather as well. Everything was warm, but far from hot and vaguely musty.
t: I love the way this starts off. A very nice combination of boozy raisins, maple syrup, vanilla, and musty port notes. The maple syrup gets stronger towards the finish and is joined by oaky leather flavors. There was a little bite at the end, but I wouldn't guess 98ibu's (according to the guy below), and I certainly wouldn't have guessed 13% abv.
m: Extremely full bodied, almost syrupy. The carbonation is gentle and long lasting. Perfect for this beer.
d: I'm sorry I don't have more, but I am so glad I got to try this at least once. This could have been a sweet, syrupy mess, but they crafted it beautifully. One of the most unique and memorable beers I've had in quite some time.
1,748 characters
4.62
/5
rDev
+2.2%
look: 4.5 | smell: 5 | taste: 4.5 | feel: 4.5 | overall: 4.5
wow. a barleywine-style beer of epic proportions. second fermentation triggered with local canadian maple syrup, 8 infusions of nugget topping out at 98ibu and aged for 6 months in a Portugese port barrel. awesome.
super dark mahogany with a tan head that forms a ring around the glass and holds for the duration. nose is simply amazing. i can smell flavor wafting from the glass as i pour. maple hits me first followed by a barage of star anise, licorice, leather, cherry, wood (fresh and toasted), roastiness, wet earth in a pine forest, vanilla, plum, fig, rum soaked raisins, chocolate covered liquer encased cherries, cocoa and more. intense extremely complex. reminds me of the herb/spice/candy dish stuff that they have as you leave indian restaurants if it was served in a fresh cured leather bowl with chocolate covered cocoa coated rum soaked raisins. amazing. complex. sweet. spicy. a ton to wrap your head around, but the taste is somehow very elegant. beer 101 is in effect here too. it's like a lesson in the similarities between barleywine and port. leather, dark fruit, burnt toffee sweetness, chocolate... the line is really blurred as to what the port barrel is lending and what traits belong to the beer itself. it seems like finally proper homage has been paid to the thomas hardys and j.w. lees and the game has been stepped up. old-world tradition and avant-guarde at the same time in seemingly effortless balance. taste serves up all the flavors mentioned in a dish that delivers every taste to the palate with a wonderfully warming sensation that opens up the buds to recieve all the spicy goodness, providing a long, spicy finish that is rounded out very well by tones of earthy maple (which, btw, adds a sense of terroir. something lacking in our world of beer. very nice.). smooth, silky, full body, low carbonation. perfect after dinner with roquefort or stilton. there is hope!! keep 'em coming quebec!!!! merci!!!
1,947 characters
4.43
/5
rDev
-2%
look: 5 | smell: 4.5 | taste: 4.5 | feel: 4.5 | overall: 4
wasn't sure what to expect with this one, but the black glass set in front of me at 12 pm on a Friday was immediately intimidating
a: snifter serving, the beer is essentially black in color, with only some glimpses of brown hue showing, a thick, very persistent mocha head lingers on the surface, leaving heavy lace behind
s: most striking at first is the interaction of rich dark fruit sugars with a chocolate underbody, suggesting stout but going far beyond the boring old coffee/chocolate scheme, plum and raisin, red and black berries, loads of crushed, overripe fermented fruit, burnt toffee, earthy maple syrup, the oak influence is mild to my nose but the port presence clear, only mild hop aromas poke through, lovely stuff
m: the body is thick and viscous without becoming overbearing, with a smooth, moderate carbonation to usher each sip across the tongue
t: a fantastic palate heavily layered with flavor, rich dark malts and the port barrel influence bring flavors of sugary dark fruits - plum and raisin, crushed berries, toffee rolled chocolate, genuine maple syrup - sweet but pleasantly so, strokes of roast meld into the finish as a balancing bitterness kicks in, flavors lingering long after each sip with a comforting alcohol warmth, a pretty remarkable beer that doesn't fit neatly into any category
d: drinks surprisingly well for a 13 percent barleywine, alcohol kept subtle throughout
draft with a fantastic lunch of bratwurst at Lyon Hall, Arlington
1,480 characters
4.37
/5
rDev
-3.3%
look: 4 | smell: 4.5 | taste: 4.5 | feel: 4.5 | overall: 4
11.2 oz. bottle, bottled 10/05/09. Pretty neat - there's obviously a second label underneath the topmost label, and you can see the bottom portion of the writing there - all in French, with the volume in milliliters. Picked up at Once Upon a Vine, Richmond, VA, uptown location, and poured in to a snifter.
Appearance: Pours a fogged, smoky chestnut, both appropriately hued and of an appropriate clarity for the style. I attempted to pour this one somewhat vigorously, as I usually try to do on barrel aged or other high-abv% brews - I figure if I don't do my best to evoke a head, the beer certainly won't be helping. This one was so slick and so oily, however, that it just slipped right out the neck of the stubby little Canadian bottle without any turbulence whatsoever, sloosh, right in to the brandy snifter. Ergo, only the slightest ghost of any coronal emerged, and fades to a thin circlet quickly, wreathing the wide-mouthed outline of the glass delicately. The side and surface lacing are equally delicate, ephemeral, with each sip disrupting the wispy surface dollops slightly and leaving a glossy sparkling of chintzy lights racing down the slope of the vessel.
Aroma: Remarkably clean, and decidedly English. So, the most prominent note here is - unsurprisingly - maple syrup. Pure, very high in grade, with a sweet twang reminiscent of caramel and toffee but quintessentially maple syrup, complete with oak and vanillins. The port barrels contribute the only twinge of heat in the nose, smooth and as glossy as the lace tumbling down the side of the glass with every agitation of the body. It also pairs with the base beer to lend some nice buttery pear, overripe apple, and rum-macerated cherries and raisins. The base beer is largely buried by the two additives here, but honestly, port and maple syrup ... what a fantastic compliment to a toffee-heavy, fruity barleywine, no?
Taste: Wow. A ton of complexity here, and remarkably similar to the nose, if only a bit more pronounced because my tongue is a better diviner of flavors than my nose. First, it's stunningly sweet, and maple syrup seems like the primary culprit, though it's joined by a few other nuances that do shine through from the base beer - toffee and caramel, predominantly, but also a slight dollop of chocolate. And then there's the fruit sugars. Lots and lots of sweet fruit sugars. The pears, white grapes, fuji apples, cherries, raisins, plums, raspberry, and even hints of lychee run rampant over the tongue, balanced delicately by a hint of hoppiness, a few leather and tobacco nuances, and a nice but not bracing amount of alcohol warmth, courtesy of the port and, well, the fact that this beer's 13%. A few vanilla notes are definitely present, melding with woody oakiness to amplify certain fruits as well as the maple.
Mouthfeel: Excellent. The thickness is definitely here, but it somehow feels perfect with the strong maple syrup note, almost like drinking actual syrup spiked with port wine.
Drinkability: Wasn't enough of this beer to go around, unfortunately (the length of my review is directly proportional to the size of a bottle, however, so maybe ya'll are thankful this was a 330 mL). Many barrel aged beers take the complimentary approach - they know that oak and leather and toasted coconut and bourbon will work well with, say, toast, cocoa, coffee, and dark toffee, so, hey, let's toss an RIS in to a bourbon barrel! Not these guys. These guys said, hey, our english barleywine is sweet and roasted like maple syrup and port, and it's good ... so let's take it to 11. And that's they did. This is a beer that doesn't prove that too much of a good thing isn't so good, though at 13%, I'd caution against indulging too much. Recommended, if you can find it.
3,772 characters
Enigma from Le Saint-Bock
4.52
out of
5
based on
8
ratings.