Dismiss Notice
The Local Taphouse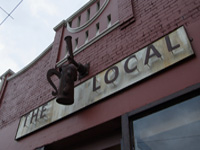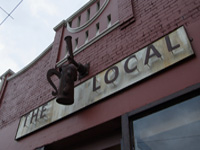 PLACE INFO
Type:
Bar, Eatery
184 Carlisle S
St Kilda East
, VIC 3183
Australia
+61 3 9537 2633 |
map
thelocal.com.au
Notes:
No notes at this time.
Added by oztapguy on 02-27-2007
PLACE STATS
Reviews:

7

Ratings:

pDev:

4.55%
HISTOGRAM
Ratings: 7 | Reviews: 7
Reviews by wordemupg:

4.21
/5
rDev
-4.3%
vibe: 4.25 | quality: 4.25 | service: 4 | selection: 4.25 | food: 4.5
stopped in by myself early afternoon 18/3/14
A good chunk of the place was closed shortly after noon on a Tuesday but the patio upstairs was wide open and I had the place to myself until a couple of dudes showed up an hour later. The bartender was a nice Irish girl who didn't leave her post but I suppose that's the norm in OZ. Around 2 dozen taps with a wide range of styles represented, lots of Aussie craft and most of the stuff I'd never heard of and that suits me just fine. Beers seemed to have a wide range of prices but started fairly high to begin with and went up from there, 10$ pints and up. I always find myself ordering chicken parms when down under and I like to think I know a good one when its under my face, this was a good one, great even. I'd like to see how this place functions when flooded with people but I'm also one to enjoy a pint by myself in peaceful surroundings. I'd go back in a flash and every beer geek I talked to said its their local spot so that says something.
1,000 characters
More User Reviews:
4.15
/5
rDev
-5.7%
vibe: 4 | quality: 4.5 | service: 4 | selection: 4 | food: 4
The Local Taphouse St Kilda has become something of an institution amongst Melbourne craft beer lovers. With 20 taps they offer a great range without the crap that so many others have. The Local specialises the getting hard to find Australian and International craft, serves it well and is a comfortable place to enjoy it. While the selection is good, it does suffer from some staleness as there are 8 or 9 beers which are permanent and fairly basic. The food and service in St Kilda are both pretty good.
505 characters
4.45
/5
rDev
+1.1%
vibe: 4.5 | quality: 4.5 | service: 4 | selection: 5 | food: 4
Second time back, first time with food.
Met the family for a lazy Sunday afternoon lunch and beer. But this aint your everyday run-of-the-mill "pot and parma". This is a serious beer pub in a town, no make that COUNTRY, starved of pubs with a dedication to good ales and lagers.
Great Selection. Amazing tap selection for Australia. Well chosen, great cross section of styles, countries and brewers. Glassware is fantastic, with different glasses to suit every need. Having one my favourite beers, the Franzinkaner Hefe, on tap was pure joy. Kept going back to it again and again. Love the idea behind the 4 rotating specialty taps, and if I were a local I would find myself down there as soon as I got the sms alarm (another great idea).
Didn't check out the bottle section, so can't comment on that.
Food was good and well priced. Very pub oriented (burgers et al) but that isn't why we went there! Great atmosphere for a lazy early spring Sunday afternoon.
Wont be your cheapest night/day out, but if you want something more than VB you are going to have to pay for it. Staff seemed knowledgeable or at least the had an understanding of how to please a beer geek.
All in all an awesome place that I will revisit again and again. If you live in Melbourne and love beer you NEED to go here. Even my non beer nerding family members enjoyed it. A successful and somewhat hazy afternoon.
1,392 characters
4.63
/5
rDev
+5.2%
vibe: 5 | quality: 4.5 | service: 4.5 | selection: 5 | food: 4
Just for the sake of openness I used to work here. Having said that this review will be open and fair. The fact that it's the closest specialist beer bar to my house is just an added bonus.
Having now been here numerous times as a customer I can say that The Local Taphouse is a great place to have a beer; beer nerd or not.
Quite an eccletic fit out to fit in with the St Kilda vibe. Definately has a rustic feel with the majority of the furniture being seemingly sourced from op-shops and/or second hand furniture places. Lots of "old-school" style beer related paraphernalia on the walls & a big collection of beer bottles scattered around the 2 bars. Be careful though, not all of them are available.
The vibe/atmosphere varies hugely depending on what night you go. If you want to enjoy your beer in peace and quiet do not go on a Friday or Saturday night as it can get extremely packed. However if you want to enjoy a fun & lively place AND drink GOOD beer then it's a good choice. Mid week is your best bet if you wanna get your nerd on. Like me. Wednesday being prefered.
The majority of beertenders(tm) here know their stuff as the training is pretty comprehensive.
They probably won't be able to go into hardcore beer nerd stuff such as IBUs, OGs, classic examples of the style and the like but will be able to give you the basics to help you make a choice from the 20 or so taps available at any one time.
Yes, 20 taps. Pretty fucking good for an Australian bar/pub. A conscious effort is made to ensure that these 20 taps are also 20 different styles. The most mainstream beer available is Becks. No Carlton Draught, VB, Tooheys etc.
Added to this is the fact that 3 or 4 are "rotating taps" for HIGH quality imports and/or Australian micros & quite often these are beers that are rarely, if ever, available on tap in Melbourne. They also make an effort to serve ales a bit warmer than lagers and in the appropiate glassware.
The bottle selection is smaller than some other beer bars in Melbourne but it covers styles not already on the regular taps so it actually serves a purpose rather than just being a crappy claim to fame that usually ends up in dissapointment when the beer isn't available or is well beyond it's best because of a lack of turnover.
The food here is not typical pub grub but still generally makes for good beer drinking food.
It really does seem like rustic European, which is their own description, but an adequate one.
Some meals have been great, some not so. But I don't come for the food.
Added to this the monthly Ale Stars Beer Enthusiasts & the quarterly (planned I think) Beer SpecTAPulars are you have one of the best beer bars in Australia.
2,688 characters
4.44
/5
rDev
+0.9%
vibe: 4 | quality: 4.5 | service: 4 | selection: 5
A recall Todd Alstrom being impressed with the range of beer on offer at Cookie...wait 'til he comes back to Melbourne and vists this place!
Cookie has a superior bottle range but The Tap House has a draught selection of biblical proportions. I've been in to the place three times and the list of beers on tap changes slightly each time. I'm assuming the reason for this is that the bar sells out of a particular brew and promptly replaces it with another.
Although my accent trips me up every time i open my gob i find the staff to be friendly and patient. I'll bring a (sober) interpreter in next time. The decor upstairs remind me of an old colonial building in Singapore...i like it.
Pricewise i reckon it's fairly spot on. The ain't takin' the piss.
This joint has so much potential to bring good beer to the masses (and the converted). The buzz about this place is still humming. Long may it hum.
n.b. I mentioned Cookie to set the bar. It's one of my favorite bars for food and beer selection. I think The Tap house is on a par with it. As is the Royston. The great triumvirate. Can't wait to get steamin' in the place again.
1,137 characters
4.22
/5
rDev
-4.1%
vibe: 4.5 | quality: 4.5 | service: 3.5 | selection: 4.5
I waited patiently for months on this place opening and saw the place be pulled apart and put back together again and what an excellent job it's been too.
I was there on the opening night and living locally have had the luxury of returning many times, sometimes for a celebration session with mates and other times to have a few slow ones over some good conversation. The actual interior itself is similar in style to a modern European beer bar and the place is big enough and has enough distinct areas within it that whatever kind of occassion you visit for you can find a corner to suit.
There's an excellent line up on the 18-20 taps covering a wide range and another 4 showase beers some of which have moved so fast that I've missed them entirely, not so good for me but great for the bar and everyone who makes it there. Price wise they are a little more than you might pay elsewhere and that seems to be the case with the bottles more so than the taps. I thought $16 for an emersons pilsner was a good example of that but then again you wont even find those beers in most bars.
Everytime I go in I like the place more as all the little opening problems are smoothed out and the staff get to know the product their dealing with a bit better. Its clear that the owners of this place care a great deal about the actual beer by the care they have take to present the beers at appropriate temperatures in the correct glassware.
I may be a little biased as I live nearby and it is indeed my "local " but make no mistake, this is up there in the top 5 places to drink beer in Melbourne, maybe even the top 2.
Can't wait to see how things pan out here. I tell everyone I meet how great this place is and I'm certain it wont dissapoint anyone who visits.
1,757 characters
4.7
/5
rDev
+6.8%
vibe: 5 | quality: 4.5 | service: 5 | selection: 4.5
Wandered into this place about 2 weeks after it opened. Visited the upstairs during the afternoon on a nice, sunny Melbourne day and was delighted to find a well laid-out beer garden with a removable roof so the the sun was shining right in. Visited downstairs later that evening for live music and I have to say that the atmosphere was pretty much perfect for a specialty beer bar. I honestly couldn't find anything to complain about - music volume was just right (both background music and the live music), decorations were subdued, yet interesting and tasteful, nice variety of places to sit (including couches, stools, tables to stand at, regular tables, etc.), good temperature, perfect lighting, acoustics, etc, etc. The best part was a big-ass, life-size picture of what appears to be a historic photo of men marching against prohibition in 1930's America holing big placards that read "We Want Beer" - awesome.
There are 20 taps, with about 75% Aussie Micros and the rest Imports... no macro crap to be found here. The Aussie tap brews were from like the likes of Matilda Bay (including Dogbolter and Barking Duck), Jameison (Beast IPA), Coopers (BE Stout and Vintage ale), Red Oak (Irish Ale), Barons (Black Wattle Ale), etc. All prices are listed very clearly on the board above the bar - pricing transparency is very important to me and this was an excellent aspect of the place. All tap beers tasted pretty good and fresh with one possible exception, and it even says on the pricing board that ales are served a bit warmer than lagers as per brewer's recommendations - excellent.
Bottles included a long list of Aussie, Belgian, German and English (incluidng such gems as DeuS) and was listed out in a little menu book with refreshingly transparent pricing. Best selection and quality I've seen in Australia, and I give it a 4.5 because it is excellent for Australia, but there is always room for improvement (but hey, they've only been open two weeks).
Service was very friendly and knowledeable, and they were willing to make recommondations based on your mood and to pass out informative tidbits such as "don't get carzy and start out too heavy" - not bad advice. Everybody there seemed quite happy to be working there very welcoming - also an important quality for me.
Didn't try or see any food, so can't comment there.
All in all, this is the best pub I've been to in my last 3.5 years in Australia - and I'm glad I got to see it before I move out of the country in just a few more weeks. For my tastes, this is almost perfect - give it time and it could be my dream pub. Of course the selection doesn't match some places in Belgium or the USA, but if it ever does - this will be at/near the top of my list. I've had my share of complaints about the craft beer scene in Aus over the past few years, but this is a hell of a good last impression... and if this is any indication of where Australia is heading, I'm looking forward to my next visit...
2,970 characters
The Local Taphouse in St Kilda East, Australia
Place rating:
4.4
out of
5
with
7
ratings