Rudy's Liquors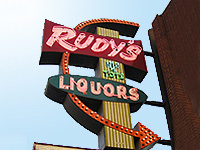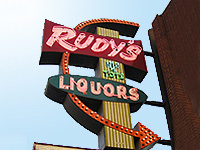 PLACE INFO
Type:
Store
285 Chartres St
La Salle
,
Illinois
, 61301-2317
United States
(815) 223-2351 |
map
rudysliquors.com
Notes:
Sunday - Thursday: 9am - 9pm
Friday - Saturday: 9am - 10pm
Holiday Hours: 9am - 6pm
Open 365 days a year.
Added by emerge077 on 02-27-2007
Ratings: 10 | Reviews: 8
Reviews by schanker21:
3.2
/5
rDev
-18.6%
Rudy's is basically the only place to go in the area if you want a decent selection of imports and micros without driving down to Peoria or up to the 'burbs. The selection of micros is definitely better than that of the imports. You can find most midwestern micros that you might not find elsewhere in the country. While there today my friend and I picked up various brews from Rogue, Gray's, Moylan's, Anderson Valley, and some others, though we had a hard time narrowing it down.
I would say not to even bother checking in the coolers for beer as they are mostly filled with BMC, Heineken, and other stuff that you can buy at any gas station.
Service wasn't all that helpful when I was there. Rudy's is family owned, and the day I was there, the kids were working. None of them drank (though two were 21). When asked for a suggestion on a good IPA, one said "We could call mom..." and the other pointed me to Bass pale ale. I would give them an A for effort and pleasantness, but unless the right people are there, make sure you know what you are looking for.
The beers are organized by country of origin (more or less) which I found to be quite helpful in finding what I was looking for.
Pricing was average. Some stuff was high, but most of it was competitive with or cheaper than the local grocery stores.
Like I said before, Rudy's is the best place in the area by far. HyVee may claim to have the best selection, but Rudy's beats them hands down not only in beer, but wine and spirits (if you're looking for it).
Also, make sure to check for dust. Most of the beer seemed pretty fresh, but some of it had been there a while.
1,638 characters
More User Reviews:
4.08
/5
rDev
+3.8%
vibe: 4 | quality: 4.25 | service: 3.75 | selection: 4.25
Pretty generic old school liquor store. The most unique aspect of the store is the old 1906 restored bar and tasting room off of the liquor store. Without that the vibe would be unremarkable. The selection here is actually pretty impressive - 3 double sided aisles filled with craft beer and imports and a long bay of coolers for the BMC stuff. Lots of local options. Some stuff was dusty and old, but plenty was new and fresh - check your bottles obviously, but that rule always applies. For an out of the way store, the freshness was better than I would expect. Service was alright - someone asked if I needed help finding something, but was pretty unfriendly otherwise. This is probably the best selection for craft/imports that I've come across along I-80 in Central IL.
774 characters

3.69
/5
rDev
-6.1%
vibe: 3.25 | quality: 3.75 | service: 4 | selection: 3.5
Went here while on a trip to Starved Rock, seemed the best place around to get quality beer. A few things you can't get in Chicago like Alesmith. Pretty standard selection
171 characters

3.24
/5
rDev
-17.6%
vibe: 3.25 | quality: 3 | service: 3 | selection: 3.75
ok....so im new to BA, and new-ish(5 years or so) to craft beer. but here is my review of Rudy's.
I've been shopping here for as long as Ive been drinking beer, the selection is crazy good...they have a lot of craft beers...but MOST of them are at room temp, A FEW of them are refrigerated. Is this a big deal?? well if you ask the folks there, they will tell you it is not a big deal, but according to this article, http://www.beeradvocate.com/articles/327/, tells you in it's #1 point, to buy beer from the cooler...
1) Buy brew from the cooler; it keeps the beer fresh. Beer sitting out at room temperature, even for a few months, may start to degrade and become stale...
what?? according to BA, this is not a good thing. Now, admittedly, Im not there ALL the time, I do not know if the beer is in direct sunlight, and the rest of that, but, the fact that it is out at room temp, well, that can't be good.
Now, the employees, some are very knowledgeable. Some of them know their stuff, but that is hit or miss, but I suppose that is the same at every place.
I have on more than one occasion purchased beer here, room temp, and purchased the same beer at a different location, from the fridge, and they were noticeably different tasting. So, at least to me, keeping beers at room temp CAN affect the taste.
Do I shop at Rudy's? Yes...but it is rare. I want to be able to recommend this store, but most of the cooler space is for the "BIG BEERS" not the crafts...
1,471 characters

4.28
/5
rDev
+8.9%
vibe: 4 | quality: 4 | service: 5 | selection: 4
After hearing about this place a few times and seeing that it was featured here, I got off work early today and figured Id take the hour drive to LeSalle and check out Rudys for myself. What a great place to find in such a small community.
Staff was super friendly and helpful told me they would special order anything if I couldn't find it. until I told them I was after some FFF and some Troegs. Apparently 3F's Delivery cut off to Illinois is Morris according to her they used to get it there but due to production and demand not any more.
Great mix 6 section all categorized according to variety which was pretty nice. Snatched up about 8 IPA's, couple Pales & couple Seasonals I haven't tried yet. and a Bomber of HOP STOOPID for $4.49 The gal even threw in a Free Pint Glass from Left Hand Brewing with the Milk Stout Logo on it which was pretty nice of her.
Nice selection of Central Waters, Victory, Founders, Lagunitas, Great Lakes just to name a few.
Defiantly will be making a road trip there again.
1,015 characters
3.75
/5
rDev
-4.6%
vibe: 3.5 | quality: 3 | service: 4.5 | selection: 4
01/2012 update:
Bumping up service and selection - Very pleasant greeting as soon as I walked in and was asked a couple times if I needed help. As far as selection, no more 3 Floyds (not surprising) but plenty of Two Bros, Goose Island, Founders, Bells, and Dark Horse. Hopslam, Founders Imperial Stout, and the Dark Horse stout series were definite notables. I'm not bumping quality up due to the extremely sad sight of numerous four packs of dusty Founders Harvest Ale marked with a $19.79 (????!!!) price tag. I asked about Bourbon County and they had gotten one case in the same day, but they had a reserved list and it had all been spoken for, which is fair enough. Overall, still your best craft option by far in the Illinois Valley, unfortunate price mishaps aside.
07/2007:
Stopped at Rudy's recently as it is near my parents house in Peru. Their cold craft section seems to be hit or miss but they make up for it with a fairly impressive overall selection. They have a decent number of regional craft beers including Three Floyd's and Goose Island's reserve series. I did a double take when I saw Alpha King for $7.49 a six-pack, which is a full $2 cheaper than I pay in Chicago.
Service was fine - I was asked politely if I needed any assistance and the cashier was also very pleasant.
The only obvious negative is that you really need to pay attention to expiration dates and/or the amount of dust on the bottle(s). Some bottles were past best by dates. That said, they do have the best craft selection in the area.
1,530 characters

4
/5
rDev
+1.8%
Great spot in the Illinois River Valley to find a good selection of craft and imported beer. Imported beer included a selection of Belgian, German and Italian imports. I was a bit impressed with the Belgian selection noticing a couple bottles I haven't seen before in Chicago. I was pleased to find a few craft beer brands unavailable in the Chicago market such as Boulevard and Green Flash. I purchased a large bottle of Boulevard Saison and six-pack of Green Flash West Coast IPA and both beers were tasty and in good condition when consumed the following day. On a Saturday afternoon the staff was helpful with two people offering assistance. I noted a display of Octoberfest beers. Nearby was a display for summer beers. Clearly, the owners of the establishment are interested in rotating their stock and promoting seasonal beesr, which is cool. It seems like the place is run by people who really care; to the point of decorating the outside of premises with lots plants and flowers. Perhaps the nicest looking business in La Salle.
1,037 characters
4.29
/5
rDev
+9.2%
vibe: 4.25 | quality: 3.75 | service: 5 | selection: 4.25
Summer 2017:
Rudy's recently opened the old bar in their building as a tasting lounge. It may just be used for events, and they do host beer tastings there, but i'm not sure that it's open regular hours yet. A few regional IL beers you can't get in Chicago, like Triptych, Radium City, Tangled Roots, and Iron Spike. The beer guy was in tune with the beer scene and the highlights of their selection. He gave some great recommendations. They're doing something right, i've been a return customer for 10 years now.
2015:
Ever expanding selection, always seem to find some great gems here. They added a bottle chiller and a wall of beer glassware.
Disregard the guy above who thinks beer degrades immediately on shelves at room temperature. Faulty logic. To crap on a small mom & pop store for storing beer on shelves is ignorant. Check bottle dates of beer you want to buy, it's really that simple.
2013:
New arrivals from Alesmith, Ballast Point, and Bent River. They post new beers occasionally on Facebook. Still the best selection around for 50 miles, 500 beers strong.
2009:
Friendly helpful service, they can special order if need be. There's a new mix-a-six area here that covers a broad range of their selection. Boulevard Smokestack lineup is new, also Green Flash. Grabbed a Victory at Sea here. Prices seem to have gone up a dollar or two here and there, but overall still reasonable. I asked one of the guys stocking what was new, and he was able to point out a few things. They really need to start making space in the cooler for more craft, the IPA's and lagers aren't doing so well on the shelf, so check dates when you can. Rudy's is still a dependable place with a solid selection... Also of note, nearby eateries: Duffy's and Cajun Connection in Utica are excellent.
Feb. 2008:
Things here have been cleaned up and expanded, namely the addition of Dark Horse, Moylan's, Ballast Point, and Arcadia. A few winter seasonals have their own doors in the cooler, but craft sixers were strangely absent. Mix cases of Ska and Flying Dog were stocked cold though. Triple Bock was priced at $3.19, still had to pass. Picked up a Weltenburger mini keg for $17, a month past it's BB date, which was under another sticker. It was fine though. Check dates, look out for dust. Still a little disorganized, but a great selection.
Service gets an extra point on a saturday afternoon...two people on the floor to help out, and a friendly hello upon entering the store. At the register, they had a few craft seasonals out, and ran over to the cooler to get a cold one for me.
Feb. 2007:
Rudy's is a great pit stop near Starved Rock in La Salle, much more impressive selection than Herman's in Ottawa.
When locating in Google maps, it is located on the southwest corner of Chartres and 3rd St.
The huge 50's neon sign beckoned in the night, drawing us beer-needy moths to it's flame. After circling the deserted downtown area, then having a good laugh at the street name, we finally arrived at the place. Parking is right in front, similar to a 7-11 or equivalent. Awning sign on the corner claims 500 beers.
Once inside, veer left past the front counter, and you will find a marvelous craft selection, if not a little awkward in it's layout. Three beer aisle islands are diagonally arranged, which all seemed to be around 4 ft. high. Must be a shoplifting deterrent. Many coolers along the back wall, some craft, alot of BMC. Limited singles were toward the right-hand side of the coolers. Cold craft sixers on the left side.
The selection: nice. Many craft and imports represented, the newly arrived Barley Island Line, several GI Reserve, 3F Alpha King/Robert the Bruce, plus many others. A few oddball imports to be had, such as Ettaler, Podkovan, and Kappitel. Good German selection. There was a gang of SA Triple Bock, but I took a pass. Glassware trove to be found at the end of one aisle facing the front counter. DT tulips, Melbourne Bros. stemware, and EKU mugs were all affordable. Some dust, not widespread though.
Prices were very reasonable on some things, from 20 cents to $3 cheaper than in Chicago. If you are headed to Starved Rock for a weekend, stop by Rudy's.
4,198 characters
Rudy's Liquors in La Salle, IL
Place rating:
70%
out of
100
with
10
ratings