Half Moon Restaurant & Brewery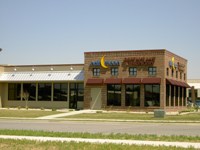 PLACE INFO
Type:
Brewery, Eatery
4051 S. LaFountain
Kokomo
,
Indiana
, 46902
United States
(765) 455-BREW |
map
halfmoonbrewery.com
Notes:
No notes at this time.
Added by BeerAdvocate on 02-28-2007
Reviews: 12 | Ratings: 20
3.9
/5
rDev
+11.4%
vibe: 4 | quality: 4.5 | service: 3 | selection: 4 | food: 4
I travel across North America visiting brewpubs on business and was amazed when I stumbled upon this place on a drive from Indy (where my company is located) to South Bend. The only brewpub in Kokomo also happens to be one of the best places for beer, food, and hanging out. I had the IPA and stout and both were pretty darn good. The food was pretty good as well. The only drawback was the weak wine list. My boss is a wine snob and had to resort to their red ale which she liked enough to have two. If you're on the north side of Indianapolis trying to hit brewpubs this one is worth it over all the chain brewpubs in Indy.
625 characters
4.15
/5
rDev
+18.6%
vibe: 4.5 | quality: 4 | service: 5 | selection: 4 | food: 2.5
I visit Kokomo every so often and had talked to a few locals about the place before I visited this week. It seems to have a good reputation for food in it's first month or two of existence but I think this is generally an area (just north of Indy) that is a bit immature in their beer appreciation progress. I arrived to a brand spanking new building, good size stand alone, easy to find right on route 31. Greeted nicely by a young hostess who led me to my desired place at the bar for dinner. I could see right away at 8PM on a Monday night that there were indeed some hard core beer nuts in Kokomo and there was a fun atmosphere with televisions full of sports and intra-bar game players (poker/trivia). It was lievely and it was easy to strike up beer conversations and get recommendations from everyone within earshod. Brian was tending bar and he was just outstanding. Knowledgeable on beer, especially local stuff, friendly and attentive including free samples of any of their 6 brews before buying your pint. Any brew with a little dark to it here is fine, the porter is great. The Pilsner is to avoid (little kids feet was the description derived by the majority that night)! Food selection is pretty decent. I was recommended by everyone to go with the Philly Cheesesteak. While it didn't remind me of Pat's in Philadelphia, it was good. However, my food scoring is colored greatly by the fact that I had some hard chips of foreign matter in my sandwich. Brian reported it to the cook but nothing was said, no free meal or even a free beer. That surpised me but I was having a good time and otherwise the sandwich was very good, so I just let it pass. The atmosphere is simple but kind of classy (as beer drinking goes) without being a typical fern bar or even typical sports bar. I didn't see much of the large dining areas but they seemed to be pleasant, subdued lighting and views of some TV's. Retro decorations done tastefully. I was very comfortable but will have to say that much of this had to do with Brian behind the bar and the great group of regulars that were parading between the bar and the outside smoking areas. Hopefully the foreign matter in my food was a complete fluke cause otherwise I really enjoyed my visit here, tried all the beers (didn't go past the sample of the pilsner), I even joined their mug club! I look forward to my next visit to the Half Moon and suggest you give it a try for lunch or dinner when you get a chance. Tell Brian that the guy from Connecticut says hi!
2,513 characters
4.03
/5
rDev
+15.1%
vibe: 4 | quality: 3.5 | service: 5 | selection: 3.5 | food: 4.5
This new microbrewery is in the heart of Kokomo, Indiana. If you've never been there, don't go, unless you really want to try a very decent microbrewery. It's an industrial town that has lost its industry, so things are fairly run down. This joint is pretty decent, however. From the outside, the restaurant is a very large, but unspectacular building. Inside, they've done what they can. Typical brewery decorations, big rooms, and huge tables. Not too shabby.
I actually really enjoyed the food here more than I was expecting to. They serve barbecue, which has been cooked low and slow in their own spice rub, and they serve it with their homemade barbecue sauce. The ribs and brisket need the sauce, and with it they are decent. But the real star of the show is the pulled pork. It's so good, the sauce is unnecessary! They also bring in thick sliced potatoes every morning and fry up their own potato chips. They are also delicious. In fact, for some reason you have to upgrade to French fries. Do yourself a favor and stick with the chips! The homemade cheesecake was unspectacular but good. The homemade bread pudding with porter praline sauce and cinnamon ice cream, however, was indeed spectacular. The dessert itself wasn't as custardy as I like, and it seemed to be baked from scratch instead of from pieces of bread soaked in custard, but it was still yummy.
The beer is forgettable, but it does have one star--the IPA. The IPA is copper-toned with a highly fruity taste and finish. The bitterness is subtle, the malts shine, and I could drink it all day. For those who are new to microbrews, the Pre-Prohibition Pilsner and Wildcat Wheat taste identical, and reminds me of a high class Bud. The Stoplight city Red and Old Ben Brown are both sweet and make very good session beers, but taste just like every other red and brown I've ever had. The same can go for the Coal Porter, although this is the one I would choose if they ran out of IPA. The seasonal of the day was both a German Weiss and a an Applewood ESB. The ESB was better than everything but the IPA. The German Weiss was forgettable, but apparently made exactly like their regular wheat except for the hops and yeast strain, which makes it a great learning experience to taste the difference between the strains.
Absolutely amazing service. I loved our waitress (Pamela I think?). She tried to get me a mug club mug to go, but they were running low. She suggested the cinnamon ice cream to go along with the bread pudding, and it made the dish. She was chatty, friendly and kept our glasses full at all times.
All in all, I wouldn't go out of my way more than a half hour to get here a second time, but if I ever found myself passing through Kokomo, I would gladly stop in again.
2,759 characters
3.6
/5
rDev
+2.9%
vibe: 4 | quality: 3.5 | service: 3.5 | selection: 3.5 | food: 4
I stopped by Half Moon for lunch and a beer today while in Kokomo for business. I the interior of the restaurant is pretty similar to a lot of restaurants; tinted concrete floors and big open spaces with brick and wood. Lots of knick-knacks hanging on the walls. Most of what I saw was related to brewing or old Kokomo. Too many tv's for my taste.
The place smelled great when I walked in. They have an exposed 7 bbl system and were just finishing up a batch of something. The whole place smelled like malt.
Service was quick, if not exceptional. I was seated and served quickly, but my server wasn't real interactive or firendly. The food was good and the portions very big. I had a wrap and it came out hot and fresh.
Beer selection is pretty limited. Six house brews and then a large selection of BMC beers. I was surprised that a micro brew would offer so much crap beer. I understand having something for everyone, but they beyond the six beers they make, they really didn't offer any craft beers.
All in all, not a bad place. The food is good, the beer is okay. And, it is a local place that just opened. Give them some support and suggestions, they are about all Kokomo has in the way of craft beer.
1,218 characters
3.25
/5
rDev
-7.1%
vibe: 3 | quality: 2.5 | service: 4 | selection: 3.5
Stopped by here the other day on my way down to Upland. I didn't know what to expect as I walked in. Has kind of a Chili's or TGIF feel to it. Some yuppy people were sitting around doing their thing so I got a seat at the bar. The bartender was very nice and poured a lot of samples for my buddy (Lukafer) and I. The entire time she was nice and made sure to ask if we wanted another beer before our glasses were empty. This one doesn't seem to happen a lot at a ton of places.
Now onto the beer. Well...if you like watery unflavorful beer then you are in luck! What the beers lack in flavor they sure make up in the watery mouthfeel department. They seemed to have a brewmaster who had some good experiance at other places...but this isn't always as it seems. I could brew with extract and turn out beers just like this. I don't know it just seemed like someone who is just starting out can brew simple one flavor dimentional beers like this.
Overall, I might show up here one more time to see if they changed it up at all...but I wouldn't go after that if it is the same bland beers that I had the first time.
1,115 characters
3.28
/5
rDev
-6.3%
vibe: 4 | quality: 4 | service: 3 | selection: 2.5 | food: 3
I travel to Kokomo quite often. So the Half Moon has become somewhat of a staple. The house brews are good. I enjoy talking beer with the bar tenders and trying what they have. They offer too many water beers. I wish they would offer more craft beers on top of the house brews. I go there because they have have good beer. It is the only brewery I know of in Kokomo. I think the rating would go up if they had a better variety of good beer. The food is average. Tastes a lot like chain food, Texas Road House and Applebee's.
It is worth making the stop if you are in Kokomo. It would be a must stop if they increased the selection.
633 characters
2.84
/5
rDev
-18.9%
vibe: 1 | quality: 2 | service: 4 | selection: 3.5
I stopped in here on my way to Bloomington. It seemed pretty busy for a Monday, but I had no problem getting a seat at the bar. The bartender was awesome, very attentive and nice, she kept pouring us samples of their beers for free, so that was cool.
What wasn't cool is the entire concept of this restaurant/brewery, it is the most generic, corporate chain-looking brewpub I've been to. Fridays or Applebees are "extreme" or "cutting-edge" compared to this place. It looks and feels like it should be in the local mall and all the local hillbillies go there to "go out" on a Friday night. I had 1 decent beer there, the rest were pretty damn horrible. And the 1 decent beer i had was almost $5 for a pint. Whatever, I'm still glad I went there because that Hefeweizen totally quenched my thirst!
799 characters

3.15
/5
rDev
-10%
vibe: 3 | quality: 2.5 | service: 4.5 | selection: 2.5 | food: 3.5
Vibe-classic brewpub and new brick bang to form this place. Some old beer signs decorate the walls. The music could have just been my iPod on random which is nice. Classic rock. Quality, had the beer had the food. All tasted clean anyways. Had a little crud on my table from the last people. No biggie. Service was great. Checked on lots. Server made a recommendation to make choosing a beer easier. Selection-their beers are what you'll get. I ordered kokomonster which was a pretty indistinct style that didn't do a whole lot for me. Some other classic brewpub cookie cutter styles offered. Food- also not bad. Had a salad, the fried jalapeños, and some creamed corn. They brought rolls too that were okay rolls. Overall, may be a better stop in Kokomo. Not ground breaking otherwise.
787 characters
2.9
/5
rDev
-17.1%
vibe: 3.5 | quality: 3 | service: 1 | selection: 4 | food: 4
As a local to Kokomo I have been in Half Moon a few times now & last night will be my last. This place has the Worst service of any restaurant I have ever been in. I can blow off a couple bad times in most cases, but last night will mark the forth time I have had really bad service from them.
My wife & I along with a couple of our friends decided to stop in last night for dinner & some drinks. Our experiences in the past haven't been the best but the food is pretty good & we haven't been in a while so we thought we would give it a chance again. We all ordered some drinks & a couple appetizers to start. We got the appetizers pretty quick within five minutes of ordering, but our drinks didn't show up for almost fifteen & that was after having to ask for them. When we did get them the girl dumped beer all over the table & into our friends salad & offered nothing more than a quick "whoops sorry".
When our food arrived the burger my wife ordered wasn't supposed to have any vegetables & was supposed to be well done. It was covered in vegetables & still pink in several spots. Our friends steak was supposed to be medium well & was rare at best. My other friend & I both had sandwiches of which was fine. Our friend had to ask for worcestershire three times before getting it, & when she did bring it she pretty much dropped it on the table as she walked by us not stopping to make sure their was anything else we needed. She also asked for some butter of which had walnuts in it to her surprise (she has a nut allergy).
To finish things up she tried over bill us. They were supposed to adjust our friends bill because of the steak (most of which didn't get eaten) she would have had it re cooked had we gotten any service. They also were supposed to knock off half of my wife's burger for being undercooked. The first bills were full price. And than they tried to bill my wife & I for the total of the table without anything being discounted once again. My wife had to chase the girl down to fix ours because once again she pretty much just dropped it on the table as she walked by.
I'm pretty willing to accept having a bad server from time to time, people make mistakes & I'm sure their job isn't the greatest. But this was at a slow time later in the evening, & the restaurant was less than half full. All of our experiences have been very similar every time we have been there. It will be our last.
Ending note, the food is pretty good "if or when it's cooked right". The beer isn't too bad but nothing worth talking about though. They have five regulars on tap along with two to three seasonal most times. But the service is about as bad as it gets.
2,675 characters
4.25
/5
rDev
+21.4%
Good beers (I especially like their Kokomonster Old Ale and their Cole Porter) and excellent food. Very good sandwiches and BBQ ribs. I've had several varieties of their bread puddings, and all are absolutely wonderful! And, do try their potato skins covered with cheese and pulled pork. Very, very good.
308 characters
1.4
/5
rDev
-60%
vibe: 2 | quality: 1 | service: 2 | selection: 1
Half Moon is easily the second shittiest brewpub I've had the displeasure of visiting. Having had the sampler platter, I can say with confidence that every one of their beers suck. Sugar water would be an accurate term to describe all of their offerings. None of their beers have any mouth feel what so ever. I demand they title their beers with names that more accurately portray them, like "Blows Dick Brown", "Watered Down Wheat", and "No Hop IPA." The wannabe brewmaster at Half Moon was quite the pretentious douche. Being far from a master at brewing, he too should be known as something else, like "The Kool-Aide Mixer!" Calling him a master of brew, is like calling David Hassellhoff a musical genius or OJ Simpson a killing machine. Just because you do something, doesn't mean that you do it well. How could this guy possibly be arrogant? Has he tasted his beer lately? Has he tasted his competition's beer lately? With so many qualified, skilled workers unemployed in this economy, how does this idiot stay employed? I wouldn't say the Kool-Aide would taste any better if the staff took turns relieving themselves in the mash, but I wouldn't say it would taste any worse either. I am mortified to see that this place received a B rating. Academically speaking, a B is considered above average. My friends, this place is certainly below average, and that is understatement of the year. In summation, if you're driving through Kokomo, Indiana (and why the fuck would you be?), avoid this shit hole like the plague (unless you're listening to Hassellhoff record in your car, then stop on by).
1,599 characters

3.93
/5
rDev
+12.3%
vibe: 3.75 | quality: 4 | service: 4 | selection: 3.5 | food: 4.75
Living near Kokomo this is defintely a great place to visit and get take out from, the atmosphere is similar to a Texas Roadhouse without neon signs or Sweetwater Tavern, old and rustic with laquered wood booths and tables. Not a really loud place to be in can be a nice quiet dinner out on some of the days in the middle of the week. There's a large seating area and a smallish bar area.
Their food is awesome, great smoked meats with a smoked sausage that is made just for them by a local butcher and then smoked in house. They have a variety of house barbecue sauces, sweet, smokey, spicy and all are really good. They do have salads, fish, pasta etc if the idea of smoked meat does not appeal, I can't say for sure they are great because I never ordered them but everything I have had from there has been excellent.
The beer selection varies but they have some 7 flagship beers that are always there. I'm not huge on the wheat beers as they feel weak and watery but their porter and old ale are nice. They offer flights of beer in 3-4 oz glasses and bring all of the beers on tap I had a flight of 13 beers once and it was $12. This of course changes depending upon what they are brewing but it gives you a feel of what you can get from time to time. You can get a growler of beer for $15 if you don't have a growler which then drops to $12ish most days but refills are only $8 on Fridays and Saturdays. I believe they also carry the standard "St-Louis" Staples if your friends are feeling less adventurous.
Staff is really friendly willing to chat with you about the beers and are pretty knowledgeable about them as well.
In the end if you're near this place and looking for a nice place to get good fresh beer and great food I'd check it out. They are always running some kind of special check their website.
1,819 characters
Half Moon Restaurant & Brewery in Kokomo, IN
3.81
out of
5
based on
37
ratings.