BJ's Restaurant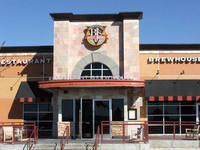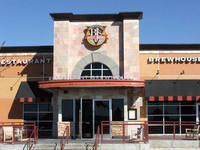 Bar, Eatery
14442 East Cedar Avenue
Aurora
,
Colorado
, 80012
United States
(303) 366-3550 |
map
bjsrestaurants.com
Notes:
Reviews by DenverHopHead:
More User Reviews:
locoformavs from Colorado
3.7
/5
rDev
-3.6%
vibe: 3.5 | quality: 3.5 | service: 3.75 | selection: 3.75 | food: 4.25
Dec 27, 2016
traviseses from Colorado
3.75
/5
rDev
-2.3%
vibe: 3 | quality: 3.5 | service: 4 | selection: 4 | food: 4
Pretty solid option for a chain.
Feb 02, 2015

Ragingbull from California
3.8
/5
rDev
-1%
vibe: 3.5 | quality: 3.5 | service: 4 | selection: 4 | food: 4
We were in Aurora yesterday and we wanted to find a nice place with their own beer for dinner and BJ's seemed to be the place that caught our attention as Dry Dock didn't have food.
We walked in and realized that it is part of a chain of brewing restaurants cut from a similar cloth to Granite City or Rockbottom. I would say that it was the best of the "chain breweries" that we have been too. The beers were all above average and they had 8 of them in the flight. There was also a Wit beer on tap but we didn't try it as we had planned to hit Dry Dock after dinner.
The service was good, no problems with it but nothing that really "wowed" us either. Food was very solid. The kids meals were good portions (3 kids in tow). The place is definitely kid friendly which is always nice.
As I mentioned they had a good selection.
The parmesan crusted chicken my wife had was delicious (I tried some, and she loved it). I had a "giant loaded potato" (the grilled chicken variety) and it was plenty of food. It tasted good, but with a couple tweaks could have been magnificent.
I am pleased that we made it here and if you are in Aurora you could probably do worse for dinner.
Jul 04, 2011

ferrari29 from Illinois
4.13
/5
rDev
+7.6%
vibe: 4 | quality: 4 | service: 4.5 | selection: 4 | food: 4
Having to stay in Denver/Aurora area an extra night for work wasn't so bad, especially since BJ was close to my hotel. I stopped in there thinking I would just get a beer or two and some food but was pleasantly surprised with the selection of both. The place has something for everyone. They have a selection of brews made on site. The list starts with a light lager, and continues with a Blonde Kolsch, pale ale, Hefeweizen, strong ale, brown ale, Porter and finally stout. The list grows to include other micros and macros that aren't made by BJ's.
The menu is very informative and provides a list of each beer with great food pairings. I had the piranha pale ale and was very pleased with the smell, taste and mouth feel.
Good atmosphere. Nice setup. Lots of TV's and good beer, I'd visit again and recommend it to others as well.
Dec 11, 2010
BeerandBlues2 from Colorado
3.75
/5
rDev
-2.3%
vibe: 3 | quality: 3.5 | service: 4 | selection: 4 | food: 4
This is the place I seem to always stop for food after flying from DIA. BJ's is very convenient for those traveling to and from DIA. One big positive to BJ's is that they are consistent. The food is good quality, the house beers are good, and they have a decent selection of Belgian beers too. This particular location has a wide open feel with tall ceilings. I enjoy their rotating seasonal offerings but the selection is better at the Boulder Pearl Street Mall location. Again, for those of us traveling to DIA from out of town (which is most people since DIA is out of town), this is a nice place to stop along I-225.
Nov 07, 2008
Findog from Colorado
4.28
/5
rDev
+11.5%
vibe: 4 | quality: 4.5 | service: 4 | selection: 4.5 | food: 4
This was my first visit to this particular BJ's location. Based on what's available in the area, definitely worth visiting. In addition to their lineup of beers (which I like) they had SN Bigfoot on draft. Nice suprise. Additionally they had Dry Dock Vanilla Porter, which is not my cup of tea, but kudos for carrying it and a Framboise. Overall, worth a visit or two.
As for the BJ's beers, my wife had the Pirahna Pale Ale (always good) and I had the Jeremiah Red (listed as a Strong Irish Ale). Pizza was good as well as the atmoshpere. Recommended.
Jun 08, 2007
ArrogantB from Colorado
3.88
/5
rDev
+1%
vibe: 4 | quality: 4 | service: 4 | selection: 3.5 | food: 4
This place opened about six months ago and I heard they had Sierra Nevada Harvest on tap so I headed in to do some investigating. They did have the Harvest (which was one of the best SN beers I have ever tasted) and also had some Victory beers (Hop Devil and Golden Monkey) in addition to their own lineup. The service was good and the pizza was damned good. I had their nitro porter and I really enjoyed it. This is a cool place as Aurora doesn't have many bars with decent beer let alone good beer.
May 25, 2007

Domingo from Colorado
4.03
/5
rDev
+4.9%
vibe: 4 | quality: 4.5 | service: 4 | selection: 3.5 | food: 4
I guess these places are popping up all over the place. It's got to be just a chain restaurant with so-so microbrews, right? Not really!
It's a large open room with about 30 booths, 5-6 tables near the bar, and a separate side room with another 15 tables and booths. Lots of TV's with sports usually on. Feels very up-scale for a chain pizza place.
Food's mainly just pizza, burgers, calzones, etc. but they're pretty good. They're not Chicago style as they claim, but the pizza is pretty good. Think of it as a kicked up Pizza Hut.
On to the beer right? On tap at all locations they have a Kölsch, Bavarian Hefeweizen, Brown Ale, Strong Red Ale, Pale Ale, Porter, and Imperial Stout. They also have seasonal offerings, a few local taps, and bottles.
The import bottles behind the bar that I saw were Duvel, Saison Du Pont, Boon Lambics, Rochefort, and Westmalle! Pretty good Belgians for a pizza place, huh?
House beers are all MUCH better than you might think. The Imperial Stout was a little weak, but the Pale Ale, Brown, Strong Ale, and Weiss were solid choices. Their seasonals are also usually quite good. These include a pils, Oktoberfest, Pumpkin, IPA, as well as local items from Dry Dock and craft seasonals from Avery, Sierra, and others.
Overall, considering what Old Chicago has done to their beer list, this is the best place to do pizza and beer in the area.
The menu has food pairings, but the staff is either solid or clueless. The first waitress we had knew the beers pretty well, while our second one had no idea what an oatmeal stout (the seasonal) was.
(Edit: I think many of these issues related to the staff when they first opened. Over the last 2 years I've had no issues at all)
How's the food? It's quite good. It's not really Chicago style, but it's not THAT far off when comparing it to other similar places. In addition to the pizzas, they have good bar food and solid sandwiches.
Aurora can be a beer challenged area, but BJ's stands out as one of the best places to go for a beer and a good meal.
(Edit 04/09: In recent months they've added a ton of guest taps for local beers and several of my favorite imports like Spaten Helles and London Pride. They've also increased their bottle menu a bit as well. Definitely the best place in Aurora for beer. Now it's one of the better spots in the whole region)
Mar 02, 2007
BJ's Restaurant in Aurora, CO
Place rating:
3.84
out of
5
with
11
ratings