Maverick Imperial Stout
| Great Divide Brewing Company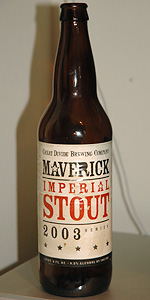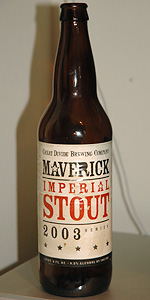 BEER INFO
Brewed by:
Great Divide Brewing Company
Colorado
,
United States
greatdivide.com
Style:
Russian Imperial Stout
Alcohol by volume (ABV):
9.50%
Availability:
Limited (brewed once)
Notes / Commercial Description:
No notes at this time.
Added by BeerAdvocate on 03-28-2005
This beer is retired; no longer brewed.
HISTOGRAM
Ratings: 6 | Reviews: 6
Reviews by RBorsato:
4.36
/5
rDev
+5.6%
look: 5 | smell: 4 | taste: 4.5 | feel: 5 | overall: 4
Pitch black with a nice creamy DARK brown head. Big roasted malt, dark chocolate, bitter hop, and alcohol aromas; maybe a touch too much of alcohol. Big burnt malt flavors with lots of dark bittersweet chocolate character -- robust ! Full bodied and warming with a big bittersweet chocolate and roasty dry finish.
Over the top and intense compared to a Victory Storm King brewed about the same time...
Per Label: 75 IBUs
2003 Series (v1.0)
Tasted: 06/07/07
($5.84 / 22 oz.)
477 characters
More User Reviews:
4.03
/5
rDev
-2.4%
look: 4.5 | smell: 4 | taste: 4 | feel: 4 | overall: 4
22oz bomber. 2003 Series. How is this brew doing at 5 years out?? Let's see!
Pours into my glass an inky black color that only lets a smidge of light in creating a dark brown hue around the edges. A half inch of creamy dark tan foam sits atop the brew and leaves spotting lacing in its wake. Aromas are big on dark, roasted malts with deep molasses, dark fruits and a solid bittersweet chocolate in there as well. Mild fig and licorice aromas in the background with a touch of oxidation. For the age on this one I have no complaints, still very very nice.
First sip brings a flow of dark, deeply roasted malt upfront. Strong notes of molasses and slight spiciness move in, followed by dark fruit (cherry) and a good amount of chocolate flavor as well. Light licorice and vanilla on the way down. Somewhat smoky as well. The finish brings a mellow bitterness and faint ghostly hop tones. This brew has aged nicely and is still a tasty treat!
Mouthfeel is creamy, medium bodied and somewhat viscous. Goes down pretty smooth, with a somewhat prickly carbonation. Good body overall. When all things are said and done this is a darn tasty imperial stout and it has held up to the test of time in my cellar. I'm guessing this could even go another year no problem, but if you have one it's not a bad time to drink it now!! Great Divide continually impresses me.
1,359 characters
4.1
/5
rDev
-0.7%
look: 4 | smell: 4 | taste: 4 | feel: 4 | overall: 4.5
This is a 2003 Vintage out of the cellar.
? Worth reviewing in 2006 ... ? ... Well anyone new - who is trying this retired beer would be trying one as old as this so, IMO, yes. That said, the 9.5% abv Impy Stout seems to have cellared just fine. My friend thought maybe it had passed its prime a bit and that indeed maybe true so if you still have one *drink it now!* while it is still tasty.
Appearance: Pours black with a light chocolate colored head. Little lacing, (a product of age or characteristic of the beer originally is unclear).
Smell: It has a beautiful nose of caramel molasses fudgey coffee, cherries, toffee and wet malts.
Taste: There is a splash of tart berries with the chocolate syrup muted coffee and black malt molasses flavors. The finish was a bit muddled and not as well tuned and it might have been once but still quite pleasant and left me with a light lingering flavor of mocha on the breath.
Mouthfeel: Creamy and chewy and oh so impeccably smooth. I'm going to guess this could only be an improvement or at least it maintained quite well over the years.
Drinkability: I love my RIS. This beer had the alcohol well hidden and all the chocolate flavor I look for and truly it was a treat.
Hope this is helpful.
Cheers!
1,268 characters

3.73
/5
rDev
-9.7%
look: 4.5 | smell: 4 | taste: 3.5 | feel: 4 | overall: 3.5
Pours with a one-finger brown head that fades slowly and leaves some lace. Totally black color. Medium carbonation and heavy bodied. Nose is a weak but sweet chocolate. Starts with a chocolate/coffee flavor and finishes bitter. Easy to drink, alcohol is not noticeable. $4.79 for a 22 oz bottle; found at Liquor Barn, Lexington, KY.
332 characters
4.56
/5
rDev
+10.4%
look: 5 | smell: 4 | taste: 4.5 | feel: 5 | overall: 5
Appearance is perfect. Near black with a great foamy dark brown head that leaves lacing all the way down the glass. Smell is nice, but a bit too faint. This is my usual complaint with big imperial stouts. It smells of roasted barley and molasses, with some smokiness as well. Taste is like liquid dessert, luckily for me because I'm drinking this for dessert after a nice roasted chicken with vegetables. At first the roasted grain hits you. Its astringent bitterness is nicely balanced by the molasses though. Midway through the sip there is a nice caramelly toffee flavor, and it finishes with strong bittering hops, some coffee, and luscious milk chocolate. A subtle smokiness which is there all along shows itself even more in the finish too. No detectable alcohol. As it warms to room temperature a vinous flavor shows through. This is really a 4.75 taste, but I just can't bring myself to put it at a 5 compared to some of the other Double Stouts I've had. Mouthfeel is really something to talk about in this beer. It's thick, that's for sure. It's also very creamy and smooth, and really a pleasure to hold in the mouth. Drinkability is off the charts for an American Double Stout.
Edit: This is a 2003 bottling, but it turns out this beer was actually renamed to Yeti Imperial Stout in 2004, so this review probably belongs in the Yeti list.
1,352 characters
3.97
/5
rDev
-3.9%
look: 3.5 | smell: 4 | taste: 4 | feel: 4 | overall: 4
Bottle is labeled 2003, so that would make this bomber 8 years old. Decanted into 2 (two) SA glasses to be enjoyed by Chuckhere and myself.
The pour produces an opaque black beer with a buckskin colored head that is of decent size. Head isn't long lasting, and lacing is kind of minimal.
The nose may be the best part of this beer. Very complex. I'm picking up lots of caramel up front, followed by toffee, malt, roast coffee and dark fruit. A touch of licorice rounds out the nose.
The taste is very similar to the nose. Big caramel malt hits you like a malt bomb. Dark fruit and cherry pits come in second, and the roasted coffee flavors clean up. Despite the 9.5% abv, this 8 year old beer isn't fusel at all, and very minimal off flavors (a touch of cardboard way, way in the background). Hop presence is muted after 8 years, which makes for a very sweet beer, on the verge of being cloying.
Mouth feel is huge and almost chewy.
Overall, I'd bet that "in its day" this was a really great RIS. At 8 years old, I think its showing its age, especially since the dealer where it was purchase is not noted for proper handling of beer (temp and light). Nevertheless, if you come across a bottle of this, its worth picking up. Great Divide has a long history of great brews, and this one was probably in that category in its day.
Na Zdravje!
1,344 characters
Maverick Imperial Stout from Great Divide Brewing Company
Beer rating:
4.13
out of
5
with
6
ratings