Pumpkin Spice Yeti

Great Divide Brewing Company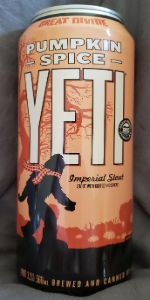 Rate It
Beer Geek Stats
| Print Shelf Talker
Style:

ABV:

9.5%

Score:

Avg:

4.13

| pDev:

6.05%

Reviews:

14

Ratings:

From:

Avail:

Rotating/Seasonal

Wants

Gots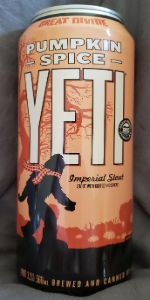 Notes:

Ozzylizard from Pennsylvania
3.93
/5
rDev
-4.8%
look: 3.5 | smell: 4.25 | taste: 4 | feel: 3.5 | overall: 3.75
Pumpkin Spice Yeti from Great Divide. 19.2 oz can stored at home at 42 degrees. Received from Save On Beer, Mars, PA. $12.71 (Including tax) ($ 0.662/oz), sitting on room temperature shelf. Reviewed 8/5/21. Note that I use DD/MM/YY protocol.
Stamped on bottom of can "CANNED ON Jul 28 2020". Served at 52.8 degrees in a hand washed and dried Jester King snifter. Final temperature 54.1 degrees.
Appearance – 3.5.
First pour – Brown (SRM 20), slight haze.
Body – Deep Brown (SRM 30), opaque. When rear-lite, same but some light penetrates at the edge.
Head – Large (Maximum four cm, aggressive center pour), raw umber, medium density, average retention, diminishing to a one cm rocky crown and cap fed by effervescence. As the head retracts, three-dimensional arcs of tiny to small lacing remain. Second pour produces a high density 1.5 cm head.
Lacing – Good. Multiple thin, occasionally three-dimensional, bands of extremely tiny to tiny bubbles. See also above.
Aroma – 4.25 – Weak allspice and ginger, no malt, no hops, no coffee, no yeast.
Flavor – 4 – Begins with moderate coffee, more like a coffee drink than a cup of coffee and some light roasted malt. No hops, no yeast, no spices until it warms more. Light bitter malt on the aftertaste. No ethanol (9.5% ABV, as marked on container) taste or aroma. Gastric warming begins slowly and remains at a modest level. No dimethylsulfide or diacetyl.
Palate – 3.5 – Medium, watery approaching creamy, soft carbonation.
Final Impression and summation: 3.75 Appearance and palate are typical for the style. The spice aroma is alluring and not overwhelming. The flavor is weak coffee but is still stronger than the roasted malt. Overall, decent and very drinkable but doesn't justify the price point.
May 09, 2021

bbtkd from South Dakota
4.12
/5
rDev
-0.2%
look: 4.5 | smell: 4.25 | taste: 4 | feel: 4.25 | overall: 4
Great Divide Pumpkin Spice Yeti Imperial Stout, 9.5% ABV. Pours thick and black with a five-finger head on an aggressive pour, leaving lots of foamy lacing. Nose is all pumpkin spice, heavy on the ginger. Taste follows plus coffee, very slight sweetness, moderately bitter. Excellent thick mouthfeel. Overall excellent.
Feb 12, 2021

beerthulhu from New Jersey
4.18
/5
rDev
+1.2%
look: 4.25 | smell: 3.75 | taste: 4.25 | feel: 4.75 | overall: 4.25
A: Motor oil pour in color and viscosity, leads to a dark, saddle brown colored head sitting an impressive three inches high. The head build is cushy foam, a solid medium, firm in substance. A faint and light display of effervesce from within. A thick spongy lace band coats the vessel well. An overall dark and intimidating pour, viscose, dark and menacing in the glass.
S: Lots of cinnamon, cloves and nutmeg spicing, containing all the expected pumpkin spices in good quantities and balance. Brown sugar, pumpkin pie filling and some apple betty add a dessert flair. Vanilla caramel latte, lightly roasty coffee grounds with a strength that is dark, rich and fairly generous for the nose to handle. Evenly distributed.
T: The flavor had heavy pumpkin accents, and fine coffee roast that gave it an earthy flair and balance between the two. The coffee aspect was finely grounded beans, silty and ashy at times, with a dark charred wood bearing aspect. Dark chocolate with vanilla bean and caramel latte lighten the mood a bit with some sweet notes while the cinnamon and nutmeg powdering added that holiday spicing. Fresh cinnamon and pumpkin pie alcohol fuels the finish.
M: Solid fullness, sits heavily on the tongue, as the visually was not deceiving. Roasty malt and coffee thickens with a warmth and earthy charred bitterness on the tongue and cheeks. Silty, ashy and chewy all at the same time.
O: Overall a good deal and spectrum of pumpkin pie flair combines with a heartiness of the traditional Yeti stout malts to give this a more then suitable balance and body. A porridge like serving of pumpkin pie and roasted malts.
Jan 11, 2021
EnderFett11 from Virginia
4.06
/5
rDev
-1.7%
look: 4.25 | smell: 3.75 | taste: 4.25 | feel: 4 | overall: 4
Poured moderately hard from an extra tall can into a snifter glass, forming a couple fingers of brown head that soon faded to major lacing with legs. Deep brown/black color. Not much of a smell, a bit of roasty of malt. Definitely tastes like Yeti, but with hints of pumpkin and nutmeg. Medium bodied with moderate carbonation. Not a bad variant of Yeti, but not as pumpkin as I would like.
Nov 27, 2020
TonyLema1 from South Carolina
3.94
/5
rDev
-4.6%
look: 4 | smell: 3.75 | taste: 4 | feel: 4 | overall: 4
L; deep brown, thick tan head, good lacing
S: I get roasted malts on the nose, not much pumpkin, but I don't have a good sniffer
T: nice mix of roasted malts and pumpkin spice, hints of coffee
F: very creamy, great mouthfeel, full bodied
O: very well done, recommend
Nov 22, 2020
jzlyo from Iowa
3.78
/5
rDev
-8.5%
look: 4.25 | smell: 3.75 | taste: 3.75 | feel: 3.75 | overall: 3.75
Aroma is coffee, pumpkin and cinnamon/spices. The flavor is pumpkin, coffee, dark malts, chocolate and a cinnamon/spices/acidic/mildly sweet/acidic finish.
Nov 05, 2020
zeff80 from Missouri
4.15
/5
rDev
+0.5%
look: 4.5 | smell: 3.75 | taste: 4.25 | feel: 4.25 | overall: 4.25
19.2oz can. Poured out an opaque, jet-black color with a very large, light brown head of foam. It left sheets of sticky lace on the glass. It smelled of pumpkin, nutmeg, cinnamon, other spices and roasted malt. Great blend of chocolate, toffee, pumpkin and pumpkin pie spices.
Oct 31, 2020
StonedTrippin from Colorado
4.3
/5
rDev
+4.1%
look: 4.25 | smell: 4.25 | taste: 4.25 | feel: 4.25 | overall: 4.5
cool new version of yeti, a base beer that lends itself well to a lot of things, this spice mix included. never heard of this before my brother in law busted it out, stoked to see this edition exists, makes perfect sense. i always seem to forget just how good yeti is as a beer overall, famous for a reason, but also like the beer next door, too easily overlooked for how great it truly is. the spices are nice in this, not overdone, and with some neat depth on top of the dark grain, but what makes this for me is the coffee, a brilliant choice to add that in and give this beer an increased warming richness but also some bitter balance to the sweet tendencies of the spices, the coffee to me stands in front of the spices in both aroma and flavor, and it starts and ends the flavor journey, which i also love, im not accosted by cinnamon and clove here at all, although they do their dance with the yeti in a wonderful way. some alcohol to this cutting its heft on the swallow once i let it warm a little, a ton of dark chocolate, dark roast, good espresso, and earthy wet soil and minerals, even a hint of smoke. this is pumpkin beer for beer drinkers, and i love that. lathery and sudsy and regal in mouthfeel, no barrel needed. overall a very impressive fall brew and one of the better yeti variants in years. loved this! among my favorite pumpkin beers of the season.
Oct 30, 2020
JohnniEMc from Pennsylvania
4.53
/5
rDev
+9.7%
look: 5 | smell: 4.5 | taste: 4.5 | feel: 4.5 | overall: 4.5
Crack open a 19+ oz. can of this stuff and observe a foamy black coffee colored liquid accompanied by a significant milk chocolate head and lacing within a clear glass liter mug. Thankfully, the overwhelming pumpkin spice aroma isn't there. Instead it smells more like a subdued pumpkin latte. The taste is absolutely perfect, if you like strong coffee with an appropriate amount of pumpkin spices delivered in a wonderfully smooth and rich stout body. 9.5 % ABV: What, there's alcohol in this? In Philadelphia, this can cost $14. It makes an expensive, but memorable treat.
Oct 16, 2020
Franziskaner from Missouri
4.09
/5
rDev
-1%
look: 4.5 | smell: 4.25 | taste: 4 | feel: 4 | overall: 4
Black in color with no light penetration. There's an inch of densely packed brown foam on top. Heavy lacing. The aroma is of coffee, nutmeg, cinnamon, pine, and pumpkin pie spice. I'm tasting coffee, nutmeg, cinnamon, allspice, pine, and pumpkin pie spice. The mouth is oily from the coffee and heavy spicing.
Oct 04, 2020
sjdevel from Utah
4.71
/5
rDev
+14%
look: 5 | smell: 4.5 | taste: 4.75 | feel: 4.75 | overall: 4.75
LOOK - super dark / black - huge billowy 3 finger head that sticks around a long time - continues to be active after dissipation - foam is dark tan/khaki colored - lacing/soapy foam clings to the side - can't get better than this in appearance
SMELL - rich coffee, chocolate, toffee, vanilla, tobacco, and pumpkin pie - slight earthiness/vegetable aroma - woodsy
TASTE - nice bitter bite of hops and charred Black Malt - rich chocolate and caramel come in next with a blast of sweetness - coffee is quite prominent - a hint of pumpkin vegetabliness appears and then it rushes into powerful pumpkin pie spices (nutmeg, cinnamon, ginger, clove) - very flavorful - very good - trails off with some campfire smores dunked in a cup of coffee
FEEL - a full bodied brew - carbonation stands strong throughout - always interesting
OVERALL - well I have never met a YETI that I didn't like - this one was very -powerful and rich (as expected) and wasn't too overwhelming in the spice or pumpkin category - it could have used some more pumpkin and vegetable flavor, but this one is pretty complex and full flavored - I will have to go back and buy a few of these to have on hand - what a great beer!
Sep 20, 2020

Bitterbill from Wyoming
4.06
/5
rDev
-1.7%
look: 4.25 | smell: 3.75 | taste: 4.25 | feel: 4 | overall: 4
Canned July 28th 2020.
Pours pitch black with a finger of tan foam, lacing is good.
The smells are coffee, roasted malt, pumpkin spices in that order for my nose.
Taste wise, the coffee and pumpkin spices run neck and neck; nutmeg with sweet malt notes, coffee adds some bitterness, roasted malt almost seems like the backbone...as a Stout or even an Imperial Stout should.
Medium carbonation and body.
Very tasty Stout.
Sep 13, 2020

Captain69 from Illinois
3.62
/5
rDev
-12.3%
look: 3.5 | smell: 4 | taste: 3.5 | feel: 3.5 | overall: 3.5
i was a little let down by this beer. most yeti beers have been great - and adding pumpkin- i thought this was going to be great - not much pumpkin or spice flavor
Sep 10, 2020

cbutova from Massachusetts
4.27
/5
rDev
+3.4%
look: 4.5 | smell: 4.25 | taste: 4.25 | feel: 4.25 | overall: 4.25
A- It just looks like a Yeti. Incredibly dark, black pour from the super tall can into a becher with a dark brown head similar to cocoa in color. That frothy cap ascends to an inch high with really nice retention. Lacing is massive with a mix of thick webs and sheets.
S- Roast malts, deep dark chocolate and even a touch of piney hops form the classic Yeti base. The coffee is interesting and kind of acts to bring the stout and spices together smoothly with medium-dark roast coffee notes. Fairly spicy Fall blend with allspice, ginger, nutmeg and slight cinnamon coming to mind here.
T- Spicier here than in the aroma but still well in balance with the big stout base. Nutmeg and allspice open up for bitter and fruity rich dark chocolate, coffee, moderate sweet, charred roast barley, chocolate malt and toasted nutty notes. Light touch of earthy and piney hops but mostly the spices and chocolately roast stout.
MF- Thick bodied with a texture between creamy and frothy, its a hefty one. Carbonation at a medium level and it finishes bittersweet with warm spiciness lingering.
Picture the classic Yeti base and picture a warm fall spice blend. Pumpkin spice is not for everyone but this is certainly one of the better pumpkin spice stouts I have had and I think the coffee does well to bridge the spice and stout base.
Sep 09, 2020
Pumpkin Spice Yeti from Great Divide Brewing Company
Beer rating:
92
out of
100
with
28
ratings