Dismiss Notice
Skookum Brewery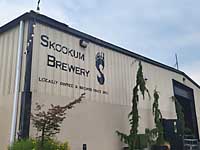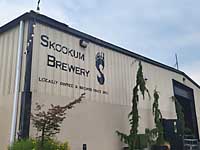 PLACE INFO
Type:
Brewery, Bar, Beer-to-go
17925 59th Ave NE Ste A
Arlington
,
Washington
, 98223-6352
United States
(360) 652-4917 |
map
skookumbrewing.com
Notes:
Mon-Tues Closed
Wed-Thur 2-8pm
Fri-Sat 12-8pm
Sun 1-6pm
Added by Idaho99 on 03-11-2007
HISTOGRAM
Ratings: 12 | Reviews: 9
Reviews by RedDiamond:
3.76
/5
rDev
-10.7%
vibe: 4.5 | quality: 3.5 | service: 3.5 | selection: 4
Craft breweries assume a wide variety of forms. But I've never seen one quite like Skookum. The brewery is a cottage industry in the brewer's detached garage. Yet it's a fully viable commercial enterprise open to the public two days each week. And it's not a Joe's Garage-type of business model. It's more like Ron and Jackie's laid back beer ranch.
Your first task is to find the place, and your best bet for that is to follow the directions outlined on Skookum's website. The brewery is at the end of a dead end gravel road in a rural area a mile off the freeway. You'll see the brewery to the right and a refurbished, century-old barn to the left. The barn itself is split down the middle with horses living in stables on one side, Ron and Jackie on the other.
The brew house has a copper and oak-slatted 10-bbl brewery with a tiny seating area and shows refined, homespun craftsmanship throughout. There's no physical bar to speak of making for the strange circumstance of people gathering in an impromptu semi-circle around the service counter where a bar might otherwise be. Outside is a covered patio and tables facing the horse pastures and barn. In winter, canvass awnings are erected and warmed by space heaters. A portable fire pit adds ambiance.
Skookum is only open on Friday and Saturday for three hours each day. But the place draws a steady stream of locals and can be busy. They pour about 10 house beers with no guests, cask, or wine. Beer styles adhere to customary American models with recent inroads into Belgian territory. Though beers are served in plastic cups, their quality is deserving and it's a pleasure to sip a Skookum beer in this relaxed wooded environment while watching horses graze nearby. Food is not served but you may bring your own. Leashed dogs are welcome and encouraged.
1,819 characters
More User Reviews:
3.88
/5
rDev
-7.8%
vibe: 4 | quality: 4.25 | service: 3.5 | selection: 3.75
Well #1 they hate TVs. Well not really but they prefer individual interaction with various card decks & Cribbage boards. It is in an industrial area of Arlington across from the local airport. They have a schedule of food trucks and an area for outdoor seating in the parking lot. Inside, open seating area with the vats in the back. Very good beer with a good selection. Notice they have whiskey barrels with beer aging. Great place to relax and try some good beer. Is on my short list to go back.
498 characters
3.99
/5
rDev
-5.2%
vibe: 4.5 | quality: 4 | service: 3.75 | selection: 4
5
/5
rDev
+18.8%
vibe: 5 | quality: 5 | service: 5 | selection: 5
I tried to be strict with rating this brewery but every time I have beer there is has been excellent
Vibe: The atmosphere is so warming and inviting. I have been called up by my friends who don't like alcohol to go to skookum, they order the root beer.
Quality: Skookum is proud to be local. Supporting all local businesses and American made, displaying a list of honesty. Your beer is not 100% made in America and Skookum humility to say so and give your all honesty. The beer quality is there too. Great makes for consistency, year round and every year.
Service: Quickly you feel welcomed by how friendly the service is. Quickly learning your name and what you like. I walk in and by the time I get to the bar tasters of their seasons and new IPAs have been pored.
Selection: Many beers, over a ranges of 4% to 8% . If your lucky you can catch one of Skookum's infusions. Seasonals are on tap (appropriate to the season) all the time. Also have a few wines and a cider on tap for the non-beer drinkers. Even if you don't like alcohol tap root beer is great.
1,066 characters

4.08
/5
rDev
-3.1%
vibe: 4 | quality: 4.25 | service: 4 | selection: 4
I visited Skookum the other day on my tour of Marysville/Arlington breweries and frankly I was surprised that I'd never heard of them before. They had 10 beers on offer, plus a guest rootbeer and a guest cider. The two beers I had were both delicious and good exmaples of their respective styles, and I really look forward to returning and trying more.
The facility itself is pretty cool -- a big warehouse by the Arlington airport with tons of characterful mismatched seating, brewing equipment and barroom décor; plus, the staff were super friendly and entertaining. Skookum is cash-only, so be prepared for that, but a visit is well worth it.
650 characters
4.15
/5
rDev
-1.4%
vibe: 4 | quality: 4.25 | service: 4 | selection: 4.25
Sadly, I never made to Skookums old location, I think I would have enjoyed it immensely. Equally as sadly, it took me a way too long to visit the new location, but a recent visit with a couple friends (Hi Sara and Craus!) rectified that situation.
The room is large and spacious, with plenty of room between tables, so that you're not sharing conversations with others. Plus, the brew system being along the back wall adds a certain industrial feel to the woodsy, NW decor. A very nice tap list features some regulars, and some rotating specialties.
They now have a kitchen, and while we didn't try anything, the limited menu was appealing. The brewer was an active member of BA, but with a growing business, a wife and a 2 year old daughter, he doesn't have much time to hang anymore. But, he's a very nice guy and will take a moment to chat beer with you at the brewery if you happen to catch him.
Definitely a must hit when up in the Everett area.
955 characters
4.8
/5
rDev
+14%
vibe: 4.5 | quality: 5 | service: 4.75 | selection: 4.75
Great place, even better beer. New location by the airport is nice, very convenient, right off the Arlington Airport Trail.
123 characters

4.35
/5
rDev
+3.3%
vibe: 4.5 | quality: 4.25 | service: 4.25 | selection: 4.5
They have just moved into their new taproom (and soon to be brewing) location. Lots of space and nice look to the natural wood bar around the room. Kitchen is seperate from the bar which is nice. Is a cash only place though and they are doing construction on the other half of the building to put in their bigger brewing system (or so I was told). Have a projector for tv and a couple nice garage doors that, in the summer, should open up and be really nice to relax.
467 characters
3.79
/5
rDev
-10%
vibe: 3.5 | quality: 3.75 | service: 4 | selection: 3.75
Not the little garbage pictured on the profile, but rather a massive warehouse near the arlington airport. Really a huge space - bring 200 of your closest friends if you wish.
10-12 taps, including a nice DIPA. Free pretzels. Arlington isn't the greatest, but it's pretty near I-5, and they pour a cheap pint.
310 characters

4.51
/5
rDev
+7.1%
vibe: 4.5 | quality: 4.75 | service: 4.5 | selection: 4.25
I have visited this brewery many times. Mid last year they moved from there backwoods setting to an old warehouse near the Arlington airport.
The setting and atmosphere are relaxed. There is some heat in the building so they are open all winter long. There are alot of tables and chairs to sit at so finding a place to sit down and enjoy your brew is not a problem.
The beer selection usualy rotates throughout the season so it keeps things interesting, I know people have there own opinions but Jack Ass and Mule are my personal favorites. There are usualy 8 taps running beer, I know they have one to the side with a soda in it for the non beer drinkers. The staff are usualy very nice and helpful and they keep the beer flowing. So far there is no food so bring your own snacks, although they do usualy have pretzels on hand. I would definately reccomend the sampler they have some great beers to try.
In all I think the Skookum Brewery is a definat MUST, if your in the area, It is a little treasure of a brewery in Arlington.
1,039 characters
4.01
/5
rDev
-4.8%
vibe: 4.5 | quality: 3 | service: 5 | selection: 4
A: Well, dont be afraid when driving out here. It takes you on a long unpaved private road. Once you get there you walk past the cow field and you will see the picnic tables and plenty of outdoor seating. The brewery is a small barn type place(not dirty but the picture I put on beerfly does the trick)The people are mainly locals and very nice. I had a great discussion with the brewer and another patron who was from Marin, so we talked North Bay beer. Pet friendly too!!!
S: Service was exceptional, very nice and outgoing. I never waited for a beer
S: About ten beers on tap ranging from IPA, RIS and Belgians
F: No food here
While off the beaten I5 path it is a good stop and my favorite stop so far between Seattle and Bellingham(besides Anacortes/Rockfish)
767 characters
Skookum Brewery in Arlington, WA
Brewery rating:
3.99
out of
5
with
381
ratings