Therezópolis Gold
| Cervejaria Teresópolis
BA SCORE
10
awful
Awaiting 10 Reviews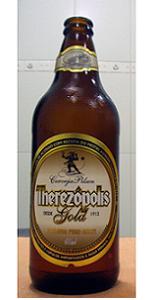 BEER INFO
Brewed by:
Cervejaria Teresópolis
Brazil
lokalbier.com.br
Style:
German Pilsener
Alcohol by volume (ABV):
4.70%
Availability:
Year-round
Notes / Commercial Description:
No notes at this time.
Added by tempest on 03-30-2008
Reviews: 9 | Ratings: 37
2.77
/5
rDev
-15.5%
look: 3 | smell: 2.75 | taste: 2.75 | feel: 2.75 | overall: 2.75
Golden color with a thick head with medium retention.
Aroma of biscuit malt, honey and mild herbal hops. Mild dyacetil that does not bother.
Flavor of Pilsen malt, herbal and floral hops, honey and mild grains. Dry aftertaste with a mild bitterness.
Light body with appropriate carbonation.
This one is much better than the last I had long ago. Balanced, refreshing with perceiving hops. Sweetness at border line for acceptance. Initial entrance for craft beers.
Ap.3 Ar.2,75 Sab.2,75 Sens.2,75 Cj.2,75
502 characters
2.89
/5
rDev
-11.9%
look: 2.75 | smell: 2.5 | taste: 3 | feel: 3.25 | overall: 3
A:clear golden color, low retention, white head.
s: a bit of hops, but not much smell at all
T: low body, a little sweetness at first then you can taste a mild pleasant bitterness. Refreshing beer for a summer day.
214 characters
2.92
/5
rDev
-11%
look: 3 | smell: 2.25 | taste: 3 | feel: 3.5 | overall: 3.25
Look: transparent golden color without sediments; low foam formation and persistence with small and soft bubbles;
Smell: low aroma content with herbal hops and honey notes;
Taste: good malts taste, little spicy aftertaste with low bitterness end, 10 IBU;
Feel: low carbonation; mediumbody Lager, balanced alcohol;
Overall: good Brazilian beer for the style with good drinkability 3,5+/5.
387 characters
3
/5
rDev
-8.5%
To take on wave 0 x 0 of Brazil and Mexico, just felt a different hop Heineken, but the cost-benefit... Even more than the Dutch was R$ 1.50, the long neck 355 ml, as is that will compete? But it was the opportunity and the company of friends! Olé!
249 characters
3.05
/5
rDev
-7%
look: 3 | smell: 3 | taste: 3 | feel: 3.5 | overall: 3
Please correct the style here if it's wrong. It's hard to add a beer and correctly fill in the details when the label is in Portuguese. However, the label did say Pilsen, and the beer drank very dry, like a German pils with its hard water would. Beyond that, there wasn't a lot of character. The beer was pretty clean except for a hint of diacetyl as it wamred. Otherwise, it kind of just tasted like a sweet and bready Euro pale lager.
436 characters
3.38
/5
rDev
+3%
look: 3.5 | smell: 3 | taste: 3.5 | feel: 3.5 | overall: 3.5
600 ml bottle at Mud Bug, on to the beer:
A straw gold colored beer with some head and retention. To put this beer in short, it is a clean, refreshing lager without those nasty off-flavors from SBA and the like. Its surpriingly hopped, with hoppy flavors all around. A zip of lime with hop leaf, and a little pinch of malt, plus being drinkable even as it warms eqauls a good fallback option in Brazil. Think Longboard Lager.
426 characters

3.38
/5
rDev
+3%
look: 3.5 | smell: 3 | taste: 3.5 | feel: 3.5 | overall: 3.5
355ml bottle served in a mug.
A: Pours a golden yellow color forming a big, white and fluffy aired head. Low retention forming some thin and lingering lacings left in the glass
S: Sweet pale grains. Notes of honey. Flowery hops
T: Slightly sweet upfront. Strong notes of sweet pale malts. Crispy and bready. Earthy yeasts. Light but pleasant hops bitterness
M: Light body. Good carbonation. Sweet grains in the aftertaste
O: Good drinkability. Good and grainy. Always a pleasure drinking a good (and real) Lager in Brazil
526 characters

3.65
/5
rDev
+11.3%
look: 3.5 | smell: 3.5 | taste: 3.5 | feel: 4 | overall: 4
Therezopolis are in fact is a larger beer, but in Brazil they like to put Pilsen in every blond beer for commercial effects.
It's taste is very good and works in a temperature highest than a low temperature brazilian people like.
The smell is good and a the litle bit sweet taste works in a summer or winter day.
The white head firmly maintain and conserve well the taste.
It's a great choice when you are in a brazilian bar.
429 characters
3.75
/5
rDev
+14.3%
look: 3.75 | smell: 3.75 | taste: 3.75 | feel: 3.75 | overall: 3.75
I'm trying the Therezopolis Gold at Mud Bug...or Bug Mud in Copa Rio. It poured a clear golden with white head that is not leaving much of a lace. The scent has bread notes. The taste is nicely balanced and easy to drink. There was a nice biscuit through the taste. The Mouthfeel is medium in body with good carbonation. Overall it's a solid lager.
351 characters
Therezópolis Gold from Cervejaria Teresópolis
3.28
out of
5
based on
37
ratings.