Dock Street Rye IPA
| Dock Street Brewery & Restaurant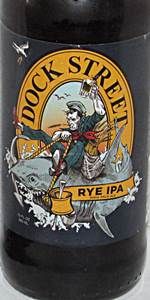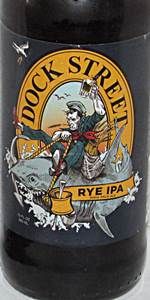 BEER INFO
Brewed by:
Dock Street Brewery & Restaurant
Pennsylvania
,
United States
dockstreetbeer.com
Style:
Rye Beer
Alcohol by volume (ABV):
6.80%
Availability:
Year-round
Notes / Commercial Description:
An aggressively hopped American Style India Pale Ale brewed with Columbus, Simcoe and Amarillo hops. The use of 20% rye gives this ale it's trademark dry and spicy character.
Added by roan22 on 12-01-2007
HISTOGRAM
Ratings: 182 | Reviews: 60
4.55
/5
rDev
+14.9%
look: 4.5 | smell: 4.5 | taste: 4.5 | feel: 5 | overall: 4.5
a: This was a dark copper color. It was served to me with a thin, white, ceamy head. Decent retention and very lacy.
s: The menu says this was made with amarillo and simcoe hops. The hops are the dominant aroma but some sweet crystal malts and a healthy dose of earthy sour rye come through as well.
t: This is probably the best rye IPA I've had. The balance between the sour rye and the hops was damn near perfect. Piny, pungent, moderately sweet, and wonderful.
m: The rye gives this a perfectly silky body. The carbonation is creamy and spot on.
d: I had two of these and would have loved several more. Perfect example of the style.
639 characters
4.32
/5
rDev
+9.1%
look: 4 | smell: 4.5 | taste: 4.5 | feel: 4 | overall: 4
On tap at Dock Street on 6/18/08.
A - Burnt amber/copper-colored body with thin, off-white head that receded into ample lacing around the glass. Slightly hazy body with mild amount of carbonation present.
S - Very nice fresh hop aroma with a combination of zesty citrus hops and strong grassy hops and a bit of pine thrown in for good measure. Quite a nice hop bouquet. Malt has a slight burnt quality with a nice amount of rye in the nose, but not overbearing.
T - Lots of flavors mingle together in this brew! There's plenty of hop bite that blends citrus, pine and grassy notes with a nice grainy malt aspect and pleasant rye presence. Ultimately, the hops win out in the end and provide ample bitterness, yet the brew remains very well-balanced.
M - Medium body with fairly lively carbonation. The moderately bitter finish lingers for a little while on the palate.
D - Man, this is a tasty IPA that is extremely fresh and flavorful! Very pleased with this one, not only for its well-balanced flavor and intoxicating aroma, but also its drinkability. Nice job, Dock Street!
1,085 characters
3.82
/5
rDev
-3.5%
look: 3.5 | smell: 4 | taste: 4 | feel: 3.5 | overall: 3.5
This is the first Dock Street that I have had on tap since the days of Jeffery Ware. DR had it on tap for their hopfest.
This beer poured a cloudy golden color with light carbonation and a decent foamy head, about a quarter inch of the head held during my tasting.
The bouquet was full of strong, sweet hops with a slight malt, gains and yeast. This translates nicely to the taste as it has a sweet ascerbic bite that is big and tasty. The hops and rye really balance each other nicely, creating an enjoyable backtaste.
Mouthfeel is kinda big, but well balanced. Drinkability is good, but again, this is a big feeling beer. A nice tasty that you can have one or two of.
673 characters
4.12
/5
rDev
+4%
look: 4 | smell: 4.5 | taste: 4 | feel: 4 | overall: 4
Thanks to axilla for sharing the growler...and roan for the second opportunity...
Appears a semi transparent light orange with a small white cap that slowly fades out. Spotty lacing is left around the glass.
Smell is of hoppy citrus, apricot, grapefruit, and apple.
Taste is of the mentioned aromas with the spicey citrus, bitter, yeasty, graininess coming through.
Mouthfeel is medium bodied, grainy, bitter, fruity, and zesty.
428 characters
4.7
/5
rDev
+18.7%
look: 4.5 | smell: 4.5 | taste: 5 | feel: 4.5 | overall: 4.5
It pours a slightly hazy and bouncily carbonated golden orange. A thick finger of light beige head lays puffy and fluffy for a short while. A wide net of lacing ensnares the inside of the glass.
The aroma is a pungent mélange of sweet and fruity malt, earthy deli rye, resinous pinecones, and crisp, ripe grapefruit. A bready hint meshes nicely with a warm alcohol breeze.
Upon sipping, and of course savoring, the hops erupt, with sticky pine and poignantly crisp grapefruit asserting a dry bitterness that finds its crafty way to allow caramel malt, berry fruitiness, and a swelling of earth, dusky rye. The alcohol is present, but incorporated with a deft twist. Residual grain conjures a mild sweetness and a loaf of rye, minus the carraway seeds. The finish is in the forever range, with a slowly ebbing dry bitterness that loses volume but never its crispness. This beer has an amazing flavor, no question.
Medium bodied, it has a mouth-filling, creamy presence on the palate that is at once sticky and oily and peppery. Not to mention that eternal glow.
Wa-wa-wee-wa! To call this beer a revelation would be an understatement, but that's what I'm calling it anyway. I order it assuming I would like it, and I end up loving the sweet earthy bastard. This is an IPA that grabs you by the ears and shakes you, then gives you a big wet kiss for the effort. ABV be damned, it goes down smooth and makes you want more and more. Such a blending of complexity is a tribute to Scott. I, for one, would like to thank him for this elixir. And I know I'm not the only one.
1,575 characters
4.35
/5
rDev
+9.8%
look: 4.5 | smell: 4.5 | taste: 4.5 | feel: 4 | overall: 4
Pours hazed deep golden with a thick foamy head that slowly descends. Some thin broken rings of lacing stick to glass.
The smell is citric with floral notes. Rye bread and grainy backing supports the generous amount of hops.
The taste is of bitter, sharp citrus with floral notes and some resiny pine. Caramelish/grainy sweetness backs up the hop bitterness. Rye is subtle at first, but grows more prominently as it progresses, making it dry. Alcohol well-blended into the flavor. Long, dry finish.
Medium-bodied with a sharp kick that works well for the style.
Bitter and dry but well-rounded in the finish. Rye malt works well here - not too much, but enough to give it a unique, welcomed quality. Nicely done, with sharp hops controlled well by a nice malt blend.
Thanks to jcwattsrugger for bringing back a growler of this for me from PA!
847 characters

4.83
/5
rDev
+22%
look: 5 | smell: 4.5 | taste: 5 | feel: 4.5 | overall: 5
This is one of Scott Morrison's beers, and I am convinced he is the best local brewer around me [Philly}. This IPA is a gold color, with perfect foam and excellent rings of lace [which incidently, Rosemarie herself noticed and stopped to comment on, actually picked up the pint glass and went around showing her staff!].
the beer smells of bread and piney/resiney/perfumey hops. This beer is made with amarillo and simcoe hops, and 15% rye. It tastes incredible...this is the best local made IPA, ever....to me its better than weyerbacher double simcoe and dogfish head 60 minute IPA. Why? its the rye...it gives it a luscious dry, spicy character that I simply adore in an IPA....Boy am I lucky I only live 15-20 minutes away!
728 characters
Dock Street Rye IPA from Dock Street Brewery & Restaurant
Beer rating:
3.96
out of
5
with
182
ratings