Williamsburg Porter
| Williamsburg Brewing Company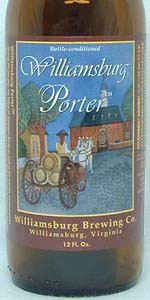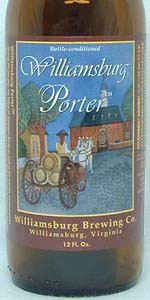 BEER INFO
Brewed by:
Williamsburg Brewing Company
Virginia
,
United States
williamsburgbrewing.com
Style:
Baltic Porter
Alcohol by volume (ABV):
6.80%
Availability:
Year-round
Notes / Commercial Description:
No notes at this time.
Added by BeerAdvocate on 07-11-2002
This beer is retired; no longer brewed.
HISTOGRAM
Ratings: 9 | Reviews: 9
Reviews by mmmbeer:
2.84
/5
rDev
-12.6%
look: 4 | smell: 2.5 | taste: 3 | feel: 3 | overall: 2.5
I waited until the second bottle out of six to post this review - my original notes would have left a lower score. 12 oz., bottle conditioned, with no freshness date and my first Baltic porter. Pours black, not very thick (red shines through in the light), and has a 2 finger tan head that doesn't leave much lacing. Smell is sweet with some dark fruits and a roasted character. Tastes sweet with a hop spiciness and hints at dark fruits, coffee, and bittersweet chocolate. Leaves a warming sensation. Mouthfeel seems fairly carbonated and somewhat thin. Can't drink more than 2 at a time. My original notes included black olives in the scent and taste which left me asking "why??" I saw Perkuno's Hammer at another store in town and I need to buy that to see what a real Baltic porter tastes like.
798 characters
More User Reviews:
3.63
/5
rDev
+11.7%
look: 4 | smell: 3.5 | taste: 3.5 | feel: 3.5 | overall: 4
Williamsburg's robust porter delivers a dark mahogany body with glowing ruby-chestnut highlights beneath a creamy head of antique ivory that holds fairly well before dropping to a thin surface covering. The lacing, although transient, is quite adequate, and leaves thin but solid walls of lace with each sip - and part of the enjoyment is watching them quickly erode and slide back into your glass.
The nose is similar to chickory.... roasty, with a touch of sweetness, and slightly fruity as well.
In the mouth it's medium body and moderate carbonation give a firm caress to the palate before it passes smoothly away.
The flavor is roasty with a slap of dark malt acidity, but as it warms it becomes more chocolatey and brown-sugar like, and it even has a soothing note of sweet vanilla. Some restrained, citrusy hop flavors make and appearance midway (but seem kind of out of place in a 'historic' beer... I was expecting Goldings); and it's backed by a firm bitterness that, in combination with it's acidic roastiness, leads to a lingering, dry, and lightly smoky but not really roasty, finish.
1,101 characters

2.94
/5
rDev
-9.5%
look: 4 | smell: 2.5 | taste: 3 | feel: 3 | overall: 3
Pours with a great tan head over deep ruby highlights. Nose is a bit heavy on diacetyl (butterscotch), with some roastiness underneath it all. Taste is buttery with some notes of coffee & chocolate flavors. Finshes up dry, roasty & slightly bitter. Would be a nice, nice porter if it wasn't marred by the diacetyl aroma and flavors.
332 characters
1.9
/5
rDev
-41.5%
look: 3 | smell: 3 | taste: 1 | feel: 3 | overall: 1.5
As a Williamsburg Native, and dark beer fan, I was severly disappointed with this Porter. I bought a six pack of this in bottles. It looked, and smelled like a decent porter, but after one taste, I had to discard the entire six pack. It could have been that the six pack was skunky, I guess. Nonetheless, a big disappointment. If one could imagine a porter that is too sweet, this would fit into that category. Baltika is also a sweeter porter, but only has a hint. This beer is blatantly sweet.
495 characters
2.99
/5
rDev
-8%
look: 4 | smell: 2.5 | taste: 3 | feel: 3.5 | overall: 3
Nice deep brown color-not quite black. Good slight tan head. Very low aroma-slightly roasted. Roast malt dominates. Bitterness seems to come from the roasted malt more then any hops. Good enough body for the style-slight creamy feel to it. Somewhat lackluster and one dimensional overall. Theres better out there for sure.
322 characters
4.25
/5
rDev
+30.8%
look: 4 | smell: 4 | taste: 4.5 | feel: 4.5 | overall: 4
Very dark maple almost opaque body, tan head with decent lace and retention. Good carbonation.
Burnt/roasted coffee bean dominates the nose, faint vanilla present.
Taste is strong coffee and to a lesser extent cocoa bean. Excellent burnt/roasted malt flavors and massive hop presence with a citric bite to it. Aftertaste is mostly burnt cocoa bean hoppiness with undertones of sweet molasses.
Good porter mouthfeel, a little coating and slick sensation.
Highly drinkable. This is a brew that knows what it wants without any flavor or scent detours, porter all the way.
-Oelergud
585 characters
4.47
/5
rDev
+37.5%
look: 4 | smell: 4.5 | taste: 4.5 | feel: 4.5 | overall: 4.5
Very dark reddish brown color. Tan head that disapates quickly. Bittersweet chocolate, grainy nose. Rich, creamy, bittersweet chocolate taste. The roasted chocolate malt is nicely balanced by the hops. The finish is astringent and yet sweet. Fairly complex flavors. Aftertaste remains for awhile and is kinda sticky sweet. 6.8% ALC/VOL shown on label.
359 characters
2.91
/5
rDev
-10.5%
look: 4 | smell: 3 | taste: 3 | feel: 2.5 | overall: 2.5
Pours a dark brown with ruby highlights. Tan head, dissipates quickly. Smell has hints of malt but not much else. The taste is hoppier than one would expect and the mouthfeel is too thin to make this a satisfying quaff. Not very drinkable. Something about the water maybe? Not too thrilled with this one.
304 characters
3.3
/5
rDev
+1.5%
look: 4 | smell: 4 | taste: 3 | feel: 3 | overall: 3
Pours a dark brown with slightly red highlights. A thick tan had presents itself upon pouring, but dissipates quickly leaving a thin lace. The aroma is a mixture of cocoa and roasted malt. The tastes of bittersweet chocolate and roasted male are quite apparent with slightly mild hop undertones. The mouthfeel is smooth and light-bodied. This is a decent porter even thought it's much lighter that most that I've had.
419 characters
Williamsburg Porter from Williamsburg Brewing Company
Beer rating:
3.25
out of
5
with
9
ratings