Diamond Knot Ho! Ho! Winter Ale
| Diamond Knot Brewery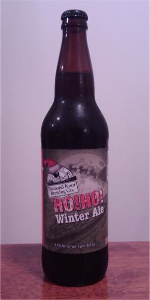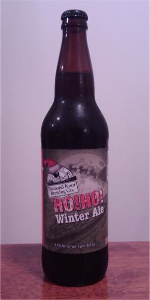 BEER INFO
Brewed by:
Diamond Knot Brewery
Washington
,
United States
diamondknot.com
Style:
Winter Warmer
Alcohol by volume (ABV):
8.50%
Availability:
Winter
Notes / Commercial Description:
No notes at this time.
Added by BeerAdvocate on 01-07-2006
Ratings: 83 | Reviews: 43

4.33
/5
rDev
+17.3%
look: 4 | smell: 3.5 | taste: 4.5 | feel: 4.5 | overall: 5
remember that this here is life. with the van freshly be-dragonwhaled (1st coat), we headed to the brewery to celebrate the brewing of a fine barleywine. the ho ho leered at us from the pitcher on the table, mahogany with a golden plumage of head. "don't take any guff from these swine" it muttered under its breath.
caramel and hops are the dominant odors but something else lurks, butterscotch? the taste is really outstanding, the bitterness well balanced with the sweetness, the caramel shines, the finish is like a sweet bread with dates baked in. have some if you can find it. bought a growler of it to cap the evening in dk style.
it's hard being so stylish.
666 characters
3.87
/5
rDev
+4.9%
look: 3.5 | smell: 4 | taste: 4 | feel: 4 | overall: 3.5
Apearance - Pours a clear dark amber to medium brown head with a one finger head that quickly fades to a cap.
Nose- Nutty caramel, toasted malt, dark fruit and herbal hops along with a touch of nutmeg?
Palate- Caramel and toffee with the slightest touch of roast malt. I can't tell if the spiciness is from the hops or added spices, but I'm leaning towards spices.
Mouthfeel- Medium bodied and carbonated.
Overall- Not my favorite winter warmer, but not their worst offering either.
486 characters
4.03
/5
rDev
+9.2%
look: 4.5 | smell: 4 | taste: 4 | feel: 4 | overall: 4
This winter seasonal drinks much like an imperial red ale. It is deep claret with a hearty mix of red malt sweetness and elegant hop spice. A light cherry stone aroma leaps about suggesting the bolder cherry stone taste within. Impressive lace forms everywhere. A fine, hearty ale full of sugar and spice. Very festive.
319 characters

4
/5
rDev
+8.4%
look: 4 | smell: 4 | taste: 4 | feel: 4 | overall: 4
A- Dark reddish brown with a slight white ring of bubbles.
S- Holiday spices, maltyness, caramel, figs and some fruit.
T- Good caramel taste with a nice herbal hit of goodness. There is a decent chewy maltyness that is here. I'm enjoying this a good deal, it isn't too malty, yet it has a great seasonal spice with a hop bitterness that is there too.
M- The mouthfeel is good, just the right amount of carbination with a good amount of thickness to the beer.
D- Very easy to drink and is super tasty. This beer is a seasonal winner, very solid.
Added Pic.
562 characters
4
/5
rDev
+8.4%
look: 4 | smell: 4 | taste: 4 | feel: 4 | overall: 4
Thanks to may man Travisd13 for this delight!
Hot Damn Diamond Knot never lets me down.
Poured a amber color with good carbonation, medium tannish head and hella lacing. Nose is nutmeg, cinnamon and malts. Taste is nutmeg and cinnamon upfront with a chocolate lingering and caramel as well. Its also a little bready and a bittering on the end. Mouthfeel is spice, warming and nutmeg, cinnamon. Medium bodied. Toasted malts, grain and sweetness with oerhaps brown suga. Drinkability is good and this is a very good Warmer.
522 characters

4.53
/5
rDev
+22.8%
look: 4.5 | smell: 4 | taste: 5 | feel: 4 | overall: 4.5
On draught at the brewpub (the first review strait from the source), Industrial Ho! Ho! is hazy chestnut with a nice sized, tight bubbled off-white head leaving heavy sheets of foamy lace.
Smell is fairly muted, dark caramel malts, not too sweet though, thanks to the bright herbal hops, like the rest of this brewery, I have to assume they're Galenas.
Taste is really awesome, a big caramel blast, the slightest coffee hint, really nice to see a winter warmer that's not spiced, I don't mind a beer that compliments pumpkin pie or fruit cake, I just don't need it to taste like it! The is really like an imperial brown, sweet rich and malty but so smooth, just enough bitterness to balance, I'm loving it beyond belief!!!
Mouthfeel is on the crisp and dry side, but with a nice chewy malt backbone, medium bodied, a tad sticky.
Drinkability is super high, wow. This is hands down my favorite winter seasonal this year, I love that Diamond Knot does such a solid brown ale, and then to basically imperialize it for the winter is awesome. When I see winter warmer anymore I'm thinking strong spicy mess, but this malty goodness just killed it. 8.7% huh? I would have never know, unless I'd had another, which I was oh so tempted to do!!!
1,241 characters
3.8
/5
rDev
+3%
look: 4 | smell: 4 | taste: 3.5 | feel: 4 | overall: 4
This is a review for the bourbon version of the Industrial Ho-Ho I came across via handbottle. It's been a tough week and just can't find the drive to enter it in as a new beer entirely.
Appearance: Pours a clear, dark brownish-red body with a thin white head.
Smell: Dark, chocolatey maltiness with an underlying fruitiness. The bourbon characteristics are fairly restrained, yielding only slight notes of vanilla and scorched wood.
Taste: Sweet dark chocolate and some roasted grains that dries out rather quickly. Very, very light hints of vanilla, brown sugar, and wood. Mild bitterness along the way. Dark caramel picks up midway. Flash of dark fruits. Warm, chocolatey finish.
Mouthfeel: Medium-thin body. Mild carbonation. Warming alcohol presence.
Drinkability: A fine bourbony (though light) winter release.
821 characters
3.97
/5
rDev
+7.6%
look: 3.5 | smell: 4 | taste: 4 | feel: 4 | overall: 4
Appearance – This poured a very dark brown out of the growler with little head. Kim said that it came out of the tap kind of flat with no head, too.
Smell – This has the classic WW aroma of toasted and roasted malts, deep spicing, and mild burnt notes.
Taste – This beer actually has some nice complexity at the taste. The toasty flavor is overpowered by the strong roasty, almost burnt character. The malts are very dark, almost like a Schwartzbier, and there's even a bit of yeast in the foreground. The spices are dark and dirty.
Mouthfeel – This is medium-bodied and dry like a piece of burnt toast. There's very little carbonation to this one, although it's not the type of beer that screams for good carbonation in the first place.
Drinkability – I wouldn't call this a "session ale", but if you like your beer dry, dark, and burnt you'll love this one.
Comments – Thanks to my good buddy skyhand for dragging me back a growler of this from Diamond Not.
987 characters
Diamond Knot Ho! Ho! Winter Ale from Diamond Knot Brewery
Beer rating:
60.2%
out of
100
with
83
ratings