Diamond Knot India Pale Ale
| Diamond Knot Brewery
BA SCORE
82
good
89
Reviews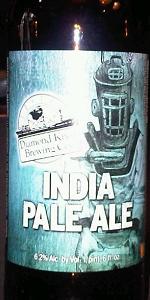 BEER INFO
Brewed by:
Diamond Knot Brewery
Washington
,
United States
|
website
Style:
American IPA
Alcohol by volume (ABV):
6.20%
Availability:
Year-round
Notes / Commercial Description:
No notes at this time.
Added by Todd on 06-11-2003
Reviews: 89 | Ratings: 198
3.92
/5
rDev
+9.2%
look: 4 | smell: 4.5 | taste: 3.5 | feel: 4 | overall: 4
Reviewed 5/27/2006 (Tap @ Columbia City Alehouse, Seattle, WA):
Pours a brown, light brown color, good sized head, white, frothy. Very hoppy aroma, grapes, sweet, bitter. Pale dry taste, nutty aftertaste, semi-bitter, dry, slightly acidic. Very drinkable, clean taste.
★
269 characters

4.3
/5
rDev
+19.8%
look: 4 | smell: 4 | taste: 4.5 | feel: 4 | overall: 4.5
On draught at the brewpub, Diamond Knot's IPA is pale orange with a nice sized, tight bubbled white head leaving heavy, foamy lace.
Smell is bright hops, plenty of Columbus but nicely balanced but the fresh herbal Galena's they're so partial to, cedar like. A bit muted though, perhaps if I let it sit for awhile it would open up more, but this is served at the brewpub, where are their beers are ales, and I shouldn't have to wait for it to warm up from ice cold.
Taste is really nice and well balanced, nice and hoppy with just enough bitterness without beating up the palate. Really nice hoppy flavor, and exceptionally clean. With the dominance of DIPAs, it's easy to lose track of what makes a good IPA great, and it doesn't require obliterating hoppiness. But a firm punch never hurts.
Mouthfeel is crisp and dry, oily and medium bodied.
Drinkability is high, I've always loved this IPA and drink it anytime I can - the classic Puget Sound IPA in my book. At 6.2% it's stout enough to satisfy but also allow for that extra round you'll inevitably crave.
★
1,065 characters

3.95
/5
rDev
+10%
look: 4 | smell: 4 | taste: 4 | feel: 3.5 | overall: 4
I had this on tap at Malt and Vine of Redmond. I know you can also get it at the Pump House in Bellevue.
The beer poured well with a finger of head that lingered slightly and left some nice lace. The hops were fruity and very floral smelling. The taste was good. The hops wasn't bitter or overwhelming, this brew had a nice balance of malt and hops. More hopyness of course because it was an IPA. Over all it was a nice beer, I wonder when they will have it on bottles, or if it will be just a tap only beer?
★
509 characters

4.3
/5
rDev
+19.8%
look: 4 | smell: 4 | taste: 4 | feel: 5 | overall: 5
On tap at the Hillside Pub in Seattle this is one of the most sophiscated IPA's I have had in awhile. The pretty orange colour was set off by fragrant hops but what sets apart this IPA is the luscious finish which I can only describe as silky. I was happy as an Ivar's clam drinking this pint with no balance issues at all. Very worth the search.
★
346 characters

4
/5
rDev
+11.4%
look: 4 | smell: 4 | taste: 4 | feel: 4 | overall: 4
A: Copper-bronze, white head, very little retention, excellent lace.
S: Pine, nectarine & tangerine hops with some underlying American Pale malt.
T: Pine, tangerine & nectarine, light biscuity malt good bitterness. Better than 'good', but not quite a 4.5.
M: Moderate body, well-attenuated, dry finish, slight acidity.
D: Good.
★
339 characters
4.04
/5
rDev
+12.5%
look: 4 | smell: 5 | taste: 3.5 | feel: 4 | overall: 4
This IPA had a 6.0% ABV. It had a thick bubbly, white head. The color was reddish-amber and the smell was fantastic! Floral, sweet hops - strong and complex. The taste is hops up front and hops on the end - not as complex as the smell. Oh well - I'd still drink it again.
★
271 characters
3.9
/5
rDev
+8.6%
look: 3.5 | smell: 3.5 | taste: 4 | feel: 3.5 | overall: 4.5
This one was on tap at the Elk Public House in Spokane. Served in a pint glass.
Pours a rich gold color and is clear with a foamy white head.
The smell is very sweet and piney, juniper..
The taste is very sweet and less bitter for an IPA. There is a bit of a bread flavor to the beer.
Mouthfeel is crisp and clean, but just a bit cloying and filmy.
This is a very drinkable beer. Not sure what the ABV is but I get the feeling it's got a little kick to it. A very nice, unusually sweet and malty IPA.
★
517 characters
3.87
/5
rDev
+7.8%
look: 4 | smell: 4.5 | taste: 3.5 | feel: 3.5 | overall: 4
Had this on tap at the Diamond Knot pub on our way from Seattle to Vancouver. Good frothy, white, half inch head with good lacing and not too cold. Nice big hoppy aroma. Typical floral/citrus. Not much in the way of pine, though. I was a little dissapointed though with the taste. Definitely not as hoppy as the aroma would have indicated. Still a good West Coast IPA. Maybe I get my hopes up when I smell a great hoppy west coast style beer.
★
442 characters
4.22
/5
rDev
+17.5%
look: 3.5 | smell: 4 | taste: 4.5 | feel: 4.5 | overall: 4
This beer has a bright brassy color with medium head and little retention. It had nice rings of lace with each drink. The smell is that of a piney hop. This is a big and balanced beer. The first thing, before even the taste though, is that it's rather rounded, soft and creamy for a bitter IPA. The hops just abound but there is so much honey malt flavor, very freshly brewed tasting, interspersed. The malts really have strong honey orientation, yet it's a light taste, nothing sticky here. This is a very drinkable beer, the kind one thinks about a few too many times after having it. This is one to seek out of you're an IPA fan.
★
635 characters

3.95
/5
rDev
+10%
look: 4 | smell: 4 | taste: 4 | feel: 3.5 | overall: 4
My scores are based upon the more recent 2013 review, below.
9/26/2006 The server in Redmond said that this was her favorite. I'd already had a Mirror Pond Pale Ale and a New Belgium Skinny Dip on-tap, so I went with her choice. It went well with the few dozen oysters we were eagerly consuming, although it was not my favorite of the three (Mirror Pond).
Nice golden color although served after the head had long faded. Nice bouquet, the taste followed although it was a bit more gutsy than the bouquet would allude.
Taste overall was very nice, and left a strong hops bite in my mouth. I think I would like to try this on-tap again and have it handed directly to me, rather than sitting on a counter for 5 minutes until it's brought by a server.
8/19/2013 So here I am at Arnie's up the hill from Diamond Knot in Mukilteo with a freshly poured one. Nice modest white head on a pint of caramel-brown ale, excellent nose with mixed florals and caramelized malts. The taste is about the same, nicely bitter without being insane. Very typical of the current IPA's brewed by various craft brewers throughout the USA.
★
1,117 characters
4.15
/5
rDev
+15.6%
look: 4.5 | smell: 4.5 | taste: 4 | feel: 4 | overall: 4
On tap at the brewery. Has a dark yellow hue with a decent sized white head that leaves a nice lacing. Strong smell of grapefruit and floral hops. Medium bodied and softly carbonated. A sweet grain flavor quickly turns to bitter hops and lasts the remainder of the drink. The fresh smell of this brew is something to behold. Very nice.
★
335 characters
4.05
/5
rDev
+12.8%
look: 4 | smell: 4 | taste: 4 | feel: 4.5 | overall: 4
Appearance – I had this on-tap at a Silvertips hockey game and the cup was filled to the top so I couldn't gauge the head, but the body was a beautiful, hazy orange in color.
Smell – This has a nice orangish hop aroma with a serious malty compliment.
Taste – This was a heavy hitting IPA. The hops are sharp and complex. I could pick out some nice floral and resiny notes along with an ample supply of grapefruit. The malt base was big and chewy with a bit of sugary sweetness to it.
Mouthfeel – This was bigger than medium-bodied but not full. This one was dry and very, very bitter. The ale felt exceptionally smooth and complex in the mouth. Terrific!
Drinkability – Yeah, we lost 0-2 and my chuck-a-puck landed in the penalty box, but this offering from Diamond Knot was a definite winner.
★
811 characters
4.12
/5
rDev
+14.8%
look: 4 | smell: 4.5 | taste: 4 | feel: 4 | overall: 4
A great representation of the Pacific Northwest IPA, Diamond Knot pours a slightly hazy gold with a creamy tannish head. The aroma is full of citrus hops, but not as grapefruity as some, perhaps it is dryhopped with Columbus hops rather than Cascades or Centennial. The taste is surprisingly smooth. A faint malty sweetness overshadowed by a nice hop bite. Not oppressively bitter, this IPA is very easy to drink. A very good beer to search out while in Seattle.
★
462 characters
4
/5
rDev
+11.4%
look: 4 | smell: 4 | taste: 4 | feel: 4 | overall: 4
Originally sampled on 14 November 2002. I did a swap with a coworker who lives in Seattle. he got some stone, I got a growler of diamond knot IPA and I wasn't disappointed. This is a very nice hopmonsterful IPA. Hops are all over the nose and palate. I really enjoyed drinking this.
★
282 characters
Diamond Knot India Pale Ale from Diamond Knot Brewery
82
out of
100
based on
89
ratings.