Imperial Stout Barrel Reserve
| Moa Brewing Company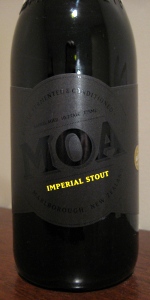 BEER INFO
Brewed by:
Moa Brewing Company
New Zealand (Aotearoa)
moabeer.co.nz
Style:
American Double / Imperial Stout
Alcohol by volume (ABV):
10.20%
Availability:
Rotating
Notes / Commercial Description:
Moa Imperial Stout Barrel Reserve is a very strong, upfront and rich offering of this famous Moa style. Aged in oak Pinot Noir barrels, this beer not only displays coffee and mocha characters but also some sweet and savory notes unique to Moa Imperial. This award winning Stout is seasonally produced and available for short periods each year.
Added by femALEist on 03-23-2010
Reviews: 10 | Ratings: 50
3.15
/5
rDev
-16.4%
look: 3.5 | smell: 3.5 | taste: 3 | feel: 3 | overall: 3
Was really excited to try this one. Was hoping for a slightly tart flavor, and got it, but it was also a bit bland. The pinot character was more noticeable on the nose than palate, and I'm not sure if the stout style just isn't well-suited for this kind of wine barrel aging or what, but for both a stout and a sour of sorts, it's just not that impressive, expecially for the price. Worth a shot, but I expect mixed reactions.
426 characters

3.28
/5
rDev
-13%
look: 4.5 | smell: 4 | taste: 2.5 | feel: 3.5 | overall: 3.5
Bottle: corked and caged, awesome embossed and stylish 375mL dark green bottle, restrained yet stylish label.
Appearance: very dark black body, mid-brown mocha head, 1.5 fingers with good lacing.
Aroma: medium-to-light bread and chocolate roasted malts. If anything, a bit light for a RIS.
Taste: well made, but it is hugely coffee and mocha orientated. Not my style of beer.
Aftertaste: coffee and mocha disappears, to be replaced by the bread and chocolate malts.
Mouth feel: medium-bodied ale with a medium carbonation also. Perhaps a bit too much for the style.
Overall: a fairly well made Russian Imperial Stout, but the flavour is well and truly dominated by coffee / mocha flavours. Even if I liked coffee and mocha, I think it would be too dominated by the one flavour.
783 characters
3.71
/5
rDev
-1.6%
look: 4.5 | smell: 3.5 | taste: 4 | feel: 3 | overall: 3.5
Very good, dark brown to black colour with a creamy tan head. Decent retention.
Mild aroma with notes of roast and coffee. Light tart fruitiness in the background from the Pinot Noir barrels.
Rounded roast flavour. Spicy alcohol. The oak and fruity wine notes work well.
There is a touch too much carbonation here and the medium body isn't enough to hold it up.
A nice take on the style by Moa. The flavours could be aided by a slightly mope robust base beer with a bit more mouthfeel.
489 characters
3.73
/5
rDev
-1.1%
look: 3.75 | smell: 3.75 | taste: 3.75 | feel: 3.5 | overall: 3.75
quick notes to self
lovely bottle, presentation is nicely understated. mild head, thin and very delicate lacing. nose of peat, hint of smoke, oak, barrel in the middle, pleasantly dry cocoa finish. barrel influence is subtle, pleasing. has a smooth, chewy character that makes me think of a mild nitro, if that makes sense. not an everyday brew, but worth having for an occasion
379 characters
3.94
/5
rDev
+4.5%
look: 4 | smell: 3.75 | taste: 4 | feel: 4 | overall: 4
Cheers to my brother-in-law for the bottle, purchased from Oak Barrel in Sydney. 375ml and like Moa is wont to do: it's green.
Pours with a rather disappointingly fluid and light body, and requires a bit of airtime to promote a head. Once this forms, though, it's pleasantly fine and creamy, and sticks around until the bottom of the glass. Lacing is good, forming in sweeping, fine bands. Colour is ostensibly black, but actually is an umber brown colour on the edges. Head is a pale mocha. Looks pretty good.
Nose is also pretty pleasant, while being a little weaker than I expected. Pleasant, rounded roasty characters with a hint of oak to adds some sweetness. Some vanilla comes through as it warms a little, but so does a bit of booziness, giving some fruity tones and a little pepper and medicine character. It's still pretty good.
Taste is also good, fairly broad, but with a lightness to the front palate. Some of those medicinal, slightly fruity characters appear towards the middle to back, possibly the Pinot, while on the back towards the finish is a good dose of char. Aftertaste is slightly astringent, with a powerful roast buildup that turns to bitterness after a while.
Feel is actually pretty smooth, even though it feels like it retains a bit of that lightness in the appearance. Still, it's very good.
Overall, yep, this is most definitely a good beer. It has a number of parts to it that I don't necessarily agree with, but it's still crafted with thought and rigour. Probably not the equal of the best Impy Stouts in the world, but a very solid example of the style nonetheless.
1,606 characters

3.95
/5
rDev
+4.8%
look: 4 | smell: 4 | taste: 4 | feel: 3.5 | overall: 4
Poured from a corked and caged 12.7oz bottle into a snifter.
Pours pitch black with a bubbly head that retains rather well for the style. The aroma is roasty, but with a bit of sharpness from the Pinot Noir treatment. The taste is rather interesting, this is a very unique imperial stout treatment, with a sharp, vinous feel cutting an edge through the traditional roasted malts and coffee flavors of an imperial stout. The mouthfeel is highly carbonated for the style, and a bit lighter than normal. It works with the wine flavors though. Overall, a perfectly enjoyable and interesting beer that's worth trying. I don't think it'll be one of your favourites, but it's unique and worth trying.
694 characters
4
/5
rDev
+6.1%
look: 4 | smell: 4 | taste: 4 | feel: 4 | overall: 4
32oz growler, a fortuitous find at Wine and Beyond Sherwood Park during a roundabout tour of the suburbs today. How is this any different from the Pinot Noir barrel aged stuff, if it is also 'barrel reserved'?
This beer pours a solid black abyss, that is until you take a peek at its nether regions, and discover some prominent basal cola highlights, all supporting a few solid fingers of densely foamy, underdeveloped creamy, bubbly beige head, which leaves a decent example of caveman painting lace around the glass as it evenly subsides.
It smells of chalky medium toasted cocoa, bready caramel malt, faint red wine barrel residue, bitter dry roast coffee beans, a slight oily nuttiness, and tame earthy, leafy hops. The taste is gritty toasted caramel malt, semi-sweet cafe-au-lait, bittersweet baker's chocolate, rather ethereal cherry and wooden cask esters from the purported barrel treatment, a bit of blandly spiced alcohol, and subsumed earthy, weedy hops.
The bubbles are pretty understated, yet adequate for the purpose at hand, the body medium-heavy in weight, undeniably smooth, and creamy to a lesser, more pedestrian extent. It finishes on the sweet side of things, the chocolate gaining a degree of corner store milkiness, the coffee ducking its head in cover, while the hops brave the furor to cuddle with the leaks and spurts of that damned-near bursting alcohol, given its heretofore restrained nature.
As my question about barrel treatment was duly answered early on, I will hence focus on the nature therein. Pinot Noir, while a pleasant enough red varietal, especially in the hands of New Zealand's finer vintners, lacks the general weight to really add anything perceptible to something as big as the base beer here seems to be. I would be hard pressed to tell you that the fruitiness in this offering was sourced from anything other than the robust character of the malt, all other things being equal. So, after all that, we have nothing more than a sturdy, enjoyably warm Imperial stout, one where the rather impressive booze gets only more so, despite its persistent shyness.
2,106 characters
4.03
/5
rDev
+6.9%
look: 3.5 | smell: 4.25 | taste: 4 | feel: 4 | overall: 4
Ah the perks of being a beer shop janitor. Got this little treat from a distro rep. Pretty stoked. 375ml bottle poured into a snifter.
Quick Notes
A - Pitch black, small caramel head. No lacing.
S - White whine and oak overpower most else. There is a hint of roasted coffee on the back ned.
T - Flip flops the nose. Heavy in the Roasted coffee department, hint of grape sweetness and bitter chocolate in the back.
M - Surprisingly dry for an impy stout.
O - A super complex and interesting take on a big American stout. The Pinot barrel add a nice dimension to the style. It will be really interesting to see how these flavors develop over time. I can see the rich sweet chocolate coming out along with the pinot sweetness to make something phenomenal
757 characters

4.04
/5
rDev
+7.2%
look: 4 | smell: 4.25 | taste: 4 | feel: 3.75 | overall: 4
Having thoroughly enjoyed my first Moa brew, St. Joseph's, I was compelled to pick up the "other" Moa brew available here in Texas. Poured into a Harviestoun stem glass.
As this beer has all of the characteristics of a good imperial stout, let's get to what is unique about it. I'm pairing this with a NY strip steak and there is a notable smoked malt flavor (altbier/rauchbier) present, which couldn't work any better--this could be an affect of the red wine barrels used for aging. The head lasts to the bottom of the glass, but little lacing on the sides.
Hopefully, I won't have to travel to another hemisphere to enjoy further Moa offerings, as I liked this one and St.Joseph's so much. Check this one out.
717 characters
4.09
/5
rDev
+8.5%
look: 3.5 | smell: 4.5 | taste: 4 | feel: 4 | overall: 4
Yeah! Aged in Pinot Noir barrels! Someone is doing something comparable to what's going on here in California! I actually brought this one on the plane back home with me for my husband to try. The only problem with beers being bottle conditioned is that sometimes they explode. This one didn't quite explode on the way over, but it did leak due to pressure (the other bottles of Moa did not). It poured a dark brown black with an oatmeal cream head. It smelled of wine, chocolate, light vanilla, and big roasted malt. It tasted of dark espresso, fresh vanilla bean, toasted malt with some light tannins in there as well. It was super carbonated and not too bitter- very drinkable and very good. I am glad I brought another bottle home to age!
742 characters
Imperial Stout Barrel Reserve from Moa Brewing Company
3.77
out of
5
based on
50
ratings.