Epic / Thornbridge Oak Barrel Aged Stout
| Epic Brewing Company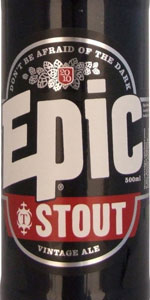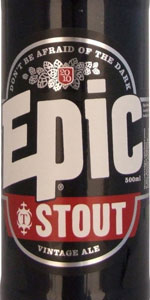 BEER INFO
Brewed by:
Epic Brewing Company
New Zealand (Aotearoa)
epicbeer.com
Style:
English Stout
Alcohol by volume (ABV):
6.80%
Availability:
Limited (brewed once)
Notes / Commercial Description:
No notes at this time.
Added by brendan13 on 10-25-2010
This beer is retired; no longer brewed.
HISTOGRAM
Ratings: 12 | Reviews: 10
Reviews by trappistlover:
3.84
/5
rDev
-3.5%
look: 3 | smell: 4 | taste: 4 | feel: 3 | overall: 4
(shared by friends who brought this back from NZ. Pours a dark brown, almost cola color with a tan head. I got some smoke and chocolate predominantly in the aroma. Taste really followed suit with more smoke and chocolate. Its not a smoke beer that I could tell from the label, but it was there are probably was imparted by the barrels. Taste was semi-sweet with some roasty bitterness, but quite well balanced. Thin like a porter. Had a light smoky, dry finish. I really like this beer and would be happy to drink it again. Nice job!
533 characters
More User Reviews:
3.77
/5
rDev
-5.3%
look: 4 | smell: 4.5 | taste: 3.5 | feel: 3.5 | overall: 3.5
hardly a pft when opening the bottle but makes the same sound as a soda when pouring. you know, that spritzy sound? dark tan bubbly head settles to a thin lace. nearly pitch black beer and what looks like low carbonation.
definite woody nose. real dry oak character. not overpowering but easily detectable. some floral and dark malt sweetness holding it up.
not as big as expected. still a nice oakiness to it and it combines well with the medium strength well balanced stout at its core. still feels like its missing something. maybe a little thin and seems like the oak is sort of hanging off it rather than fitting nicely. havent had much experience with oak but maybe its suited better to bigger beers.
get a slight alcohol warmth as it goes down, but again, that might fit better on a beer with more body to handle it.
overall glad to get to try this. its a nice mix for a collaboration as epic have done some fantastic beers, and would be cool if they tried this again.
980 characters
3.73
/5
rDev
-6.3%
look: 4 | smell: 3.5 | taste: 4 | feel: 3.5 | overall: 3.5
Very approachable for a beer of this ABV. Looks the part of a good stout. The initial whiff of American oak is quite obvious and a little confusing as it is a smell I find a little hard to to disassociate from wine. Some interesting fruity hop aromas too that hint at the unusualness of this beer. Overall a really smooth and pleasant beer if perhaps a little awkward. A stout it is, but a hybrid of sorts.
406 characters

4.67
/5
rDev
+17.3%
look: 4 | smell: 4.5 | taste: 5 | feel: 4.5 | overall: 4.5
EDIT: From 2nd bottle: *Get this one fresh, I think I got an old bottle the second time I tried it, none of the flavors was anywhere near the level of the first bottle--coffee was the only decent flavor left, it wasn't altogether bad, but nowhere close to what it should have tasted like*
500ml into a snifter.
A-Black with tan head, can barely see anything through it.
S-Strong roast with a hint of vanilla.
T-Amazing cream sweetness, with vanilla and coffee/chocolate bitter-sweetness. The oak is present in the vanilla tones, but more subtle than a lot of BA beers.
M-Sweet finish, creamy mouthfeel, thick but no lingering syrup feel.
O-Amazing barrel aged beer, sweet, not too boozy an amazing combination.
719 characters
4
/5
rDev
+0.5%
look: 4 | smell: 4 | taste: 4 | feel: 4 | overall: 4
500 ML bottle
A-- Poured a mixture of black with hints of ruby. Settled black but also one or two touches of ruby at the bottom of the beer and at the bottom of the head. One and a half fingers of dark brown head that quickly fall to film on this. Much better retained head on swirling. Nice looking and creamy sort of head.
S-- Warmed toasted coconut, vanilla and Oak. Oak is pretty obvious and on the fresh side but the other smells are also quite nice. The more air this gets the more the oak dominates.
T-- Very Oak forward taste. Also get chocolate, coconut and coffee.
M-- Best way to describe this is being in a dark cherry oak room. Oak just has that warming sensation and this captures it quite well. Oak in the front and then the stout flavors like coffee, chocolate and the barrel adds coconut and just hints of vanilla in the mid and back of the mouth. Get a bit of an Oak coffee acid finish to this. Think the barrel has smoothed out a bit and maybe made this a bit on the smoked side of things. Much more smooth and refined than the last NZ oaked beer I had. Get a lot more of the body of the beer than the barrel. Oak just adds to the beer, not adds harshness from it. Low carbonation and medium feel. Lighter style stout.
O-- Very well done Oaked beer. Body is a bit thin but the Oak just enhances it. Still get the base beer and the flavors from the barrel. ABV is well hidden and really this is a good match for a cigar. Solid beer from the best brewery in the Southern Hemisphere.
1,507 characters

4.09
/5
rDev
+2.8%
look: 3.5 | smell: 4.5 | taste: 3.5 | feel: 5 | overall: 4.5
Pours a dark redwood kind of colour; looks brown but distinctly ruby up to the light. Head is generous indeed, slightly more pale than beige, fluffy and sinking very slowly. Good head, body might perhaps have been darker for a stout.
Smells pretty special. Wonderful deep oak wood coming off in droves, with a delectable dark chocolate roast behind it. The wood gives off some funky notes of camembert, berries and port wine. All wonderfully balanced in a rich sweet-and-sour toastiness. Delicious.
Taste is nicely stouty, with rich roasted malt throughout the palate. Has elements of cocoa with some dark fruits - mostly sweet - and then a minor tart note late on the palate. Woodiness is relegated to the finish and is most welcome, providing a long dry finish with hints of funk and wagnall. There is a resiny hop character at the three-quarter mark, just a slight spicy spike that is well mellowed by that long woody finish. Would like a slight increase in the roastiness, as overall it seems more portery than stouty on the front, and the back is over-dominated (nicely, but still) by the wood.
Expertly constructed body with a lond silvery trail of texture. Lots happening in the mouth, but just robust and smooth throughout.
Yeah, a very tasty drop. I do like them more intense but this is drinkables as hells, yes? Mmm, coherent...
1,343 characters

4.83
/5
rDev
+21.4%
look: 4.75 | smell: 4.75 | taste: 5 | feel: 4.5 | overall: 4.75
Look-Dark brown
Smell-Chocolaty
Taste-Awesome
Feel-Made me feel good
O-Awesome again
85 characters

3.01
/5
rDev
-24.4%
look: 4 | smell: 3 | taste: 3 | feel: 2.5 | overall: 3
Thanks to maneliquor for this one. Served in a Darkness glass.
A - A finger of tan foam settles to a partial cap, thick collar, and spotty lacing. The body is a dark brown color.
S - Smells...over-oaked. Tons of oak and vanilla, with maybe a hint of stout in the periphery. I like oak, but this is too much even for me.
T - The taste is initially a mild improvement over the aroma, as you can actually taste some of the base beer. Chocolate and roasted malts mingle with the aforementioned oak and vanilla. Finish is unfortunately overly ashy, smokey, and charred, with too much astringent and harsh wood character.
M - Overly carbonatied, thin texture, with a flaccid, tannic soda water finish. Why did they barrel-aged a 6.8% stout? In plain oak, no less?
D - The thin texture helps the beer go down quickly, but it's not a very enjoyable experience for the most part. I suspect the base beer was a solid English stout, but the oak-aging just obliterates it. We had a bunch of horrible beers before this one, so this one was pretty decent in comparison. That being said, I don't think I'd want to have it again.
1,118 characters
4.13
/5
rDev
+3.8%
look: 4.5 | smell: 4 | taste: 4 | feel: 4 | overall: 4.5
A - Poured into a pint glass an extremely dark brown with ruby red highlights when held up to light. An inch of beige head very slowly falls away leaving lots of lace and a thin whisp.
S - Light chocolate notes & oak vanillin initially followed by marmalade fruit notes.
T - Oak character is a lot more up front in the taste with notes of bittersweet chocolate, more marmalade fruitiness & some very slight burnt/roasted malt hints.
M - Medium to full bodied without being too sweet. Touch of burnt bitterness.
D - Another fantastic beer from Epic. They don't make brew a huge range but everything they do is top notch!
623 characters
4.15
/5
rDev
+4.3%
look: 4 | smell: 4 | taste: 4 | feel: 4.5 | overall: 4.5
Very dark brown verging on black with a thick, foamy tan head.
Big rich hop aroma with notes of grape and citrus backed up with clear coconut notes from the fresh American oak. To be honest, I genuinely struggle to find the stout notes here. There is not really a noticeable chocolate, roast or coffee note. Nonetheless, I like it.
There is lots of hops here with a big, fruity hop character is backed up by a nice sweetness. I get lots of grape and grapefruit. I get the sweet barrel notes again and a hint of minerality from the dark malts. This is actually like the perfect Black IPA for me.
Medium body with moderate carbonation. Very nice with just a hint of silky tannin.
A lovely beer. It isn't really a stout in my book but I love the flavour anyway. This is genuinely one of the best beers I've had this year and would be getting a much higher score if they hadn't called it a stout.
896 characters

4.55
/5
rDev
+14.3%
look: 4.5 | smell: 4.5 | taste: 4.5 | feel: 5 | overall: 4.5
I had this at O'Carroll's Irish Pub in Auckland.
A- Pours nearly black with a nice tan, thick head. Some lacing throughout with decent head retention. A good looking stout.
S- The nose has good roastiness up front with oak, vanilla and light bourbon-like scent behind. There is some earthy hops, but not too much - just enough and then roast behind that. Lovely, full smelling beer.
T- Roast again in the taste with oak and some hops. Very similiar to the smell - a little more muted, but also more blended. I could easily pick out what I smelled, but not so much in the taste.
M- Nice creaminess, especially for a non-imperial stout. Not hot at all, but not watery either. Great mouthfeel.
D- This was one impressive brew. An oak aged stout, that was smaller than most oaked beers. This made me nervous being such a small beer, but Epic made it shine through. The oak didnt overpower the beer, but made it better. A fine stout, that I would drink again if I had the oppurtunity.
985 characters
Epic / Thornbridge Oak Barrel Aged Stout from Epic Brewing Company
Beer rating:
3.98
out of
5
with
12
ratings