Epic Larger
| Epic Brewing Company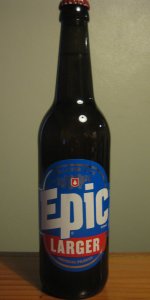 BEER INFO
Brewed by:
Epic Brewing Company
New Zealand (Aotearoa)
epicbeer.com
Style:
American Double / Imperial Pilsner
Alcohol by volume (ABV):
8.50%
Availability:
Rotating
Notes / Commercial Description:
Tigers. Balls of Twine. Waimea Bay waves. Pyramids. Ohakune Carrots. Some things are meant to be big. Flavours. Aromas. Beer. The list is large but we think it should be bigger. There is a time and place for subtlety, for a delicate touch. This is not one of them. Turning the amplifier up to eleven? Yeah, that's it.
Added by lacqueredmouse on 01-19-2012
Reviews: 14 | Ratings: 20
4.59
/5
rDev
+17.1%
look: 4 | smell: 5 | taste: 4.5 | feel: 4.5 | overall: 4.5
I'd been excited to try this since it was announced—the Imperial Pils is a style I feel has a lot to live up to, and often hasn't really delivered in the past for me. But put Epic in charge, and make it a New Zealand version? This was probably going to be good.
Pours classy and clear, a bright golden colour with great clarity. Atop the body sits a fine speckling of white foam, which leaves some solid, sheeting lager lacing. Carbonation is refined through the liquid, but slightly thicker than normal body. Looks good.
Nose is spectacularly bright and fresh with clear, bright and spicy hops, giving a twanging, zesty NZ abundance of aroma. Plenty of lemon, with fresh herbal overtones of spearmint and rosemary. It's defiantly fresh and clear and very exciting.
Taste finally hits the sweet spot for my expectations of the style. Brilliant fresh zingy hops speed down the palate, leaving zesty, jubilant citrus characters in their path. Under this, the herbal, greener, leafy notes give a pleasantly robust but understandable bitterness. The malt character is pushed almost entirely to the background, leaving only a slight mild nut character of marzipan on the finish. It doesn't fall into the trap of being too boozy or heavy, which to me is the bane of an Imperial Pils, often causing it to lose its connection to its Pilsener roots.
Feel is sparkling, but still light and bright, with just a hint of boozy heat to remind you that this is a big beer.
Yes, yes, yes! It pulls out all the classically beautiful NZ pils characters out and builds them up into a spectacular new form. A truly wonderful brew—an epic, larger-than-life lager.
1,651 characters
4.2
/5
rDev
+7.1%
look: 4 | smell: 4 | taste: 4.5 | feel: 4 | overall: 4
Drank from my Duvel tulip
A - Pours a clear Golden colour, with White large bubbled head that reduces very quickly.
S - Sweet, hoppy and grains, with bits of citrus and melon.
T - Really nice balance between malt, hop and quite a strong finish that is bitter and yet sweet. Booze is reasonably well hidden for 8.5%
M - Light to medium body with medium carbonation.
O - A very fine Imperial Pilsner that I recommend.
420 characters
4.12
/5
rDev
+5.1%
look: 4 | smell: 4.5 | taste: 4 | feel: 4 | overall: 4
Thanks to
[email protected]
Glistening honey, uber clear, with a fine bubbled white head of a couple of fingers that falls to a raised ring. Slow steady bead.
First whiff gives pungent aromas of sweaty socks, onions and freshly mowed lawn. Opens up into lychees, white grapes, passionfruit, floral honey, melons and pineapple. Great clarity.
Chewy tropical hops, botanical potpourri and moderate resinous pine. Biscuity malts keep the flavours nice and sharp.
Crisp and short, as a Pils should be. Noticeble chewiness on the front palate, but doesn't extend to the rear. Refreshing spritzy carbonation.
Reminds me a little of Murray's Vesuvius, which is the only other Imperial Pils I've cared for. Not the easiest style to pull off, but Epic have done nicely. Again.
772 characters
4.12
/5
rDev
+5.1%
look: 4 | smell: 4.5 | taste: 4 | feel: 4 | overall: 4
Pours a nice clear very pale straw hue which leaves a three finger creamy head and lacing everywhere,the smell is nice and unique for a pils with hints of gooseberries,fejola,white grapes and blueberries,the mouthfeel has a nice body to it while fullfilling yet light and has tastes of honeydew,rockmelon,gooseberries,honeyed malts and is finished with a tinge of barley sugar and lemon zest and overall its a very nice double pils that hides its ABV well and is very NZ hop driven and yeah id drink it again but i probably say that about most of this breweries brews cheers.
575 characters
4.1
/5
rDev
+4.6%
look: 4.5 | smell: 4.5 | taste: 4 | feel: 3.5 | overall: 4
Larger. Love the name. Like a beer porn star.
Typical pils appearance with maybe a deeper golden color. Head is thin foamy and white. Clear medium carbonation. Not the flamboyant over the topness of a porn star.but good for a beer.
Fresh grassy hops are joined by an intense malt sweetness in the background. Almost like a malt liquor but not quite so sickly sweet. It manages a tough balance of high abv lager without the fermentation character interfering with the hops. Nicely done.
The intense malt, while clean, really shows its strength here. It combines with a hefty bitterness to really give a good one two punch. Both come across sharp and to the point which, I think, is important for this style (not that I'm an expert).
Mouthfeel gets a bit slick when it warms but otherwise is about right.
Surprisingly drinkable for 8.5% and well matched alcohol and bitterness.
And so continues the superb brewing fruits of NZ. Not even through the bottle and it's had the desired intoxicating effect. Happily, it's been an enjoyable ride.
1,044 characters
4.1
/5
rDev
+4.6%
look: 4 | smell: 4 | taste: 4 | feel: 4 | overall: 4.5
I just wrote an extremely detailed and wonderful review of this beer and BA ONCE AGAIN timed out. Bottle from Beer Deluxe into my Fed Square glass.
A - Pours light golden with lot's of carbonation and a one finger white head. Bright with decent lace rings and a film retention.
S - Sweet malt combined with tropical fruit, sweet melon, lot's of hops but melding with honey as well. The best example of an Imperial Pils with a strong malt character to balance the generous hopping.
T - A combo of a tiny bit of alcohol, lot's sweet malt, honey, tropical fruits, melon fruits, and other flavours along those lines. Does a great job of letting the pils malt shine through while being quite hoppy. Good balance.
M - Good carbonation, medium body and a dryness in the finish.
O/D - A pretty solid Imperial Pils. More malt forward than other examples while still being quite hoppy. A nice, very unique take on the style. My initial review was much more detail but BA has been extremely slow in fixing these 'timed out' issues so I can't take responsibility for the lack of detail. Needless to say, this is a really solid example of the style and one that avoids the over-hopping of some of the others.
1,200 characters

4
/5
rDev
+2%
look: 4 | smell: 4 | taste: 4 | feel: 4 | overall: 4
Great style when done well. Pours a light gold, with a small head that fades rather quickly for a malty high abv beer. Nice noble-like hops on the nose. Was expecting a kiwi hop bomb, but this smells rather traditional (despite it having US and NZ hops). It sprinkles zesty hopiness across the palate from start to finish. It is also very bitter, but only onthe finish which is nice. Lacks a little malt depth. Hop profile is very, very nice though. It tastes familiar but I havent had anything like it for a long time.
Solid offering, but would have appreciated some malt complexity for a beer this big. Its far too easy drinking! (not complaining)
651 characters

4
/5
rDev
+2%
look: 4 | smell: 4 | taste: 4 | feel: 4 | overall: 4
A - Crystal clear pale yellow body residing under two fingers of bright white head which fades promptly to a ring. Looks a pilsner.
S - Extremely fruity for a pils with distinct pineapple, rockmelon and passionfruit. Some grassy hops.
T - The tropical hops flow through on the tongue, with pineapple and elderflower. Biscuity malt backs it up. Nice balance.
M - Light dry crisp body, medium carbonation.
O - Not quite what I expected from an imperial pilsner but then again I havent had too many (I believe this is my second). I know I like it though, as I have everything else Ive tried from Epic.
602 characters

4
/5
rDev
+2%
look: 4 | smell: 4 | taste: 4 | feel: 4 | overall: 4
A - Pours a clear golden-yellow color with a finger of frothy white head. The head fades down at a normal pace leaving behind some lacing.
S - Aroma is a mix of lemon and citrus hops, sweet grainy and cracker malts, and some floral hops.
T - Starts off with grainy and cracker malts with some lemon and citrus hops and a bit of bitterness. Through the middle, some pine and floral come through with some more bitterness. The finish is a mix of bready and grainy malts with some lemon, citrus, and piney hops and some bitterness and lager esters.
M - Medium-plus bodied with moderate carbonation. Feels smooth with a grainy and lightly bitter finish.
D - Very drinkable. Nice imperial pilsner with good overall malt and hop balance.
735 characters

3.9
/5
rDev
-0.5%
look: 4 | smell: 4 | taste: 4 | feel: 4 | overall: 3.5
Thanks to Chris @ Slowbeer
Pours a proper yellow pilsener colour. Could be a macro for all that's visible in my Great Divide (thanks Pat!) glass right now.
Smell seems to be funky pilsener malt, reminiscent of Duvel. There's also clovey hops. Smells like the weird trees in Surry Hills near my primary school.
Taste brings a more rounded hop quality with more fruity contributions in addition to those dark and mysterious pine cones.
Oh and let me steal spicelab's "potpourri" descriptor, very much that. I would add in Chartreuse.
While "melony" seems to be my recent catch-all for hop flavours, this is pretty "melony" all round, in nose and taste.
I was expecting this to be a hop bomb (coming from Epic) and while it is hoppy, the lager characteristics come through almost as much. I was initially disappointed but this is really pretty interesting to drink. It has a thick and warming mouthfeel with a nice balanced melange of alcohol sweetness and hop.
A bit one-note really but that's kind of what you'd expect from an imperial pilsener anyway. Recommended to try, although to be fair the large format bottle is more than enough, and it ends up being as or more cloying than potentially higher alcohol DIPAs.
I think overall I would say the lager yeast (and accompanying limited malt bill) gives it a certain astringency which prevents me warming to it entirely.
In all honesty would rather hit up a good DIPA than this one again, although it's an interesting and intellectual beer.
1,499 characters

3.75
/5
rDev
-4.3%
look: 4 | smell: 4 | taste: 3.5 | feel: 3.5 | overall: 4
500ml bottle from Warners at the Bay, into a Brooklyn tulip.
Impressive clarity from this light golden beer. White foam on top at a finger that sits for a while before turning to film. Some lacing that recedes after a little while.
Smells a mixture of fruity and of grain. Some rockmelon and honeydew melon is there. Pleasant though the grain aroma could be a bit quieter.
Tastes of biscuity malt, some booze, but hey its 8.5%, so it is even on the bigger end of the scale for the style. It can be sweet at times, slightly cloying.
Big mouthfeel, mixture of the booziness, decent body and cloying finish make it less sessionable than others i've had (Moa, Mountain Goat, Odell etc).
Good Imperial Pilsner, big, slightly boozy, but does what it sets out to achieve. Not my favourite of the style, it is still very good and worthwhile having. Probably my favourite NZL brewery, one that doesn't really disappoint, no matter the beer.
938 characters

3.73
/5
rDev
-4.8%
look: 4 | smell: 3.5 | taste: 4 | feel: 3.5 | overall: 3.5
Appearance: clear golden honey in color. Pretty average sized head that fades but is present throughout the drink.
Smell: pleasant, initial smell upon opening the bottle & pouring was much better than swirling and smelling later
Taste: bitters from the hops up front, a slight malt hidden in the back, getting lots of abrasion almost like an IPA & I'm digging it!
Mouthfeel: average
Overall: love the abrasion off this pils, pleasant surprise!
447 characters

3.49
/5
rDev
-11%
look: 5 | smell: 3.5 | taste: 3.5 | feel: 2.5 | overall: 3.5
Certainly looks good, classic Golden Pilsner body with a rising head of purest white which leaves a frothy lace.
The aroma is more subdued, with wet grassy aroma to the fore, backed by light hop aromas of rock melon and lemon, all shored up by underlying vanilla and caramel malt characters.
Fruity flavours of rock melon and honeydew on the approach tinged by a slightly acidic citrus note, followed by apple and a strong blast of spearmint on the finish.
A solid mouthfeel, it has a real weight to it, like cordial with too much syrup and there is a slight warming sensation from the 8.5% ABV.
It looks spot on for a Pilsner and I liked the flavour but I found the sluggish mouthfeel let the beer down a little. I'm glad I tried it, not sure if I would again considering the price.
788 characters

3.26
/5
rDev
-16.8%
look: 4.5 | smell: 3.5 | taste: 3 | feel: 3.5 | overall: 3
Pours a pale champagne colour with champagne-esque bead. Head makes it look like beer: nice foam, big bubbles with pleasant trails of lace around the glass. Looks good, and very nicely pilsnery.
Smells quite grainy, with a pleasant hint of some tart acid behind. Mostly cracked grain though, with pearl barley and a touch of corn. I'm getting a pleasant citric twang behind it, but I would like more, especially for a pilsner.
Taste is also more on the malty side, quite sweet actually. Plenty of caramel, vanilla with a metallic, almost medicinal bitterness behind that's really quite heavy and boozey. Yeah, maybe a bit sweet upfront that then turns too suddenly towards pithy and bitter without a nice smooth transition. Can't say I love this, it's a bit heavy and flat in the mouth and it sinks a little at the end.
Decent texture, with a bit of carbonation to lift the surprisingly heavy flavours, but not quite enough for me to love it still.
Not a huge fan, but it's not unpleasant. Bit disappointed, mostly.
1,019 characters
Epic Larger from Epic Brewing Company
3.92
out of
5
based on
20
ratings.